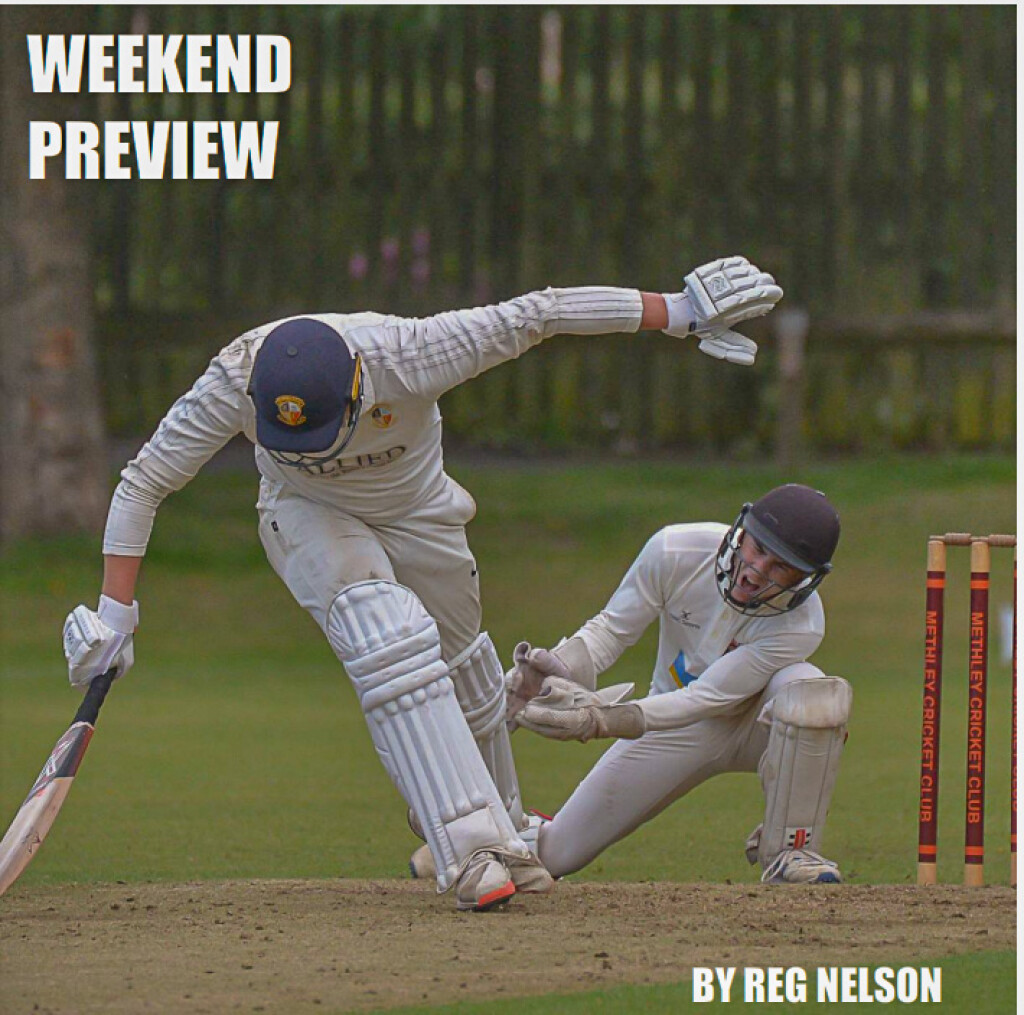 The top of the Premier Division has a familiar ring to it with the powerful trio of Woodlands, Townville and New Farnley again occupying the top three places.
The Woodlands destruction of Methley, and New Farnley's tie with Bradford & Bingley, has resulted in the champions increasing their lead to 23.
Townville have joined New Farnley in second place on 70 points after a regulation win over Pudsey Congs. They are now the team to beat, and the much-anticipated clash between Woodlands and Townville is looming on June 10.
This Weekend
Bradford & Bingley's position at the bottom is a little misleading given their match in hand, and visitors Woodlands will not be fooled by that. They will have noticed the thrilling tie the Wagon Laners featured in against New Farnley, and the capabilities needed to pull off such a result. Woodlands will be the favourites, but they did come to grief at Wagon Lane last season.
New Farnley will not need to make any mistakes this week at Park Avenue when they meet a Jer Lane side with a growing confidence after beating Pudsey St Lawrence last week. It must be a concern for New Farnley to have seen their key all rounder Usman Arshad hobbling about in the last match.
Farsley had a big win last week against Hanging Heaton, and they will be favourites in their local derby against Pudsey St Lawrence. The Saints lost to Jer Lane and will no doubt be determined to get back on track as soon as possible to avoid being dragged into the relegation scramble.
Pudsey Congs and Hanging Heaton are both in a precarious position in the league just above bottom club Bradford & Bingley who have played a game less. They clash at the Britannia Ground with the losers marked out as early relegation candidates.
Ossett had a priceless win over Bankfoot last week but will find it much harder against form team Townville. Not only are they winning regularly, but they have been taking teams apart of late.
After Methley's sobering defeat at Woodlands, they will be hoping to get back on track against Bankfoot.
The Top Performers Last Week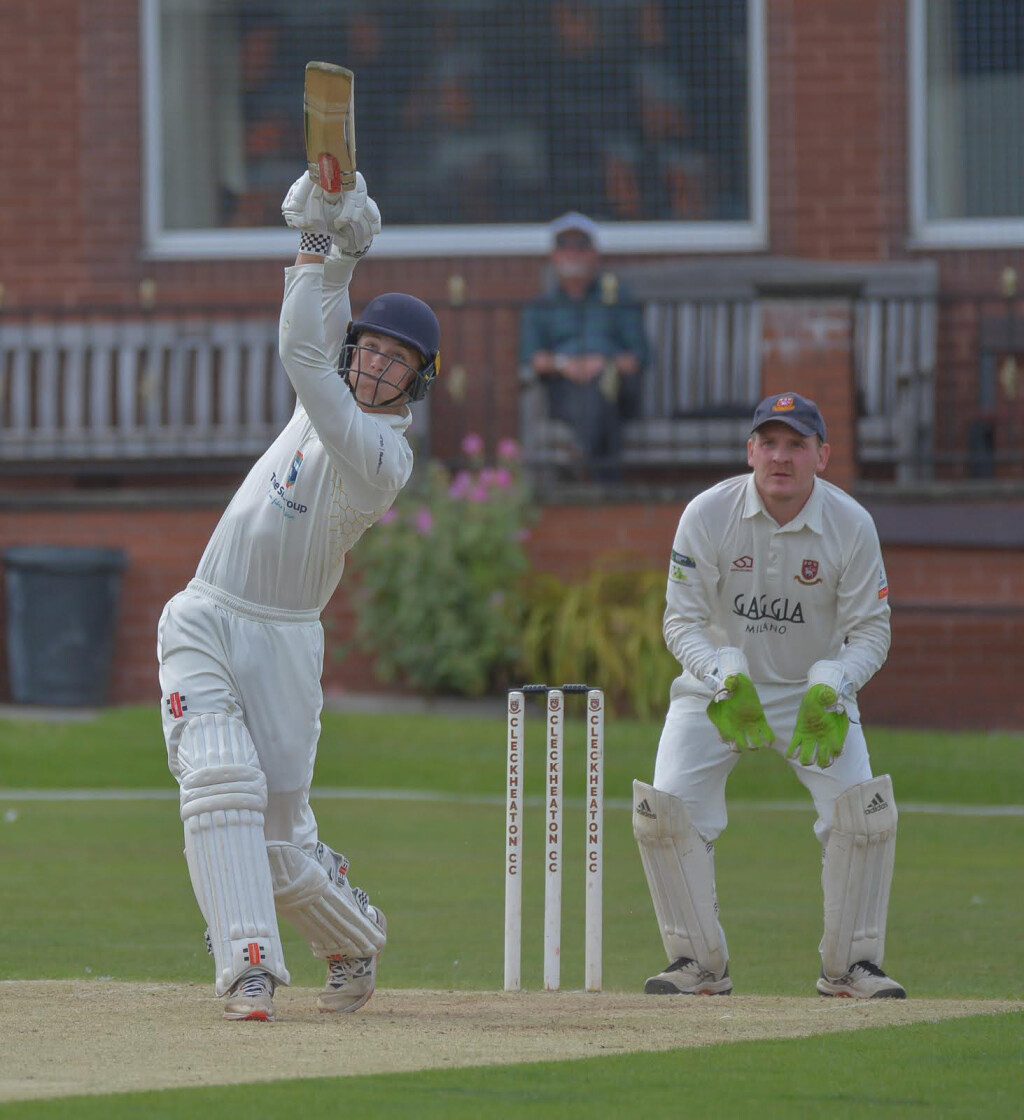 Australian Corey Miller, above, topped the bill when he scored 130 for Bradford & Bingley in the tied game with New Farnley. He struck three sixes and 15 fours as he led the chase of the home side's 265-8. Yorkshire opener Will Luxton (48) also contributed well, and so did the lower order who very nearly got there.
New Farnley will regard this as five points thrown away, but at least they found solace in the batting form of Aidan Langley who made 78, and Usman Arshad who hit five sixes in his 77.
Hanging Heaton were unfortunate that Farsley had Yorkshire wicketkeeper Harry Duke in their line up last week. His innings of 136 took the game away from them.
Joe Pocklington (36) had a good all-round game for Farsley scoring 36 runs and taking 4-36.
Hanging Heaton skipper Callum Geldart made 41 in a forlorn effort to get anywhere near the 309 target.
Jer Lane will regard their defeat of Pudsey St Lawrence as further evidence they are living the dream. Close season recruit Kyme Tahirkheli made an unbeaten 108 in the 24 runs win at Tofts Road.
Barrie Frankland (52) and Harry Cullingford (48) tried bravely to reach the target but found overseas spin bowler Israr Ullah (4-67) too wily.
Woodlands emphasised their power with a 205-run win over Methley. Skipper Brad Schmulian hit his first century of the season, helped by the solid efforts from Tom Clee (57), Sam Frankland (51) and Greg Finn (39). The opening attack of Muhammad Bilal (4-35) and Elliot Richardson (4-45) proved to be too tasty for Methley.
Townville are now making a relentless charge on the title as they brushed Pudsey Congs aside with relative ease Opener Jonny Booth (72no) carried on his early season thirst for runs as Jack Hughes (3-38) and Conor Harvey (3-55) ensured the target was an easy one.
The Congs wicketkeeper Josh Bennett again demonstrated his growing reputation with a defiant 52 with the bat.
Ossett ensured they were not going to be dragged into the relegation scramble with a vital win over Bankfoot. Pakistan paceman Junaid Khan was an influential figure again for Ossett taking 4-44, while Bankfoot competed with Hamza Iqbal making 50.
Bankfoot's skipper Jimmy Lee will never succumb to defeat without a fight, and he proved it again with 4-26.
Premier Division (Saturday)
Bradford & Bingley v Woodlands
Jer Lane v New Farnley
Farsley v Pudsey St Lawrence
Pudsey Congs v Hanging Heaton
Ossett v Townville
Methley v Bankfoot
There is also a full fixture list for the Premier League on Bank Holiday Monday. Woodlands could extent their lead at the top if as expected they defeat Bankfoot. An interesting tussle will be at Townville who take on Methley in an old Central Yorkshire League derby.
New Farnley have a tricky home game against Farsley who performed a league double over them last season. Pudsey St Lawrence dare not lose their big derby at the Congs. It isn't just bragging rights they are playing for when one thinks of the crowded basement.
Ossett could put some daylight between themselves and their local rivals Hanging Heaton if they should win, while the Bradford & Bingley v Jer Lane pairing is too close to call.
Premier Division (Monday)
Woodlands v Bankfoot
Townville v Methley
Hanging Heaton v Ossett
Pudsey St Lawrence v Pudsey Congs
New Farnley v Farsley
Bradford & Bingley v Jer Lane
Division One
It's incredibly close at the top with six clubs classed as early promotion candidates. Morley (67pts), East Bierley (66pts), Cleckheaton (65pts), Gomersal (62pts) lead the way, but the next two clubs in the table could overtake them with their game in hand- Undercliffe (60pts) and Batley (59pts). East Ardsley and Sandal are in the bottom two but have a stack of matches to get out of trouble.
This Weekend
The division's match of the day is at Scatcherd Lane where early leaders Morley take on one of the pre-season promotion favourites Undercliffe. They both have powerful batting sides, so this could be a big attraction at the ever-improving Morley ground.
Cleckheaton will be big favourites to win at Sandal, while Batley could reinforce their lofty position in the table with a solid points haul from a win against East Ardsley.
Yeadon are on the fringe of the chasing pack and could prove too tough for Birstall with their excellent seam attack.
Carlton's indifferent form this season has taken them down to third bottom, but they will see that this weekend offers a good opportunity to beat an East Bierley side that fell away last week against Batley.
Baildon lost twice last weekend to nullify their solid start to the season. However, they can run up a big score this week against Gomersal, and this is probably what is needed against a side with Australian Fergus McKenna in their ranks.
The Top Performers Last Week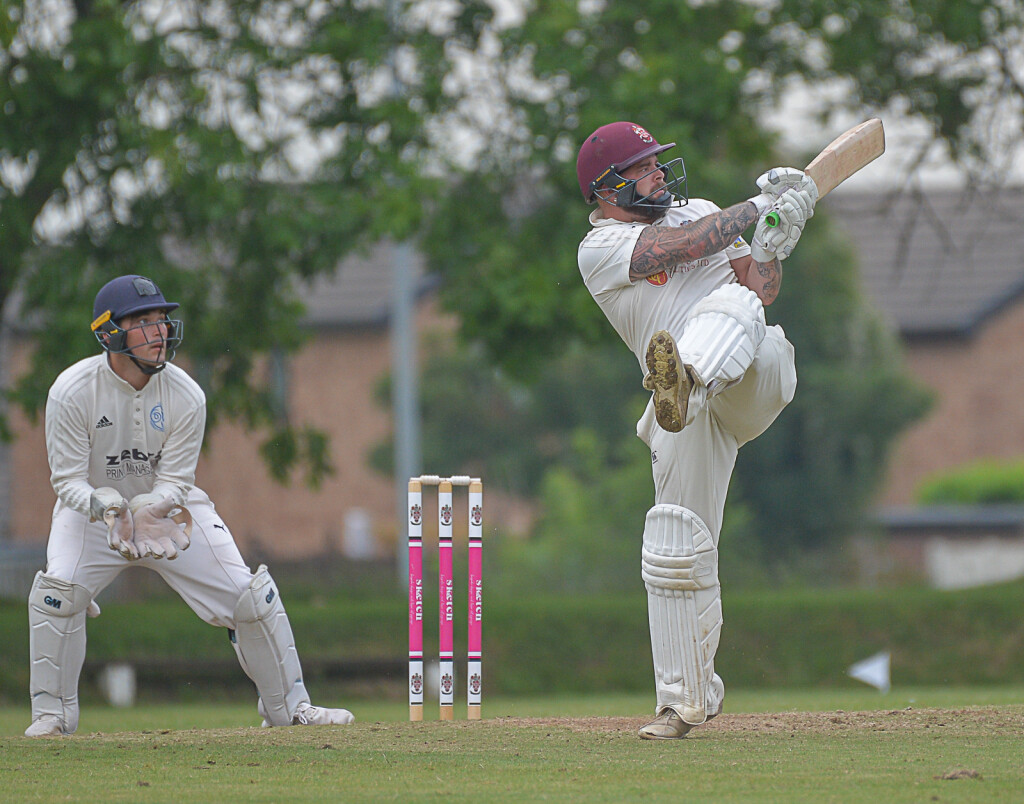 League leaders Morley are doing it as a team as Christian Silkstone (above, 48), Joe Finnigan (44), Liam Thomas (40) and Harvey Winn (34) scored the runs against East Ardsley last week, while Matthew Dowse picked up the best analysis of 3-49.
East Ardsley fought hard, epitomised by Ashley Pearson (37no), but they finished well short in the end.
Former Saltaire player Waleed Akhtar is proving to be the catch of the season for Cleckheaton as he again put the bowlers to the sword. He hit an unbeaten 101 as his side swept to a nine wicket win at the expense of Baildon. Mally Nicholson was also in the runs with 52.
On a fine wicket Baildon's 192-7 was inadequate despite the efforts of Joel Newlove (44), Will Kelly (41) and James Ford (38) to build a decent total.
The very next day Baildon threw away a victory at Yeadon in their re-arranged match with a late batting collapse that negated what top scorer Jonny Reynolds (51) had done for them.
Previously, Baildon's seamer Umar Zahoor had set Baildon's victory charge up with 6-38, but in a close game he was unable to bat because he had to go home early. Baildon chose not to promote him in the order and fell nine runs short.
Gomersal are going well thanks to the mercurial Australian McKenna who scored a brilliant 174 last week against Carlton. He hit seven sixes and 18 fours as Gomersal topped 300.
Carlton's batting will always make a fair stab at targets and so it proved again with Steve Cooper (86no), Dan White (67) battling hard in a lost cause.
Batley can never be written off in the promotion stakes and they are proving it again as they dismantled the leaders East Bierley last week. Their bowlers Nasir Jamal (6-34) and Nasir Totakhil (4-30) were too hot for Bierley. Batley's Adam Hussain (57), Kasir Maroof (33) and Totakhil (31) knocked off the runs with the minimum of fuss.
Undercliffe had trouble chasing Yeadon's 210-5, but showed they had batting strength in depth after an unbroken seventh wicket stand of 106 between Zeeshan Qasim (62no) and George Myers (58no) saw them home at Intake Road.
Mohammad Khan (60) and Gulsheraz Ahmed (59) had batted well for Yeadon. The next day they took advantage of their match in hand by defeating Baildon despite being second best for three-quarters of the match. Veteran seamer Iskikhar Hussain triggered the late batting collapse with 6-37.
Birstall's Rishi Limbechaya (96), Harry Pearson (79) and Brandon Silverwood (52) led their side to 300-5 in their victory over Sandal who picked up maximum batting points in a losing effort with Matthew Westwood top scoring with 64.
Division One
Batley v East Ardsley
Carlton v East Bierley
Baildon v Gomersal
Sandal v Cleckheaton
Yeadon v Birstall
Morley v Undercliffe
Division Two
Old Bradford League rivals Hartshead Moor (82pts) and Bowling Old Lane (82pts) are setting the pace, with Hopton Mills (78pts) not far behind. Crossflatts are bottom, and Buttershaw St Paul's and Northowram Fields are only a handful of points above them. It might be a long way back, but Simon Bailey's Keighley have started to stir.
This Weekend
Keighley welcome Liversedge who have stumbled a little but could still provide a stern test from Simon Bailey's team.
Lightcliffe could do themselves a power of good by beating leaders Bowling Old Lane and getting amongst the chasing pack. Now that Alex Stead appears to have tangible batting support things are looking brighter.
Bottom side Crossflatts will have all on to defeat form side Hopton Mills, while strugglers Buttershaw St Paul's and Northowram Fields clash St Paul's Avenue.
Joint leaders Hartshead Moor seem to be in the groove now but will be tested by Heckmondwike & Carlinghow.
Hunslet Nelson bounced back from their heavy defeat by Crossflatts a fortnight ago and this week travel to Wrenthorpe. The home side are proving to be very competitive, and this game is too close to call.
The Top Performers Last Week
Hartshead Moor have a potent bowling attack this year, and they proved it again last week with Moin Hussain (4-8) and Leo Montiet (3-17) skittling out Crossflatts for 83
Bowling Old Lane are showing a greater level of consistency this time and their win against Wrenthorpe contained some solid batting from Hisan Ahmed (70) and Imran Malik (54).
Wrenthorpe's new look side are trying hard with new signings Ben Brown (4-54) and Mustafa Bhatti (41) making their mark.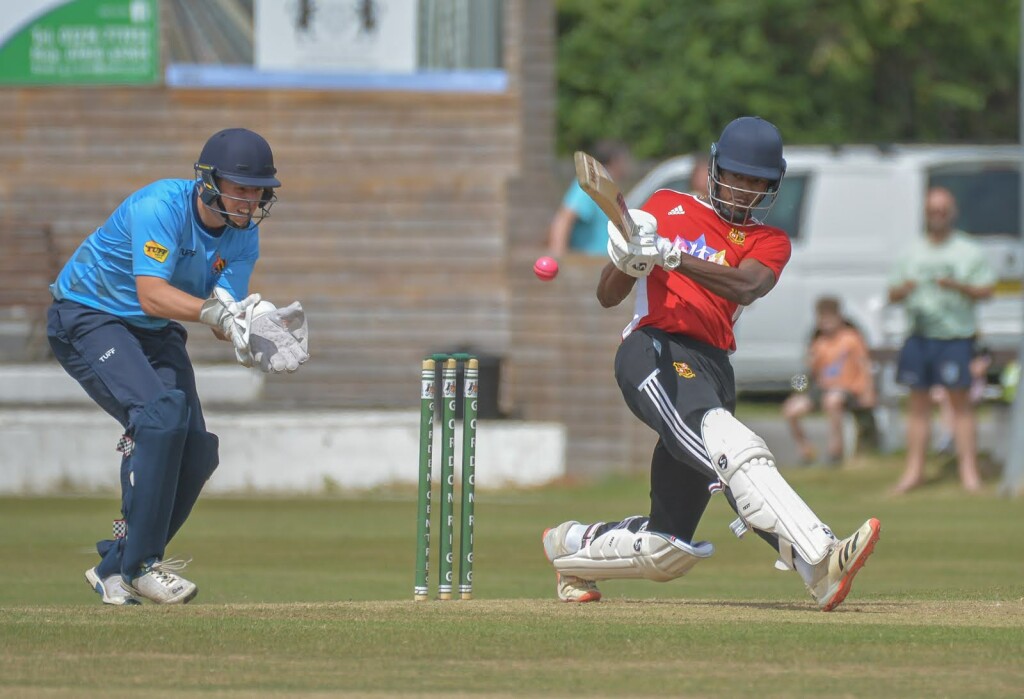 Hopton Mills have found a good overseas player in Jabari Mills (above, 42 runs & 4-28), and he was largely instrumental in his side's victory over Buttershaw St Paul's.
Lightcliffe's batting had more strength in depth last week when Rob Edmond (89no), Niall Lockley (55) and Jordan Pickles (37no) chased down a Liversedge score of 243 to win by six wickets.
Liversedge might have been losers, but they had some strong batting too with Parvaise Khan (87), Mounam Ejaz (56) and Bryson Nicholls (42) all impressing.
Keighley's close season capture Daanyaal Ahmed proved his worth as a spinner when he took 6-40 to reduce Northowram Fields to 186. Johandre Barnard (81), Zahir Shah (58no) and Raees Hussain (37no) made the run chase something of a formality.
Hunslet Nelson had spinners Matthew Varley (4-26) and Sam Thewlis (3-40) to thank for their narrow win over Heckmondwike & Carlinghow.
Division Two
Buttershaw St Paul's v Northowram Fields
Crossflatts v Hopton Mills
Heckmondwike & Carlinghow v Hartshead Moor
Wrenthorpe v Hunslet Nelson
Lightcliffe v Bowling Old Lane
Keighley v Liversedge
Division Three
Spen Victoria might have conceded 400 runs to Altofts last weekend, but they still lead the way in Division Three with 84 points. However, Scholes are just two points behind after playing their re-arranged match last Sunday.
This Weekend
Scholes could increase their standing at the top next week if as expected they win at Windhill & Daisy Hill, while Spen face a stiffer task at Great Preston.
An interesting duel is in prospect at Altofts where the home side take on Gildersome & Farnley Hill. This is a game between two sides hovering close to the top, but with a precious re-arranged game in hand.
East Leeds has started poorly with two defeats last weekend and could come unstuck again against a battling Crossbank Methodists.
Wakefield St Michael's should beat a Brighouse side that have lost valuable players during the season.
The Top Performers Last Week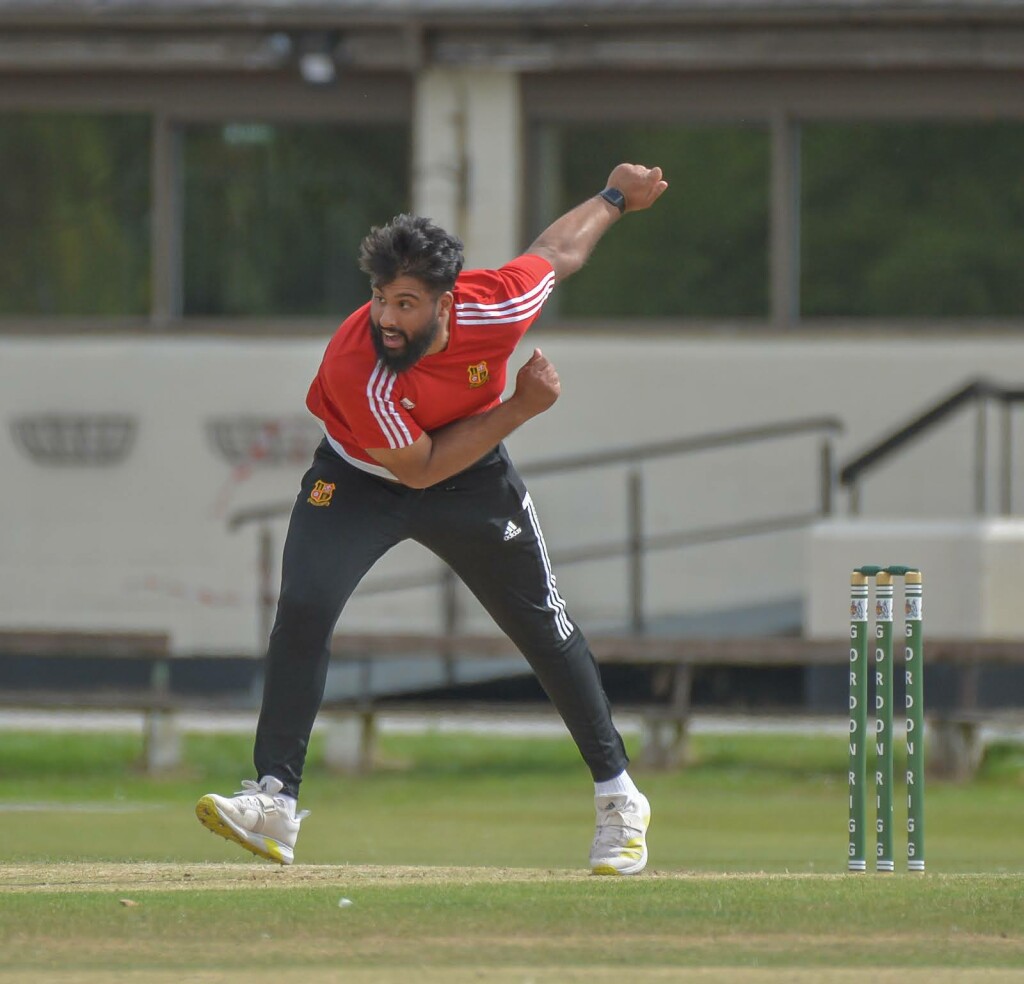 Altofts were record breakers last week when a sixth wicket stand of 277 between Jacques Porter and Saif Tahi, above,r broke the existing record as a final total of 401 was reached. Porter made a remarkable 181, an innings packed with six sixes and 21 fours, while Tahir hammered 11 sixes and 10 fours while speeding to 139. Elliot Carter sealed Altofts' win with a bowling analysis of 5-37.
Spen, who remain top of the table, at least saw Corey Roebuck getting some good batting practice in an innings of 52.
Scholes had an excellent weekend, winning both their matches, and spin bowler Mahleb Mahmood showed his class both days. He took 4-36 against Adwalton on the Saturday, and 5-38 versus East Leeds the following day.
James Conlon made a fine 122 for Great Preston in a dominating innings against Wakefield St Michael's, but he lacked support in defeat.
St Michael's were impressive winners with Syed Bukhari taking 4-59, and Lulit Mangalarapu (93) and Shamsullah Dost (56) sharing a second wicket stand of 139.
Windhill & Daisy Hill still can't quite get it together despite Ahsan Tanveer top scoring with 69 against Crossbank Methodists. Crossbank won by four wickets with Gavin Harrison scoring a crucial 47.
Gildersome & Farnley Hill have climbed to fourth with a re-arranged game in hand to look forward to. Last week they defeated East Leeds by 105 runs with Nasir Shah (50), Muhammad Shah (40) and Sayed Salman (3-19) the main men on the day.
Division Three
East Leeds v Crossbank Methodists
Altofts v Gildersome & Farnley Hill
Great Preston v Spen Victoria
Brighouse v Wakefield St Michael's
Windhill & Daisy Hill v Scholes
Free: Adwalton
Check out this season's top first and second team performers