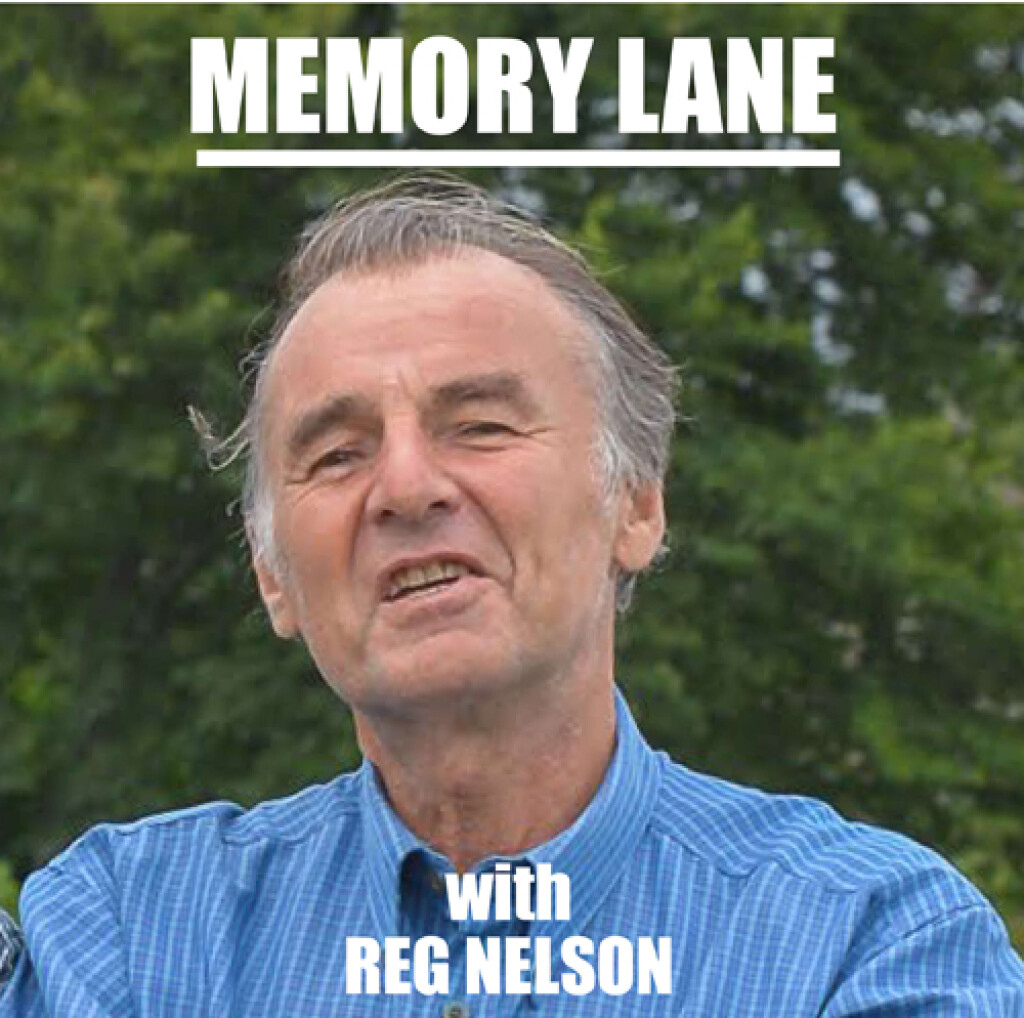 Twenty years ago Pudsey Congs were at the height of their powers during a year the league celebrated its centenary. The league issued a hard back book history of the league in celebration. In addition, they played a special centenary celebration match at Scarborough against a handpicked Yorkshire League X1. Appropriately, they won in impressive style to crown a mighty impressive centenary year.
The Bradford Representative side that was selected for this historic match from a squad featuring Andrew Bethel (Pudsey Congs), Richard Gould (East Bierley, James Smith (Pudsey St Lawrence), Ishy Dawood (Hanging Heaton), Matthew Doidge (Pudsey Congs), Richard Robinson (Brighouse), Glen Roberts (Pudsey Congs), Phil Slater (Baildon) Naved Rana Ul Hassan (Pudsey Congs), Rao Anjum (Spen Victoria), Sarfraz Ahmed (Woodlands), Neil Gill (Pudsey Congs) and Grant Soames (Yeadon).
The Pudsey Congs Dynasty
Meanwhile, Pudsey Congs won the 2003 title in a canter, 27 points in front of second place Spen Victoria. Ironically, this was an anti-climax year compared to the seasons either side when they won the classic treble of League title, Priestley Cup and Black Sheep Yorkshire Champions Trophy.
Skipper Matthew Doidge had exceeded all expectations by winning the treble in 2002, but clearly he thirsted for more success the following year.
The remarkable Babar Butt led the way in the batting with 700 runs at 50.00 per innings, followed by Doidge on 376 runs at 47.00. Rana-ul-Hassan was their top bowler with 81 wickets, while Glen Roberts had a fine season taking 30 wickets at little cost.
Disappointment came in the Black Sheep Yorkshire Champions Trophy when they were caught on a sticky wicket in the final at Adel and could only make 167-7. Harrogate struggled all the way on a wicket that had dried out considerably but sneaked home by 2 wickets.
Before the match, the Adel groundsman apologised for the water leaking on the wicket but stated it would dry out later. No consolation to the Congs who were striving for a hat-trick of Black Sheep trophies.
The Congs won the league for five successive seasons (2000-2004) and also added the Black Sheep Yorkshire Champions Trophy to their trophy cabinet four times. They were a team for all seasons, and some observers cited them as the league's best post-war side.
Not long after 2003, they had developed a great rivalry with the emerging Woodlands who would eventually eclipse them. Initially, the Congs were good enough to ward them off, but the bowling prowess of Woodlands began to count.
Underdogs win the Priestley Cup
In 2003 Woodlands were still searching for their first major honour after an impressive entry to the league. It was the perfect opportunity for their first silverware when they reached their first Priestley Cup Final in 2003. They were red hot favourite to beat Division Two side Bradford & Bingley, despite having to play on their opponent's own ground of Wagon Lane. Bingley were a good side, but they did fail to gain promotion that season.
Woodlands batted first, and skipper Tim Orrell dominated with the bat and appeared to be guiding his side to a score of more than 250. However, his superb innings of 101 came to an end at a time when his fellow batsmen struggled to keep the momentum going. They had to settle for a disappointing 210-9.
Most neutrals in the crowd still backed Woodlands at the tea interval because of their bowling prowess. However, Richard Nicholls batted superbly and was largely responsible for guiding Bradford & Bingley home by six wickets to take the Man of the Match Award.
This was a great consolation for their failure to achieve promotion that season. It was a source of frustration to end up third and finish behind the promoted sides Saltaire and Bankfoot. With players of the calibre of Richard McCarthy, Matthew Cockshott, Richard Nicholls and Carl Sharp it really was a surprise they didn't make it.
Saltaire's dip into the big time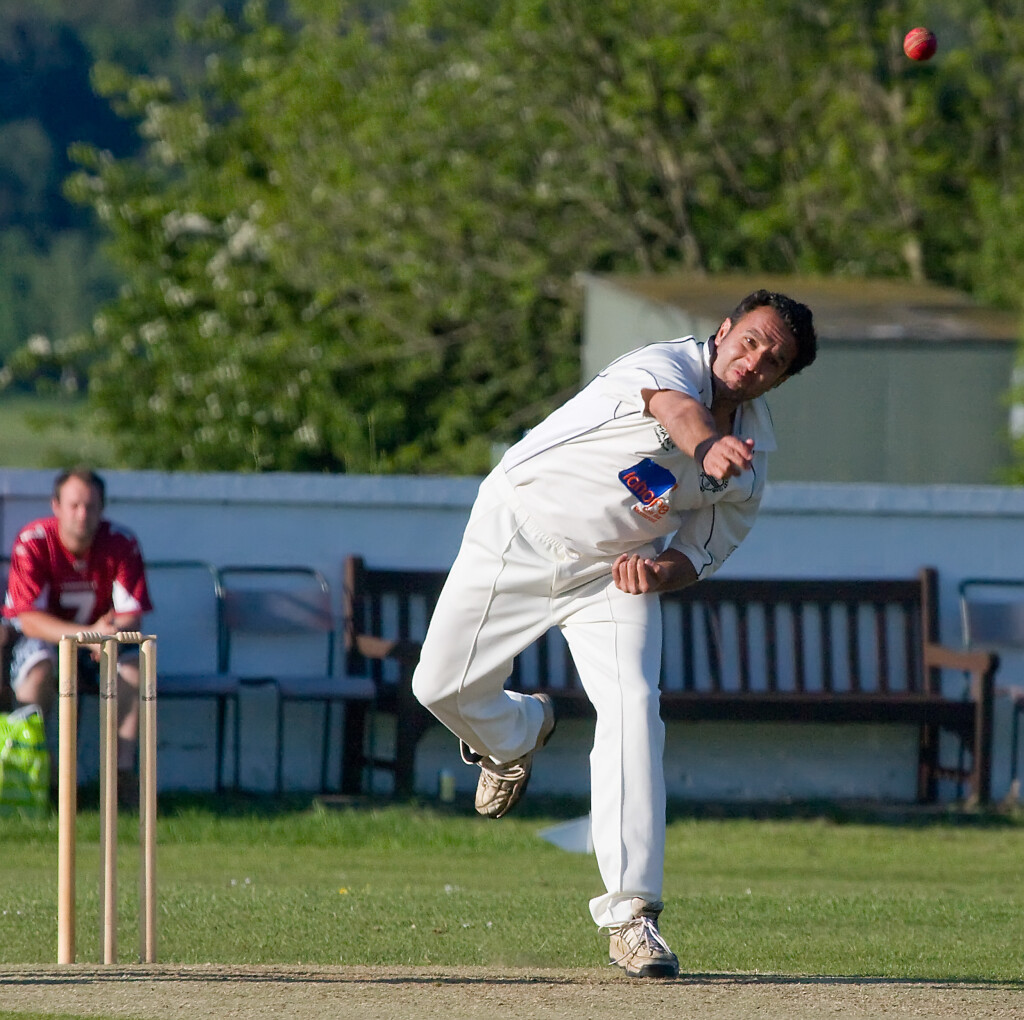 One team that did win promotion was Saltaire who finished champions after a real battle for top spot with Bankfoot. Saltaire's captain Ijaz Khan, above, with a career best season of 60 wickets, did as much as anybody to lead the team to promotion. For Saltaire, it was a season of batting collapses and backs against the wall' batting down the order to compliment a fine bowling attack containing overseas fast bowler Irfan Fazil who took 97 wickets.
Fazil was one of the quickest bowlers seen at Roberts Park, with the gully and slips halfway back to the boundary. He did not possess flawless control but when he pitched it straight few batters could cope. The only batsmen with consistency were Wasim Munawar (725 runs) and Tariq Alam (517 runs).
The club was relatively under resourced for the top flight but managed seven successive seasons there.
Bradford League wins the Costcutter Cup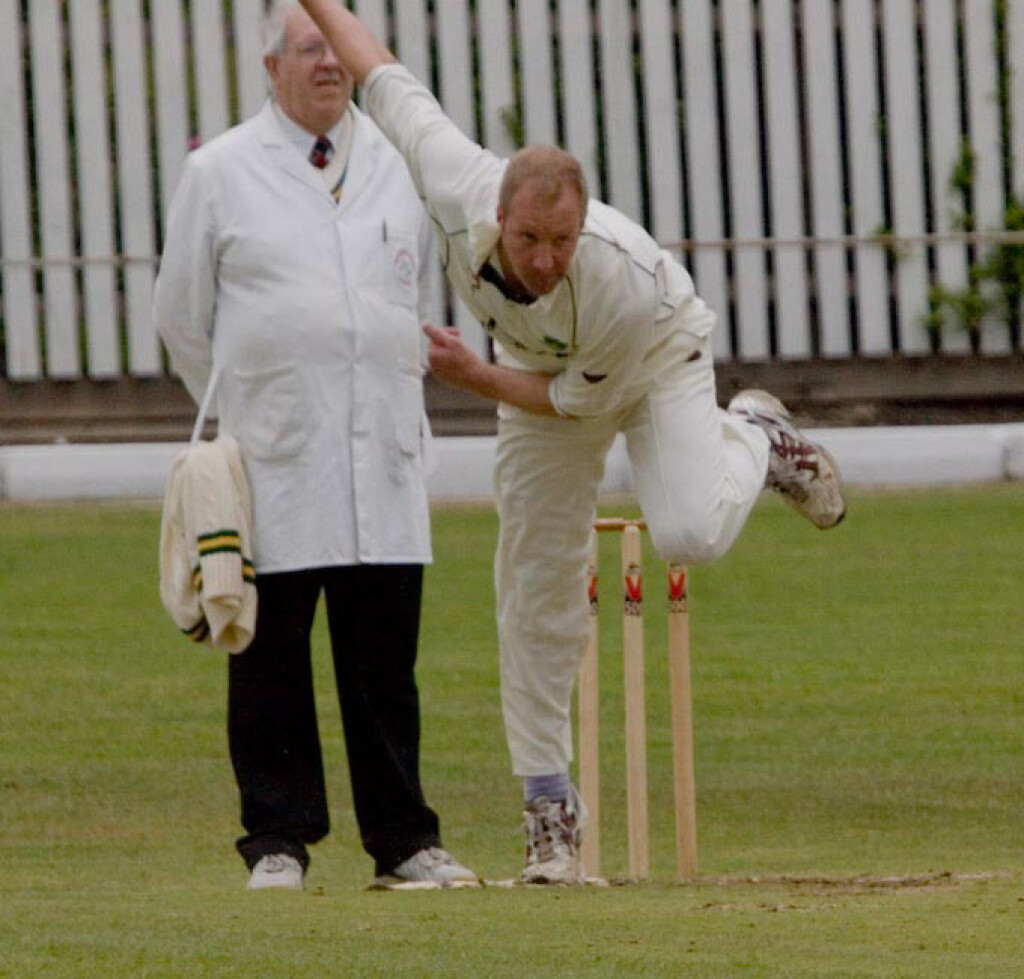 The Bradford League triumphed in the Yorkshire Senior League's Costcutter Cup Competition, winning the trophy for the 12th time in 25 years.
In the final the Bradford League side proved to be too strong for the South Yorkshire League. The seam attack of Nick Summerscales, Neil Gill, above, Richard Pyrah and Phil Slater, shared the wickets while Richard Robinson was the star batsman on the day.
He finished the match off with some explosive batting, hitting spinner Dave Burdon for two sixes and two fours in one over to speed his team to a five-wicket win with 14 overs to spare.
Mirfield win the Heavy Woollen Cup
Mirfield left the Central Yorkshire League to join the Bradford League in 2001. Although their stay was relatively short lived they invested in their side sufficiently to gain promotion to Division One. They also reached the Heavy Woollen Cup Final in 2003, beating Spen Victoria in the final at Liversedge.
Big stars in the league
Three batsmen, who all played for Yorkshire occupied the top places in the batting averages-
Chris Taylor (Undercliffe) 1003 runs at 66.87
Gary Fellows (Pudsey St Lawrence) 751 runs at 57.77
Ashley Metcalfe (Farsley) 927 runs at 51.50
However, there was a multitude of batting talent in the league with Babar Butt, Bradley Parker, Richard Gould, Matthew Doidge, Jonathan Proud, Tim Orrell, Andrew Gale, and Mark Gill to name just a few.
Interestingly, Lee Goddard of East Bierley was just starting to make a name for himself, averaging 41.45 to propel him to 10th in the league batting averages.
Another rising star was James Smith of Pudsey St Lawrence who won the Fastest Fifty Trophy with a 16-ball innings. That equalled Richard Peel's effort for Bankfoot six years previously.
Undercliffe's overseas fast bowler Jaffer Nazir won the bowling averages with 56 wickets at 12.54. There were other class bowlers around in former Lancashire seamer Ian Austin, Naved Rana-ul-Hassan, Glen Roberts, Neil Gill, Sarfraz Ahmed and the emerging Chris Brice. Ian Austin of Cleckheaton won the Sir Learie Constantine All Rounder Trophy.
The Central Yorkshire League in 2003
Wrenthorpe's Beginnings
The seeds of Wrenthorpe's forthcoming greatness were planted when they won the league championship for the first time in 2003.
They confirmed the title in a late season match against their closest rivals Methley when they beat them by 15 runs in a low scoring game. In an absolute thriller, Wrenthorpe were bowled out for 116 which included a defiant 66 from left-handed opener Richard Walker.
Methley looked favourites at 70-3 but they collapsed to 101 all out after their former paceman Neville Lindsay took a hat-trick, finishing with 3-15 from 10.2 overs.
In the 2003 league campaign Wrenthorpe scored runs freely with Walker claiming 815 at 42.89 and Mark Alvey 687 runs at 36.16. The best bowler was Lindsay who took 43 wicket at 12.70, and he received capable support from Ricky Rotch (43 wkts) and Battye (32 wkts). Wrenthorpe had far superior sides in seasons to come, but this was a good indication that they were on the march.
Buttershaw St Paul's take the league by storm
Buttershaw St Paul's must have been delighted by their promotion from Division Two in their debut season. However, this feat was overshadowed by a remarkable series of giant-killing acts that took them to a Jack Hampshire Memorial Cup final at the first time of asking.
Firstly, they brought the reigning cup winners Methley to their compact ground and proceeded to knock them out. Methley, obviously satisfied with their 267-7, were stunned when Buttershaw knocked the runs off at 268-8.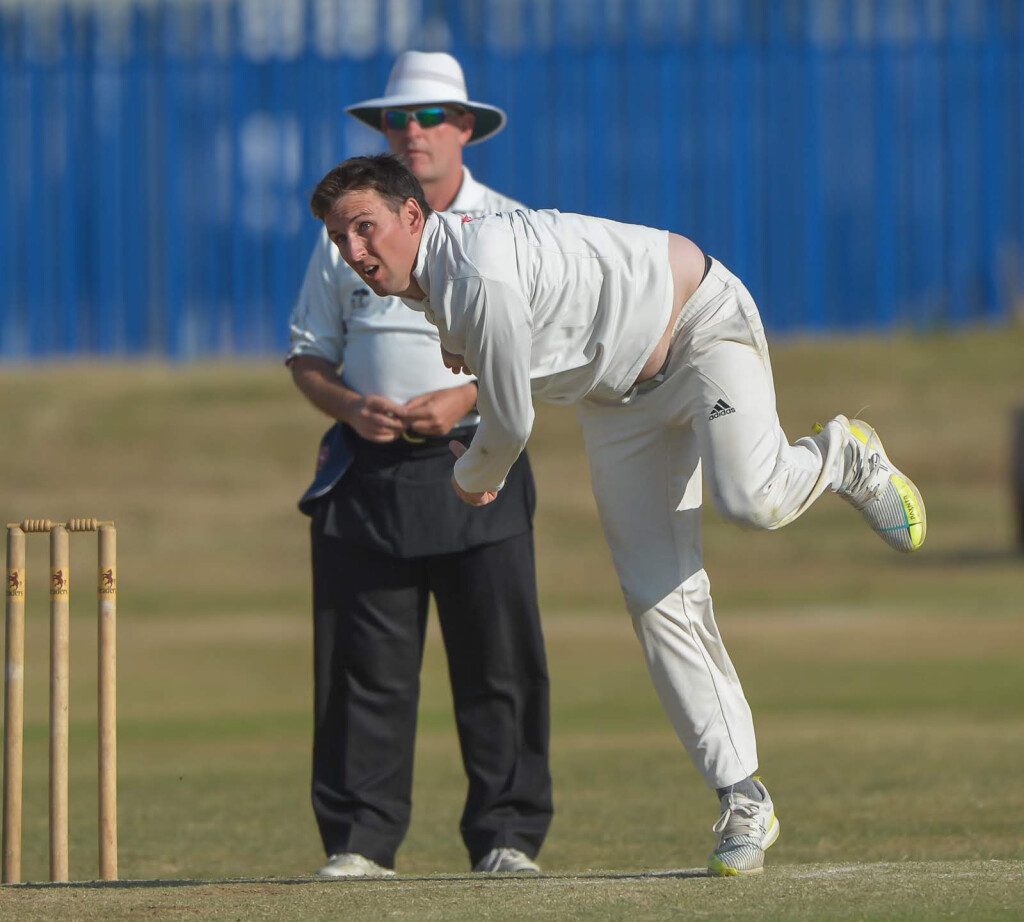 In the next round the prospective title winners Wrenthorpe made the same mistake as Methley in setting a good score of 269-8 thinking it would be sufficient on the small St Paul's ground. The home bowlers Andrew Branthwaite, Jonathan Lister, Andrew Deegan, above, and Kashif Rashid all bowled tightly and picked up two wickets apiece.
The winning runs came with four balls to come which indicated a well-paced operation or a frantic late run-chase. It didn't matter either way as Jonathan Lister (80) and Steve Potter (82) helped to take their team to 270-7 to collect their second huge scalp.
Ironically, they were defeated by lesser opposition in the final when Mirfield Parish Cavaliers proved it was one step too many.
An additional highlight for the club in 2003 was when Kashif Rashid scored the league's highest score of 209* against Crigglestone.
Left arm spin bowler Deegan, who had come up through the junior ranks, played a major role in the 2003 season. He went on to play at Bankfoot before establishing himself in the successful Cleckheaton side that won Bradford League titles in 2013 and 2014.
Some Fine Players in the League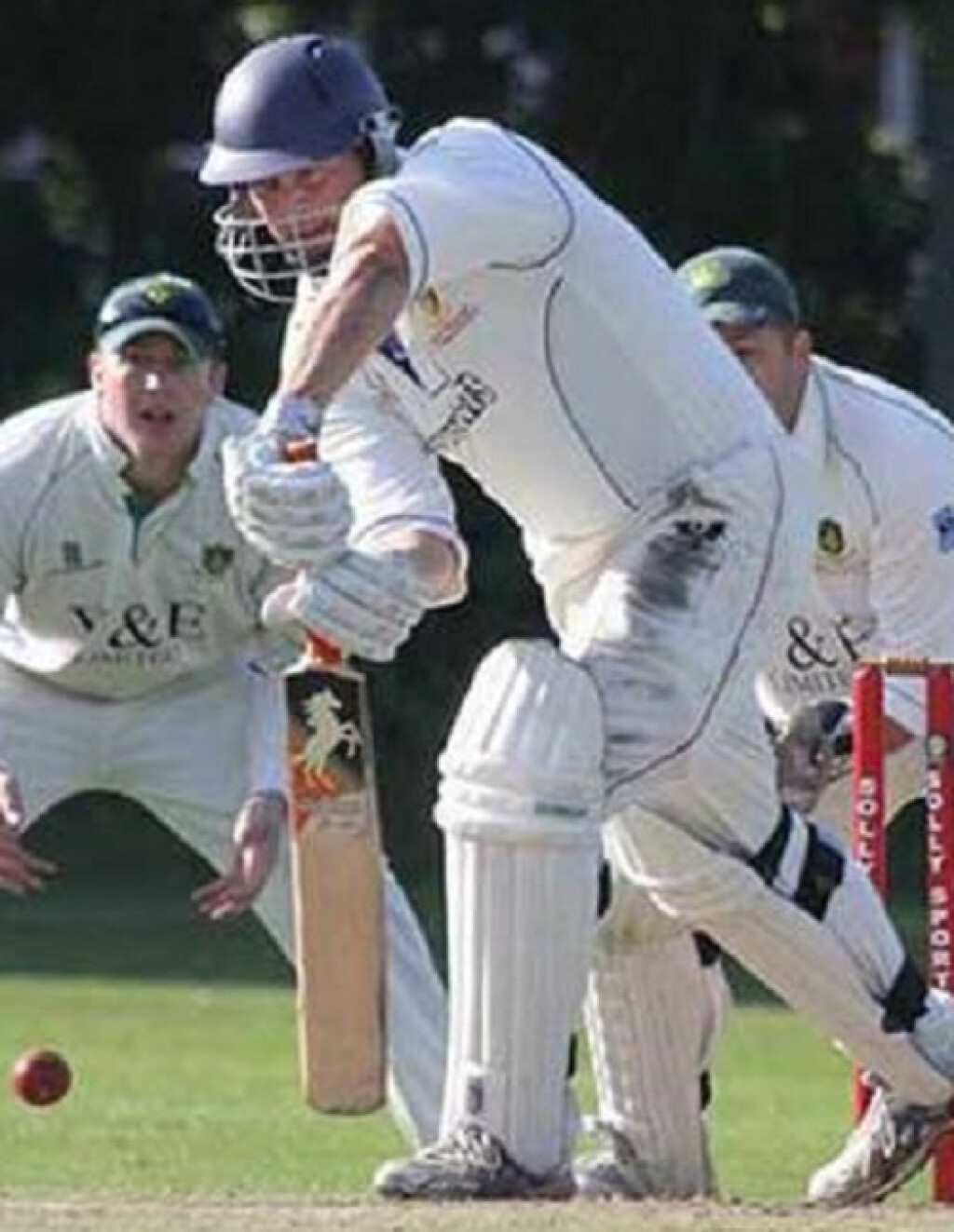 The best performers in the Central Yorkshire League top flight in 2003 were Iqbal Khan of Wakefield St Michael's who won the batting averages with a fantastic haul of 1,241 runs at 88.64, and John Rickers who won the bowling with 38 wickets at 11.58.
There were many fine performers in the league - amongst the best were Sammy Dighe, Eric Austin, Tim Walton, pictured above, Simon Sterling and Paul Blakeley.
Highlights from other Leagues
Wetherby League
Great Preston had an illustrious history in the Wetherby League, and they probably peaked in 2003. They swept the board in the honours stakes that year, winning a remarkable treble of the league, Fred Fleetwood Cup and the Evening League Cup.
Alongside this success, the club competed admirably in the Black Sheep Yorkshire Club Champions Trophy - their entry was by virtue of winning the league in 2002.
They defeated the Huddersfield League champions Kirkburton in the quarter-final - a side with good pros like Yorkshire opener Scott Richardson.
This was an astonishing achievement for a Wetherby League side and arguably Great Preston's best victory. They met their match in the semi-final against Yorkshire League champions Harrogate, but the team were far from humiliated despite lacking several regulars.
Huddersfield Central League
Crossbank Methodists celebrated their 50th year as a club in 2003 by winning the Section A title to propel themselves up to the Premier League.
Pontefract & District Cricket League
In 2003, Sandal was residing in Division Two when a remarkable feat by batsman Ian Shuttleworth put them very much on the local cricket map. He won the league batting prize with an incredible average of 221.33.
Bradford Central League
Jer Lane had an impressive history in the Bradford Central League, but times were hard in 2003. An exodus of players left them struggling to put out two teams, and the 1st X1 finished bottom of the Division One.
They only avoided relegation because teams were leaving the league. In this era, the club were in a very precarious position and were battling for the club's survival.
However, two influential figures led a revival which saw the club's fortunes soar. Former Woodlands player Tim Roache came to the club and became a valued club member as well as a very competitive all-rounder. Karl Laban, pictured below, took over as captain and he began to lay foundations that would secure the long-term future of the club. A generation later his son Jordan made the grade at Jer Lane, before moving to Woodlands, and then Methley.