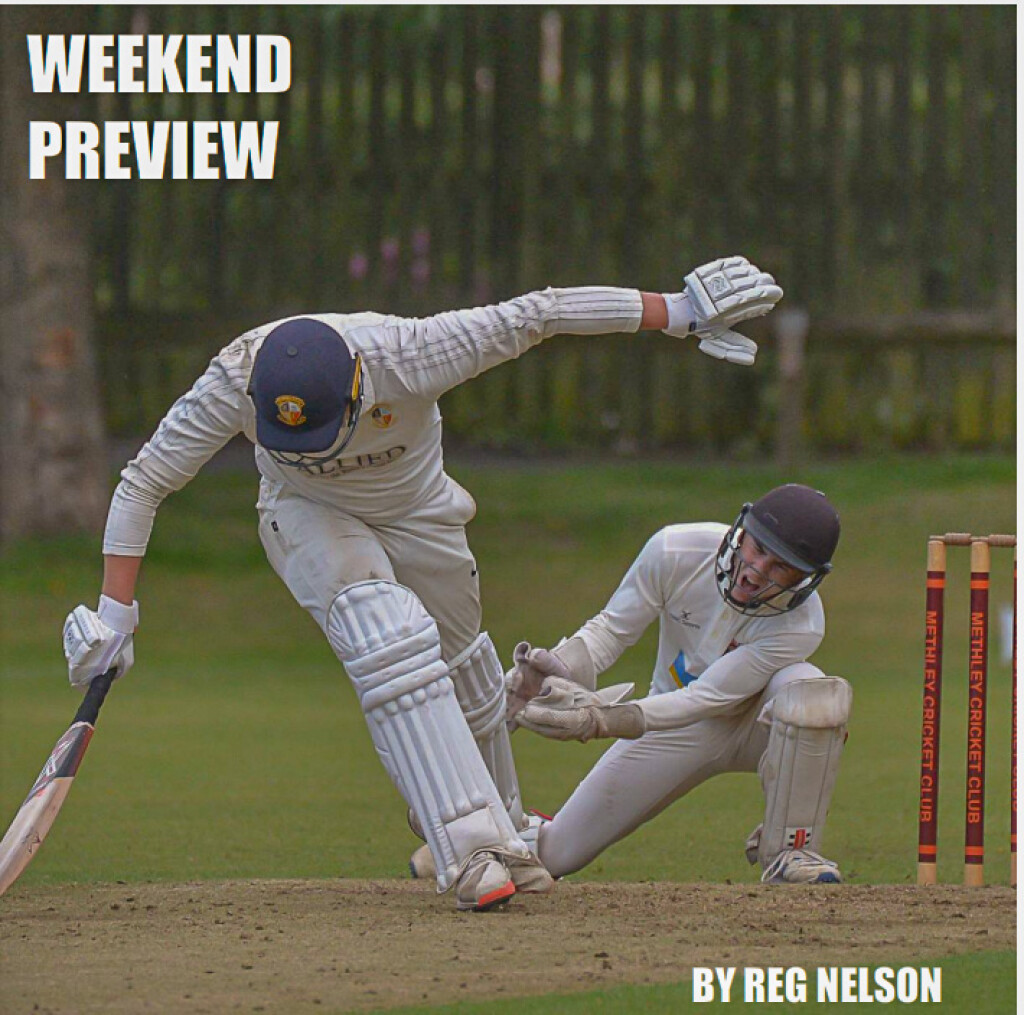 As the season reaches its conclusion in the top flight, and with just two more set of fixtures in the other divisions, it is time to reflect on each club's season. We also look at this weekend's fixtures, with a particular interest in the unresolved promotion and relegation issues.
Premier
This Week's Matches-
The title was won last week by Woodlands after they beat Pudsey St Lawrence in a game that at one stage could have gone either way. This represented their third successive title, and their ninth in 18 years.
A weakened New Farnley beat Townville away by six wickets in a sterling effort to keep the pressure on Woodlands.
The relegation situation was ratified after Cleckheaton was defeated by Ossett to the tune of 10 wickets. The Moorenders will go down with Batley.
Hanging Heaton moved to the respectable position of eighth after a season close to the drop zone. They scored a magnificent 423-9 last week against Methley who are now in tenth place.
Although no fixture this weekend effects the title or relegation positions, the last games represent an opportunity for several clubs to cement a good position.
Pudsey St Lawrence (276 pts) and Bradford & Bingley (276 pts) can each finish fourth, and they both finish with difficult games. The Saints have a home match with Townville, while the Wagon Laners are at New Farnley.
Farsley (261 pts) and Ossett (259 pts) are in competition for sixth place with the former at Methley, and the latter at home to Woodlands.
Premier Fixtures Ossett v Woodlands, Pudsey St Lawrence v Townville, New Farnley v Bradford & Bingley, Bankfoot v Hanging Heaton, Methley v Farsley, Batley v Cleckheaton.
Premier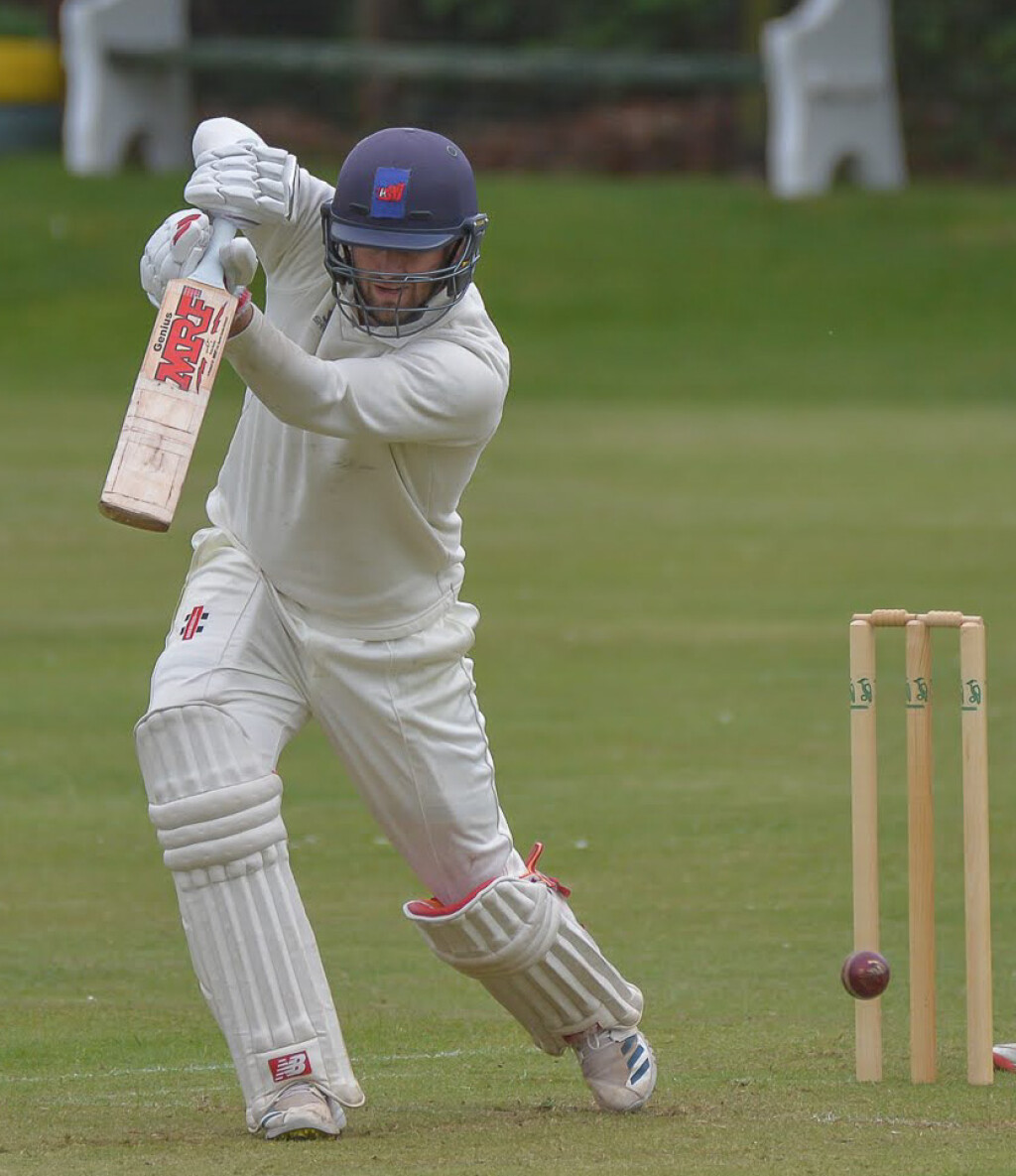 James Lee has been a talismatic figure for Bankfoot Picture: Ray Spencer
Bankfoot
Bankfoot's skipper James Lee must be commended for easing his side out of the quicksand of relegation. Indeed, they were never regular members of the bottom two, and would invariably win a match to steer clear. Lee has scored 798 league runs, and can still bowl an economical spell.. Afghani Zia Ul Haq Parwani has been a massive influence scoring 731 runs, and also taking 44 wickets. His nine wicket feat against Townville led to a famous victory against one of the top sides in the league. Hamzah Iqbal and Seif Hussain have also been consistent performers- the latter one of the brightest young spin bowling talents in the league.
Batley
Batley were always in relegation trouble, but they had some famous victories like their triumph over Pudsey St Lawrence in mid season. But, they just could not sustain that form on a regular basis and they succumbed to relegation before the end of August. Relegation was unfair on the wholehearted all rounder Yasir Ali who was always prepared to dig in where it hurts. He is well up the leaderboard with both bat and ball. Another talented cricketer in their ranks is the left-hander Kasir Maroof who has scored 672 runs.
Bradford & Bingley
Skipper Ed Brown's wish for a top five place seems to be certain. Indeed they are jostling with Pudsey St Lawrence for a No 4 berth. Their most impressive win of the season was against Castleford in the Heavy Woollen Cup when they had more or less a compete performance. Bingley's side this season has consisted of an exciting crop of young players like Lachlan Doidge, Jacob Slater, Jack Luxton and Matthew Swallow. Australian Corey Miller has scored 869 runs, and Ed Brown 631. Opening bowler Yasir Abbas has taken 51 wickets to lead the seamers.
Cleckheaton
Cleckheaton have been in the drop zone virtually all season, and relegation was confirmed last week when Ossett beat them by ten wickets. Ironically they had one of the best overseas performers in the league in Yousaf Baber who has scored 920 runs. Richard Pyrah and Mally Nicholson battled earnestly with the bat, but the support was not there. The experienced Iain Wardlaw and Andrew Deegan shared 60-wicket plus, but they were fighting a losing battle. And yet, they had chances to win sufficient matches to stay up. They had Woodlands in all sort of trouble when they inserted them in on a damp track at Moorend, but they let them off the hook. The Priestley Cup run to the semi-final should have boosted morale, but the KO defeat against Methley was a disappointing one. Many neutrals will be saddened that this ground will no longer house Premier League cricket.
Farsley
Farsley could finish in the top six, which will be a very good effort to say that Yorkshire's Harry Duke and Matthew Revis hardly played for them. Duke's century against New Farnley completed a very unlikely double over the league leaders, and showed what they could do when firing on all cylinders. Ryan Cooper has scored 683 runs so far, and Dan Revis has turned in some good all round performances. Paceman James Rogers is one to watch for the future.
Hanging Heaton
Skipper Ben Kohler-Cadmore found his form in the second half of the season and did more than any other player to ensure the club's survival in the Premier Division. He has now scored 860 league runs after an indifferent start, and with Nick Lindley (593 runs) and Callum Geldart (666 runs) has carried the side's batting. The bowling has generally lacked penetration and only seamer Mustafa Rafique has been a consistent threat. The side is now well clear of relegation and playing with a freedom that saw them score over 400 against Methley. However, the officials at the club will know that the late flourish can't mask a disappointing season. If they had won the Gordon Rigg T20 Group A Cup final against Woodlands it would have only been a small consolation.

Jaso n Marshall has had an outstanding season for Methley Picture: Ray Spencer
Methley
Methley made a cracking start and briefly led the table, but they were handicapped by hardly being able to play their county players. Matthew Waite was a honourable exception, but even he was not allowed to bowl. Skipper Tom Chippendale has done well with a team lacking in penetration with the ball - not helped by his injury. However, he has developed his batting and scored vital runs in middle order. The real success story has been the development of their young players, and in particular Jason Marshall who can still reach a 1,000 league runs. Despite the problems, they came very close to winning their first silverware in the league. They played New Farnley in the final of the Priestley Cup at the Barry Jackson Ground, and built an impressive score batting first. Waite and Marshall both had impressive half-centuries to their names and seemed to be taking the game away from their opponents. New Farnley made a terrible start in reply losing their first three wickets cheaply. Only a fine century from Adam Waite rescued them, although Methley was convinced they had run him out in the fifties. New Farnley got home with some late lusty blows from Alex Lilley, and Methley must have wondered `what might have been'. James Wainman scored quick runs at the end of Methley's innings, and was their most threatening bowler. Methley's late season form has been poor and they are now tenth in the league. Ironically, this is below two sides that have fought relegation virtually all season.
New Farnley
Several weeks ago New Farnley were well placed to fulfil their Holy Grail ambition of winning the league, and also completing an unprecedented treble of Championship, Priestley Cup and Heavy Woollen Cup. They were 17 points in front of Woodlands with six to play, but crucially lost three successive matches. The last was against Woodlands when it was a matter of `winner takes all', but it was not to be as their rivals prevailed by nine wickets. It must have been a source of frustration that their Australian left arm quick Liam Guthrie missed the match as he went home early. He had successfully been used as a shock bowler, and could have made a difference. Although it was still a highly successful season for New Farnley, they will probably regard it as bittersweet. They won the Heavy Woollen Cup final against Townville when they were second favourites almost to the end. But, they showed the grit to get through, helped by some late unwise shots by Townville. Lee Goddard's century was a masterpiece of concentration when the chips were down for his side. Later they won the Priestley Cup final against Methley to complete a notable cup double. In an excellent final they chased down a large Methley score after a poor start. Adam Waite's achievement in gaining his third Man of the Match award in the tournament after scoring a brilliant century was a highlight for the club.
Ossett
Nick Connolly's quick return of a 1,000 runs certainly helped to ease Ossett into the Premier Division with few alarms. The side's ability to beat the top three in Woodlands, New Farnley and Townville is a towering performance by a side that is still developing. Mattie Race is one of those that has a bright future and has a certain X-Factor about him. Other achievers are Paul Malone with the bat, and the experienced all rounder Marcus Walmsley who chips in with bat and ball. A minor slump of late has put paid to their top five ambitions.
Pudsey St Lawrence
Most people regard the Saints as a developing side, but the erstwhile Keith Smith points out that the side have largely been together now for five years. They will almost certainly finish in the top five, and their best result was downing their local rivals New Farnley in a memorable match. Mark Robertshaw (740 runs), Archie Scott (45 wkts) and Charlie Parker (50 wkts). Have been the key performers Skipper Chris Marsden reached a fine milestone in recent weeks when the completed the rare feat of 5,000 runs and 500 wickets.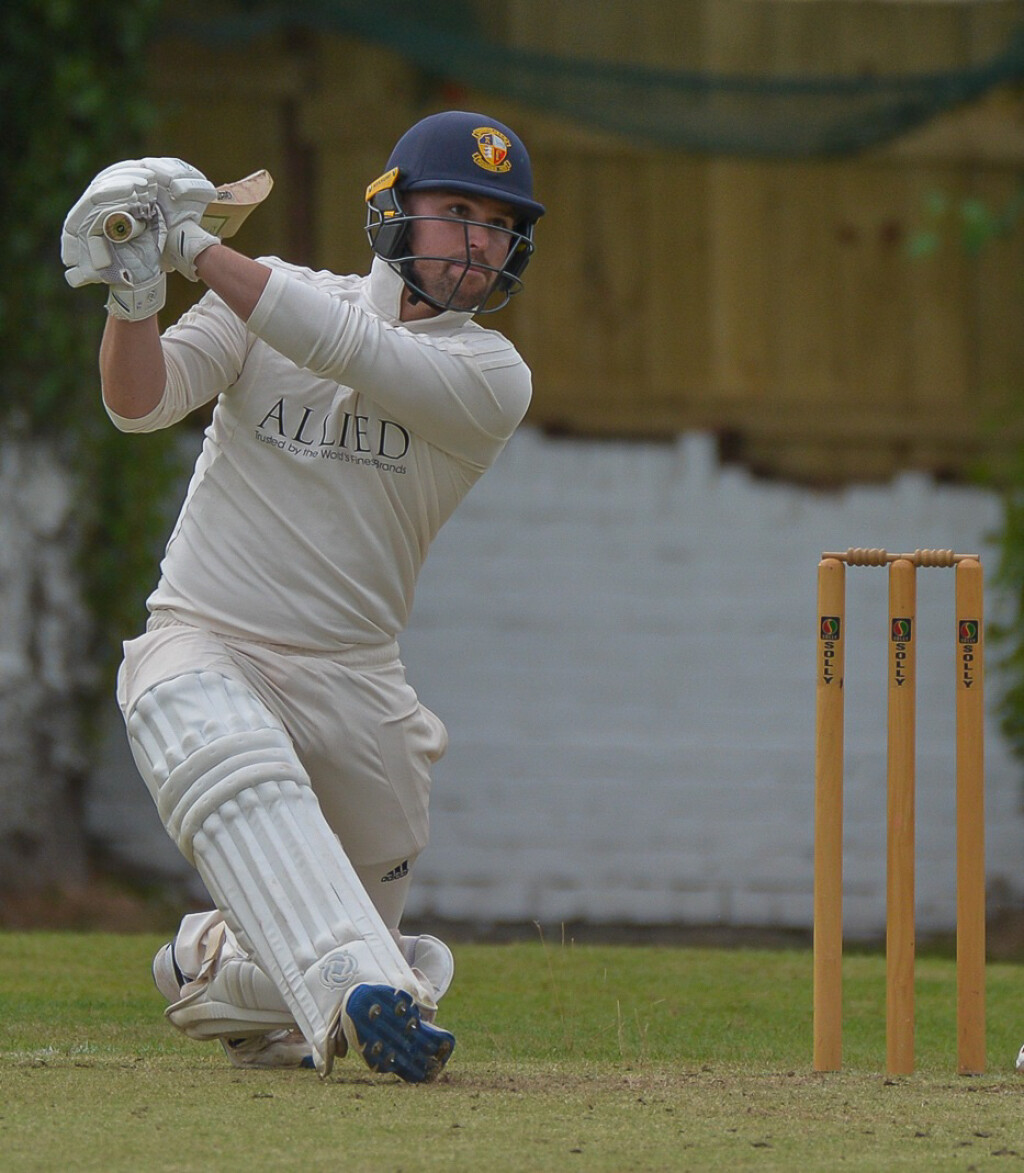 Jonny Booth has gain been a consistent source of runs for Townville Picture: Ray Spencer
Townville
Townville were expected to challenge strongly for the title, but the fact that they lost their opening two games meant they were playing `catch-up'. Later, when they surprisingly lost to lowly Bankfoot, it became too tall an order to join the challengers. A niggling back injury to Conor Harvey also negated their progress. Familiar achievers are Jonny Booth who might just miss out on 1,000 league runs, and Jack Hughes (58 wkts) who will probably end with 60 wickets-plus. It would have been fitting if they had won the Heavy Woollen Cup in their centenary year, but it was not to be as they somehow contrived to lose a final they were on the verge of winning. It was no easy route to the final as they defeated Woodlands, Wakefield Thornes and Honley on the way. They would play New Farnley in the final at the Barry Jackson Ground, and when they had their rivals at 2-2, they were in the ascendency. However, Lee Goddard revived the innings playing with an uncharacteristic caution, but his century anchored an innings that finished on 222-6. Townville's reply was largely based on Harry Warwick's brilliant anchor role which brought him 91 runs. Six batsmen reached double figures without `cashing in', but at 163-4 they were effectively winning the tie. They just needed 18 runs from the final three overs with five wickets in hand, and Harvey and Tom Brook at the crease. However, they lost their last five wickets for just 12 runs to lose the final by 4 runs. For Townville, it was another agonising final defeat, and they will reflect on the way they allowed victory to slip from their grasp.
Woodlands
Woodlands looked an outside bet for the title when they were 17 points behind New Farnley only a few matches ago. The crunch match at New Farnley probably epitomised the mental strength of the side. Chasing a score in excess of 270 they won by nine wickets thanks to a brilliant stand between Brad Schmulian and Tim Jackson who both hit centuries. They completed their third successive title win by defeating Pudsey St Lawrence at Albert Terrace last week, and now look forward to the end of season Yorkshire Premier League Play-Offs. Brad Schmulian has put in an unmatched claim to be the Sir Learie Constantine All Rounders Trophy winner for 2022 after scoring 996 runs, and taking 57 wickets. Tim Jackson has also had a brilliant season scoring 863 runs in the league. Tom Clee has proved that it is possible to promote from within as he has enjoyed a highly productive season with the bat scoring 580 league runs at 38.67. A new innovation for the club was their participation in the ECB National Club Competition when they beat Appleby Frodingham, Richmondshire and Wakefield Thornes before going out in the last over in a last 16 match at Wallasey CC. Another positive feature to their season was winning the T20 A Group Final against Hanging Heaton. This was a first for the club winning this trophy.
Division One
This Week's Matches
Jer Lane clinched promotion last week by beating Gomersal. They now need just a handful of points to clinch the title. They have the perfect opportunity this weekend when they play win-less Wrenthorpe.
The Pudsey Congs and Carlton battle for the second promotion place continues apace with the former 11 points to the good. However, the Congs have a more difficult run-in than Carlton and will have to keep performing at the very highest standard to achieve their goal. The Congs have a tricky encounter at Jenny Lane when they play a Baildon side with several heavy run-getters. Carlton are at Birstall with the home team experiencing a slide down the table.
Last week, East Ardsley was as good as down, but in an extraordinary week their fortunes have been completely turned around. Keighley were hit with a points deduction which brought them down the table to just two points more than East Ardsley, Ironically, these two clubs met on Saturday with East Ardsley coming out on top and are now 14 points above Keighley.
Keighley have a testing home game with fourth place Undercliffe this week, while East Ardsley are at Gomersal.
Division One Fixtures: Gomersal v East Ardsley, Keighley v Undercliffe, Baildon v Pudsey Congs, Birstall v Carlton, East Bierley v Morley, Wrenthorpe v Jer Lane.
Baildon
Baildon were never seriously in relegation trouble, but their lowly position at one stage was concerning. The stats make it very clear where their strengths and weaknesses have been. There's been ten centuries scored in the league between James Ford (4), Kevin McDermott (2), Dwayne Heke (2), Jonny Reynolds (1) and Mounam Ejaz (1), and yet the bowlers have only managed two five-wicket performances. The best of the bowlers has been opening bowler Abdullah Khan who has so far taken 41 wickets. Ford's had a season to remember with a top score of not out 162, and a great chance to reach the thousand run mark for the season. The one area they need to address next season is a specialist spin bowler to add a balance to the attack.
Birstall
Birstall were on the fringes of the promotion race in the early stages of the season, but they have faded from the scene. The veteran left hander Eric Austin (596) is still the batsman who can anchor the innings, while Matthew Dyson, Nick Kaye and Brandon Silverwood have all topped 400 runs. David McCallum has been the most successful bowler with 35 wickets.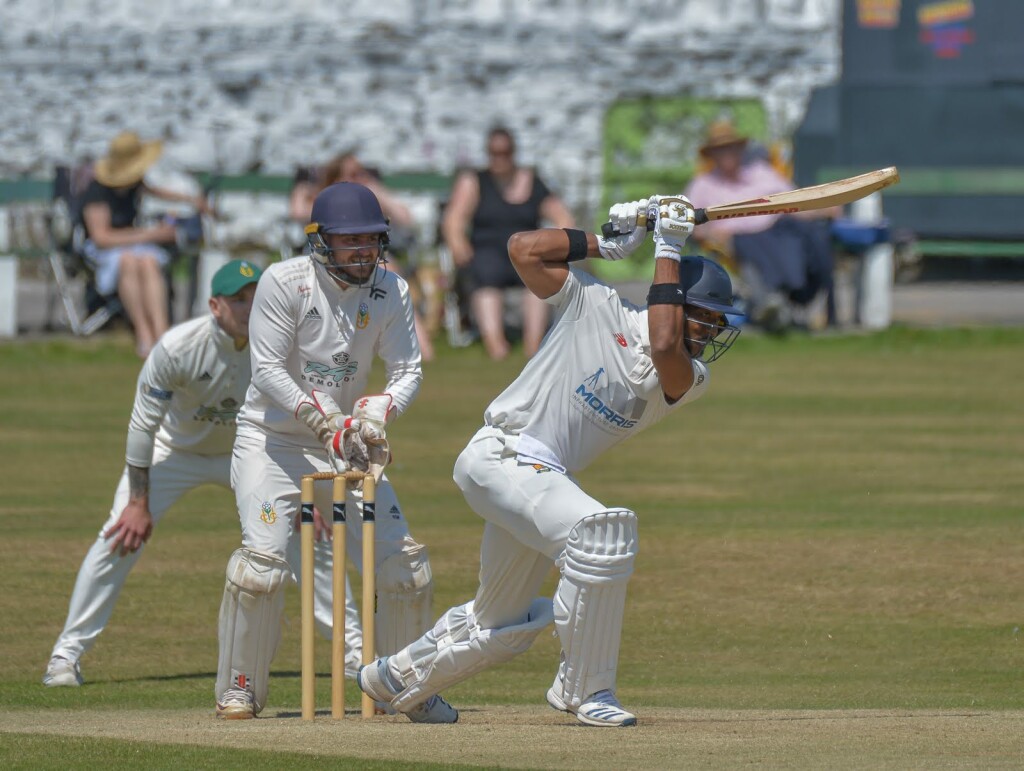 Kershaski John Lewis has been a key performer for Carlton Picture: Ray Spencer
Carlton
Carlton have found a way to win the tight matches and have two virtuoso players that make it happen. Kershaski John Lewis, who has scored 1,069 league runs, and the mercurial all rounder Farrukh Alam who has chipped in with 531 runs down the order, but more importantly has taken 42 wickets. The third key player who has been every bit as vital has been Daniel Ford who is only 49 runs short of the 1,000. When one also has the reliable all rounder Jonathan Rudge in the mix it is little wonder they are challenging strongly. With two matches to go they are 11 points behind Pudsey Congs, but crucially have a more favourable run-in. Congs have to go to Baildon, and end their programme with a difficult home match with Jer Lane. The only real blemish for the season has been Carlton's late withdrawal from the Priestley Cup when they conceded to Hanging Heaton.
East Ardsley
East Ardsley has been given a lifeline in their fight against relegation when all seemed lost the week before last. Keighley's points deduction put East Ardsley just two points behind them, and they took full advantage by beating them last Saturday. They now have a 14-point cushion above Keighley and have every chance of staying up. They have relied very heavily on James Van Der Merwe who has scored 796 runs, and only Muhammad Tariq has shown any sort of consistency from the other batters. But, when the chips are down they have a good team ethic to get through.
East Bierley
It was thought that East Bierley would build on last year's promising season, particularly with the acquisition of Pakistani overseas player Nisar Ahmad. However, it has not turned out that way as Ahmad arrived late in the season, and key men Matthew West and Ben Walter left the club. After flirting with relegation they could now finish as high as sixth. Ahmad might have come late but he managed 50 wickets before departing last week.
Gomersal
Gomersal play positive, attacking cricket and could finish as high as fifth. Andy Gorrod is having an inspired season scoring 853 runs for a fine average of over 50. Richard Wear and Liam Fletcher have also been piling up the runs. They may lack a penetrative strike bowler, but Daniel Syme and Jonathan Boynton have picked up wickets at a low cost.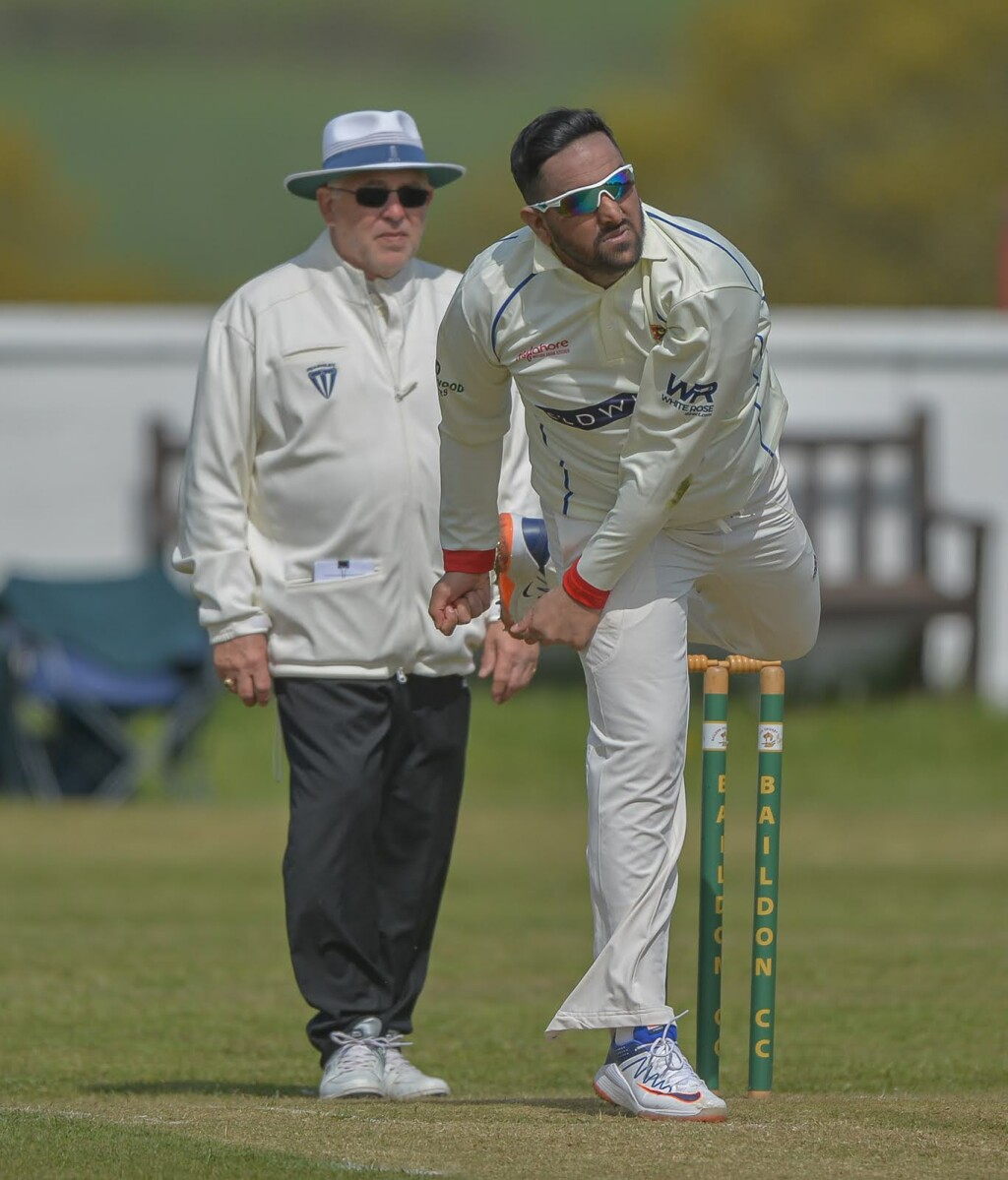 Mohammed Jamal has been a regular wicket taker for Jer Lane Picture: Ray Spencer
Jer Lane
Jer Lane entered the second half of the season on maximum points per game, and left every other team in their wake. The only blemish on the season at that stage was their Priestley Cup defeat by struggling Cleckheaton, when they could not defend a score fractionally short of 300. They are now deservedly promoted and should be crowned champions this weekend. They have continued to dig themselves out of danger with disciplined batting when early wickets have been lost. Deron Greaves has now reached 1,002 runs with his team-mate Cosmond Walters on 687. The bowling is probably secondary to their batting, but Mohammed Jamal (39 wkts) and Walters (36 wkts) have got their fair share of wickets. They did lose two matches on the bounce; the Pudsey Congs defeat was so emphatic it prevented them from getting a single point. However, they are allowed a couple of mishaps in what has been an outstanding season.
Keighley
It appeared at the start of the season that new captain Scott Etherington could spring this `sleeping giant' to life, and perhaps be involved in the promotion race. This has not happened despite having a virtuoso Australian all rounder in their ranks of the name Noah McFadyen who has scored 762 runs and taken vital wickets. Nathan Storton has also had a sound season with the bat. The prospect of lower mid-table obscurity was far more preferable than what would unfold in late season when they were deducted 30 points for their poor disciplinary record. The main beneficiaries of this were East Ardsley who was suddenly given a lifeline to escape relegation when the adjusted points put Keighley just two points in front of them. The first weekend after the adjustment the two teams would clash and East Ardsley came out on top and now Keighley are 14 points behind, and in grave danger of going down. Next up is Undercliffe which won't be an easy option in clawing points back.
Morley
It seemed unlikely that Morley would suffer two relegations on the trot, but their losing run went on a long time from the start of the season. However, they had the batting power to start winning matches and so it proved with Kavindu Kulasekara scoring 828 runs, including a stunning 165 in his final game last week. Jack Rowett and James McNichol have also scored in excess of 500 league runs for the season. The seam attack has not been as potent as in recent years, but evergreen spinner David Nebard has come to the fore with three five-wicket performances in a 38-wicket haul. They are now eighth and could potentially finish as high as sixth if they win their last two games.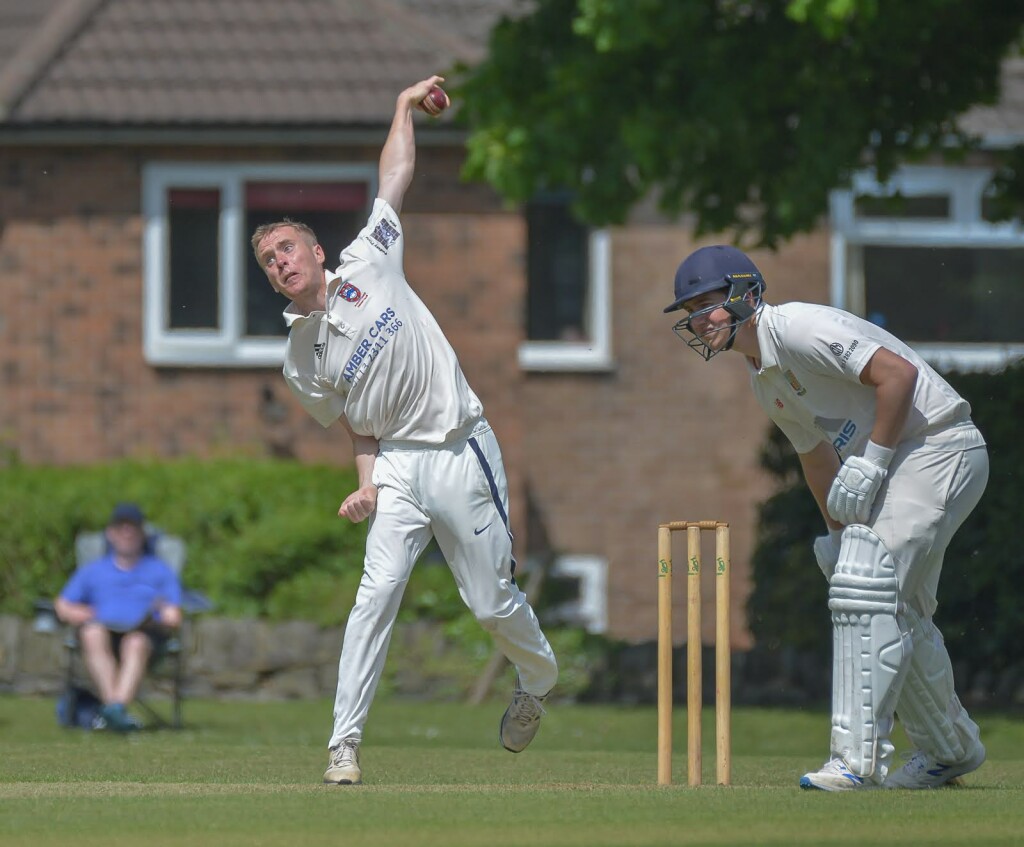 Sam Wisniewski's spin bowling has been key for Pudsey Congs Picture: Ray Spencer
The fine Britannia ground at Pudsey is worthy of Premier League cricket, as evidenced by the Jack Hampshire Cup Final. However, this status is measured on the field and is now in the hands of the Congs with their 11-point lead over Carlton in the race for the second promotion place. They do have the harder run-in, having to face Baildon and Jer Lane in their last two matches. However, they have launched a promotion bid with a home spun side which should auger well for the future. Young, left arm spinner Sam Wisnewski tops the division's wicket-taker leaderboard with an impressive 60 wickets; Ryan Heptinstall and Adam Pearson have bowled steadily this season, and Rishi Chopra who took an incredible 5-5 last week against Birstall. The aforementioned feat by Chopra was even more remarkable because he has only bowled 28.1 overs in the league. The batting has been largely sustained by overseas star Yohan Mendis who has hit 858 runs, and Callum Oliver (588) and Richard Jubb (588). Joshua Bennett has had a good season behind the sticks, and also contributed vital runs down the order.
Undercliffe
If Undercliffe can retain their better performers, it will only take a little tweaking to get them on track for promotion next season. They have lost a number of close matches that have negated their drive for promotion this season. They do play positive cricket, evidenced by opener Oliver Hardaker (738) who will look to score boundaries from the word go. Overseas man Byron Boshoff (666) has been the next top scorer, with Danish Hussain, Jack McGahan and Bailey Worcester all capable of winning a match with the bat. The seam attack has been spearheaded by veteran Zeeshan Qasim who sustained a serious injury to disrupt his season. One to watch for the future is young rookie spinner Jude Roberts who has taken an impressive 50 wickets. He will surely benefit from his cricket education course in Australia this winter.
Wrenthorpe
Wrenthorpe are still searching for their first win in a season to forget as they slide down to Division Two. One can argue that they had little chance of getting a decent side together after their retrospective relegation. Their plans for the top flight were made redundant when their most influential players left and they were left with little scope to recruit. However, they have a strong cricket infrastructure, and a ground players and spectators like to visit. They certainly have the potential to come back strongly.
Division Two
This Week's Matches
Sandal can confirm promotion and the title by beating third place Lightcliffe. This would seriously derail Lightcliffe's promotion bid, despite second place Yeadon having a difficult game against Northowram Fields.
Kyle Welsh completed 1,000 runs for the season last week with a stunning 189 not out for Northowram Fields.
Wakefield St Michael's have been relegated, and Great Preston are the favourites to go down with them. They have half a chance of catching Hartshead Moor or Crossflatts, but will need to beat the latter handsomely.
Hartshead Moor have a home fixture with Bowling Old Lane who have moved into sixth place.
Hunslet Nelson and Buttershaw St Paul's are on 222 points and clash this weekend with the No.7 position at stake.
Division Two Fixtures: Yeadon v Northowram Fields, Hartshead Moor v Bowling Old Lane, Hunslet Nelson v Buttershaw St Paul's, Lightcliffe v Sandal, Wakefield St Michael's v Hopton Mills, Great Preston v Crossflatts.
Bowling Old Lane
The Old Lane have been competitive throughout the season, but they have often not seen games out when on the front foot. However, they will probably finish as high as sixth and give them time to consider plans for next season. The highlight of the season was when they performed a notable league double over a Lightcliffe side that have challenged for promotion from the word go. Farhan Hussain and Imran Malik have been steady performers with the bat, but as a team they have lacked penetration with the ball.
Buttershaw St Paul's
Buttershaw St Paul's are a frustrating side for their followers, in that they can beat anybody, but will slip up most unexpectedly. Thus, they have not quite entered the promotion race despite some excellent performers. Amer Ayoub tops the lot with 782 runs, and 42 wickets - proving again what an impressive all-rounder he is. The best of the rest has been Jonathan Burston and Adam Wainwright with the bat, and Zafar Jadoon with the ball. Perhaps the league inconsistencies can be forgiven in the light of their Gordon Rigg Jack Hampshire Cup triumph against Heckmondwike & Carlinghow at Pudsey Congs. St Paul's batted first and scored a slightly over par 221-4 with Matty Long (62), Jonathan Burston (47) and Adam Wainwright (35no) contributing the most runs. Heckmondwike made a bad start but battled on and got very close, only losing by three runs. Paul Carroll took a crucial 3-27, but the sixth bowler Harris Cunningham kept his nerve bowling at the end with two for nine. The following from St Paul's was an impressive one and illustrated the potential at the club.
Crossflatts
Crossflatts have always seemed to have enough about them to avoid relegation, despite being on the fringes of trouble for much of the season. The big factor in their successful survival bid was the form of South African Ruan Van Rooyen who has topped 500 runs and taken in excess of fifty wickets. Apart from him they are a team of no stars, but players who chip in for runs down the order at vital points. To illustrate their late batting strength one has only got to look at Mayank Singh's innings of 86 at No.11 against Hopton Mills. Wasim Hussain has had a good season with the ball and he should top 40 wickets. A real long-term boost for the club came in July confirming their ECB Clubmark accreditation. They've a strong junior section and women and girls cricket set-up, and the only blight on their future is the close development of houses virtually on their boundary edge.
Great Preston
It's a big surprise that Great Preston are on the verge of relegation given their traditional batting power. They will have to go for broke in their remaining two games, and hope their rivals score few points in decisive defeats. Relegation would be hard on James Conlon (609) and Oli Baron (599) who invariably produce the goods with the bat. The bowling lacks strength, evidenced by the fact that no bowler has 30 wickets to his name.
Hartshead Moor
Hartshead were in grave danger of going down a few weeks ago, but battled back with some good results. Their survival is in their own hands having a lead of 21 points on the second bottom club Great Preston. The key players have been Hasnat Yousaf (713) and Chris Wynd (635) who can score decent runs early on. Young spinner Lewis Lomax could be the key to their survival. He's not afraid to give it a bit of flight and certainly turns it. The club reached the semi-finals of the Gordon Rigg Jack Hampshire Trophy after a big win over Lightcliffe. However, it's all about the last two matches now, for a club with a greatly improved ground that has been chosen for Sunday's Priestley Shield Final.
Hopton Mills
Hopton Mills ran out of steam in the promotion race, but have set a very good standard for a bid next year. Sohail Hussain has been the star player with 768 runs and 43 wickets. Other good performers have been Umar Abbas, Chris Scott and Usman Maqsood. Last week's victory over Great Preston was noteworthy with Hussain impressing with 134. He hit eight sixes and 14 fours, and featured in two century stands. He out on 173 for the fourth wicket with Imran Patel (71) and 114 for the fifth wicket with Umar Abbas (61), as Hopton Mills made 337-5. They should finish fourth.
Hunslet Nelson
At various points of the season Hunslet Nelson has hovered just about the drop zone. However, they always had enough in their tank to survive. Australian batsman Kurt Chalker has been a tower of strength, scoring 782 runs for the side's cause. Sam Thewlis has excelled with the ball and at one point was one of the division's highest wicket-takers. The cricket that they have excelled at this time is T20, and this took them to the Gordon Rigg T20 Group B Cup Final at Bradford & Bingley's Wagon Lane ground where they lost to Altofts by seven wickets.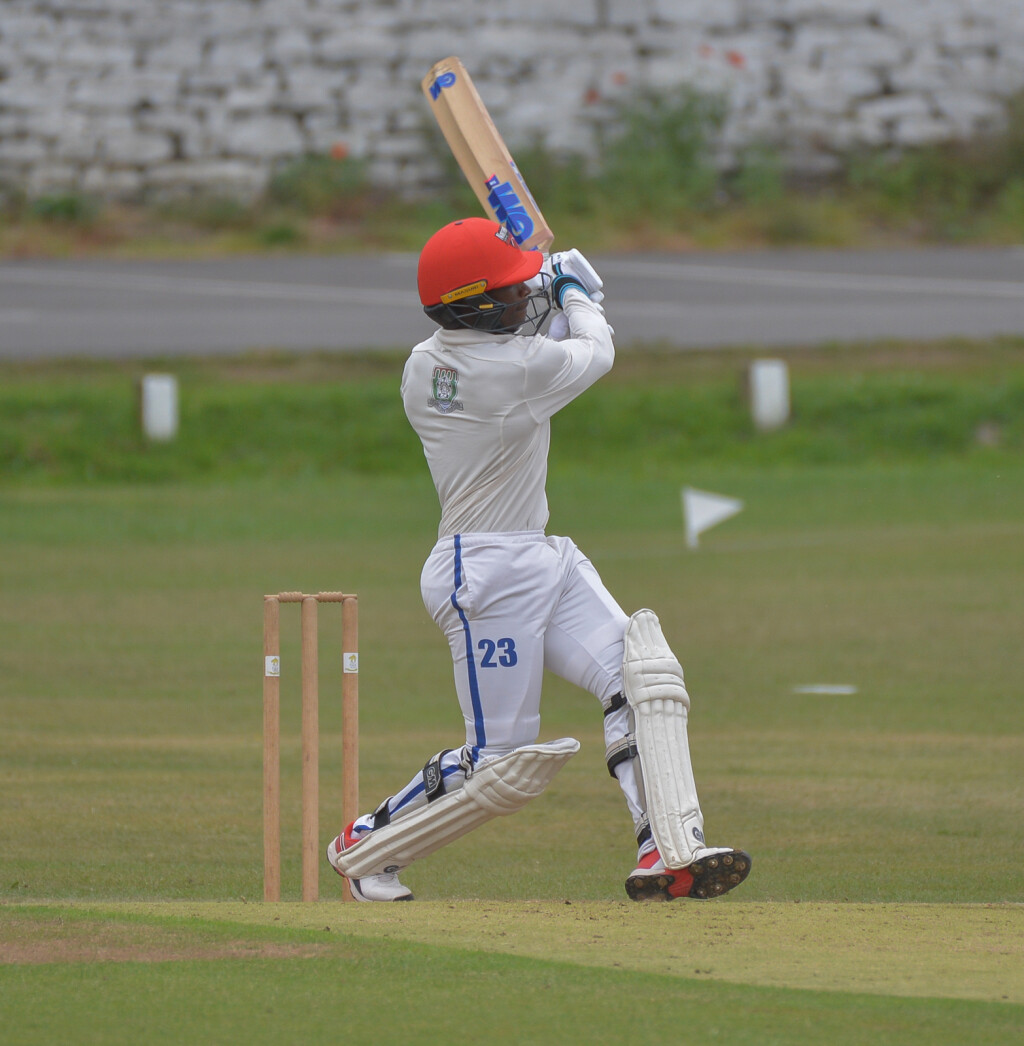 Isaac Dikgale has proved to be a big hit for Lightcliffe Picture: Ray Spencer
Lightcliffe
Promotion for Lightcliffe is now on a knife edge and they will have to beat title favourites Sandal on Barnsley Road this weekend to have any chance of clawing back the four points needed to overtake second place Yeadon. It could be said that if their South African overseas player Isaac Dikgale had arrived at the start of the season they would have been preparing for Division One now. He has scored 694 league runs for more than 70 per innings. However, there is also Alex Stead with 923 runs that is capable of winning a match, and he also has a realistic chance of making the thousand. Jonathan Whiteoak is in second place on the bowler's leaderboard with 54 wickets. If they do miss out on promotion the future of the club is still very bright with their host of junior players playing in their senior sides. Their young Sunday side third team won the Halifax First Division and cup double.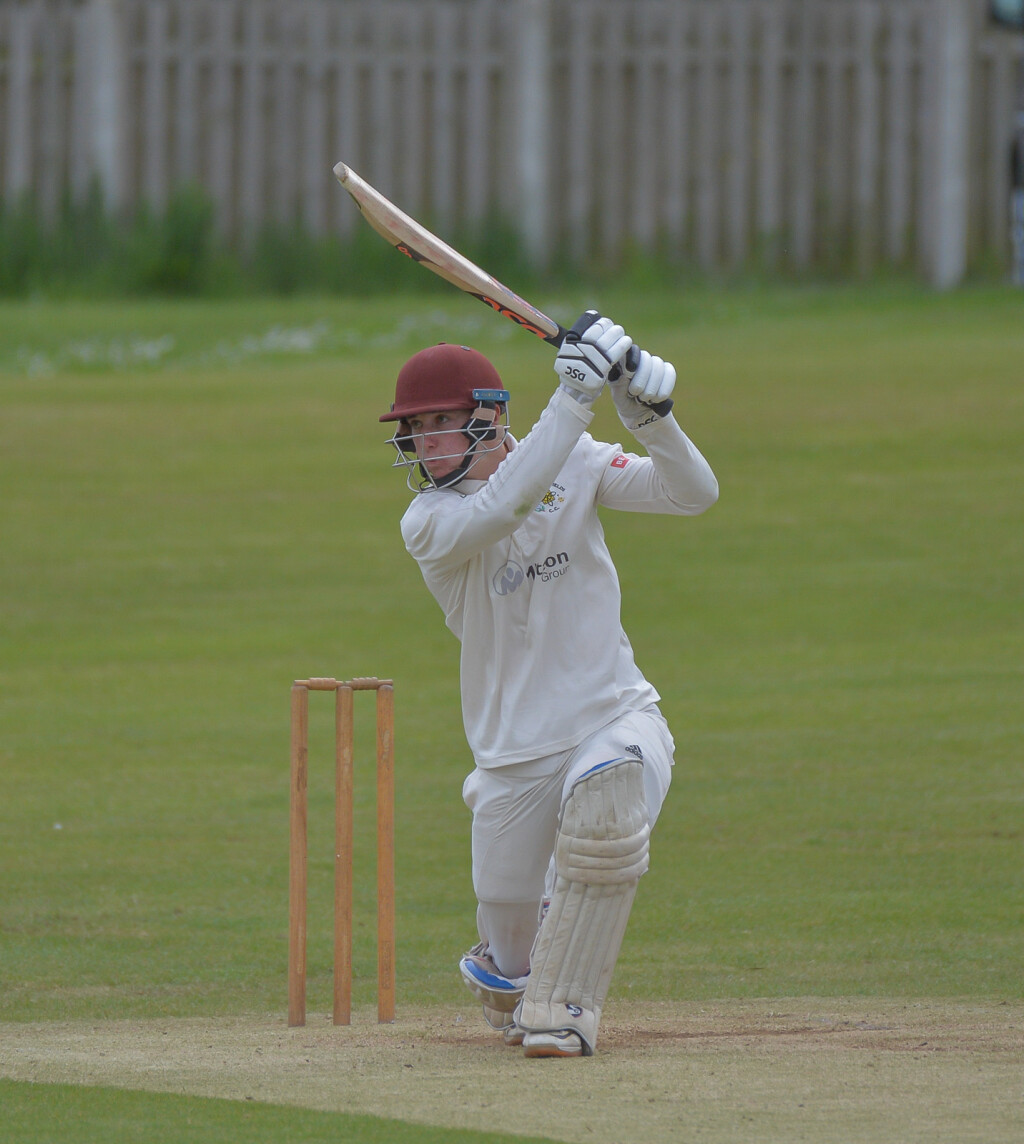 Kyle Welsh has topped 1,000 runs this season for Northowram Fields Picture: Ray Spencer
Northowram Fields
Northowram Fields have threatened to stay the course in the fight for promotion, but they just haven't had the consistency. When they beat Sandal they were in a great position in the league. However, it was not to be and they will have to settle for a top five berth. They certainly had the batting to challenge with Kyle Welsh scoring a season's tally of 1,072 with an innings of 189 not out last week. Harry Hauenstein (606) and Richard Gould (534) have also piled up the runs. They spurned a good chance for glory when they were defeated by Division Three side Heckmondwike & Carlinghow in the semi-finals of the Gordon Rigg Jack Hampshire Cup.
Sandal
The impressive thing about Sandal is the fact that their success this year has been based on a team ethic where every player contributes. The closest to a star player is Sam Noden who has taken 57 wickets, and topped 400 runs with the bat. Often they seemed to be coming unstuck in a game only for a couple of individuals to bail them out with bat or ball. It could be said that seven batsmen will probably make 400 runs without one reaching 600, such is the spread of the runs. Brandon Howlett and Ashley Mackereth are the leading run-getters at the moment, but mention must be made of skipper Kristian Shuttleworth down at eight, who has seen his team home with partnerships down the order. They have enjoyed a slight edge on rivals Lightcliffe and Yeadon because of their ability to grind a result out against the odds. If they beat Lightcliffe this weekend they will be deserved champions. To crown a great season their ground continues to enjoy accolades after their hosting of the Crowther Cup final.
Wakefield St Michael's
When Wakefield St Michael's defeated Crossflatts and Yeadon at the start of the season things were looking good. However, a long losing run put them in relegation trouble and they are now down. Only Lalit Mangalavapu has done moderately well with the bat, while Joe Finnigan has asked the real questions of the opposition with the ball, Conor Andrews has also stepped up with the ball. But, they just didn't have the strength in depth to survive and need to regroup for a promotion bid from Division Three next year.
Yeadon
Yeadon lost two league matches in April and had to play `catch-up' in the promotion race for several weeks. They eventually emerged as one of the likely ones to go up, but such is the consistency of Sandal and Lightcliffe it is still very much up in the air. They lead third place Lightcliffe by four points but have a difficult game this weekend against Northowram Fields who have a very good batting side. Sri Lankan overseas player Pasindu Thirimadura has been a massive player for them and he has a very good chance of reaching 1,000 runs (52 runs needed). Well travelled all rounder Gareth Lee has also gone the hard miles with 589 runs, and 42 wickets. Seamer Adeel Ashraf has been consistent with 52 wickets, and he has also had several crucial knocks with the bat.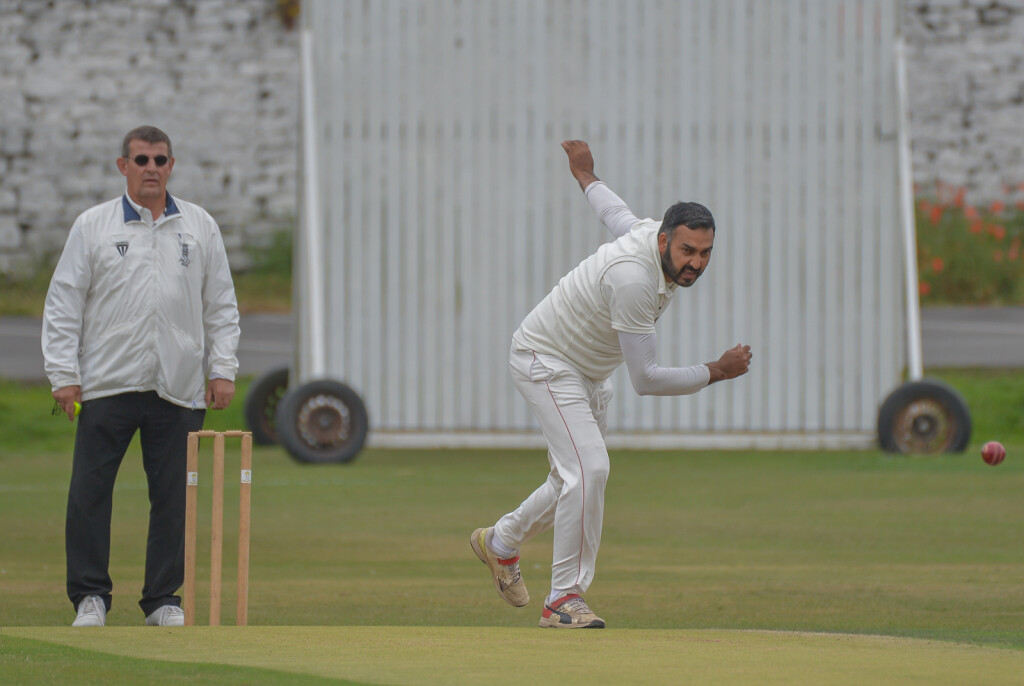 Adeel Ashraf has played an important role in Yeadon's promotion challenge. Picture: Ray Spencer

Division Three
This Week's Matches
Liversedge are champions of Division Three, and they are duly promoted. The second promotion spot is still up for grabs with Heckmondwike & Carlinghow, leading Scholes by 14-points. They could well retain this lead after they have played Windhill & Daisy Hill this weekend. Scholes also have a golden opportunity to put decent points on the table when they play bottom side Crossbank Methodists.
However, praise must be given to the Methodists who recorded their first win last week when Gavin Harrison (121no) and Zaib Ali (112) put on 193 for the third wicket as their side built a score of 295-4.Spen Victoria never looked like chasing that total as they were dismissed for 209.
Rodley will be looking to beat Spen Victoria to get out of the bottom two. There is no relegation hanging on it, but pride will surely play a part. If Brighouse win at Altofts they could go to sixth.
Division Three Fixtures: Scholes v Crossbank Methodist, Spen Victoria v Rodley, Liversedge v Adwalton, Gildersome & Farnley Hill v East Leeds, Windhill & Daisy Hill v Heckmondwike & Carlinghow, Altofts v Brighouse.
Adwalton
Adwalton led the way at the early part of the season, and even after the half-way mark seemed to be going the distance in the promotion race. However, when Heckmondwike & Carlinghow and Scholes closed in on them they could not match their consistency. They will finish in the top five and even as high as fourth depending on their last two results. The best batting performers have been Matty Waller (608) and Matthew Donohoe (555), while Anas Imtiaz (40 wkts) has excelled with the ball.
Altofts
Altofts had enough ability to join the promotion race as a serious contender, but lacked the cutting edge at times. In some ways it was all about two performing all rounders who never seems to let them down - Craig Wood (608 runs and 46 wickets so far), and Saif Tahir (476 runs and 47 wickets). However, the contribution of Andrew Wood was considerable as he has scored 541 runs. Glory did come their way in the shape of the Gordon Rigg T20 Group B Cup Final at Bradford & Bingley's Wagon Lane ground where they beat Hunslet Nelson by seven wickets. The man of the match was Craig Wood who hit an exhilarating 105 not out which will be talked about for many years.
Brighouse
Having lost some good players in the close season, Brighouse will be quite content to have consolidated into mid-table for 2022. They are in some ways a `sleeping giant' for this division, with their fine ground and facilities, and doubtless the aim next year is to challenge for promotion. As far as this season is concerned there were no heavy run-getters or wicket-takers - just useful performers who were never high on the division's leaderboard. The side did show glimpses of what they can do when they had an August victory over Heckmondwike & Carlinghow who were on a great run to promotion.
Crossbank Methodists
It was gratifying to see Crossbank record their first win last week; particularly in the decisive fashion it was performed. They are a gutsy club that kept going in the close season when the odds were stacked against them. The club can now regroup and start a recruitment drive in the knowledge that time is on their side.
East Leeds
East Leeds will probably be disappointing in their league ranking. The highest they can get is probably ninth place, They have been generally competitive with Zahid Tarvaz (413 runs & 28 wkts) and James Watling (402 runs & 44 wkts) invariably taking the fight to the opposition. Watling has been their `go to' player for several seasons now and needs more tangible support.
Gildersome & Farnley Hill.
Gildersome have competed well, but will probably have to settle for eighth position. Liam Pearson, Gethin Clarke, Josh Sturgess and Jordan Edmondson have all done well. They had a remarkable 217-run victory last week over Adwalton, and they had two virtuoso performers in Liam Cooper who hit 161, and Muhammad Shah who took 8-66.
Heckmondwike & Carlinghow
Heckmondwike started slowly, but their season got better and better and they are now favourites to take the second promotion place. They have a 14-point lead on Scholes with both sides having a vey `winnable' game this weekend. They have good players in Ovais Hussain who is top of the leaderboard for runs with 728, and Wasim Khaliq who has been their most consistent bowler. As a welcome distraction and added bonus they reached the Gordon Rigg Jack Hampshire Cup final at Pudsey Congs. They endured the agony of a three-run win after chasing Buttershaw St Paul's 221-5. In reply at 47-4 they looked a spent force, but when Qamar Shahzad came together with Chris Allen (53) they turned the game in Heckmondwike's favour only to lose off the last ball. Shahzad needed to hit the last ball for four to win the game. Instead of going for a big hit in the spread out field Shahzad attempted a ramp shot and missed completely. He was a thoroughly deserving man of the match for his superb innings of 80.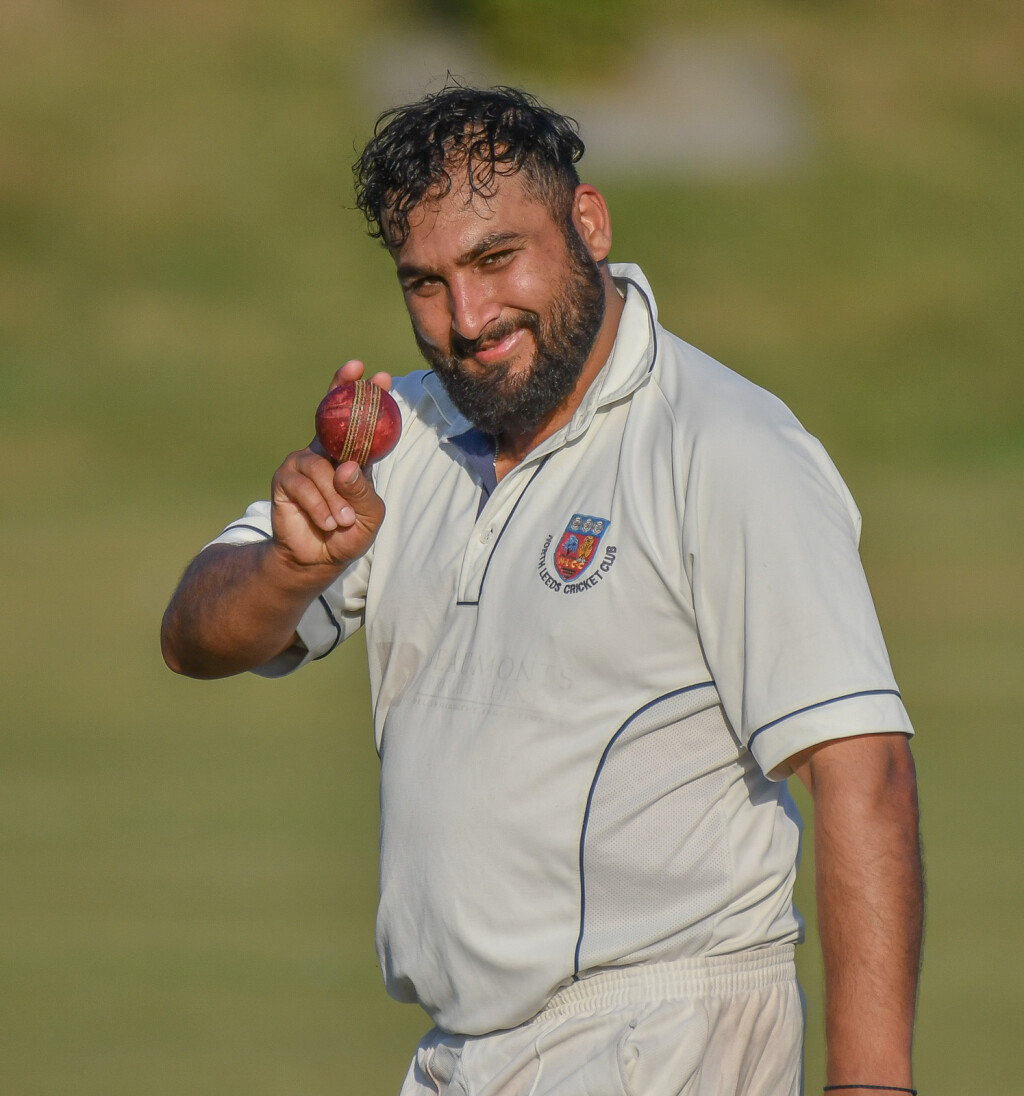 Parvaise Khan has provided wickets and runs for Liversedge. Picture: Ray Spencer
Liversedge
Liversedge were in the ascendency at the top for most of the latter part of the season, and they were effectively promoted by mid-August, albeit not mathematically. Imran Dawood is the division's second leading scorer with 708 runs, and his colleague Parvaise Khan (558 runs & 62 wkts) has put in a fine all round performance. The one disappointment in their season was their forfeiture of a Jack Hampshire Cup tie against Crossflatts. However, they have a fine cricket infrastructure that is worthy of a higher standing in the league structure.
Rodley
Rodley are at the moment in the bottom two despite some wholehearted performers in Bailey Wilson (666 runs), Robert Young (575 runs) and Gary Sagar (446 runs). Young has proved himself an accomplished cricketer for a number of years now, and could comfortably perform at a higher standard.
Scholes
Promotion for Scholes is now very much a long odds bet. They are 14 points behind second place Heckmondwike & Carlinghow who don't look like dropping many points. They have challenged all the way and have the nucleus of a promotion side, particularly with solid batsmen like Adam Greenwood (608) and Christian Jackson (430) in the camp. In the bowling they have relied a lot on Mahleb Mahmood and Greg Keywood.
Spen Victoria
Spen have had a much improved season and at one stage were outsiders for promotion. However, they could not quite sustain their form, and will have to settle for a respectable top half position, and maybe sixth. Paolo Girardi has proved to be a mercurial all rounder at times, taking more than 42 wickets, and contributing over 400 runs with the bat. Bilal Ejaz has again proved to be Spen's best batsman and has topped 500 league runs for the season. Alex Leadbeater has also been a reliable batsman.
Windhill & Daisy Hill
Windhill will be keen to keep out of the bottom two even though it doesn't spell relegation. They have been harder to beat this season, and probably should have won more of the close matches. All rounder Shoaib Iqbal continues to prop them up with some fine performances, topping 400 runs with the bat and probably reaching 50 wickets with the ball.