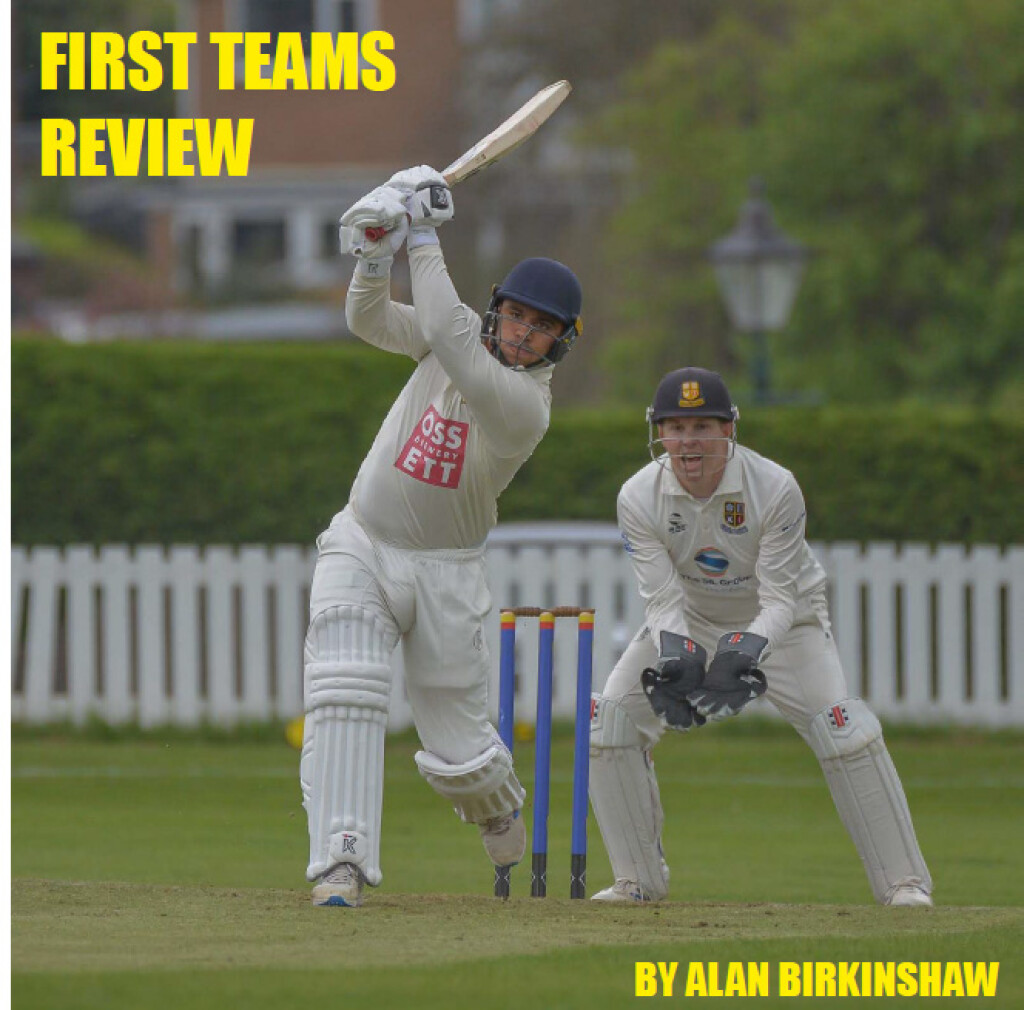 Premier Division
New Farnley v Woodlands
Centuries from Tim Jackson (130no) and Brad Schmulian (109no) powered Woodlands to a nine-wicket win which has put them in touching distance of their third successive league title and ninth in 17 seasons.
Jackson and Schmulian shared an unbroken second wicket stand of 232 as Woodlands overhauled New Farnley's score of 272-7 with eight balls to spare and delivered a devastating blow to their hopes of a first league championship.
Woodlands now hold a 20-point lead with two games to go and it is hard to see how New Farnley will pick themselves up after seeing all three of their seam bowlers, Dan Houghton, Alex Lilley and Mark Lawson pick up injuries as they suffered their third successive defeat.
Jackson, who hit three sixes and 12 fours, and Schmulian, 14 fours, took full advantage of New Farnley's misfortune.
Such a comprehensive victory for the defending champions seemed improbable when New Farnley skipper Lee Goddard (106) and Dan Hodgson (96) were adding 173 for their side's second wicket. Crucially, both were out in quick succession as New Farnley lost wickets and crucial momentum in the closing overs of their innings as Schmulian (4-64) cashed in with his leg spin.
It proved to be a painful afternoon in more ways than one for New Farnley as Woodlands proved once again they have the crucial ability to win when the chips are down.
Scorecard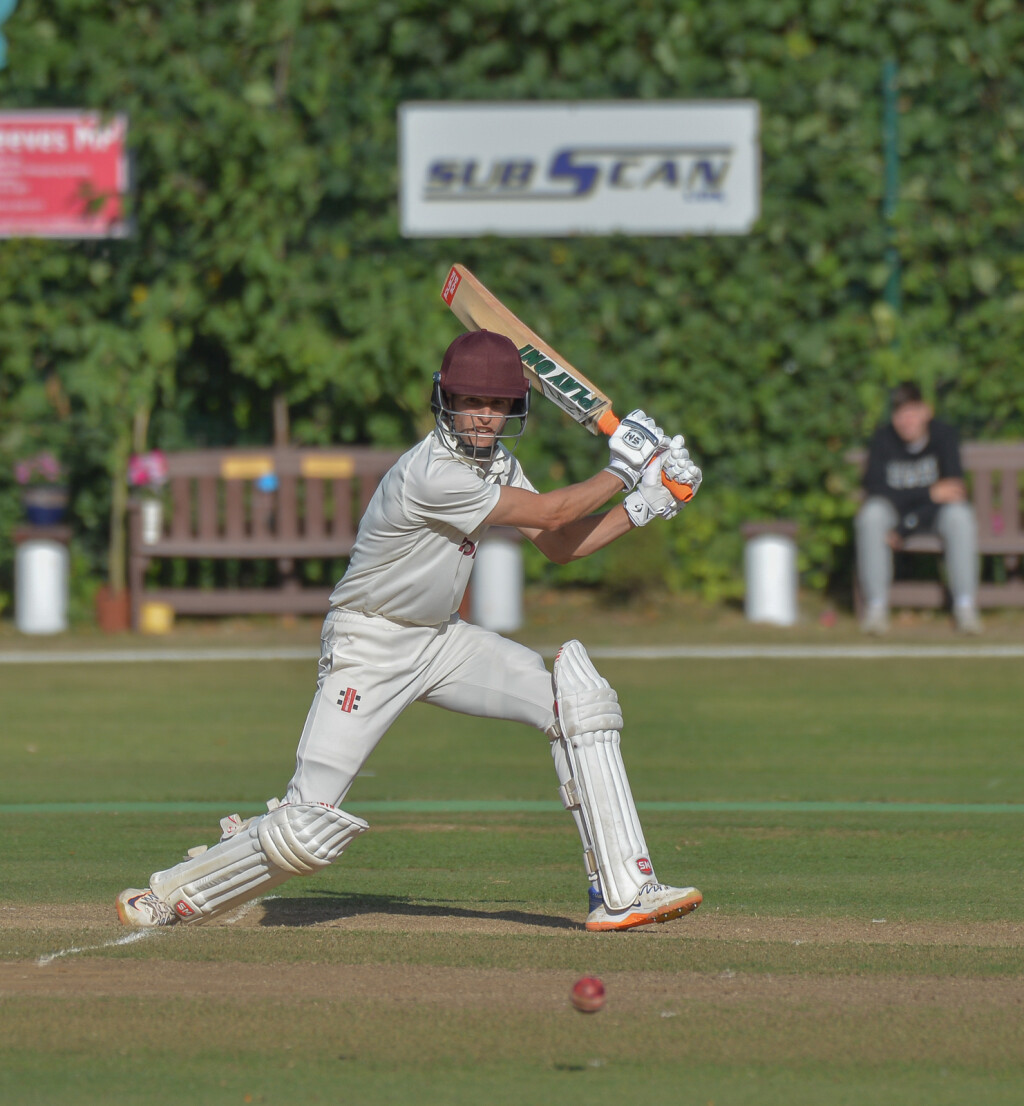 Brad Schmulian attacks during his century for Woodlands. Picture: Ray Spencer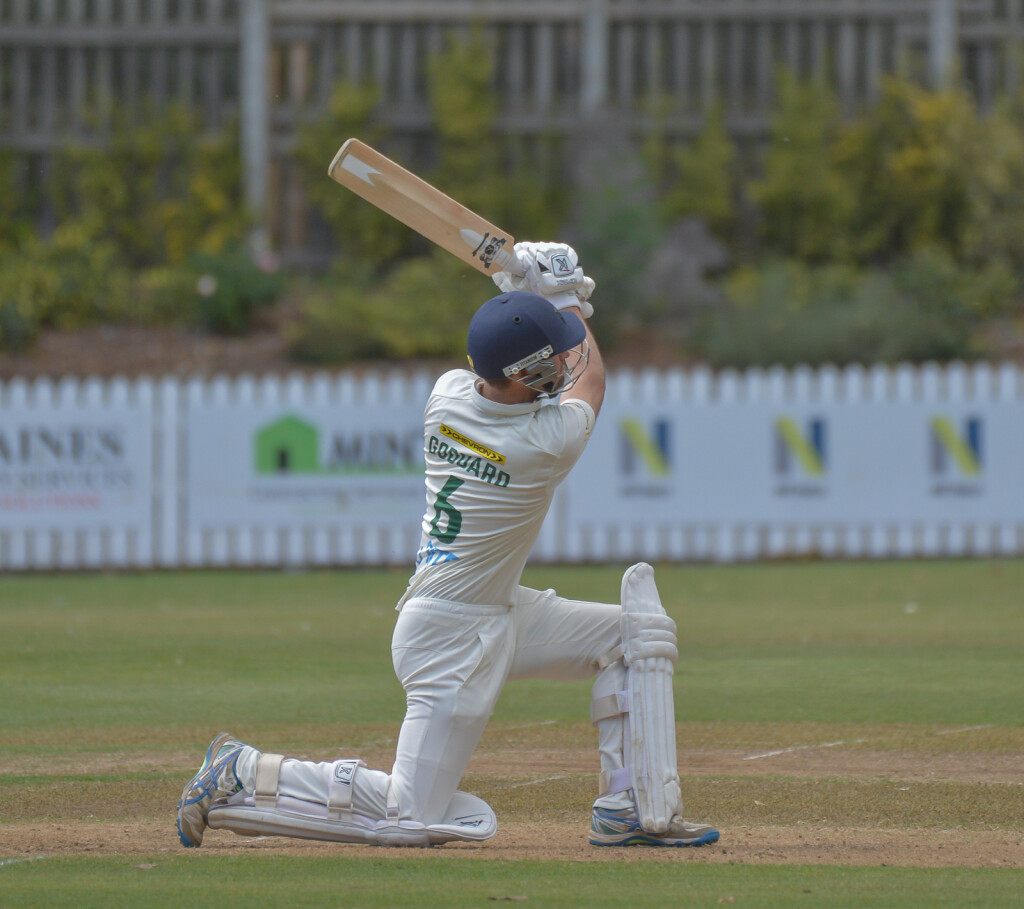 Lee Goddard made 106 for New Farnley with some fine strokes Picture: Ray Spencer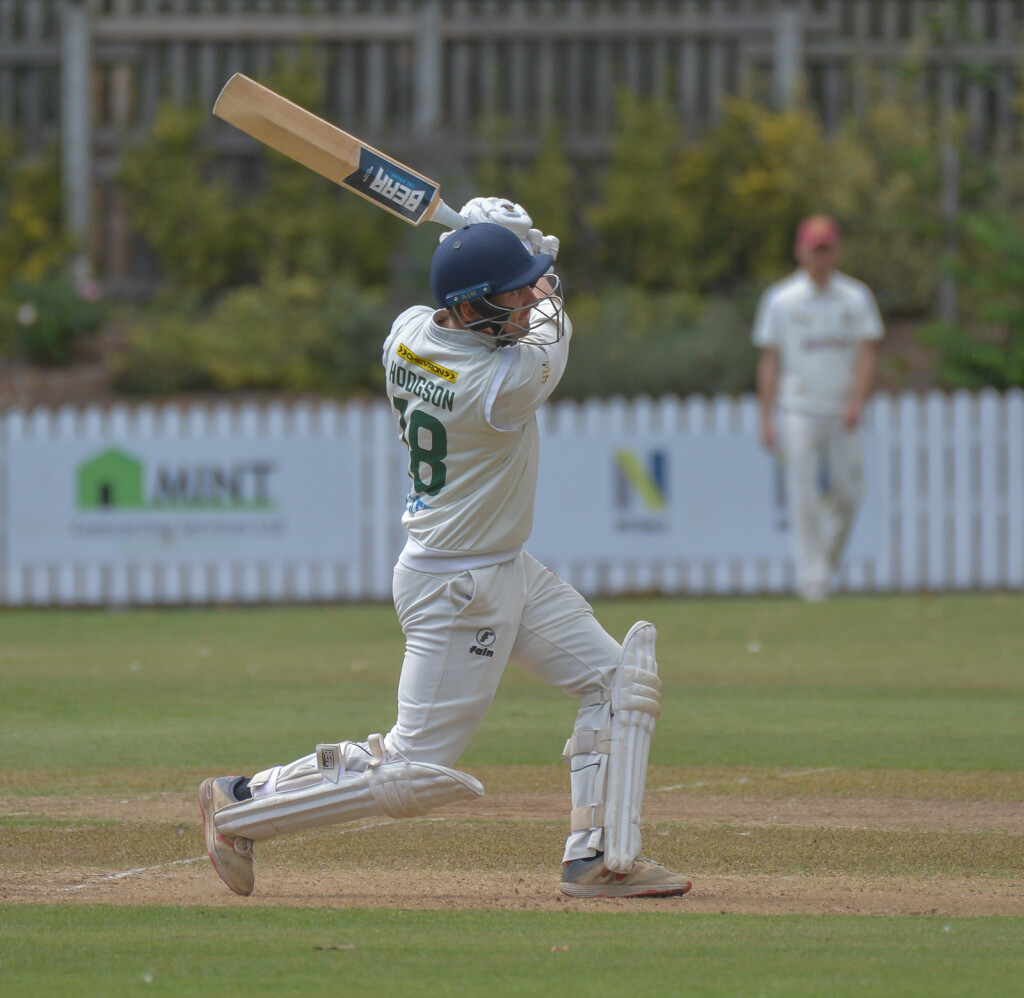 Dan Hodgson hit an attractive 96 for New Farnley Picture: Ray Spencer
Bankfoot v Townville
Townville continued their fine run of form with a five-wicket win over Bankfoot and they now have a realistic chance of being runners up for the third successive season. They are just 17 points behind New Farnley who they face next week.
Opener Abdul Wahid (89) and Kieran Samuels (37) helped them chase down the Bankfoot score of 208-8 which was built around an unbeaten 98 from skipper James Lee. Jack Hughes was again the best of the Townville bowlers with 4-54.
Scorecard
Ossett v Pudsey St Lawrence
Charlie Parker (4-38) and Chris Marsden (3-29) led the way as St Lawrence bowled out Ossett for 199 to complete a 64-run win.
Josh Dracup (40no) and Jonty Mighell (30) top scored for St Lawrence in their 183-8, while spinner Max Chappell (4-25) was the pick of the Ossett bowlers,
Scorecard
Methley v Bradford & Bingley
Bradford & Bingley continued their push for a top-four finish with a nail-biting four-run win over Methley at Little Church Lane.
Young spinner Lachlan Doidge took 3-25 as they defended their modest total of 138 by bowling out the home side for 134. Eitan Litvin (41) was Methley's top scorer.
Australian Corey Miller (43) and Charlie Davy (32) were the pick of the Bradford & Bingley batters as James Wainman (4-39 and Charlie McMurran (3-27) posed the main threat.
Scorecard
Batley v Hanging Heaton
Ben Kohler-Cadmore raced to 102 off just 76 balls as he led Hanging Heaton to a 120-run win – a result which confirms Batley's relegation.
The Hanging Heaton skipper struck three sixes and 16 fours as he dominated an opening stand of 133 with Nick Lindley (45). Their good work was built on by Callum Bethel (94no) and Sasith Manuranga (35) as a total of 338-6 was posted.
Yasir Ali again led the Batley response with 60 and was supported by Mohammed Bhoola (41) and Roheil Hussain (33), but their side were bowled out for 218 with Lindley taking 5-49 and James Byrne (3-18).
Scorecard
Cleckheaton v Farsley
Cleckheaton need to win both their remaining games to have any chance of avoiding relegation after tumbling to a six-wicket defeat at Moorend.
Richard Pyrah (59) and Mally Nicholson (35) tried to rouse their side but a total of 178 was never going to be sufficient. James Rogers was the best Farsley bowler with 5-33.
Half centuries from Jack Timby (63no) and Jonathan Read (58) enabled Farsley to knock off the runs with ease.
Scorecard
Premier Division Stats of the day
Top team total: 338-6 Hanging Heaton v Batley
Top individual score: 130no Tim Jackson (Woodlands v New Farnley)
Best Bowling figures: 5-33 James Rogers (Farsley v Cleckheaton)
Premier Division Stats of the season
Top team total: 343-6 Woodlands v Hanging Heaton
Top individual score: 190no Yousaf Baber (Cleckheaton v Hanging Heaton)
Best Bowling figures: 9-54 Zia Ul Haq Parwani (Bankfoot v Townville)
Division One
Jer Lane v Morley
Jer Lane continued their march towards the Division One title with a five-wicket win over Morley. Abubakar Dawood hit an unbeaten 49 to steer them past the Morley score of 201-8.
Chris Blakeney (3-49) was the best of the Morley bowlers while James McNichol (66) and Kavindu Kulasekara (37) were their two top scorers when they batted first.
Scorecard
East Bierley v Pudsey Congs
Pudsey Congs maintained their grip on second place with a six-wicket win at South View Road. Yohan Mendis (59no), Richard Jubb (44) and Josh Bennett (39) ensured their side overhauled East Bierley's score of 171.
The home side looked to have a platform from which to build a challenging score when openers Andy Duckworth (47) and Sam Gatenby (43) shared a stand of 79, but their good work was squandered with five wickets falling for five runs. Spinners Sam Wisniewski (5-45) and Ryan Heptinstall (3-31) then ensured that Congs seized control.


Scorecard
Wrenthorpe v Carlton
Daniel Ford hit a superb 141 as third-place Carlton maintained their promotion challenge with a 117-run win. Ford hot two six plus 18 fours and shared in a third wicket stand of 113 with Dan White (40). With Kershaski John Lewis making 39, Carlton posted 353-6.
Already relegated Wrenthorpe replied with 236-8 thanks largely to Mustafa Bhatti (73) and Sam Johnson (65). Kieron Holliday took 4-61 for Carlton.
Scorecard
Baildon v East Ardsley
There were runs galore at Jenny Lane where Baildon defeated relegation-threatened East Ardsley by 74 runs.
James Ford (126no) and Jonny Reynolds (100no) were supported by Kevin McDermott (70) as Baildon compiled a total of 307-1. Ford shared in an opening stand of 155 with McDermott before adding an unbroken 162 with Reynolds.
The East Ardsley reply of 233-9 featured an impressive unbeaten last wicket partnership of 102 between Ashley Pearson (72no) and Paul Langley (33no). Skipper Louie Hurley (38) was the other main contributor as Abdullah Khan picked Scorecard,
Birstall v Undercliffe
Undercliffe's opener Byron Boshoff (82) and Danish Hussain (77) shared a stand of 161 as their side defeated Birstall by 74 runs. Zeeshan Qasim marked his return to action after injury with 49 in a total of 292-8.
Adam Eustace (3-52) was the pick of the Birstall bowlers while Eric Austin (68) and Matthew Dyson (60) top scored in their side's score of 218. Spinner Jude Roberts (4-41) and Sunny Matharu (3-80) returned the best figures.
Scorecard
Gomersal v Keighley
Gomersal skipper Richard Wear hit his second successive century before the match with his old club was abandoned after a disciplinary incident.
Wear mad 133. An innings containing a six and 23 fours as Gomersal reached 371-7 in 48 overs. Liam Fletcher (80) and Connor Reed (53) shared century stands with Wear, while Andy Gorrod (64 joined in the run spree.
Scorecard
Division One Stats of the day
Top team total: 353-6 Carlton v Wrenthorpe
Top individual score: 141 Daniel Ford (Carlton v Wrenthorpe)
Best Bowling figures: 5-45 Sam Wisniewski (Pudsey Congs v East Bierley)
Division One Stats of the season
Top team total: 398-7 Gomersal v Wrenthorpe
Top individual score: 162no James Ford (Baildon v Wrenthorpe)
Best Bowling figures: 7-39 Nisar Ahmad (East Bierley v Gomersal)
Division Two
Great Preston v Sandal
Sandal are now 26 points clear at the top of Division Two after they recorded a 71-run win and their two closest challengers, Yeadon and Lightcliffe both lost.
Keron Persaud (50), Brandon Hewlett (50), Leighton Shuttleworth (42), Ashley Mackereth (40) and Karl Hewitt (39) helped Sandal score 289 despite the efforts of, Stuart Ruddick (4-62) and Ian McDermott (4-72).
Great Preston replied with 228-9 with Oliver Newton (70), Danny Harwood (45) and Ben Wilkinson (37) earning them maximum batting points as Sam Noden (4-61), Michael Carroll (3-40) led the Sandal attack. The result leaves Great Preston six points from safety.
Scorecard
Yeadon v Hartshead Moor
Hartshead Moor boosted their hopes of avoiding relegation as they put a dent in Yeadon's promotion challenge with an 11-run win.
Josh Marsden (36), Andrew Gale (35) and, Martin Ellis (35), helped them post a score of 209-9 as Adeel Ashraf (3-47), Gareth Lee (3-65) posed the main threat.
Pasindu Thirimadura (75) and Gulsheraz Ahmed (67) gave Yeadon hope of victory but young spinner Lewis Lomax (5-48) had other ideas as they ere dismissed for 198
Scorecard
Lightcliffe v Bowling Old Lane
Lightcliffe also fluffed their promotion lines as they suffered a 30 run defeat against Bowling Old Lane.
Zahir Shah (60) and Imran Malik (50no) enabled Old Lane to make 227-5, a total Lightcliffe were unable to match ss they were restricted to 197-9. Alex Stead and Ben Speak both made 35 but Gurdev Singh (4-38), ensured an Old Lane win.
Scorecard
Crossflatts v Hopton Mills
Umar Abbas proved to be a big hit for Hopton Mills as he struck 14 sixes and eight fours while making 138 not out in his side's 56-run win at Crossflatts. Sana Khan (76) added 141 for the seventh wicket with Abbas in a total of 317-9. Alex Bradbury (3-49) and Ruan Van Rooyen (3-93) were the best of the home bowlers.
Crossflatts, who are fighting to avoid relegation, bagged maximum batting points after last man Mayank Singh (86) and Alex Bradbury (34no) added 128 for the last wicket to boost their score to 261
Scorecard
Crossflatts v Hunslet Nelson
Crossflatts boosted their hopes of avoiding relegation with a five-wicket win in their rearranged match on Sunday. Hunslet Nelson looked to be heading for a big total as opener Andy McIntosh made 102, an innings containing two sixes and 17 fours, and Kurt Chalker (42) before South African Ruan Van Rooyen (5-38) and Tinashe Gomwe (3-49) struck back to dismiss the visitors for 214.
Steady batting from Dan Trowers (43), Van Rooyen (43no) and Joe Greenwood (38) saw Crossflatts to their victory target.
Scorecard
Hunslet Nelson v Northowram Fields
Hunslet Nelson's top three batsmen all prospered in their 44-run win. Kurt Chalker (91), Jack Scanlon (88) and Andy McIntosh (75) set the tone for the afternoon as they helped their side to a total of 312-5. McIntosh and Scanlon added 125 for the first wicket before Scanlon and Chalker shared a partnership of 157 for the second wicket.
Three players scored half centuries for Northowram Fields, George Bickle (56), John Lister (50) and Harry Hauenstein (50), but they were bowled out for 268 with Glen Thompson (4-62), Alastair Finn (3-53) leading the way with the ball.
Scorecard
Wakefield St Michael's v Buttershaw St Paul's
Wakefield St Michael's kept alive their hopes of avoiding relegation with a two-wicket win over Jack Hampshire Cup finalists Buttershaw St Paul's.
0 Ashley Hale (3-27) and Lee Geldard (3-41) helped bowl out St Paul's for 150 before Myles Wood (53) steered them to victory despite challenge from Amer Ayoub (3-40), Zafar Jadoon (3-45)
Scorecard
Division Two Stats of the day
Top team total: 317-9 Hopton Mills v Crossflatts
Top individual score: 138no Umar Abbas (Hopton Mills v Crossflatts)
Best Bowling figures: 5-48 Lewis Lomax (Hartshead Moor v Yeadon)
Division Two Stats of the season
Top team total: 375-8 Lightcliffe v Wakefield St Michael's
Top individual score: 152 Isaac Dikgale (Lightcliffe v Hopton Mills)
Best Bowling figures: 8-24 Hazrat Abbas (Bowling Old Lane v Hartshead Moor)
Division Three
Liversedge v Crossbank Methodists
Liversedge secured their promotion to Division Two with a 218-run win and now need just four points from three matches to be crowned champions.
Imran Dawood (58), Bryson Nicholls (53) and Wasim Nazir (41) helped them make 302 before dismissing winless Crossbank Methodists for 84. Parvaise Khan (4-30) and Andy Clarke (4-50) led the bowling effort.
Scorecard
Brighouse v Heckmondwike & Carlinghow
Heckmondwike & Carlinghow's promotion push stalled as they suffered a two-wicket defeat at Russell Way. Hamza Shahzad made battling 49 but a total of 128 proved insufficient as Sohail Akram (36) helped Brighouse edge to victory. Nikhil Thakur (4-38) and Wasim Khaliq (3-38) were the pick of the bowlers.
Scorecard
Scholes v Spen Victoria
Adam Greenwood scored 104 as Scholes kept their promotion challenge alive with a 56-run win. The opener hit 17 fours and enabled his side to make 231-8 as Jonathan Elstub (5-47) and Paolo Girardi (3-84) posed the main threat.
Opener Bilal Ejaz (38) and Corey Roebuck (37) top scored as Spen were dismissed for 175 as Hamza Khan picked up 5-27.
Scorecard
Gildersome & Farnley Hill v Rodley
Muhammad Shah (85no) and Josh Sturgess (44) helped Gildersome & Farnley Hill ease to a seven-wicket win. The cashed in on the earlier good work of Jordan Edmondson (5-48) as Rodley were dismissed for 170. Opener Bailey Wilson was their top scorer with 69.
Scorecard
Altofts v East Leeds
Craig Wood hit six sixes and 13 fours while making 102 as Altofts scored 226 in their 92-run win. He shared an opening stand of 123 with Andrew Wood (54) which was key to their success. Wasim Malik (3-49), James Watling (3-63) and Kirtti Tandel (3-78) were the successful bowlers.
East Leeds were bowled out for 134 with Elliott Carter (5-82) and Saif Tahir (4-5) leading the way for Altofts.
Scorecard
Windhill & Daisy Hill v Adwalton
Tom Davidson returned the day's best bowling figures of 6-57 as Adwalton bowled out Windhill & Daisy Hill for 115 to set up a seven-wicket win. Nathan Cant (4-39) backed up Davidson's efforts before Matty Waller (48no) steered Adwalton to their modest target.
Scorecard
sion Three Stats of the day
Top team total: 302 Liversedge v Crossbank Methodists
Top individual score: 104 Adam Greenwood (Scholes v Spen Victoria)
Best Bowling figures: 6-57 Tom Davidson (Adwalton v Windhill & Daisy Hill)
Division Three Stats of the season
Top team total: 431-9 Spen Victoria v Adwalton
Top individual score: 195 Matthew Donohoe (Adwalton v Spen Victoria)
Best Bowling figures: 8-30 Greg Keywood (Scholes v Gildersome & Farnley Hill)