Tributes are being paid to courageous cricketer Stuart Jackson, second from the left, who overcame the loss of the fingers on his left hand to establish a reputation as a hard-hitting batsman.
Jackson, who died this week, started out as a junior at Adwalton before moving on to make his mark playing at East Bierley and captaining both Drighlington and Spen Victoria as well as spending some of his best years at Townville.
Adwalton secretary Ian Lindley has fond memories of his former colleague: "My connection with him started in 1997 when he was in his early 50s and he agreed to come back to Adwalton as 1stXl captain to help us climb the divisions in the now defunct Bradford Central League.
"We had a few successful years with him as captain and I have never seen anyone in amateur cricket hit the ball as hard and as far as he could. This was especially impressive as in his late 20s he had a horrific accident at work which resulted in him losing all the fingers on his left hand.
"He was determined to bounce back and with the aid of a hand strap that was specially made for him, he was able to carry on playing at a good level and later on play for the England disabled team.
"As a man he was a top class and always had time for you and loved nothing more than having a pint and a catch up with old friends and acquaintances. Definitely one of the old brigade."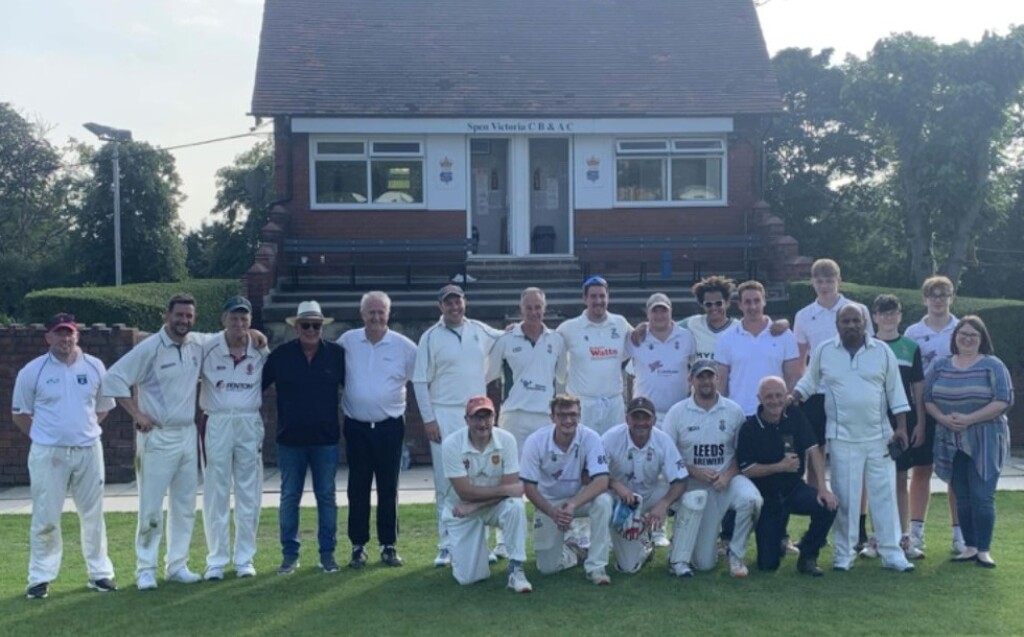 Spen Victoria also have fond memories of their former captain and batsman. Jackson returned to Spen Lane last year for a Legends T20 game and is pictured third from the left in the picture above.
Jackson first played for Spen Victoria in 1970 and made his highest score of 113 not out in 1987. Spen wrote on their Twitter account: " We are saddened to post that our former captain Stuart Jackson has passed away. Stuart was a fine cricketer & fierce competitor with a huge will to win. We were delighted to welcome him back at our Legends game in 2021. A true gentleman and club man. Rest in peace Stuart."
Adwalton always retained a special place in Jackson's affections. When the club celebrated its 150th anniversary, Jackson wrote an artical about what the club meant to him.
He wrote: "I started playing at Adwalton in 1966 and played in the cup final against David Bairstow and Kanny Hibbett the ex-Bradford Park Avenue and Wolves footballer and we lost! ( ex Bradford Park ave & Wolves). We lost !
"I won the Bradford Central League 2nd Division batting averages that year playing alongside Ray Andrews, Jack Horrocks and John Severn-Ellis amongst others. Loved it !
"I then moved on to play for Spen Victoria and East Bierley but had promised Eddie Foley and Jimmy Gamble that I would go back some day. True to my word I did before retiring and I played with great league players - Paul Bennett, Ian Lindley, Stuart Donohoe, Simon Bagnell, Ian Wilson and others, including Gerry Mytton one of the best I had played with apart from the very best in Peter Gamble (who I played with at Drighlington).
"I went on to captain Adwalton to promotion and to the semi final of the Waddilove cup, we were a good Bradford Central League side.
"I also got to tour India with the England Disabled Xl which was made possible by all the players, members and friends from Adwalton sponsoring and fund raising to make it happen. I will be eternally grateful and my shirt from the tour hangs in the Adwalton clubhouse.

"I hope that my friendships at Adwalton never fail."
Those Adwalton friends are all feeling a deep sadness but will all hold fond memories of a man who was a big hit on and off the field.