Of all the clubs that have folded or moved on in the last two decades or two, Idle were by far the most successful historically. It is now five seasons since cricket was last played on a ground with the famous slope on the club side.
To understand how Idle evolved one must go back to the early days when ground changes were common for clubs setting up.
The early Days
The earliest record of any cricket organisation in Idle was on July 20, 1861 when the Idle United Club was formed, although it is known that there was a cricket club in existence prior to this date known as the 'Fat Pot Club'.

United began their career on a ground situated in Holly Fields but later moved to Dunk Hill. The club disbanded in 1865 and re-formed as the 'Idle Lillywhite Cricket Club' and played on Idle Moor. After moving again to a field in Thorp Garth the club made its final move to the present ground on Cavendish Road and in 1889 assumed the name of Idle Cricket Club.

In 1896 the club were invited to join the West Yorkshire Cricket League which included Bradford, Halifax, Skipton, Keighley, Barnsley, Bingley, Bowling Old Lane and Saltaire, and to their credit they won the League trophy.
Entry to the Bradford League

The Bradford League was formed in 1903 and Idle joined in 1906 finishing half-way. By 1908 they had unearthed a batsman in T A Booth that would be the cornerstone of the team in the next four seasons. He was one of the top 4 batsmen in the league averages from 1908-1911, and actually topped the chart in 1910 with an average of 54.00.
Early trophies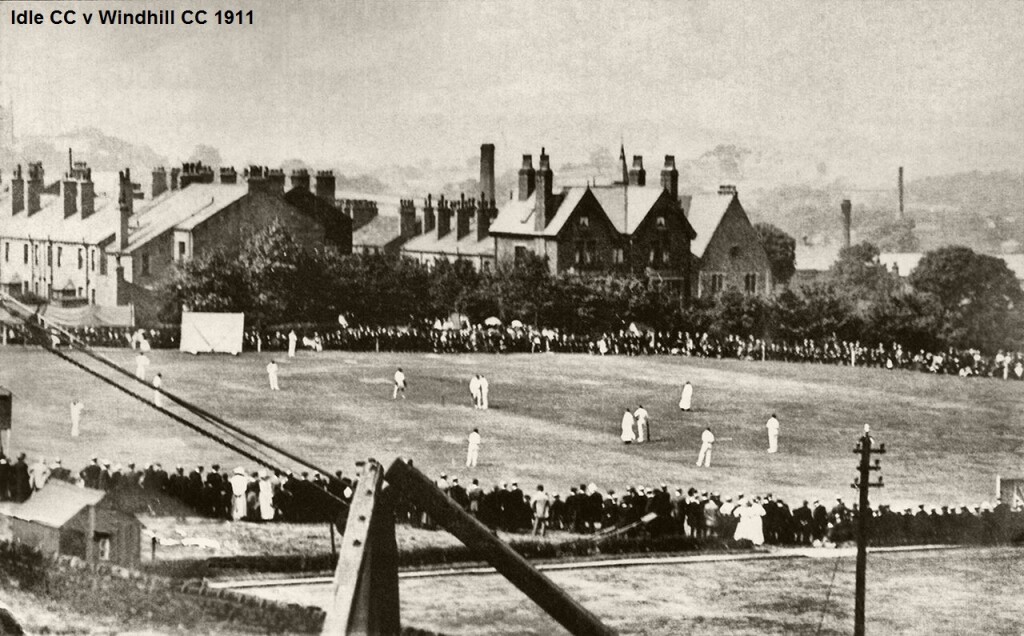 Idle v Windhill 1911 at Idle Cricket Ground, the photo would have been taken from the side of the railway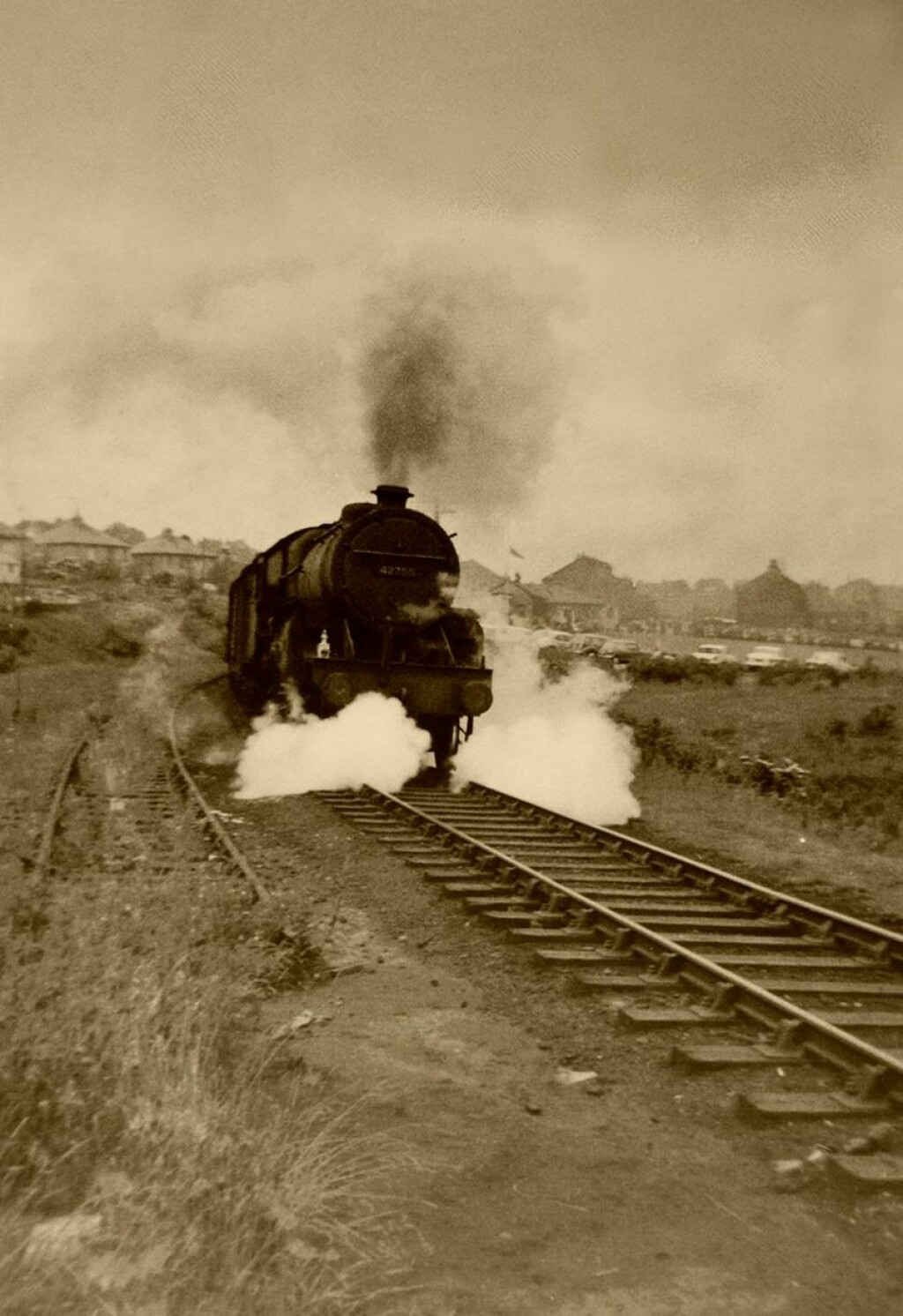 A steam train passing the Cavendish Road ground
After four years in the league Idle were First Division Champions in 1910, and very nearly retained it in 1911 losing the play-off against Windhill at Eccleshill. Finishing second in 1912 they won their next silverware in the shape of the Priestley Cup.
This triumph came with an emphatic eight wicket Final win over Undercliffe. Their opponents were bowled out for 57 and these runs were knocked off at the expense of two wickets.
Slipping back to mid-table in 1914 their best bowler S Claughton was almost unplayable at times taking 87 wickets at 8.40.
Jack Hobbs at Cavendish Road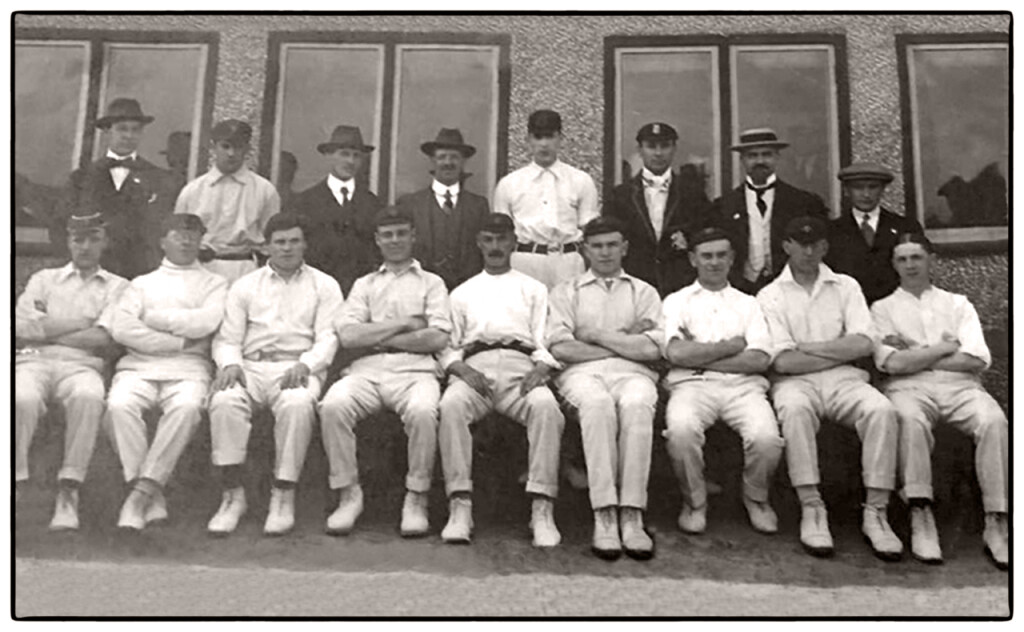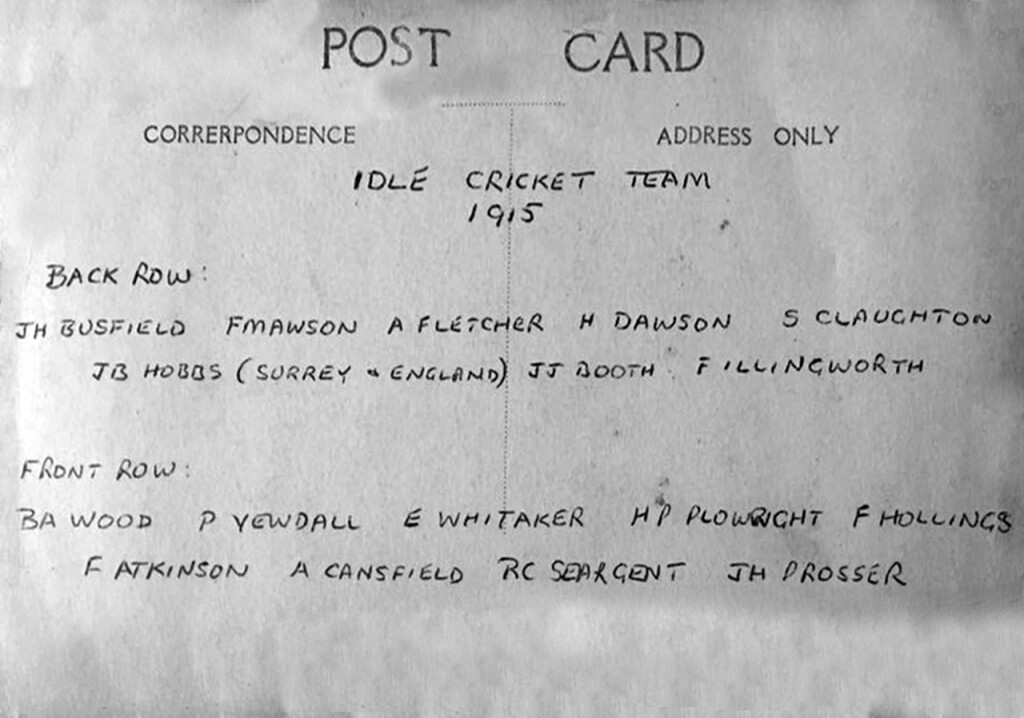 One of the most notable cricketers at Idle was Sir Jack Hobbs of Surrey and England fame. Jack, as he was then, signed for Idle in 1915 and played for the club for the next three years. He scored runs at an average of 40.50 in his first season.
It is interesting to note that he received £5 per match plus expenses, and although he was approached by other clubs and offered more money, he remained loyal to Idle and never asked for an increase. On one occasion the club's opening pair was Hobbs and Wilfred Rhodes and they were just two of many famous players, who represented other Bradford League clubs during the First World War.
Many of his English contemporaries rated Hobbs superior to Donald Bradman, often regarded as the greatest batsman in the history of cricket, on difficult pitches. In difficult batting conditions Hobbs batted with great success, and several of his most highly regarded innings came in such circumstances.
An article in Wisden in 2000 stated: "He was never as dominant as Bradman; he never wanted to be. But his contemporaries were in awe of his ability to play supremely and at a whim, whatever the conditions". In 61 Test matches he scored 5,410 runs at an astonishing average of 56.94 with a top score of 211. In all First Class matches he scored 61,760 runs with a highest score of 316* amongst his 199 centuries. As an opening batsman it is generally accepted that he was the superior to Hutton or Sutcliffe.

Hobbs was the catalyst for Idle's second league title in 1916. He scored 784 runs at an average of 56 and took 59 wickets at 6.57 runs each. Idle had to face Lidget Green in a play off for the championship and triumphed thanks to 72 from Hobbs. It was testament to Hobbs's all round ability in league cricket that he finished second in both the league batting and bowling averages. His best bowling was a spell of 9-39 v Saltaire.
Decline
Decline set in after this at Cavendish Road with bottom positions in 1918 and 1919. In 1922 the quaintly named Festus Mawson sparked a revival scoring runs freely at an average of 45.55.
Back up to third in the table, the second Priestley Cup win arrived in 1923 when they defeated Bowling Old Lane by three wickets. Old Lane could only muster 158, but Idle struggled to overhaul the total.
By 1925 they were at the bottom of the league, but they improved the following year when their leading batsman E Whitaker won the League Batting Averages with an average of 37.50. He was no ordinary bowler either taking 7-35 against Undercliffe seven years later in 1932.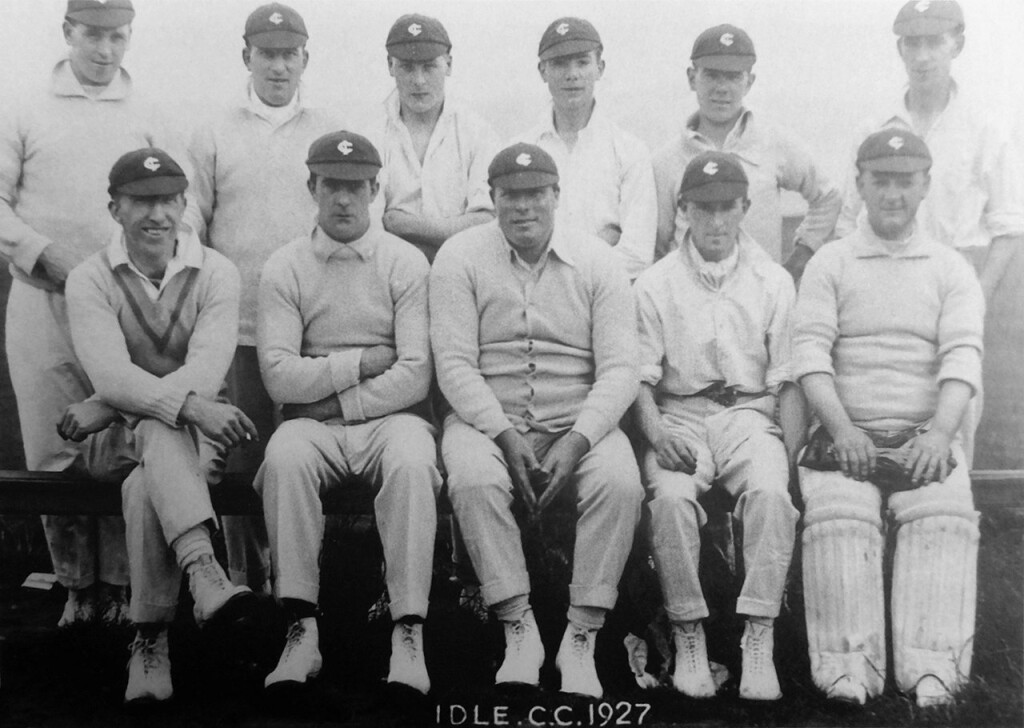 Still not challenging in the league in 1929 Idle however had the league's best bowler in Squire Render. He easily topped the League Bowling Averages with 93 wickets at 10.34, and had match figures of 8-30 v Undercliffe, and 8-31 against Baildon Green.
Back on Track
In 1930 Idle again proved that when they actually reach the Priestley Cup Final they do win it. They defeated East Bierley by six wickets in a final that was delayed until 1931 because of bad weather. As Idle did not retain it in 1931 they remain the only team to have won the cup and been knocked out in the same year. There were few thrills at Cavendish Road for the remainder of the 1930s.
J A Swift had an exceptional season in 1933 scoring 773 runs at 45.47 with a top score of 108 v Undercliffe. But, it was A Davison who proved to be the most consistent of the decade scoring aggregates of 400-plus most seasons. He even found time to take 43 wickets in 1937.
The best bowler was N Sugden who could be relied on to take 40-plus wickets with a best haul of 50 wickets in 1937. Other bowlers to take 50 wickets were H Hainsworth in 1935 and R Thackray in 1939.
After the 1940 promotion season Idle made a determined effort to win the First Division title. They failed by the small matter of one point as Windhill edged it in 1941. Much of their success that season was down to the potent bowling of R B Rae who took 72 wickets at 7.43. The next season in 1942 he replicated this fine performance with 73 wickets at 9.16.
The run-making of 1942 at Idle was largely down to Surrey's Fred Berry who scored 404 runs as his team finished 4th. Stewie Dempster, the New Zealand Test batsman, played several years for the club, alongside sundry county players during and just after the Second World War. Dempster has the distinction of having the second highest Test batting average in history for completed careers of 10 or more innings, behind Sir Donald Bradman.
1940s a poor decade for Idle CC
Generally the 1940s were mundane times for Idle with lowly positions the norm. The re-election bid in 1945 was a shock for a club accustomed to challenging at the top.
Local players that made good during these times were A Calvert who took 62 wickets at 11.40 in 1944, Laurie Powell who topped 40 wickets once in a season and G Phillips who was a model of consistency with the bat for many years.
Wilf Horner, who would become a batting legend at Idle first came to prominence in 1947 when he scored 642 runs at 40.12. He followed this in the remainder of the decade with run aggregates of 711 and 575. He was an extremely wristy opening batsman who would rarely perish early.
Things were looking up in 1949 when Idle reached the top half of the table with two bowlers F Wharton and Norman Kitson taking more than 50 wickets. Kitson was to become a feared seamer in the Bradford League for three decades, and also capable of explosive hitting with the bat.
Doug Padgett makes his mark
In 1951 Horner was more prolific than ever scoring 849 league runs at 53.06 with a top score of 127*. A feature of the league season was a stand of 217 in 140 minutes between Horner and a 16-year old Doug Padgett who scored 90, and would become a county player.
Padgett was one of the first of a new generation of Yorkshire batsmen to cement his place in the Yorkshire first team. He scored more than 1,000 runs in 1956, and in the County Championship-winning side of 1959 he was the leading batsman with more than 2,000 runs.
Padgett usually batted at No 3, though he occasionally opened the innings. In 1960, a tour by the South Africans, widely perceived as weak, led the England Test selectors to experiment with new batsmen, and Padgett played in the fourth and fifth matches. He often failed to convert his innings into big scores, albeit registering 129 half centuries in his first-class career, Padgett only reached the century mark on 32 occasions.
This counted against him when the England selectors considered his promotion to further international duty. However, he remained a valued member of the Yorkshire side that won six further Championships across the 1960s.
He scored more than 1,000 runs in 12 seasons. He retired from playing in 1971, much to the frustration of the new captain, Geoffrey Boycott who relied on his counsel. Padgett then captained Yorkshire's second eleven, becoming assistant, then head coach.
Priestley Cup win
The Priestley Cup returned to Idle in 1951 when two of their most influential players, Wilf Horner and Les Horsman masterminded the fourth Priestley Cup triumph. Horner made 83 not out and Horsman, the Bradford Park Avenue centre back, 78 not out as they passed Queensbury's 169 for seven for the loss of just one wicket.
In an earlier round big-hitting Kitson scored a not out 100 in 43 minutes out of an Idle score of 304-5. This still stands as the fastest cup century on record in the Priestley Cup.
Horner's most prolific season was in 1952 when he topped the League Batting Averages with 927 runs at 66.21 with a highest score of 139*. It was a year when Idle's batters excelled with Phillips (725 runs) and Horsman (411 runs) also making hay when the sun shone.
Another individual award went to an Idle player in 1952 as D Lonsdale won the League Wicket-keepers Trophy.
Horner continued to score runs prolifically with 715 runs in 1953 and 500-plus on three other subsequent occasions. But, his team mate Horsman was also in the runs regularly and in 1954 he won the W H Foster Jubilee League Batting Award with an average of 57.11.
Horsman was an aggressive player who had a wonderful cover drive in his armoury. Like most professional footballers he was a brilliant fielder patrolling the covers. Batsmen rarely chanced a run anywhere near him.
For the rest of the decade there were no perennial bowling stars, but L Baxter, A Maden, P Broughton and Denis Leng all had the distinction of taking 50 wickets in a season. A future star of the sixties Sid Smith made his mark in 1959 with 731 runs.
In 1960 Idle finished fourth with Smith heading the scoring with 479 runs, and A Wain proving himself with bat and ball scoring 386 runs and taking 40 wickets. The best bowler was Leng who took 60 wickets. Idle's ebullient character Frankie Williams won the A Waddington League Fielding Award in the same season.
Leng followed his fine seasons with 53 wickets in 1961 in a team which finished bottom with just two wins and in consequence were relegated. The return was rapid as they won the Second Division in 1962 with Smith (648 runs) the leading run-getter again.
An even greater individual effort in 1962 came from seamer Bob Horrox who succeeded in taking 10-34 v Windhill in an impressive haul of 50 wickets.
In 1963 a mid-table place was obtained with solid performers Smith (529 runs) and Ian Leng (47 wkts) consolidating their team in the First Division. Leng was a crafty left-arm slow bowler who could take the vital wicket his team craved for.
Progress was clearly evident at Cavendish Road when in 1964 they finished the season runners-up to Pudsey St Lawrence, but more importantly just three points behind. The batting was strong with Smith (487 runs), John France (424 runs), Ken Hill (422 runs) and Michael Swift (369 runs) all scoring solidly.
Perhaps more significantly was the emergence of Dick Sherred with 50 wickets. He was backed by Ken Woodward who also took 50 wickets.
A Hat-trick of title wins
After a barren spell of over 14 years without a trophy, Idle struck gold in 1965 with the coveted League & Cup double. The fact that they retained the title in the next two seasons underlined their power at the time. Their closest rivals in the league were Pudsey St Lawrence who was too close for comfort, particularly in 1966 when just one point separated the two teams.
Bowlers win matches and in this department Idle were incomparable during these years. The fabled Sherred brothers (Dick & Martin &) were supreme seamers in tandem or individually. They were masters at exposing the devils of a `sporty' wicket, as well as frustrating the life out of opposition batters on placid strips. Their joint strike-rate of over 300 wickets in this short era illustrated their potency as strike bowlers of the highest calibre.
The exploits of paceman Dick Sherred
Most players of the era regarded Dick Sherred as the outstanding bowler of the sixties and his figures at the peak of his powers certainly back this up:
1964 50 wickets at 13.18
1965 70 wickets at 13.21
1966 81 wickets at 12.32
1967 38 wickets at 10.89
1968 73 wickets at 13.33
1969 51 wickets at 13.14
Martin Sherred might have been second best to his brother Dick, but he topped 50-wickets in 1966 and 1967.
Ian Leng and skipper Ken Woodward were invaluable back-up bowlers with the former being particularly influential in the first title win in 1935 finishing fourth in the League Bowling Averages with 35 wickets. The latter was a shrewd skipper and an uncanny `partnership-breaker' with the ball.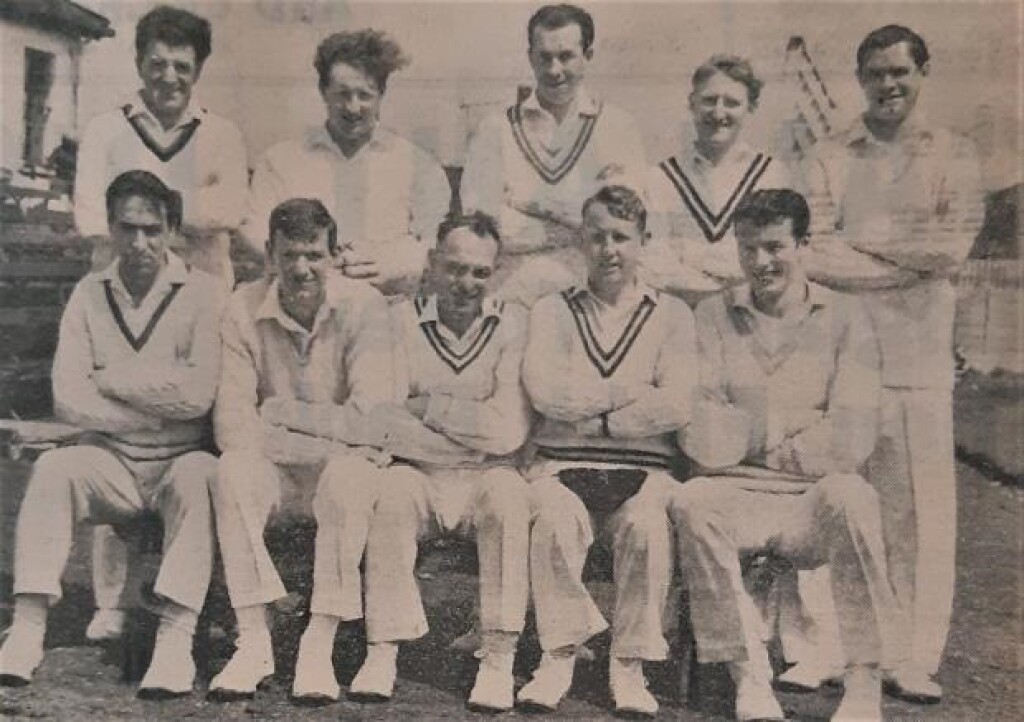 Idle 1966: Back L Horsman, M Reynolds, R Sherred, J S Herrington, J France. Front I Leng, M Sherred, K Woodward (capt), S Smith, K Hill.
The 1965 side was shrewdly led by Wooodward and included such dependable players as Ian Leng, Horsman, John France, Ken Hill, Sid Smith and the deadly Richard `Dick' Sherred. Smith (603 runs) and Hill (472 runs) provided the bulk of the runs as the championship was secured by two points from Pudsey St Lawrence.
The Priestley Cup final success which completed the double came at the expense of Bowling Old Lane. Hill and France were the heroes as they shared a fourth wicket stand of 159 as Idle recovered from 33 for three to make 192 for five. Old Lane were dismissed for 55 in reply.

If the 1965 title race was tight then the 1966 battle was even closer with Idle edging out Pudsey St Lawrence by one point. The crucial result for Idle was the one point draw they secured against their title rivals. They clung on at 99 for nine in reply to a Saints total of 228 for four. Earlier in the campaign Richard Sherred, who shared 140 of Idle's 170 wickets with his brother Martin, inspired a remarkable win against Lightcliffe.
Idle looked to have little chance when they were bowled out for 94 but Sherred took nine wickets and took the catch to give Leng the other wicket as Lightcliffe were dismissed for 69. On seven occasions that season Idle dismissed their rivals for less than 100.

Pudsey St Lawrence and Bradford were Idle's main challengers in 1967 but the men from Cavendish Road took the crown by the slightly more comfortable margin of four points. Their hat-trick of titles was secured on the final day when they dismissed Eccleshill for 99 and eased to a seven-wicket triumph.
Although the bowling was their obvious strength during this golden period the batting held up mainly due to the consistency of Sid Smith. From 1959 to 1966 he was the top run-scorer for Idle with aggregate hauls of 500-plus on six occasions in an era when many of the wickets were uncovered.
Other Idle batsmen to thrive were Ken Hill and Stuart Herrington, the latter having best season in 1968 when he scored 569 runs.
The title winning sequence came to an end in 1968 when Idle finished second. This completed a five-year period of top-two finishes. Sid Smith was still the leading batsman in 1969, while Dick Sherred was again the chief wicket-taker.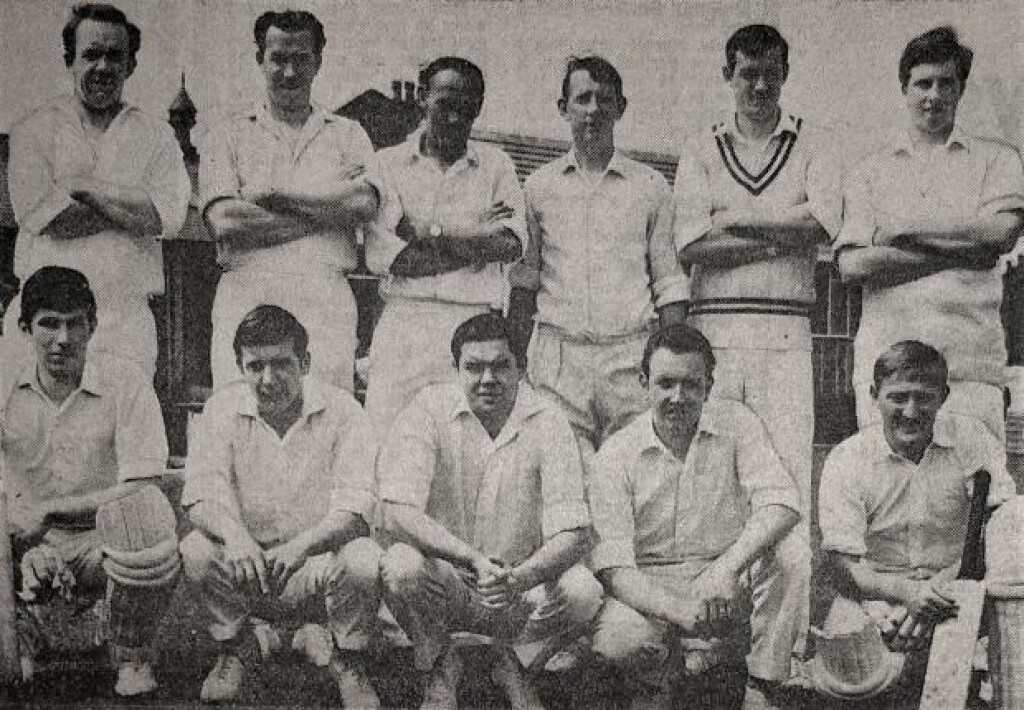 Idle 1969: Back, left to right, M Smith, R Sherred, K Woodward (captain), S Smith, M Sherred, D Holmes. Front J Spence, G Kayes, J France, A N Other, S Herrington
The seventies arrived with Idle ensconced in mid-table. A new pro bowler named Tony J Hatton took 56 wickets in 1971, while Mike Bailey announced his arrival in 1973 with 48 wickets.
The left armed medium paced Bailey would be the lynchpin of Idle's bowling during the rest of the decade, before forming a lethal pace attack with Peter Graham at Pudsey St Lawrence in the eighties. Bailey was never fast but he could bowl long spells with great accuracy.
A very capable new batsman to emerge was Jimmy Spence who topped 500-runs in three successive seasons.
Another star signing at Idle was left-hander Brian Lymbery who scored 699 runs in 1972 with an incredible average of 87.12. This feat allowed him to win the First Division League Batting Averages
More success in the seventies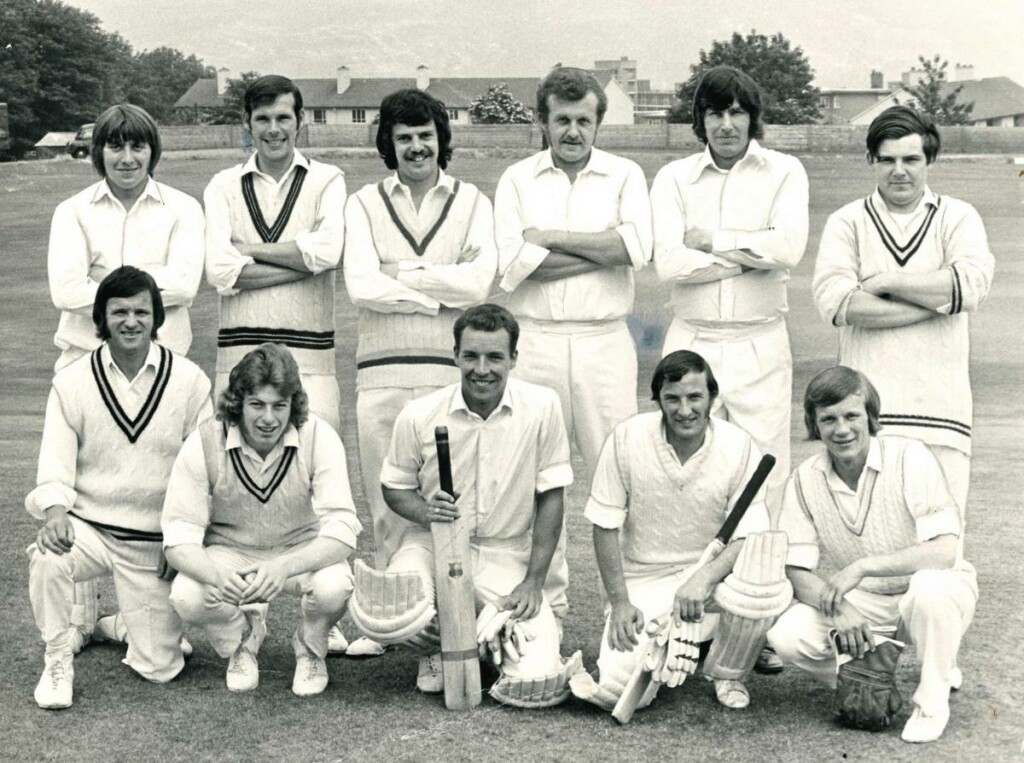 Idle 1974: Back, B Hodgson, M Bailey, M Clegg, C Fordham, J Spence, S Speak. Front T Burnett, J Jude, B Lymbery, G Lawrence, S Bottomley
The right personnel gradually came together and in 1974 they were champions for the first time since 1967. It is arguable whether the 1974 side could compare with the legendary 1960's side; suffice to say it was a formidable outfit.
The batting was unbelievably strong- Barrie Jenkinson topped the League batting averages (71.14) with Brian Lymbery second (56.00) and Brian Hodgson fifth (44.08). This trio dominated proceedings with tangible contributions also being offered by Jimmy Spence and Stuart Speak.
The bowling was no less impressive- five admirable bowlers who were all capable of creating havoc. Yorkshire's Steve Oldham took 5-47 v Bankfoot but only played spasmodically, while under-rated seamer Mike Clegg played his part, as did Tony Burnett who took 44 league wickets, and of course Mike Bailey (52 wkts) who was the most feared of the lot.
Jenkinson's feat of topping the League Batting Averages in 1974 replicated Lymbery's feat two years previously in 1972. Jenkinson had initially played at Lidget Green before giving sterling service at Bradford PA. He was a consistent and very correct batsman who's tour de force short was the square cut. He also bowled a gentle medium pace to great effect, occasionally given the new ball because of his abilities to swing it. His unique record of winning the League's Batting, Fielding and Bowling prizes in consecutive years 1957-1959 could well stand for ever.
The title was not retained in 1975 when they claimed third position, but in 1976 they went agonisingly close losing out to their old foes Pudsey St Lawrence by just one point.
Tony Moore a rare all rounder
The undoubted star of 1975 was Tony Moore who travelled from York. Not only did he take 34 wickets at 10.41, he also scored 837 runs with the bat for an average of 49.23. The award of the Learie Constantine All Rounders Trophy to him in 1975 was something of a formality.
Moore was one of the leading Bradford League players of his generation, winning the Learie Constantine All Rounders Trophy again at Idle in 1979. He had previously achieved this feat twice at Saltaire who originally picked him up from the York area.
The Idle team of 1975 was packed with achievers apart from Moore, with Hodgson (573 runs), and Lymbery (443 runs) impressing with the bat, and Burnett (40 wkts), Chris Fordham (52 wkts) and Bailey (49 wkts) taking the wickets.
Despite the disappointment of just missing out on the title in 1976 the Priestley Cup was won for the fifth time. This feat of five wins out of five Cup Final appearances is unprecedented in Bradford League history. Lymbery was to figure prominently in the Priestley Cup Final win over his former club Bingley. He hit 82 runs and was well supported by Tony Moore who scored 72. Idle made 221 for four and dismissed Bingley for 156.
Another achievement for Idle in 1976 was the winning of the two major individual awards:
First Division Batting Averages- Brian Lymbery 816 runs at 51.00
First Division Bowling Averages- Peter Kippax 57 wickets at 9.70
Another class player in Peter Kippax
Kippax – a right-handed batsman and leg spin bowler, played five first-class matches spanning twenty six years. He made his debut in 1961 for Yorkshire, and yet played his last first-class match, for the MCC, in 1987. He played three times in his debut season of 1961, against Sussex, Leicestershire and Kent and once in 1962 against the touring Pakistani team.
Unfortunately for Kippax the Yorkshire team was about to begin their domination of the County Championship during the 1960s, and were well served with spinners such as Ray Illingworth and Don Wilson, and had little room for Kippax's leg spinners. In his eight first-class innings he scored 40 runs, with a highest score of 9 for an average of 6.66, and took 12 wickets at 33.00 with a best return of 5 for 74. In 13 one day matches for Durham and Northumberland, he averaged 17.00 with the bat, scoring 187 runs with a best of 42, and took 20 wickets at 19.35 with a best of 3 for 24.
Bailey's contribution to the 1976 season was immense. He tied an end up for much of the game and ended the season with 60 wickets. His wicket hauls in the next four seasons before his move to Pudsey Lawrence was 66, 57, 62 and 62. Bailey, who was not known for his batting prowess, made the League Batting Averages in 1978 mainly on the strength of a one-off score of 113.
In 1977 Idle were to win the title again. The consistent Moore (673 runs) and the left-handed Malcolm Mawson (607 runs) made the bulk of the runs, while Bailey's 66 wickets were crucial. All rounder Peter Kippax also contributed significantly with both bat and ball. During a Priestley Cup Second Round tie Moore made 183 not out against Cleckheaton in a record first wicket stand of 273 with Mawson (96 runs).
After a lowly position in 1978 Idle clawed their way up to 4th in 1979 with Moore and Bailey still their most influential players. Des Wyrill was a successful signing striking 626 runs.
Idle entered the eighties in a lowly position and when Bailey left the club his influence was sorely missed as they were relegated in 1981.
Moore, the first Idle player to score 1,000 runs
The struggling side had no effect on Moore who had the distinction of becoming the first Idle batsman to score a 1,000 runs in a season. However, the trustworthy Moore offered the only tangible resistance, apart from the efforts of Phil Woodliffe, for a team destined for the second division in 1982.
Woodliffe emerged in the relegation season to score 723 runs and also take 44 wickets. In 1982 he helped his side obtain promotion at the first time of asking with a contribution of 689 runs and 32 wickets.
The promotion side of 1982 still contained Moore who had his best all round season for a while as he grabbed 32 wickets to go with his 735 runs. Idle were a mere point away from being title winners but Queensbury held sway in the end.
Another worthy individual achievement in 1982 featured wicketkeeper R Sugden who won the Second Division Wicket-Keepers Trophy.
During the years 1983-1987 Idle were relatively untroubled members of the top division with a best position of third in 1985. Batsman Phil Sant had a good year in 1984 scoring 716 runs, while Woodliffe had successive seasons scoring 600-plus.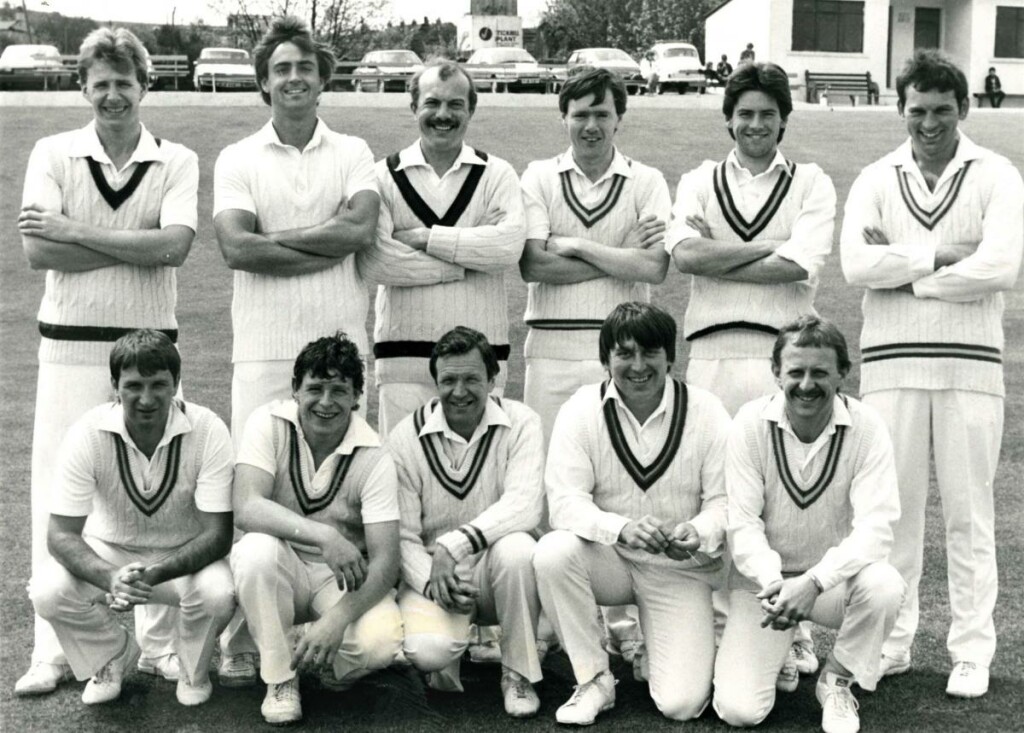 Idle 1984: Back row, from left D. Riley, Peter Machin, Phil Sant, Dave Pepper, Andy Talk, Phil Woodliffe. Front John Anderson, Richard Sugden, Tony Moore, Brian Hodgson, Bob Turner
Woodliffe who was a specialist batsman was quite a handy change bowler capable of breaking difficult partnerships. In 1985 he scored 661 runs and also took 38 wickets. Later in 1986 he had his finest season with the bat scoring 930 runs at 48.96 with a top score of 120*
In 1985 fast bowler Andy Wilsden emerged taking 54 wickets, while a young Chris Gott was soaking up the Idle experience in 1986 with an impressive tally of 51 wickets to go with his 570 runs at 38.00. Gott would have greater fame at Pudsey St Lawrence where he became the complete cricketer winning virtually every trophy open to him and his team.Peter `Golly' Oldham had a fine season with the bat in 1987 with 698 runs.
Seamer David Pepper was a perennial threat to Idle's opposition batsmen in the mid-to late eighties, having his best season in 1987 when he took 47 wickets.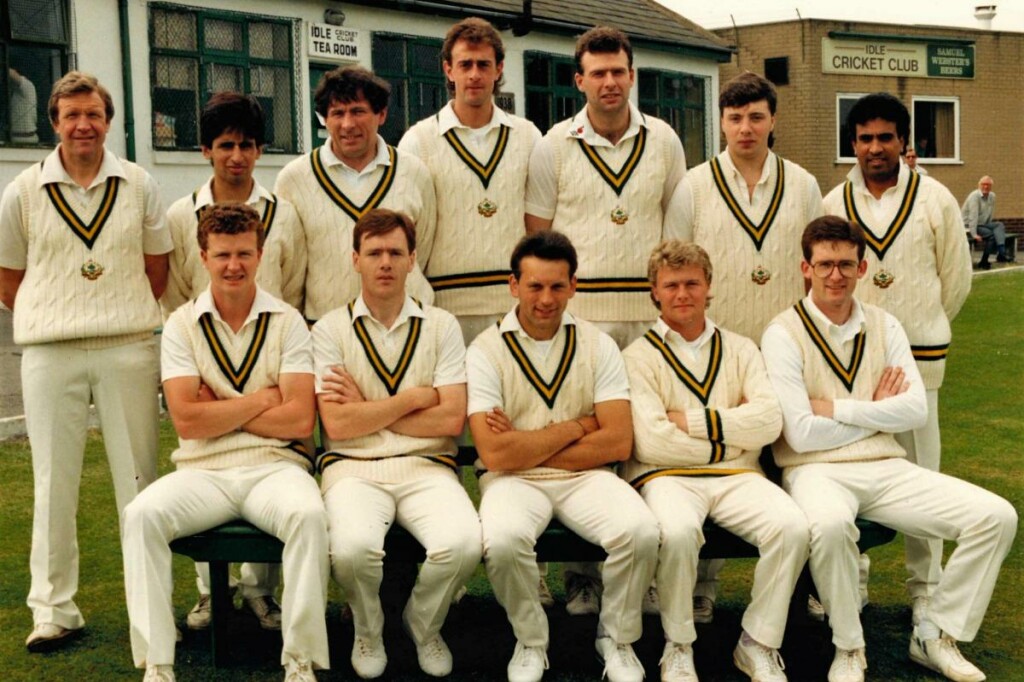 Ídle 1988: Back T Moore, Arshad Mahmood, Brian Curry, Andy Wilsdon, Andrew Jarvis, Simon Curry, Numan Shabbir. Front Peter Oldham, Dave Pepper, Phil Woodliffe, Earl Greenwood, Chris Simpson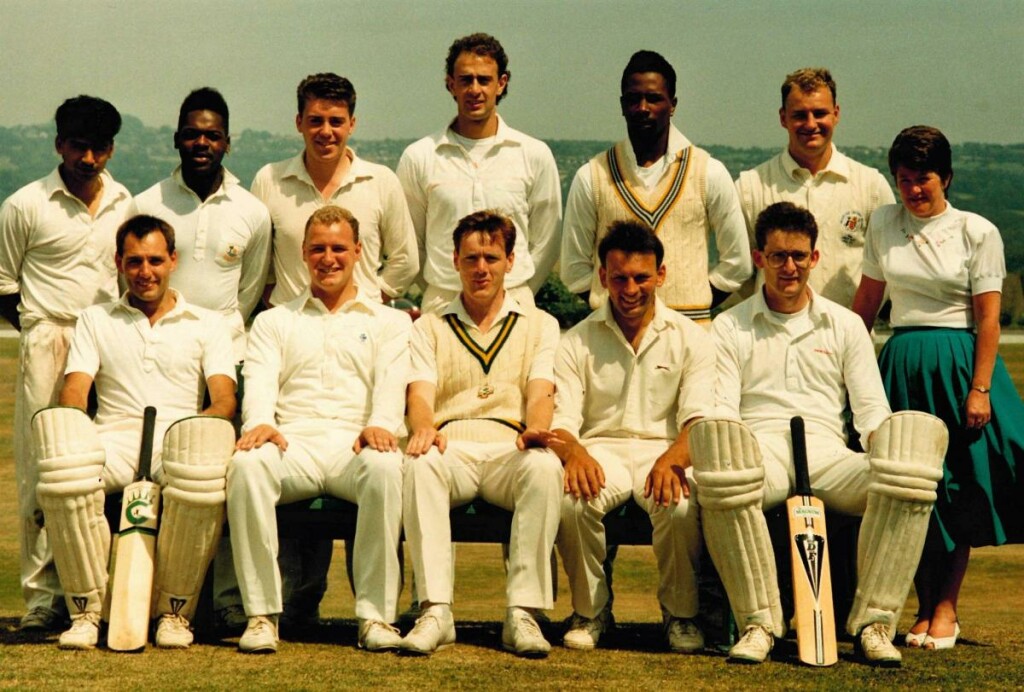 Idle 1989: Back -Shahid Bashir, Mark Thomas, Chris McNulty, Andy Wilsdon, Gary Williams, Michael Fraine, Front - Jon Holah, Andrew Fraine, David Pepper, Philip Woodliff, Chris Simpson
Idle's Yo-Yo years
The yo-yo era continued when promotion again followed relegation. A drab 1988 at Cavendish Road resulted in relegation but on this occasion they re-emerged as champions of the Bowes Section in the following year. Vital players had departed at the end of the 1987 season and there were no virtuoso performers to save them from the drop.
The Bowes Section Champions were largely indebted to batsmen Chris Simpson (788 runs), M Fraine (656 runs) and Woodliffe (457 runs), with the ever dependable seamers Pepper (37 wkts) and Wilsden (42 wkts) bowling sides out.
During the next seven seasons they didn't exactly challenge the status quo but they were genuinely competitive in the First Division. The best finish was 3rd in 1991 when the stylish David Leatherdale stroked 664 runs.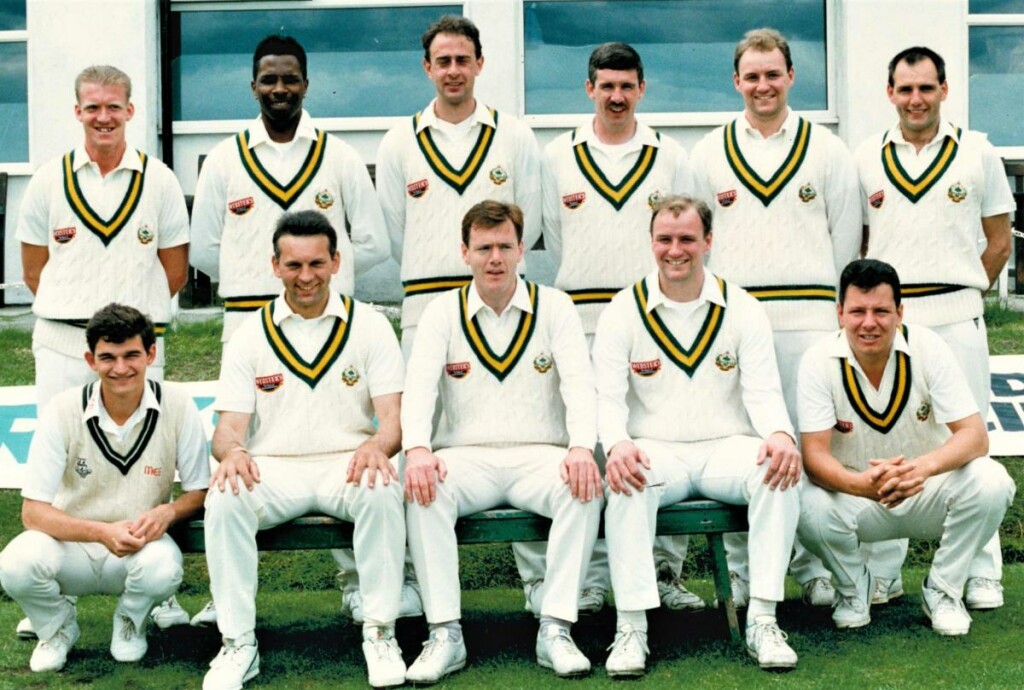 Idle 1991: Back row, from left G. Colehan, G. Williams, A. Wilsden, D. Robertshaw, M. Fraine, J. Holah. Front D. Leatherdale, P. Woodcliffe, D. Pepper (captain) A. Fraine, G.Morris
Leatherdale was a fine example of the county pro who, while not good enough to play international cricket, was nevertheless of great benefit to his club. In a career stretching over 17 years with Worcestershire, he scored more than 10,000 first-class runs at a batting average of slightly under 33, and his straightforward medium-pacers brought him more than 130 wickets.
In 1993 with a respectable ninth position secured, the highlight was the exploits of dashing batsman James Robinson who was signed from Bradford & Bingley. He was known for extravagant strokeplay from the word go as opening batsman and he rarely compromised his style. He made the league's highest individual score of 184* that season in a total run aggregate of 757 at 30.28.
In 1994 Idle struck gold with their overseas signing New Zealand batsman Aaron Bradley. He was a dashing, adventurous batsman who captivated the Cavendish Road crowd, winning the League Batting Averages with exactly a thousand runs at 62.50. Bradley made the First Class grade in New Zealand for Northern Districts with a career best score of 57.
Colorful character Mark Beardshall had a season to remember in 1995 taking 43 wickets with the ball and averaging 33.55 with the bat.
Left hand batsman Richard Walker scored an impressive 867 runs in 1996. In the same year Jason Booth, who had been on the Yorkshire staff, took the League Fielding Award to add to his modest batting average of 26.36.
In 1997 Idle were relegated but they were not to return in an instant like the last two occasions. They started their fight back with a relatively homespun side, but possessed a top left arm seamer in Ian Dewhirst who took 73, 60, 74, and 68 wickets respectively between 1998-2001.
Some class Pakistani cricketers at Cavendish Road
It was a surprise that promotion was not achieved in 2000 given Dewhirst's potency with the bowl, and the acquisition of an overseas batsman of the calibre of Pakistani Hassan Adnan. Adnan was a great stylist who scored 922 cultured runs at Idle for an impressive average of 51.22.
In 2001 Adnan went one better reaching 1132 runs at 62.89 with a highest score of 139* and topping the League Batting Averages. His free scoring, temperament and several man-of-the-match awards in the Tissot Cup attracted Derbyshire to sign him in 2003. He became qualified for England and played as a non-overseas player for Derbyshire for several years.
Adnan's first full season heralded more than 1,000 County Championship runs at an average of over 51, including a sparkling hundred in a 50-over match against New Zealand, and was rewarded by being named Derbyshire Supporter's Club Player of the Year. The next season was less prolific, but 191 against Somerset at Taunton reminded Derbyshire fans of his natural flair for batting. He was released by the club at the end of the 2007 season after averaging just 21 in his 11 matches and having never recovered his impressive form of 2004.
In 2002 promotion was achieved largely down to another overseas Pakistani star, namely Mohammed Hafeez. He scored 1,100 runs with a top score of 135 at 64.71, and also took 54 wickets at 13.19. Hafeez's feat proved easily good enough to secure the Jack Hill All Rounder's Award for 2002. He went on to play on the international stage enjoying a current Test record of 2,640 runs at an average of 35.57 with a top score of 197. He has also taken 35 wickets with a top analysis of 4-16.
Arguably Hafeez's attributes were more appropriate for the shorter format of test cricket. He gives the team plenty of options: he usually bats aggressively at the top of the order, but his organised technique also means he can switch to defensive mode if required. He doesn't flight his off breaks much, but his excellent control over line and length allows the captain to use him at almost any stage of an innings.
Idle spent five seasons in the top flight with low places 9th, 9th, 8th and 8th inevitably leading to relegation. The mainstay of the batting in this period was the well travelled Mark Gilliver who topped the 500-run mark for three seasons.
In 2003 Pakistan batsman Ijaz Ahmed enjoyed a par season for somebody of his ability with 614 runs at 27.91. A powerful hitter of the ball with the bat, Ijaz gained world fame, after becoming the second Pakistani batsman to score ten one-day Test centuries after Saeed Anwar. As a Test cricketer in the 5-day format he had a more modest career aggregating of 3,315 runs with a top score of 211 and an average of 37.67.
J P Yadav was yet another fine overseas capture who scored 720 runs in 2004 at 36.00 with a top score of 140*, and also captured 52 wickets at 20.35. All Rounder JP Yadav fell short of being a 5-day Test cricketer but played in one-day tests for India. His highest First Class score was 265.
During 2005/2006 Idle had the services of Sri Lankan Dinusha Fernando who impressed with bat and ball. In 2005 he score 440 runs with a top score of 87* and took 56 wickets, while the following year he scored 358 runs and claimed 59 wickets. He was a feared fast bowler on fast tracks as Cleckheaton found out to their cost when he took all ten wickets against them for 25 runs in 2005.
Fernando had a modest Test career for Sri Lanka playing in two test matches. His top score was 51*, and his only bowling analysis that spurned a wicket at reasonable cost was an aggregate of 1-29. He left Idle to join the all-conquering Wrenthorpe team of the Central Yorkshire League. He later made a great impression playing club cricket for Bromyard in the Worcestershire League capturing the local headlines with hat-tricks, and also breaking the club record for runs in a season.
On a downward path
When relegation arrived in 2007, only sheet anchor batsman Paul Cummings made any impression to the team's fortune, scoring 593 runs. He had shown his class in the previous season by scoring 608 runs.
Idle came close in gaining promotion the first time of asking finishing third in 2008, having being indebted to overseas batsman Mohammad Fayyaz who scored 588 runs at 45.23. He also took 35 wickets to follow the Idle tradition of employing overseas cricketers who were competent with both bat and ball.
After falling to a dangerous 10th in 2009 it has been one long struggle since. Batsman Greg Pickles scored 691 runs to give his side hope, but there was little support.
Idle decided to attempt to produce highly promising youngsters and give local club cricketers a chance. This was a laudable tactic albeit they experienced difficulty holding on to the best rookies.
In 2010 they succumbed to re-election in 11th place without a single player featuring in the league averages.
Idle had fallen on hard times off the field with several burglaries and falling bar trade. No longer could they dig deep and employ several professionals to make a difference.
In 2011 one could accurately state that West Indian Carelon Brone single-handedly saved Idle from re-election when they finished 3rd bottom. He was an enigmatic cricketer who was not always consistent but gained enough bonus points to ensure survival for his side. He scored 592 runs with a top score of 174*, and took 41 wickets with his brisk medium pace.
During 2012/2013 it was a matter of giving local lads a shot of Bradford League cricket whether they were ready or not. Re-election came knocking both years but the member clubs recognised the efforts they make in junior cricket, and the vital work they continued to do to keep their ground in good order.
Things improved in 2014 with a lot more conviction in their play which resulted in a wide berth of the re-election zone. An effervescent all-rounder in Kiwi Nikolas Cumming, who scored 452 runs and took 36 wickets, was the catalyst for such improvement.
The improvement was short lived and in 2015 Idle finished bottom of the pile with one win and seventeen losses. The overseas player Viraj Hadkar was only a partial success, but he did contribute 542 runs. Pace bowler Ijaz Ahmed continued his progress with 45 wickets, while Alex Robinson took 39 wickets.
Serious decline
Idle were hit by vandalism at their Cavendish Road ground just prior to the 2016 season. The square and outfield were badly disfigured when 4 x 4 vehicles were driven across leaving deep ruts and scars across the playing area. An ECB pitch inspector produced a report on the damage which recommended that remedial work was required to bring the ground back to good order. This led to the postponement of the first two home matches of the season.
On the field the club struggled again with a young side and finished in bottom place with just two league wins. Mohammad Rafiq was the top batsman with 295 runs, in which 98 came in one match, while Alex Robinson (20 wkts) and Ijaz Ahmed (20 wkts) were the only bowlers to make an impact.
Widespread player changes resulted in a new team in 2017 with new skipper Mohammed Waseem pulling the strings in recruiting.
Idle did not make a good start to the season, but it was obvious they were far more competitive than in previous years. They beat Altofts in the fourth match before losing a close affair with Liversedge. By June 24th the new team had found its feet and they won five successive matches.
They could not sustain that run, but they did finish a credible 6th after late season wins against promotion contenders Northowram Fields and Hunslet Nelson. Their overall record of ten wins, and ten losses represented progress.
West Indian Deron Greaves was a major asset scoring 482 runs at 32.13, and also taking 33 wickets, but the big success story was former Saltaire swing bowler Salman Khan who took 49 wickets at 10.90. Another consistent performer was Arbaab Hussain who scored 384 runs at 32.00.
Resignation from the Bradford League
Tragically, the club resigned from the league before the 2018 season, citing dwindling support and a weak financial standing. In the resignation letter club secretary Stephen Thornton said: "Idle Cricket Club has enjoyed playing and supporting the Bradford Cricket league, but unfortunately for the 2018 year we feel that we cannot commit to putting a team out to compete in the league".
The League chairman David Young told clubs at the annual general meeting: "This is a very sad development. We have tried to support and help the club but they have decided they cannot go on.