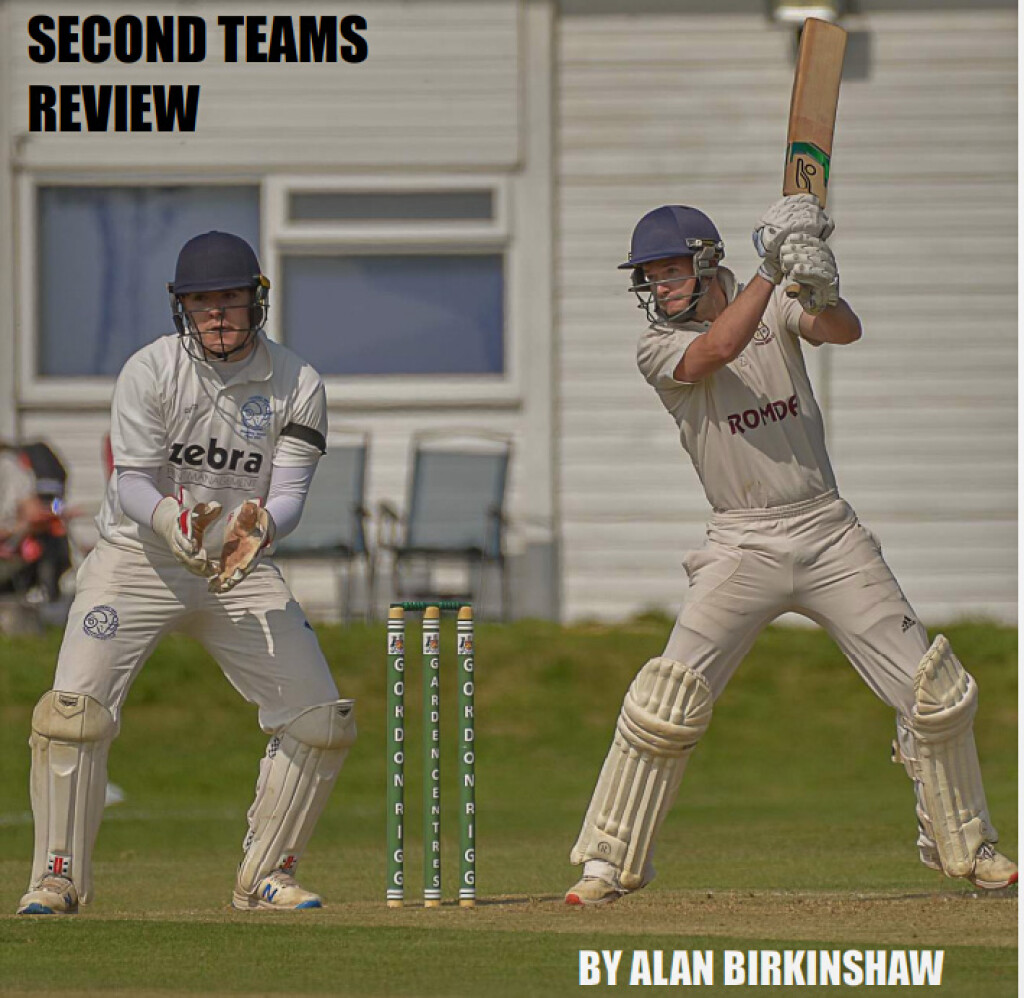 Spen Victoria captain Peter Jackson completed a family double when he passed 1,000 league runs for the season against Hunslet Nelson on Saturday.
His father Ron, who died earlier this year, was the first player to achieve the landmark in Bradford League history when he scored 1,036 for Lightcliffe in 1977.
Peter is the 14th player to reach the 1,000 mark and now has 1,028 runs to his name after scoring 63 in the 138-run Division Three defeat at Hunslet Nelson.
The most runs ever scored in a season in second team cricket is the 1,269 Warren Allitt made for Undercliffe in 2003.
Premier Division
New Farnley v Pudsey St Lawrence
Two of New Farnley's talented teenagers played the leading roles as their side defeated St Lawrence by 95 runs. Opener Joe Pyrah hit an unbeaten 132, an innings containing a six and 20 fours, while leg spinner Alex Holt took 6-27 as St Lawrence were dismissed for 138 in reply to New Farnley's 233, a score that included 42 not out from veteran captain Andy Langley. David Heslop top scored with 61 for Saints while left-arm spinner Sam Barraclough (3-44) backed up Holt's efforts.
Scorecard
Gomersal v Morley
A third wicket stand of 105 between teenage batsmen Harvey Winn (92no) and Aryan Singh (78) helped Morley secure a seven-wicket win which has boosted their hopes of avoiding relegation. They are now 17 points behind Gomersal after chasing down their score of 199.Liam Grant (54) and Phil Carter (40) were the pick of the home side's batsmen as Andrew Kirkwood picked up 3-30.
Scorecard
Jer Lane v Hanging Heaton
Solid batting from Umar Dawood (50), Adnan Mahmood (46) and Haris Butt (44) enabled leaders Jer Lane to defeat defending champions Hanging Heaton by five wickets. Their efforts ensured that the visitors' score of 208-5 was overhauled. Skipper Craig Russell (95) and Chris Goodair (43no) were the main contributors.
Scorecard
Batley v Pudsey Congs
Liam Stanhope (5-37) and Adam Patrick (3-53) enabled Pudsey Congs to dismiss Batley for 175 before easing to a five-wicket win. Hafaizah Patel (42) and Umar Mirza (31) were the top scores for Batley while Hassan Butt (68) was support by the Stolarski brothers Joe (38) and Zac (36) as Congs eased to victory.
Scorecard
Bankfoot v Woodlands
Cieran Garner was again in the thick of the action as Woodlands defeated Bankfoot by eight wickets. Garner (4-19) and Kieran Rodger (3-35) did much of the work as Bankfoot were bowled out for 124, Hamzah Iqbal making 35. Garner backed up is bowling performance by making an unbeaten 65.
Scorecard
Premier Division Stats of the day
Top team total: 233-7 New Farnley v Pudsey St Lawrence
Top individual score: 132no Joe Pyrah (New Farnley v Pudsey St Lawrence)
Best Bowling figures: 6-27 Alex Holt (New Farnley v Pudsey St Lawrence)
Season's top stats
Top team total: 296-2 Jer Lane v Batley
Top individual score: 174no Miraj Khan (Jer Lane v Batley)
Best Bowling figures: 7-41 Arslaan Mahmood (Jer Lane Bowling Old Lane)
Division One
Yeadon v Farsley
Leaders Farsley moved a step closer to the Premier Division with a hard-earned two-wicket win. James Hoyland (43), Mukdas Mohammad (35) and Alex Maddison (34no) helped them edge past the Yeadon score of 178 despite the efforts of Paul Machell (3-28). Daniel Hill (51) top scored for Yeadon while Kesar Arshad (3-26) was Farsley's best bowler.
Scorecard
Cleckheaton v Carlton
Mohammad Ahmed (5-13 and Elliot Hallas (3-26) helped Cleckheaton bowl out Carlton for 93 as they cruised to a nine-wicket win which moves them further away from the relegation positions. James Cooper (33) was the only Carlton player to make an impression while Yusuf Malik was 39 not out when Cleckheaton secured the 20 points.
Scorecard
Great Preston v Bradford & Bingley
Archie Barraclough (4-18) enabled second place Bradford & Bingley to dismiss Great Preston for 152 to complete a 24-run win. Matthew Keeton (43) and Lewis Brown (34) were the main contributors in Bradford & Bingley's 176 as Sam Holmes (4-58) posed the main threat.
Scorecard
Baildon v Hartshead Moor
Baildon continued their late push for promotion with a comprehensive nine-wicket win over Hartshead Moor. Jamie Abbott (3-1) and Harry Dobson (3-31) helped bowl out the visitors for just 76. Jamie Denison was unbeaten on 31 when the Jenny Laners knocked off the runs.
Scorecard
Methley v Townville
Jake Smart hit a fine 120 which contained three sixes and 16 fours as Methley compiled a total of 212 in their 10-run win. Alfie McMillan (4-41) and Nash Charles (3-38) were the best of the bowlers for Townville. Skipper Kieran Samuels (7) and Steve Walton (36) looked to be steering Townville to victory when they shared an opening stand of 125, but Methley hit back through spinner Robert Clegg (5-51) and Jacob Schofield (3-47) to dismiss them for 202.
Scorecard
Lightcliffe v East Ardsley
George Leach (95) and William Leach (31) led the way as Lightcliffe chased down an east Ardsley total of 206-8 to win by five wickets. Matt Redgwick (69no) and Ashley Battye (40) were the top scorers for the visitors.
Scorecard
Division One Stats of the day
Top team total: 212 Methley v Townville
Top individual score: 120 Jake Smart (Methley v Townville)
Best Bowling figures: 5-13 Mohammad Ahmed (Carlton v Cleckheaton)
Season's top stats
Top team total: 444 Bradford & Bingley v Great Preston
Top individual score: 221 Matthew Swallow (Bradford & Bingley v Great Preston)
Best Bowling figures: 8-23 Elliot Hallas (Cleckheaton v Baildon)
Division Two
Liversedge v Keighley
Hammy Shahzad smashed nine sixes and 15 fours while making an unbeaten 148 as Keighley piled up a score of 369-5 in their 173-run win over Liversedge. Lucas Keslinke also impressed with 104 while opener Mohammad Hussain made 58. Hussain and Keslinke added 103 for the second wicket while Keslinke and Shahzad put on 145 for the third wicket. Jacob Lonsdale (76) and Fakir Laher (34) led the way in the Liversedge reply of 196, Stephen Butterfield taking 3-32.
Scorecard
Brighouse v Sandal
Zafar Mahmood was in the wickets again, taking 6-40 as leaders Brighouse bowled out Sandal for 104 to secure a 48-run win. Mohammed Imran (3-24) provided good support after Brighouse had made 152 with Waleed Janjua making 48 and Tanveer Ahmed (31).
Scorecard
Altofts v Buttershaw St Paul's
David Robson (77no) and Jaymes Hollingworth (56no) shared an unbroken third wicket partnership of 107 as Altofts eased to an eight-wicket win against relegation threatened St Paul's. Defeat was hard on Charlie Leach who made an unbeaten 115 in the St Paul's score of 187-3. Dilan Patel (40) joined him in a third wicket stand of 105.
Scorecard
Ossett v Hopton Mills
Phil Scott (6-21) produced the day's best bowling figures in Division Two as he helped Hopton Mills to dismiss Ossett for 144 and complete an 88-run win. Gurnoor Singh (41no), Leigh Learie (34) and Jack Stevenson (33) were the top scorers. Stephen Bland (49) and Ben Haigh (46) helped Mills make 32 when they batted first as Learie (4-55) and Steve Coulthard (3-81) posed the main threat.
Scorecard
Wakefield St Michael's v Undercliffe
Mohammed Tahaa (5-19) helped second place Undercliffe bowl out Wakefield St Michael's for 145 on their way to an eight-wicket win. Brian Knowles (62) was again the top scorer for the bottom-of-the-table side. Absar Hussain (68) and Craig Brook (46no) eased Undercliffe to victory.
Scorecard
Birstall v Northowram Fields
Connor Teale (6-55) and Alex Drake (3-41) bowled out Northowram Fields for 102 as Birstall cruised to a nine-wicket win. Daniel Marlow (56no) and Aamir Malik (34no) saw them to their modest victory target.
Scorecard
Division Two Stats of the day
Top team total: 369-5 Keighley v Liversedge
Top individual score: 148no Hammy Shahzad (Keighley v Liversedge)
Best Bowling figures: 6-21 Phil Scott (Hopton Mills v Ossett)
Season's top stats
Top team total: 396-6 Liversedge v Buttershaw St Paul's
Top individual score: 182 Will Atkin (Liversedge v Buttershaw St Paul's)
Best Bowling figures: 9-33 Zafar Mahmood (Brighouse v Keighley)
Division Three
Crossflatts v East Leeds
East Leeds replaced Crossflatts at the top of the table after chasing down their score of 236-7 to win by four wickets. Rajat Ali (57), Shaan Ahmed (48), Zahid Tarvas (38) and Shamas Hussain (35no) saw them home as Charlotte Boulton picked up 3-80. Crossflatts built their total on the contributions of Steve Broughton(49no), Michael Bailey (36), Lee Bailey (32no) and Tom Greenwood (30).
Scorecard
Hunslet Nelson v Spen Victoria
Hunslet Nelson are just two points behind Crossflatts and four adrift of leaders East Leeds after their 139-run win over Spen Victoria. Chris Allan hit 22 fours while making 134 and was backed up by Josh Morris 63 in a third wicket stand of 143 which helped Nelson make 278-2. Skipper Peter Jackson (63) top scored for Spen as they were dismissed for 140, Freddie Hallas taking 5-26.
Scorecard
Scholes v Heckmondwike & Carlinghow
Kamran Khan (5-33) led the way as Heckmondwike & Carlinghow dismissed Scholes for 116 to complete a 122-run win. Asad Ejaz (67) and Javed Iqbal (53) top scored in Heckmondwike & Carlinghow's 238-8, while Noman Irshad (4-33) was the pick of the home bowlers/
Scorecard
Wrenthorpe v Adwalton
Patrick Green (5-11) and Kalim Lajpuria (3-45) enabled Wrenthorpe to dismiss Adwalton for 119 in their eight-wicket win. Stewart Donohoe (37) provided the only resistance while Nathan Ellis (60) and Nadeem Sayeed (30) steered Wrenthorpe to victory.
Scorecard
Windhill & Daisy Hill v Rodley
Dan Turbitt hit 102, an innings containing four sixes and 12 fours, as Rodley compiled a total of 254-8 in their 140-run win over Windhill & Daisy Hill. Subhaan Habid (55) and Elliott Tattersall (38) gave support as Phil Drake (4-64) proved the best of the bowlers. Drake followed up with 38 as his side were dismissed for 114, David Charles finishing with 4-30.
Scorecard
Gildersome & Farnley Hill v Crossbank Methodists
Kavan Patel made 45 as Gildersome & Farnley Hill eased to a seven-wicket win after dismissing Crossbank Methodists for 115. Chris Dawson taking 3-15.
Scorecard
Division Three Stats of the day
Top team total: 278-2 Hunslet Nelson v Spen Victoria
Top individual score: 134no Chris Allan (Hunslet Nelson v Spen Victoria)
Best Bowling figures: 5-11 Patrick Green (Wrenthorpe v Adwalton)
Season's top stats
Top team total: 373-6 Crossflatts v Adwalton
Top individual score: 181no Peter Jackson (Spen Victoria v Wrenthorpe)
Best Bowling figures: 8-30 Kavan Patel (Gildersome & Farnley Hill v Spen Victoria)