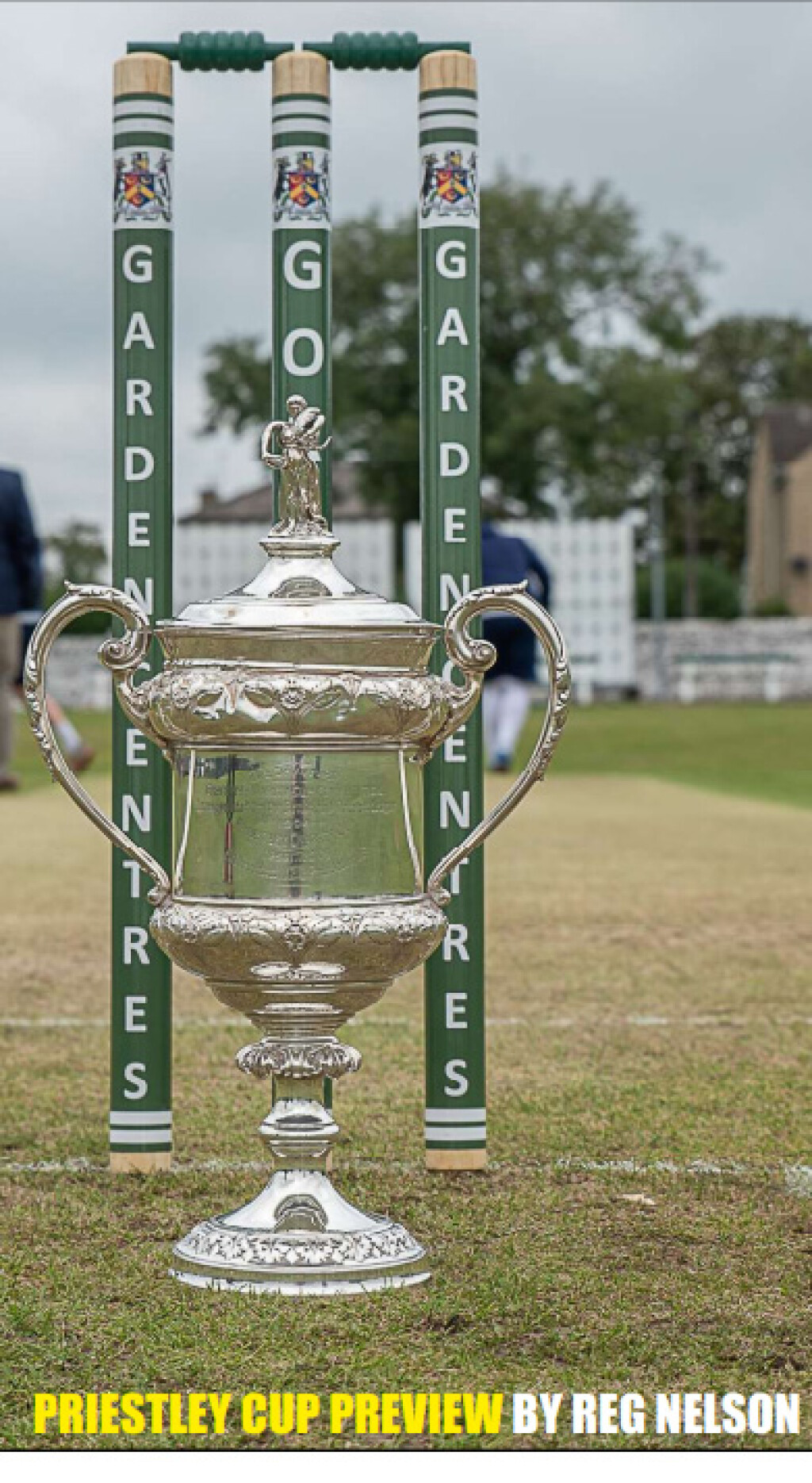 The weather is set to be hot for the Gordon Rigg Priestley Cup Semi-Final this Sunday between New Farnley and Woodlands. It is a 1pm start at the Barry Jackson Ground, New Farnley.
New Farnley v Woodlands
These two top sides seem to be intrinsically linked - whether it is title deciders or cup finals. Whatever the outcome it will be a real battle between two talented sides that can get through attritional games on the right side.
They are currently neck and neck in the title race with New Farnley having the edge on points.
As a very tenuous guide, New Farnley did win the league match at Woodlands, albeit in a very close-run game.
Cup Wins
New Farnley: 2017, 2021
Woodlands: 2006, 2016, 2018, 2019
How They Got There
New Farnley and Woodlands both obtained byes to the Second Round.
New Farnley
Second Round: Baildon v New Farnley
New Farnley had a straightforward entry into the quarter finals after defeating Baildon by 10-wickets.
Baildon did manage to get to 156, despite Australian quick bowler Liam Guthrie taking 5-33. But this was insufficient to test New Farnley as Aidan Langley (72no) and Lee Goddard (68no) knocked off the runs with little difficulty.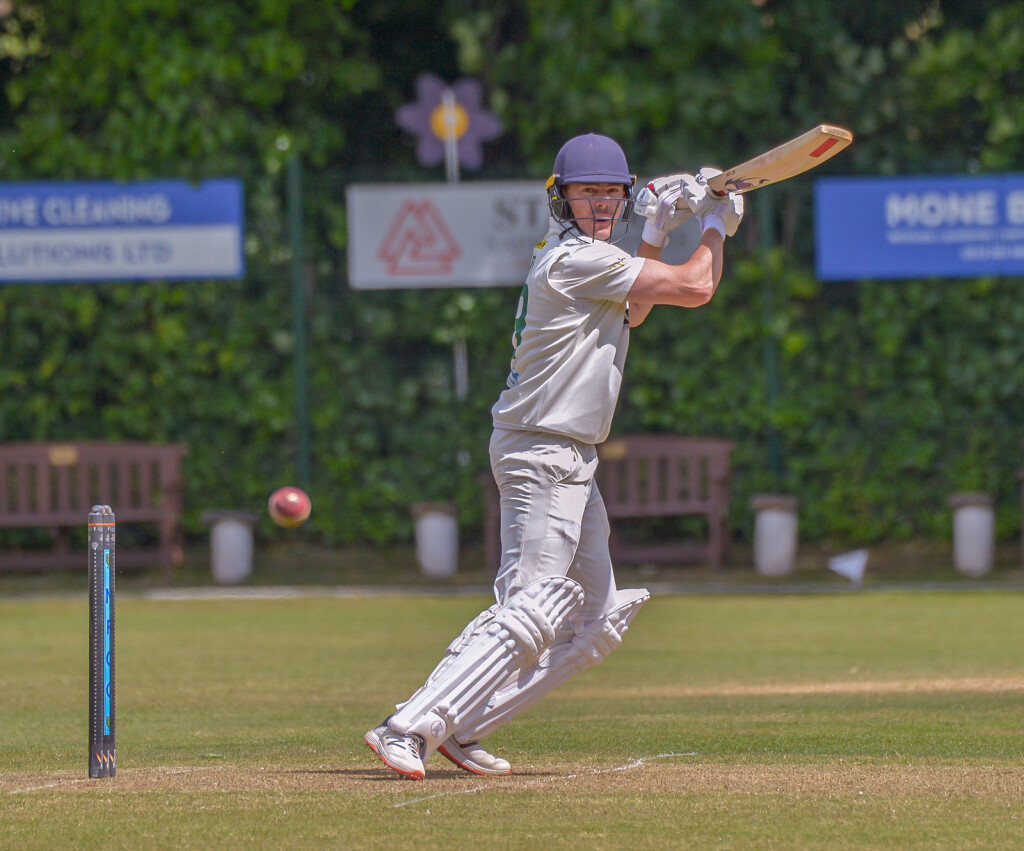 Adam Waite made a superb century for New Farnley against Townville Picture: Ray Spencer.

Quarter-Final- New Farnley v Townville
Last year's Priestley Cup Final between these sides was a thrilling low scoring affair, and it could be said that Townville should have won. This was a perfect opportunity for Townville to get revenge, but it was not to be in another thriller.
Like the final, it was a match full of twists and turns, but on this occasion, it was a high scoring spectacle.
New Farnley had a pre-match blow in losing Lee Goddard with a broken thumb, but his deputy, 16-year-old Joe Pyrah, made a stylish 67 as he featured in a second wicket partnership of 127 with Adam Waite who scored 106. Dan Hodgson chipped in with 41 as they set a daunting score of 297-8.
When Townville slipped to 166-6 in reply, it seemed to be all over bar the shouting. However, there was another twist in the tail that so characterises the clashes between these sides.
Harry Warwick had anchored the Townville innings with 92, but Conor Harvey suddenly accelerated the scoring with a rapid 55 from 23 balls.
This gave them half a chance, and when Harvey was dismissed, Tom Brook took over in similar vein striking the ball impressively. This momentum from Harvey and then Brook, gave them a fighting chance, but the latter was fast running out of partners.
When they were down to nine wickets, they needed 22 from 14 balls. However, in a moment of confusion between the batters, and some fine fielding by Pyrah, the last man Niall Charles was run out, with his side 19 runs short.
Brook had indeed run out of partners after notching an unbeaten 59 which included three sixes and seven fours. He was certainly in the mood to win it for Townville but needed the late tail to stick with him.
Woodlands
Second Round- Woodlands v Pudsey St Lawrence
Woodlands had a surprisingly comfortable eight-wicket win at Albert Terrace over Pudsey St Lawrence. The visitors batting failed to fire as they were bowled out for just 145 with off spinner Kez Ahmed taking 3-39. Woodlands cruised to victory with skipper Brad Schmulian (70no) and Tom Clee (40no) seeing them to their modest target with the minimum of fuss.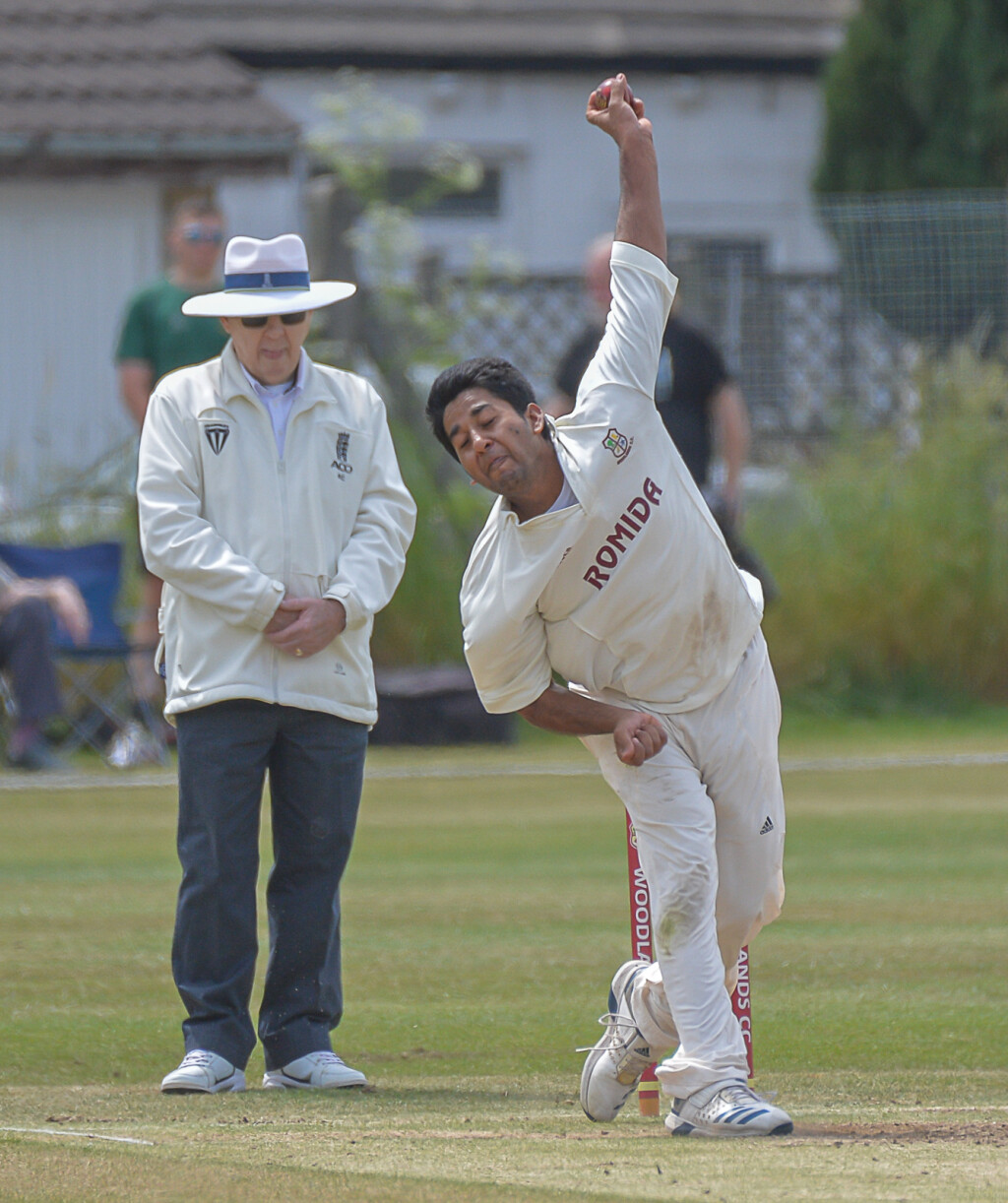 Muhammad Bilal took 4-25 in Woodlands' win over Hanging Heaton Picture: Ray Spencer

Quarter-Final- Hanging Heaton v Woodlands
Another tie that was anticipated as a tough prospect for Woodlands turned out to be a straight forward win. This time it was at Bennett Lane where Hanging Heaton had been showing some improved league form.
Hanging Heaton batted first and on a lively wicket could only muster 145. The best of the Woodlands bowling were Muhammad Bilal (4-25) and Brad Schmulian (4-23), while Sam Frankland (79) and Brad Schmulian (34no) allowed their side to coast to a seven-wicket win.
Methley v Cleckheaton
They say league form has no guide in the cup, but Cleckheaton must be reasonably confident after their recent nine wicket defeat of Methley.
Methley seemed to have a star-studded squad of players at the start of the season when they briefly topped the league. However, county calls have once again negated their chances of success, and much will depend on their player availability this weekend.
Cleckheaton have been embroiled in a relegation fight all season, but they have found solace in the cup. They have the players to get out of trouble in the league, and reach the Priestley Cup Final, but there are nagging doubts about their ability for a `complete' performance.
Neither side have won the Priestley Cup, but both have played in a final
2007 Pudsey Congs 254-4 Cleckheaton 172
2017 New Farnley 254 Methley 230
How They Got There
Methley
Methley obtained a bye to the Second Round.
Second Round- Morley v Methley
At Scratcherd Lane, Morley batted first and scored a more then useful 300-5.
However, two of Methley's young guns shone with opener Jason Marshall scoring 155, and Eitan Litvin (52), as they put on 134 for the first wicket. Wickets began to fall in the middle order, but Methley got home by three wickets with the best part of three overs remaining.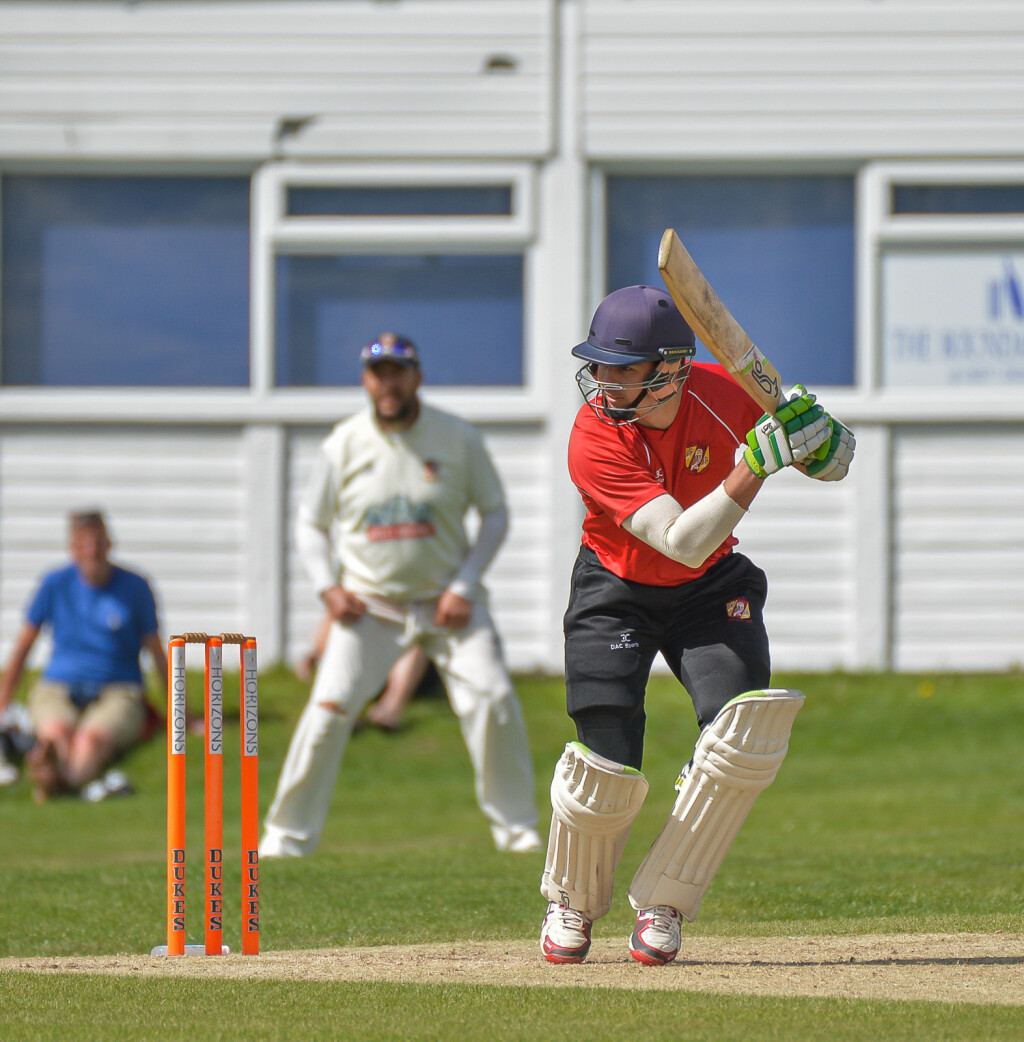 Jason Marshall has scored important runs for Methley on their cup run Picture: Ray Spencer

Quarter-Final-Methley v Bradford & Bingley
Jason Marshall (89) and Eitan Litvin (55) were again on form, and with the assistance of James Wainman (46), built a score of 233 all out.
Bingley made a fair stab at it but went down by 26 runs despite a rousing 57 not out from Jack Hartley, Wainman completed a fine all-round performance by taking 3-31.
Cleckheaton
First Round- Gomersal v Cleckheaton
Cleck make short work of Gomersal, winning by seven-wickets. Richard Pyrah took 4-24 in helping to dismiss Gomersal for 124, while Yousaf Baber (35), Ethan Lee (33) and Pyrah (30) smoothed the way to victory.
Second Round- Cleckheaton v Jer Lane
Many thought Cleck could have been the victim of a `giant killing' act in the Second Round when they met the all-conquering Jer Lane side from Division One. However, their Premier League pedigree prevailed on the day.
When Jer Lane batted first and recorded a very healthy 297-8, there must have been some doubts creeping in for the Moorend faithful. Promising bowler Hashim Wajid had taken a commendable 4-47 in a bowling attack stripped of Iain Wardlaw (unavailable) and Richard Pyrah (injured).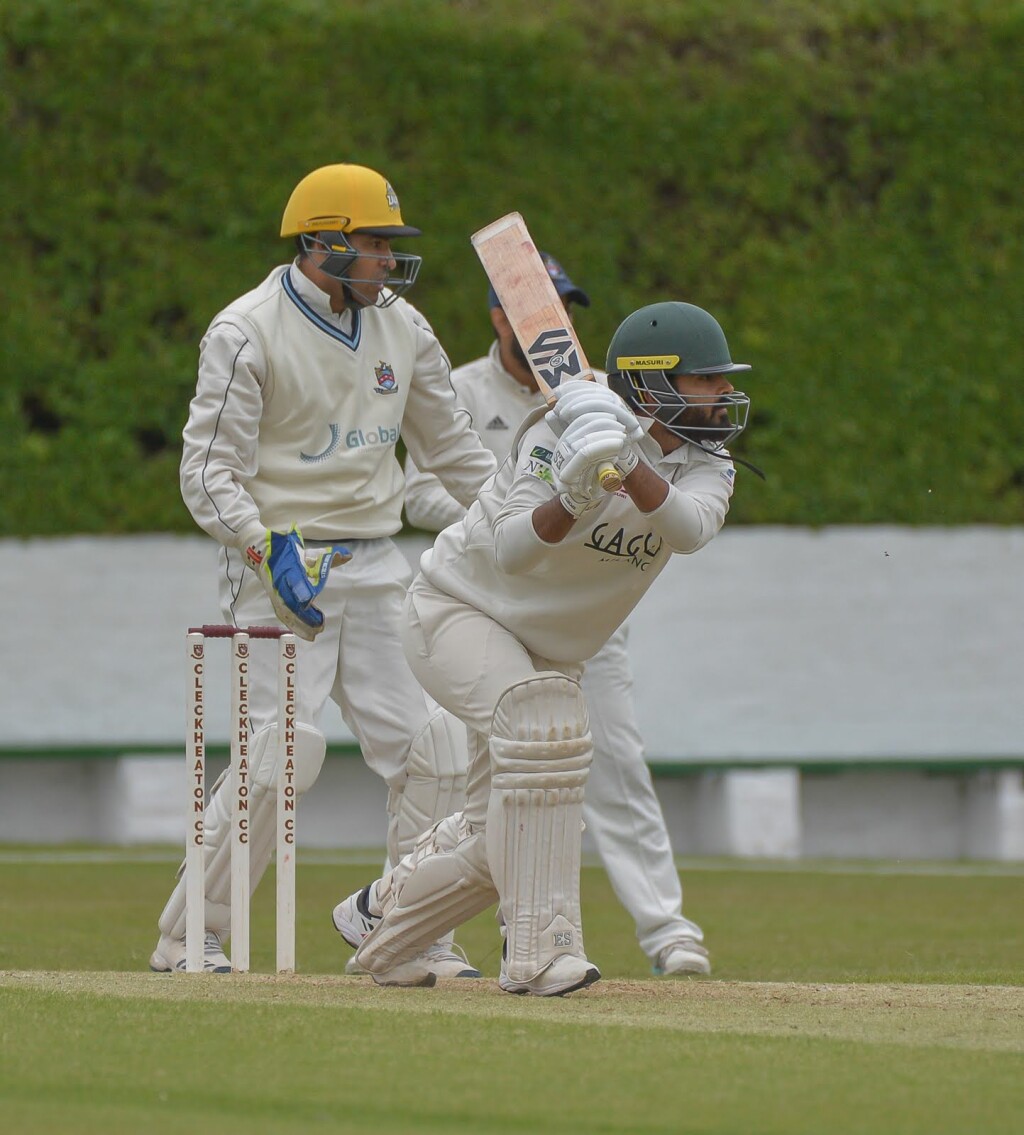 Cleckheaton faced the task in hand positively with consistent batting down the order. Overseas player Yusuf Baber, above, knocked off the runs with 4.4 overs to spare, hitting three sixes and 12 fours while making 101. He was joined in a third wicket stand of 149 by former Yorkshire all-rounder Pyrah who scored a crucial 74 not out.
When Baber was dismissed, Cleckheaton skipper Mally Nicholson (51no) joined Pyrah to see his side home to a seven-wicket win.
Quarter-Final- Keighley v Cleckheaton
Cleck completed a hat-trick of emphatic wins against Division One sides when they triumphed by 182-runs at Keighley. Opener Toby Booth led the way with 117, an innings containing three sixes and 16 fours, and was joined in a second wicket stand of 177 with Yousaf Baber (71). Richard Pyrah (54) and Mally Nicholson (40) added some gloss to the final 353 total.
Keighley made a good start, but the target was always going to be too challenging for them. Iain Wardlaw (3-44) and Amir Hussain (3-52) made sure of that.
Most Cup Wins
14 Undercliffe
12 Bradford PA,
10 Bradford & Bingley/Bingley
8 East Bierley,
6 Idle, Lightcliffe, Pudsey Congs and Pudsey St Lawrence
5 Keighley and Saltaire,
4 Baildon, Bowling Old Lane and Woodlands
3 Eccleshill, Farsley, Great Horton, Spen Victoria, Yeadon, Yorkshire Bank
2 Hanging Heaton, New Farnley and Windhill,
1 Allerton, Lidget Green, Manningham Mills, Salts.