As the season passes the two thirds mark, it is time to reflect on each club's aspirations for the run-in, and what's gone before.
Premier
Bankfoot
Bankfoot have been the surprise packets of the league, winning six matches up to press and proving competitive throughout. When they beat Townville it proved they could mix it with the `big teams' and it gave them the confidence to compete. They have a very good overseas player in Zia Ul Haq Parwani who took an astonishing nine wickets against Townville, and so far has scored 486 runs, and taken 32 wickets. Skipper James Lee has led from the front scoring 528 runs, including a century, and Hamzah Iqbal (462) has shown rich promise. Another good prospect is spinner Seif Hussain who has taken 33 wickets. They are still not out of the woods yet regarding relegation, but they have a decent cushion of points over tenth place Cleckheaton.
Batley
Batley are bottom, and with only four wins under their belt are probably favourites to go down. However, they have beaten some good sides this term and it is always precarious to write Batley off. Last week's victory over Pudsey St Lawrence is a case in point. Yasir Ali is a fine all rounder and is prepared to dig in where it hurts. His spirited performances are highlighted by his 451 runs, and 28 wickets. Left-hander Kasir Maroof is a naturally talented batsman who has scored an unbeaten century in the league and is their top scorer with 527 runs. They have a tall task this weekend at Woodlands.
Bradford & Bingley
Skipper Ed Brown has spoken early season about his ambitions of finishing top five and having a good run in the cups. At the moment, a top five position is very realistic, and they did have their moments in the cup competitions. Their most impressive cup win was against Castleford in the Heavy Woollen Cup when they had more or less a compete performance. Yorkshire batsman Will Luxton has obviously been a big help when available, and his younger brother Jack has grown into a very decent opening bowler. In fact it has been a feature of Bingley's side this season that they are bringing on their young players like Lachlan Doidge, Jacob Slater and Matthew Swallow. They did have early season momentum when they scored heavily against Woodlands, and managed to successfully defend it. Ed Brown and Australian Corey Miller have both scored in excess of 500 runs, while Yasir Abbas has taken 46 wickets. Abbas always seems to be under the radar when good bowlers are discussed, but he is currently the leading seamer in the division for wicket-taking.
Cleckheaton
Cleckheaton are in real danger of going down with a side most pundits predicted would finish mid-table. They weren't helped by an early season injury to Richard Pyrah that has precluded him from bowling, and that has left a huge void to fill. Iain Wardlaw (33 wkts) and Andrew Deegan (23 wkts) have bowled admirably, but they really need more support. Overseas man Yousaf Baber (692) has been a one-man run machine, with only Toby Booth, Mally Nicholson and Pyrah scoring runs consistently with him. Cleck can do it on the day and their recent defeat of Pudsey St Lawrence is a good example. But, these days are too few, and they will need a glut of wins to get out of trouble. The Priestley Cup run to the semi-final should have boosted morale, but the KO defeat against Methley was a disappointing one. They had Woodlands in all sort of trouble last week when they inserted them in on a damp track, but they let them off the hook. One bright spot for the future is the youthful talent of seam bowler Hashim Wajid who will learn from his debut season.
Farsley
Farsley would have been hoping that Yorkshire's Harry Duke and Matthew Revis had taken the field more for them. Duke's century against New Farnley completed a very unlikely double over the league leaders. A top six position could have been theirs for the taking but for a mid-season bowling crisis when they were beset by injuries. Skipper Matthew Lumb has battled on and ensured his side kept clear of the drop zone and has been the best bowler with 26 wickets. Left hander Chris Beech has proved himself to be an invaluable opening anchor of the batting with 456 runs so far.
Hanging Heaton
It was well publicised that Hanging Heaton were frustrated in the close season by potential new signings that did not materialise. However, they went with what they had got, and tried to play the positive cricket that they are known for. Unfortunately, the results just didn't come their way, and it is a great surprise to many that they are in a relegation battle in the last third of the season. Nick Lindley (486) and Callum Geldart (491) have carried their batting, although skipper Ben Kohler-Cadmore recently found his form with a century against Townville. The best bowler has been Mustafa Rafique who they signed from Wrenthorpe, and he has taken 30 wickets. Obviously, Premier League survival is the main target now, but they could gain glory in the Gordon Rigg T20 Group A Cup final when they do battle with Woodlands- a trophy they have tended to dominate in recent years.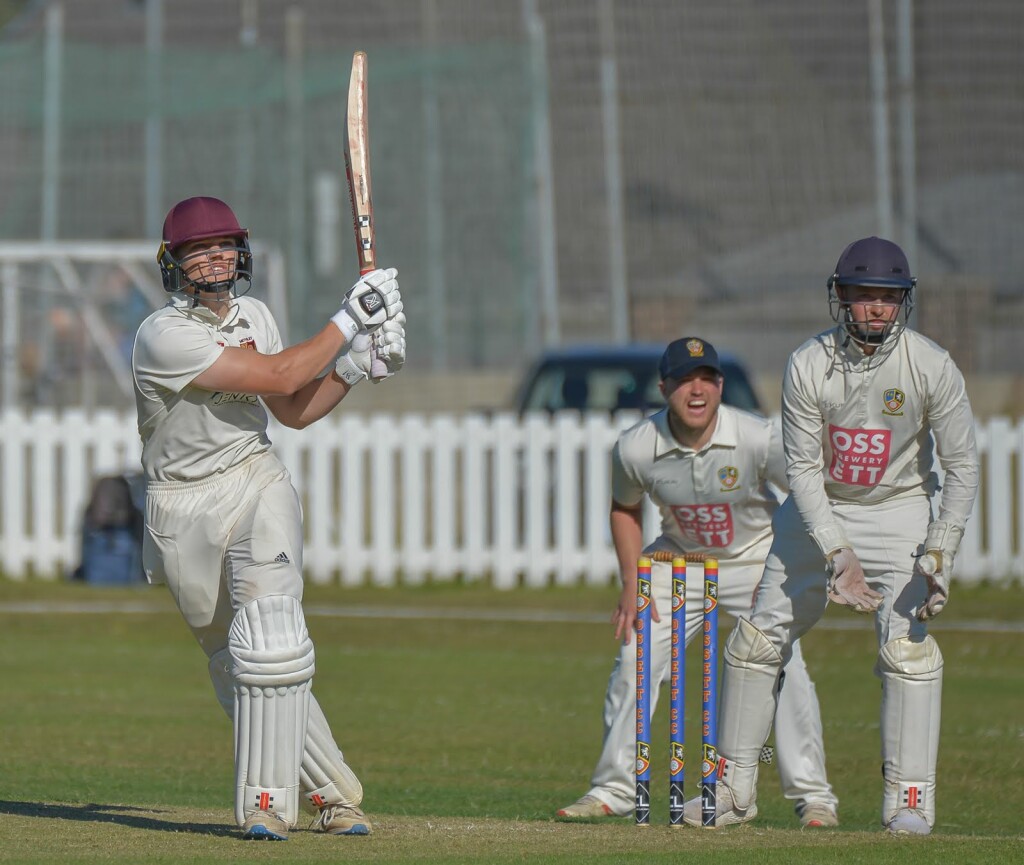 Methley
Methley made a cracking start to the season and briefly led the table. If their catalogue of county registrations in Matthew Waite, Harry Sullivan, Jarrod Warner and James Logan had been able to play more regular they would have probably been up their challenging. As it is, they have a chance of major silverware when they play New Farnley in the final of the Priestley Cup at the Barry Jackson Ground. Their comprehensive semi-final win over Cleckheaton will have gladdened the hearts of the Little Church Lane supporters. Tom Chippendale has done well with a team lacking in penetration with the ball- not helped by his injury. He has developed his batting and scored vital runs in middle order. The real success story has been the development of their young players, and in particular Jason Marshall who has scored 641 league runs, and also many in cup competition. Alex Cree, pictured above, is another one for the future and he has scored 505 league runs. The best of the bowling has been James Wainman with 52 wickets. He has also contributed well with the bat.
New Farnley
New Farnley are well placed to fulfil their Holy Grail ambition of winning the league, but could conceivably win an unprecedented treble of Premier Championship/Priestley Cup/Heavy Woollen Cup. They are currently 17 points in front of Woodlands with six to play, but crucially have to play both Townville and Woodlands, and their Australian quick bowler Lee Guthrie returns home before the season's end. After beating Woodlands so comprehensively in the semi-final of the Priestley Cup, they will be favourites to beat Methley in the final. The Heavy Woollen Cup Final should be a classic against Townville who ran them so close earlier in the season in the Priestley Cup. An impressive feature about their season is how they made light of the enforced absence of prolific opener and captain, Lee Goddard. Acting captain Alex Lilley calmly got on with the job, and apart from the Farsley loss when they had three key batsmen missing, he has delivered every time. Aidan Langley (498) has scored the most runs in the league, while Guthrie (38 wkts) and Gurman Randhawa (37 wkts) has been the most successful bowlers. In a few short weeks we will all know if history has been made at the Barry Jackson Ground.
Ossett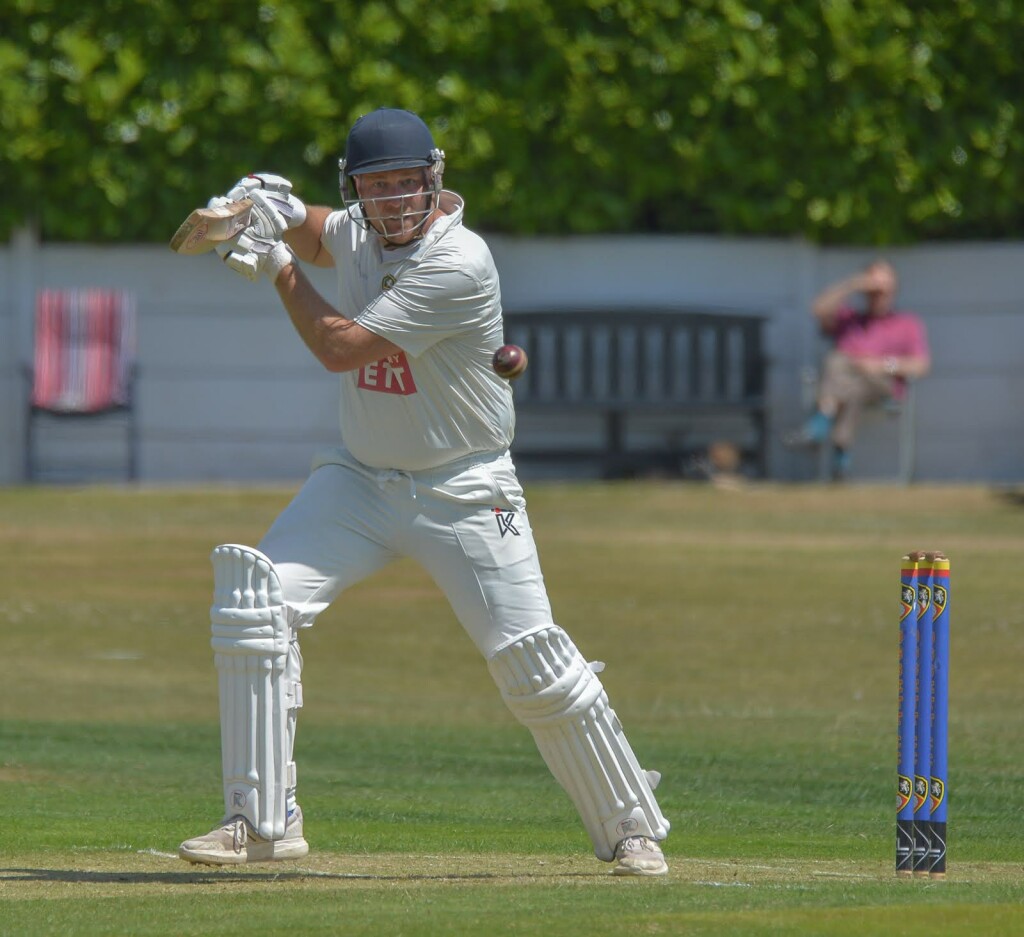 Nick Connolly has had an outstanding first season at Ossett Picture: Ray Spencer
It wouldn't be fair to say that Nick Connolly's 1,012 league runs had solely consolidated Ossett's place in the big division, but it certainly went a long way towards it. They could end the season in the top five which would be a tremendous achievement for the club. Connolly indeed has had helpers to the cause, and in particular two good all rounders in Marcus Walmsley and Mattie Race. Ossett are set for a bright Premier League future with its superb ground and facilities.
Pudsey St Lawrence
Nobody would believe Pudsey St Lawrence was in transition given their rise in the league to third. The consistency have been largely built on four key performers- Mark Robertshaw (524), Josh Priestley (489), Archie Scott (37 wkts) and Charlie Parker (40 wkts). Priestley and Scott, who are part of the next generation of stars at Tofts Road, are proving to be genuine all rounders who are steeped in the club's psyche. TheY lost week against Batley who are fighting relegation, but it is inevitable that they have bad days with a young outfit.
Townville
Townville were expected to challenge for the title, but after the opening two defeats were always playing `catch-up' and the mid-season defeat against Bankfoot probably killed their challenge. Also, it didn't help when Conor Harvey suffered a recurring back injury, and his fellow seamer Ritchie Bresnan decided to drop down to second team cricket. However, they will probably finish third in a sound league campaign that has seen Jonny Booth score 713 league runs, and Jack Hughes lead the wicket-takers with 46. They lost to their old adversaries New Farnley in a thrilling Priestley Cup tie, but could take their revenge in the final of the Solly Sports Heavy Woollen Cup Final. This is the trophy that Townville have craved for after having endured three losing finals. They reached this season's final the hard way by disposing of Woodlands, Honley and Wakefield Thornes. New Farnley will have a tremendous fight on their hands to retain it.
Woodlands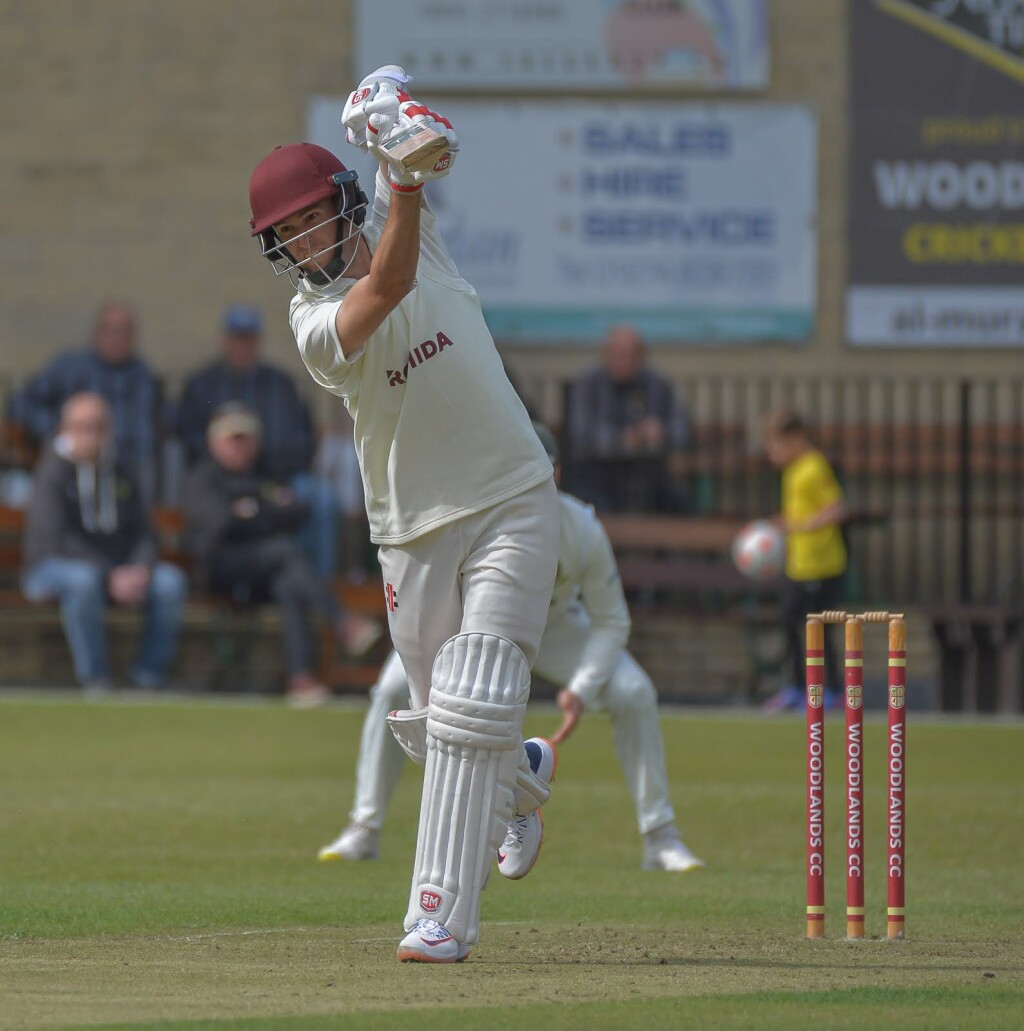 Woodlands usually end the season with a pot, but they have some catching up to do to overtake New Farnley at the top of the Premier League. They've had another good league campaign, but their bowling has not been as penetrative, and they have lost some of their slickness in the field. However, they will fight to the end like Woodlands sides of the past have done, and they still have the knack of winning close ones when they haven't played particularly well. In the league, Brad Schmulian, above, has put an early claim on the Sir Learie Constantine All Rounders Trophy with 695 runs, and 39 wickets. Tim Jackson has also had an accomplished season scoring 636 runs in the league. A new innovation for the club was their participation in the ECB National Club Competition when they beat Appleby Frodingham, Richmondshire and Wakefield Thornes before going out in the last over in a last 16 match at Wallasey CC. It was a disappointment when they lost so comprehensively to New Farnley in the semi-final of the Gordon Rigg Priestley Cup, and they'll probably view the winning of the T20 A Group against Hanging Heaton, if they manage to do so, as a mere consolation prize.
This Week's Fixtures
The title challengers New Farnley and Woodlands both have home matches against sides fighting relegation. Hanging Heaton has an interesting match against Ossett, whose captain is the old Bennett Lane favourite Nick Connolly. It's a crucial match for Hanging Heaton who needs the insurance of a decent points tally in their fight to steer clear of relegation.
Premier: Hanging Heaton v Ossett, Bradford & Bingley v Farsley, Townville v Cleckheaton, Woodlands v Batley, Pudsey St Lawrence v Methley, New Farnley v Bankfoot.
Division One
Baildon
Baildon will be disappointed with their brush with the relegation zone, especially having such sterling performances from their batsmen James Ford (655), Kevin McDermott (547), Dwayne Hecke (491) and Jonny Reynolds (411). Indeed. Ford recently hit Division One's highest individual score of the season with 161 not out. It's the bowling that has lacked the cutting edge, although Abdullah Khan has been quite a find with 30 wickets so far. However, with a sprinkling of young players in the first team and an ability to field four senior sides on a weekend, the future looks bright at Jenny Lane. The icing on the cake was confirmation in July that they are now an ECB clubmark accredited club.
Birstall
Birstall have invariably been on the fringes of the promotion race, but they have far too much to do now to catch second place Carlton. In the batting they still rely on the tremendous powers of concentration from veteran left hander Eric Austin who is their top scorer with 489 runs. The bowling lacks the cutting edge to challenge with only David McCallum (30 wkts) taking significant wicket hauls.

Carlton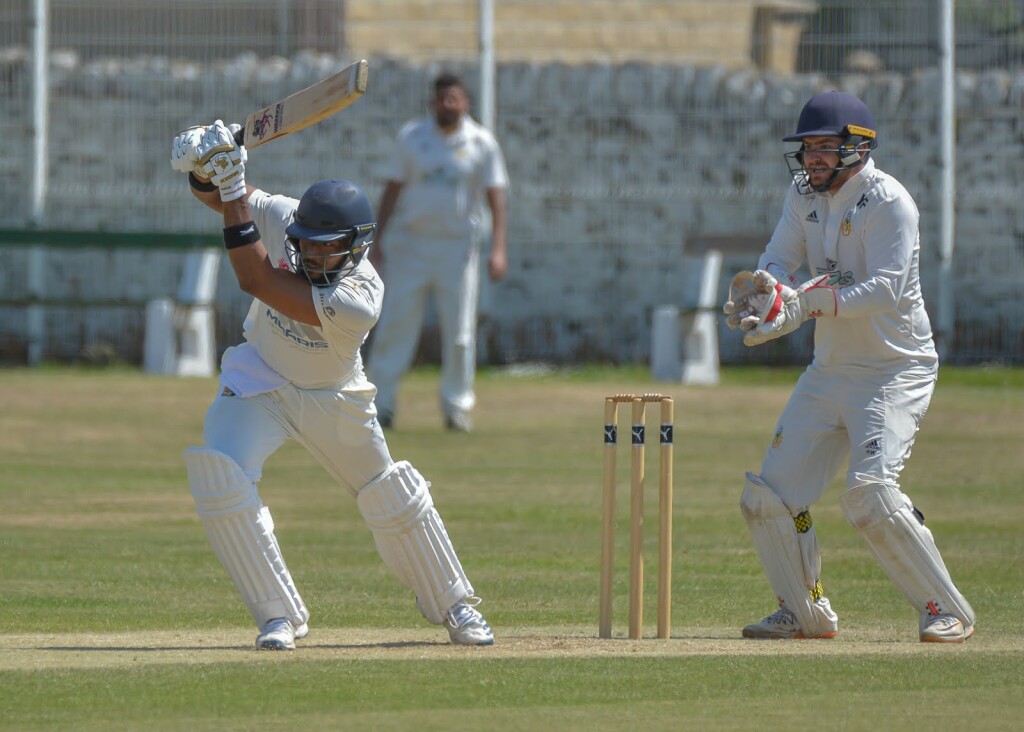 Carlton have found a way to win the tight matches, and have two virtuoso players that make it happen. Kershaski John Lewis (above), who is second in the division's batting with 892 runs, is the man to take them out of batting scrapes and get them over the line. The second key player is the mercurial all rounder Farrukh Alam who has chipped in with 370 runs down the order, but more importantly has taken 38 wickets that has made him the second highest wicket-taker in the division. The other key players are Daniel Ford (499), who is capable of big scores with the bat, and the reliable all rounder Jonathan Rudge. Carlton's Premier League place is not assured yet, particularly after last week's loss to their closest promotion rivals Pudsey Congs, but they still have a healthy 19-point lead on them.
East Ardsley
When East Ardsley defeated Undercliffe and Baildon a few weeks ago it seemed that the `great escape' was on. However, they failed to build on that and are now 40 points from safety. They can score decent runs, evidenced by James Van Der Merwe (580) and Muhammad Tariq (377), but they struggle to bowl sides out. It's difficult to see a way out for a wholehearted side that fights to the end.
East Bierley
It was thought that East Bierley would build on last year's promising season, particularly with the acquisition of Pakistani overseas player Nisar Ahmad. However, it has not turned out that way as Ahmad arrived late in the season and the team at one point flirted with the drop zone. Exciting batsman Matthew West is still their top scorer with 378 despite having left the club recently, and Ahmad has been the leading bowler with 38 wickets.
Gomersal
Gomersal always play positive, attacking cricket and will probably be happy with their top six place. They are capable of piling up big totals with Andy Gorrod (521), Liam Fletcher (395) and Richard Wear (377) the most consistent batsmen. Big hitting Jonathan Boynton is surprisingly the leading wicket-taker with 28.
Jer Lane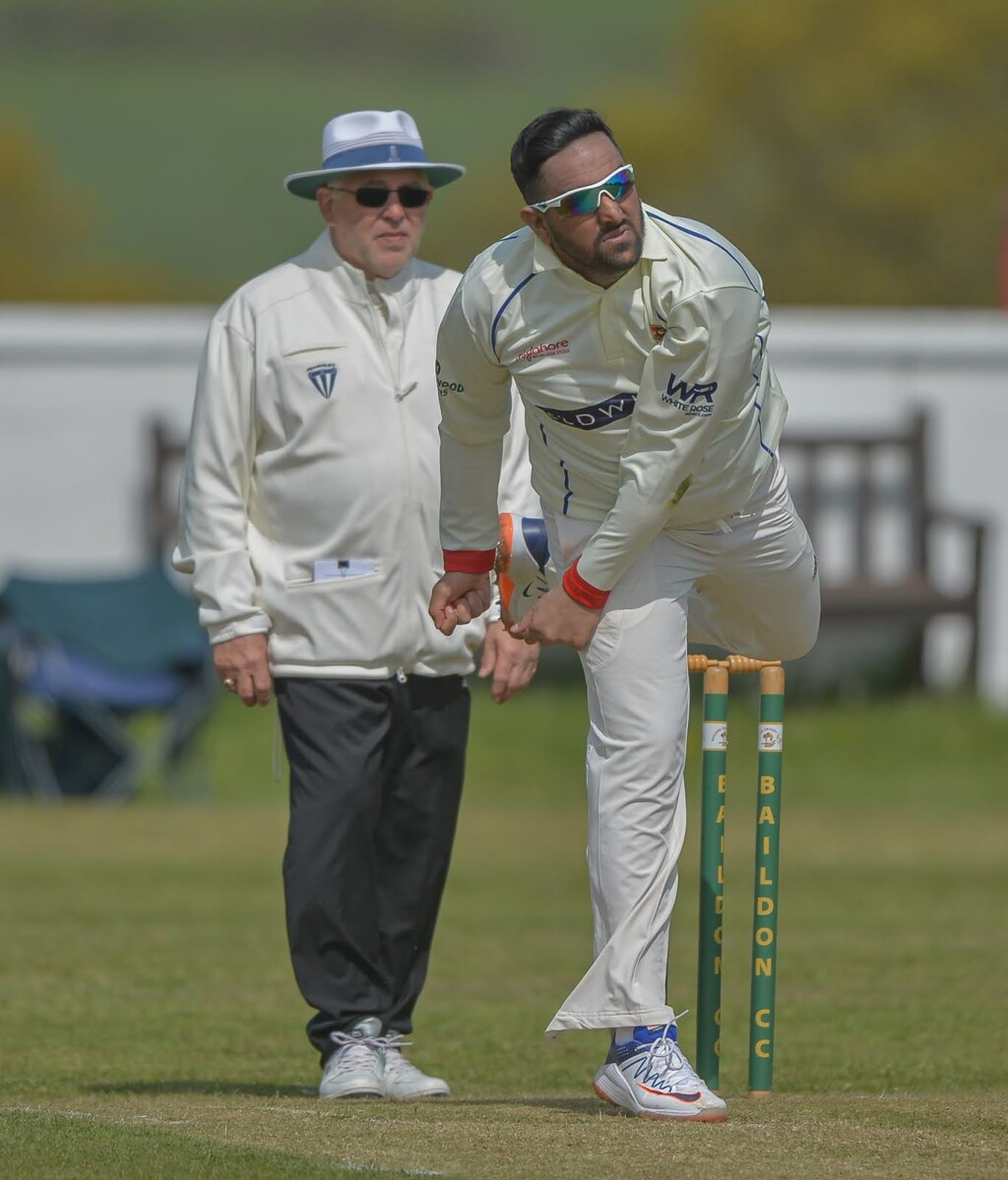 Mohammed Jamal has taken 38 league wickets so far for Jer Lane Picture: Ray Spencer
If there has ever been such a dominant team in the history of the league it would be good to know who it is. Jer Lane has won every match with the vast majority with maximum points. It is an incredible record by a team with a spirit second to none, and a never say die attitude that seeps through the team. There has been matches when they are in all sorts of trouble batting, but a player (or even two), well down the order will bail them out. Deron Greaves (930) is their top batsman, but Cosmond Walters (418) and Abubakar Dawood (346) also score big. It's an indication of their strength in depth in their batting that they have managed without their destructive batsman Farakh Hussain for much of the season through injury. The bowling is probably secondary to their batting, but Mohammed Jamal (38 wkts) features high in the bowling averages, and Walters with 26 wickets illustrates what a good all rounder he is. They are not statistically promoted despite their 69-point lead on third place, but this will surely be confirmed sometime in August. The Premier League awaits in 2023 an exciting side who will not be overawed by the opposition. However, the one blemish on the season so far was their Priestley Cup defeat by struggling Cleckheaton, when they could not defend a score fractionally short of 300.
Keighley
It appeared at the start of the season that new captain Scott Etherington could spring this `sleeping giant' to life, and perhaps be involved in the promotion race. This has not happened despite having a virtuoso Australian all rounder in their ranks of the name Noah Mcfadyen. He has been a revelation, scoring 692 runs, and also taking 31 wickets. Nathan Storton has also had a good season with 403 runs. They will probably finish in mid-table which is a slight disappointment, but the future looks bright with very noticeable ground improvements and a new buzz to the club.
Morley
At one point of the season it seemed that Morley would suffer relegation, such was their long losing run. However, they picked up just in time and their struggles are just a memory now. The one batsman that has sparked the side is Jack Rowett who is having a great season with 530 runs up to press. Matt Baxter with 390 runs has also been a tower of strength with the bat. The seam attack has not been as potent as expected, but veteran lspinner and hard working clubman David Nebard, has impressed with 33 vital wickets. Last week's defeat of Undercliffe indicates a side that has got their mojo back.
Pudsey Congs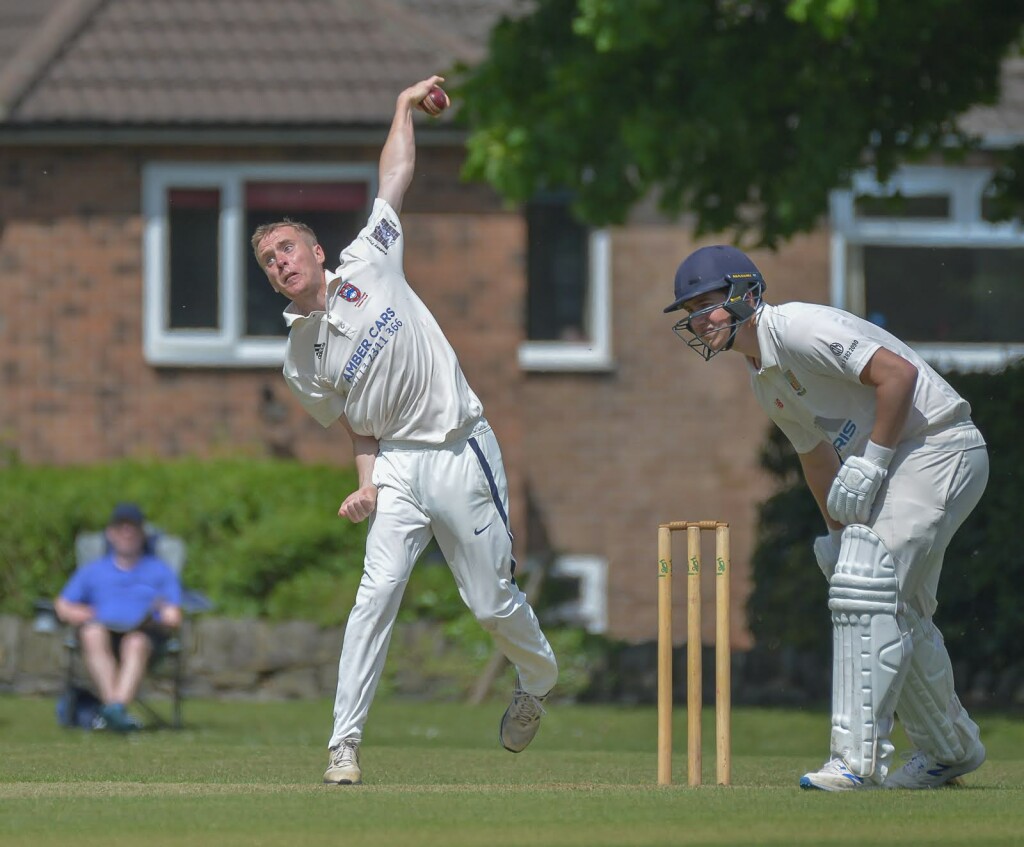 Spinner Sam Wisniewski has taken 45 wickets for Pudsey Congs. Picture: Ray Spencer
The Congs have launched a promotion bid with a home spun side, and also giving the youngsters a launch pad for their careers. They have probably too much to do to catch second place Carlton, but it has still been a triumphant season when one considers the future. The fact that they beat Carlton last week in emphatic style to reduce the gap to 19-points, shows that they will keep going until the end. Young, wily left arm spinner Sam Wisnewski tops the division's wicket-taker leaderboard with an impressive 45 wicket haul, Other bowlers that have shone are Ryan Heptinstall (28 wkts) and Adam Pearson (25 wkts).The batting has been largely sustained by overseas star Yohan Mendis who has stroked 644 runs, and a good end to the season could see him reach 1,000.
Undercliffe
Undercliffe's promotion bid seems to have stalled again amidst a number of close match calls that went the wrong way. Last week's one run defeat against Morley illustrates that point perfectly. They do play exciting cricket, evidenced by opener Oliver Hardaker (689) who will hit the first ball he receives for six if it is pitched up. Overseas man Byron Boshoff (453) and Jack McGahan (524) are more reflective, but also very effective. The seam attack has been spearheaded by veteran Zeeshan Qasim who is the leading wicket-taker with 34. A serious injury befell him in the recent tight defeat against Carlton which would have probably been won if he had been able to bat. Such are the fine margins in a promotion race. Apart from Qasim and young rookie spinner Jude Roberts who has taken 31 wickets, the bowling has lacked the depth needed to win promotion.
Wrenthorpe
Wrenthorpe were on a hiding to nothing when they were retrospectively relegated and had to regroup with some urgency. Key players left them and recruitment was difficult. They had a further blow during the season when their most productive player Adal Islam left them. Despite not winning a game so far, they have battled courageously and they will probably be thinking towards next season. The set-up at Wrenthorpe will surely entice players of stature for the 2023 season.
This Week's Fixtures
The most interesting game is probably at Intake Road, where Undercliffe take on the leaders Jer Lane who have won every match. In the respective game at Jer Lane, Undercliffe came very close to winning it.
Division One: Carlton v Gomersal, Pudsey Congs v Morley, Undercliffe v Jer Lane, East Ardsley v Wrenthorpe, Keighley v East Bierley, Baildon v Birstall.
Division Two
Bowling Old Lane
It looks like the Old Lane will have to settle for mid-table in a season when they have let several games go when in winning positions. Farhan Hussain (431) and Imran Malik (381) have been steady batsmen, but they have had little devilment in the bowling.
Buttershaw St Paul's
In typical Buttershaw St Paul's fashion, they can beat most teams, but just when they look like getting into a promotion challenging position they lose. Amer Ayoub has been a productive all rounder with 541 runs and 29 wickets, and Adam Wainwright (373) and Zafar Jadoon (34 wkts) have had good seasons so far. Despite their varied league form, St Paul's have a great chance for glory when they face Heckmondwike & Carlinghow in the final of the Gordon Rigg Jack Hampshire Trophy at Hartshead Moor.
Crossflatts
Crossflatts are playing good, positive cricket but are in a relegation struggle in a most competitive Division Two. They recruited a good overseas all rounder in South African Ruan Van Rooyen who has scored 434 runs, and taken 34 wickets. The best of the rest is Joe Hicks who has scored 347 runs as opening batsman. They will probably have enough to get out of trouble, and their defeat of Northowram Fields last week illustrates that view. A real boost for the club came in July confirming their ECB Clubmark Accreditation.
Great Preston
It's a big surprise that Great Preston are in the middle of a relegation battle given their traditional batting power. However, they will be looking to James Conlon (490) and Oli Baron (453) to score enough runs to steer them out of trouble.
Hartshead Moor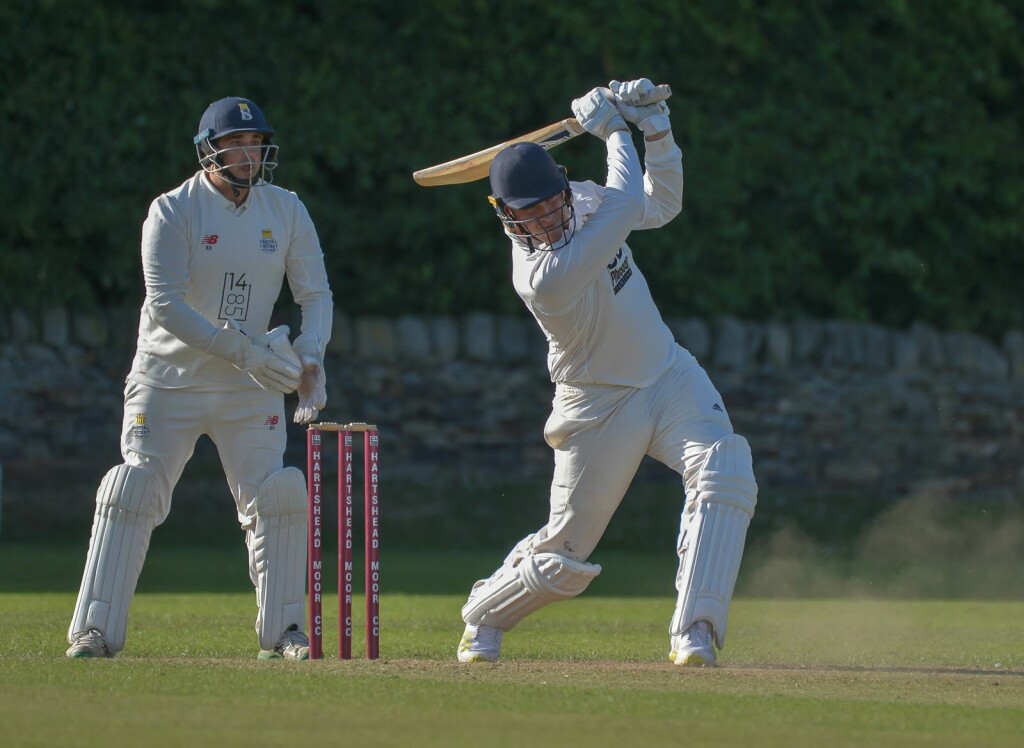 Hartshead are in grave danger of going down, despite proving they can mix with the top sides, illustrated by their defeat of the then leaders Northowram Fields. They also reached the semi-finals of the Gordon Rigg Jack Hampshire Trophy after a big win over Lightcliffe. However, it's all about the latter league matches now, and they need to win several to stay up. Former Yorkshire batsman Andrew Gale has made fleeting appearances, scoring a century and a half-century along the way, and what a bonus it would be if he could play in a few of the aforementioned matches. The key players are Hasnat Yousaf and Chris Wynd who can score decent runs early on, all rounder Josh Marsden (pictured above), seamer Daniel Squire and young spinner Lewis Lomax. It's of paramount importance that Hartshead Moor defeat bottom side Wakefield St Michael's this weekend to build on last week's cracking win over Great Preston.
Hopton Mills
Hopton Mills might have lost several key players in the close season, but they have made light of this as they challenge for promotion after a great run. Sohail Hussain has been the star player with 594 runs and 29 wickets, along with Umar Abbas who has scored 405 runs and taken 26 wickets. Other consistent performers have been Chris Scott (424) and Usman Maqsood (27 wkts).
Hunslet Nelson
At one point it appeared that Hunslet Nelson was drifting into a relegation fight. However, the form of Australian batsman Kurt Chalker (617) has ensured the side are scoring enough runs and Sam Thewlis (34 wkts) is one of the division's highest wicket-takers.
The cricket that they have excelled at this time is T20, and this took them to the Gordon Rigg T20 Group B Cup Final at Bradford & Bingley's Wagon Lane ground where they lost to Altofts by seven wickets.
Lightcliffe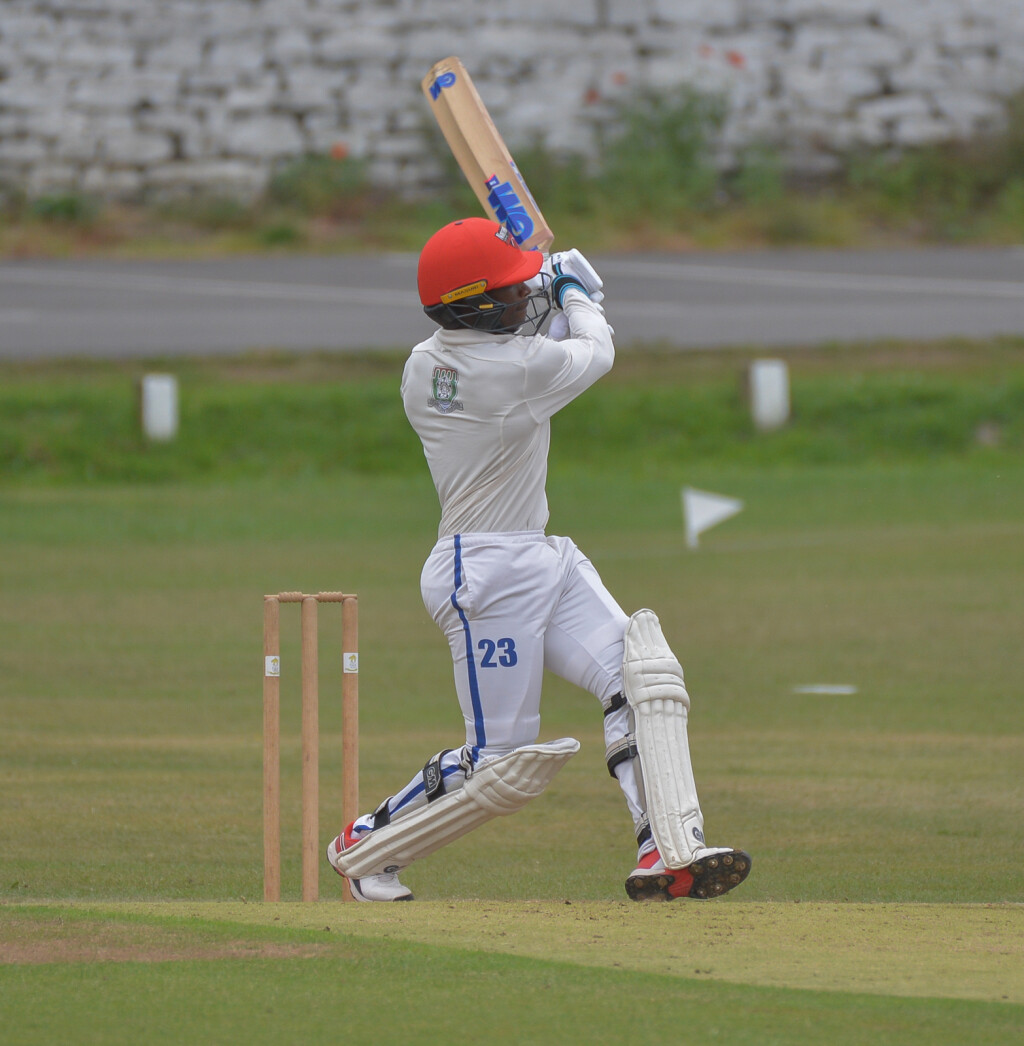 Lightcliffe began the season as if they would take the division by storm and promotion would be a formality. Inevitably they would hit a bad patch with what is in effect a young side, but the losing sequence went on far too long for their liking. They weren't helped by the late arrival of their South African overseas player Isaac Dikgale, above, who has nonetheless contributed two big centuries in a handful of innings. They still have a fair chance of promotion in a pack of sides that include Yeadon, Sandal and Hopton Mills. Indeed, last week's win over leaders Yeadon has opened up the top of the league, and they are now only 13-points behind a promotion place. Former Yorkshire player Alex Stead has topped 500-league runs, and Dikgale will inevitably join him in weeks to come. As for the bowling, Jonathan Whiteoak tops the division charts with 42 wickets.
Northowram Fields
When Northowram Fields beat Sandal in the league they were one of the big favourites to go up. However, just when they appear to be in a great position they slip up, and they are now promotion outsiders. All is not lost though, and with a wicket-keeper batsman like Kyle Welsh (655) on their books, there is still optimism in the club that this could be their year. Unfortunately, they threw away a good chance for glory when they were defeated by Division Three side Heckmondwike & Carlinghow in the semi-finals of the Gordon Rigg Jack Hampshire Trophy.
Sandal
Sandal has always been in touch towards the top and they are currently joint-leaders with Yeadon. Although they have unexpectedly slipped up at times, they invariably dig out a win from a dubious position. They have five different batsmen who currently top 300-runs in Sam Noden, Kristian Shuttleworth, Danny Riley, Ashley Mackereth and Matthew Westwood, and two seamers that have reached 30-wickets in Michael Carroll and Noden. A big test will be this weekend when they have a home match with title leaders Yeadon. Sandal's neat ground on Barnsley Road would be a popular venue for visitors in Division One if they could pull it off.
Wakefield St Michael's
There was no indication at the start of the season that Wakefield St Michael's would struggle when they defeated Crossflatts and Yeadon. However, they have only won once since April and occupy the bottom position. Only a string of victories will now save them from relegation, but with a player around like Joe Finnigan anything is possible if he gets the support.
Yeadon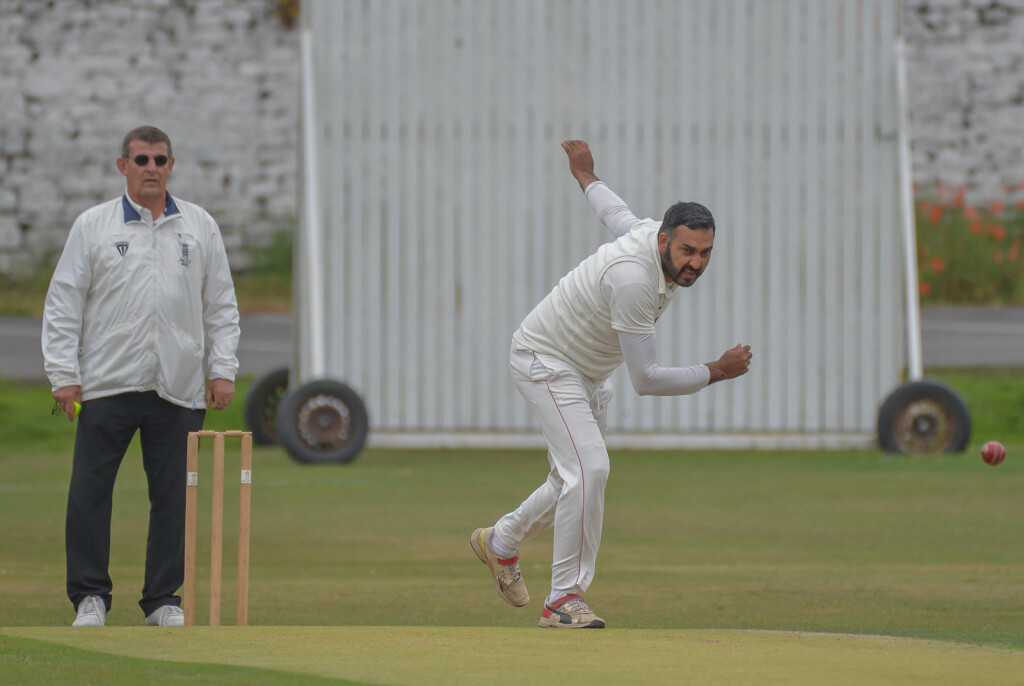 Yeadon lost two league matches in April, and haven't lost one since until last week against rivals Lightcliffe. They are now joint leaders with Sandal, and in a real dog-fight for promotion with Lightcliffe and Hopton Mills closing in. The influence of their Sri Lankan overseas player Pasindu Thirimadura is massive with 713 league runs to date, and he is probably a good bet for a thousand if he stays the season. Well travelled all rounder Gareth Lee has also gone the hard miles with 517 runs, and 30 wickets. Seamers Adeel Ashraf (above, 36 wkts) and Andrew Robinson (31 wkts) will be looking for 50 each before the season finishes to help along the promotion cause.
This Week's Fixtures
The headline game is on Barnsley Road, where there will be a titanic title clash between the hosts Sandal and leaders Yeadon.
Division Two: Sandal v Yeadon, Buttershaw St Paul's v Hopton Mills, Bowling Old Lane v Crossflatts, Northowram Fields v Great Preston, Hartshead Moor v Wakefield St Michael's, Hunslet Nelson v Lightcliffe.
Division Three
Adwalton
Adwalton have certainly shown consistency this season, and they are proving that their high position is no fluke. They may not be able to catch the leaders Liversedge, but they are vying with Scholes and Heckmondwike & Carlinghow for the second promotion place. The team's performances have been built on the batting of Matty Waller (510) and Matthew Donohoe (411) and the all round abilities of Anas Imtiaz (285 runs & 36 wickets).
Altofts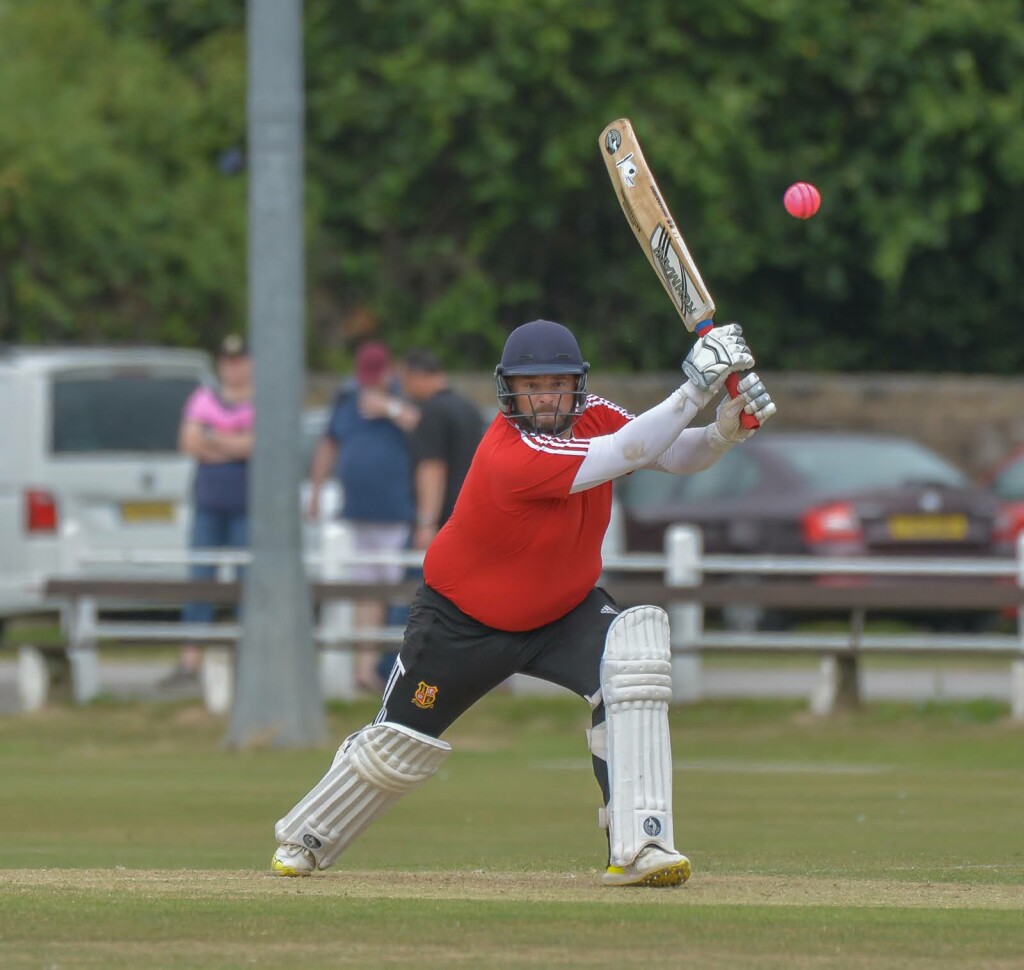 Altofts have too much to do to get involved in the promotion race and will probably have to settle for mid-table this season. However, they do have two fine all rounders though in Craig Wood (above, 426 runs & 38 wickets) and Saif Tahir (423 runs & 29 wickets). The cricket that they have excelled in this time is T20, and this took them to the Gordon Rigg T20 Group B Cup Final at Bradford & Bingley's Wagon Lane ground where they beat Hunslet Nelson by seven wickets. The man of the match was Craig Wood who hit an exhilarating 105 not out.
Brighouse
Having lost some good players in the close season, Brighouse will be quite content to consolidate into mid-table for 2022. They are in some ways a `sleeping giant' for this division, with their fine ground and facilities, and doubtless the aim next year is to challenge for promotion.
Crossbank Methodists
Crossbank lost so many players in the close season that there were doubts that they could proceed this season. The fact that they did must give encouragement for 2023 when there will be more leeway to recruit. Although they await their first win, they have generally competed.
East Leeds
The most East Leeds can aspire to this season is half-way in the league table, but they are again a competitive, if limited outfit. They are currently in tenth place and in need of a lift this week when they play Scholes. Zahid Tarvaz (363) is their leading batsman, but James Watling remains their `go to' player having taken the most wickets with 33.
Gildersome & Farnley Hill.
Gildersome have risen to eight after an exhilarating win against promotion seeking Scholes. Josh Sturgess (393) and Gethin Clarke (356) have been the most productive batsmen, and Jordan Edmondson the most effective bowler with 28 wickets.
Heckmondwike & Carlinghow
Heckmondwike started slowly, but are now in the thick of the promotion race, and in the final of the Gordon Rigg Jack Hampshire Cup. They have good players in Owais Hussain who is towards the top of the leaderboard for runs with 582, and Wasim Khaliq who has bagged 27 wickets. In the cup they defeated two sides from a higher division in Sandal and Buttershaw St Paul's. These performances suggest they could shock Northowram Fields in the final if they are on their game. At least they are chasing achievements on two fronts at an advanced stage of the season.
Liversedge
Liversedge have not been punching their weight in recent seasons and remain a `sleeping giant' in the lowest division. However, it was fairly obvious by the close season signings they made, that they set their stall out to start rising in the league structure. They are currently leading the way at the top in some comfort and are effectively odds on for promotion. The experienced Imran Dawood is leading the way with the bat to the tune of 602 runs, while Parvaise Khan is at the top of the bowling leaderboard with 41 wickets. They have a club base built for much higher in the pyramid, and nobody would bet against it happening. One only has to look at the rise of Liversedge AFC.
Rodley
Rodley are uncomfortably low again, but they enjoy their cricket and have wholehearted performers in Bailey Wilson (435), Robert Young (416) and Gary Sagar (364) who can score decent runs.
Scholes
Scholes made wholesale changes in the close season to come up at the first time of asking. After all, it's just a few seasons ago when they were a premier league club. They won't catch Liversedge, but they are in a right battle with Adwalton and Heckmondwike & Carlinghow for the second spot. Adam Greenwood (479) and Christian Jackson (397) are their most successful batsmen, while Mahleb Mahmood and Greg Keywood have proved to be reliable wicket-takers.
Spen Victoria
Spen have had something of a revival this season and at one time looked promotion candidates. However, they have probably too many points to make up now to catch the pacesetters. Bilal Ejaz (455) has again proved to be the most consistent batsman, and with Alex Leadbeater (337), has helped to keep the score buzzing this season. Paolo Girardi is a mercurial all rounder at times, and his 30 wickets make him the principal wicket-taker at Spen.
Windhill & Daisy Hill
Windhill have made a definite improvement this year at Busy Lane and have been harder to beat. All rounder Shoaib Iqbal has had a fine season scoring 385 runs, and also taking 31 wickets.
This Week's Fixtures
The big promotion battle this weekend is at Adwalton where the hosts take on Heckmondwike & Carlinghow.
Division Three: East Leeds v Scholes, Adwalton v Heckmondwike & Carlinghow, Rodley v Brighouse, Crossbank Methodists v Altofts, Spen Victoria v Windhill & Daisy Hill, Liversedge v Gildersome & Farnley Hill.