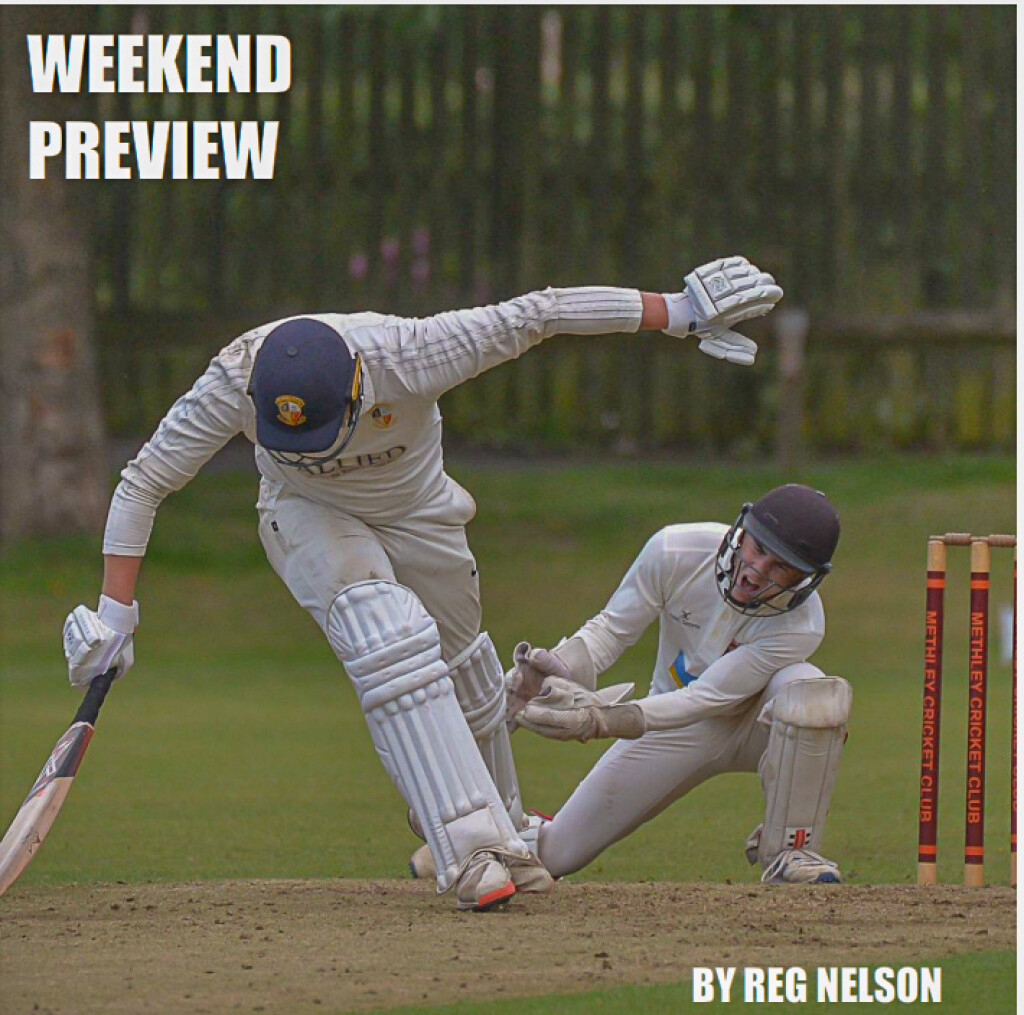 Woodlands are in familiar territory at the top of the league, and now with a cushion of 18 points on New Farnley. Methley had a shock defeat at the hands of Ossett, but Townville are looking ominously good.
Last Week
The big match last week at Lawns Lane went the way of Woodlands when New Farnley thought they had done the hard work by bowling their opponents out for a lack lustre 160.
New spinner Harry Killoran helped to frustrate Woodlands with 4-46 as no batsman was able to build on Sam Frankland's fine 50. New Farnley were off to a steady start, but first change medium pacer Tom Clee ripped out the top four, including crucially Cam Fletcher, to leave the home team tottering. No.8 batsman Adam Ahmed made a brave 51 not out with the tail, but it wasn't enough as they fell to a 22-run defeat. Clee ended the day with a fine analysis of 4-21.
Townville might be in fourth place, but they are a major threat to the usual suspects in the top two. They overwhelmed Farsley last week by 178 runs after the Conor Harvey virtuoso show. Not only did he hit an unbeaten 66 in 34 balls, but he followed that with a brilliant bowling analysis of 5-11. Townville's left handed opener Jonny Booth started the rout of Farsley with an innings of 94.
Methley could have captured second place with victory over Ossett, but they were shocked by a highly disciplined bowling attack from their opponents. Ossett's Pakistani fast bowler Junaid Khan could be described at their man of the match- after hitting an unbeaten 33 at number 11 to boost Ossett's score to 165; he had a bowling analysis of 3-31.
Jer Lane had their first victory when they defeated Hanging Heaton convincingly at Park Avenue, while Bankfoot clung on to a priceless 2-run win against Pudsey Congs.
The architect of Jer Lane's win was leg spinner Jafar Ali Chohan who took 6-21 while overseas player Ibrar Younis took 3-4 with his left arm spin.
James Lee scored 55 in Bankfoot's win over Pudsey Congs. Pudsey St Lawrence are another side who enjoyed their first win when they accounted for a Bradford & Bingley side that ran them very close.
Bradford & Bingley found spinners Archie Scott and Chris Marsden too difficult to play on the day, while Bradley Reeve did his best to replicate what they had done for the Wagon Laners.
This Week
Methley's title chasing credentials will be put to the test when they visit Albert Terrace to meet the leaders Woodlands.
Townville should have too much all round strength for Pudsey Congs, while New Farnley will need to get back on track when they face Bradford & Bingley at Lawns Lane.
Bankfoot must be buoyed by their second win this season and will welcome Ossett who had an impressive win over Methley last week.
Hanging Heaton have fallen from grace since their opening day win against Pudsey St Lawrence, and their defeat last week at Jer Lane has pushed them low down. It won't be easy at Bennett Lane when they welcome a Farsley side doubtless hoping to make amends after last week.
Pudsey St Lawrence might have a battle on their ends this week when they face a fired up' Jer Lane side that have just had their first league win. Jer's latest recruit is leg spinner Jafar Ali Chohan who could make a real impact this season if his Yorkshire commitments allow.
Premier Division
Woodlands v Methley
Bankfoot v Ossett
Townville v Pudsey Congs
Hanging Heaton v Farsley
Pudsey St Lawrence v Jer Lane
New Farnley v Bradford & Bingley
Division One
Last week
Leading promotion contenders Undercliffe were frustrated last week when their match at Sandal didn't get off the ground because of a waterlogged outfield. With all their rivals playing a full match this can be seen as a major setback for them. It was also a blow for Sandal who are trying to scramble out of the bottom two.
With an uneven spread of matches played, it isn't easy to ascertain the leading pack. But, East Bierley did themselves a power of good by beating East Ardsley, allowing them to pull away at the top, eleven points in front of second place Morley.
Bierley's win was gained by good performances from Dwayne Heke (57), who got the innings off to a flier, and Umar Abbas who took 6-52.
East Ardsley might be in the bottom two but with a batsman like James Van Der Merwe, who scored 83, they will always have a chance.
Cleckheaton must be kicking themselves that they had Carlton at 58-8 chasing 187, but ended up losing by one wicket. Full marks to a Carlton side who had struggled this season, but on the day Sanu Ullah Khan (96) and Wasim Khaliq (33no) shared a ninth wicket stand of 118 to win the match. Earlier, Cleck had a remarkable last wicket stand of 89 with Iain Wardlow striking 64 not out
Morley had an 81-run win at newly promoted Yeadon as overseas player Ali Usman dominated with bat and ball. Not only did he make 64 with the bat, he also took a match winning 6-28 with the ball. An overseas player of such calibre should keep Morley in the promotion race.
Gomersal are fourth after Ibrar Younis (5-12) and Daniel Syme (3-31) bowled out Batley for 80 to complete a 40-run win. Batley's Nasir Totakhil (5-19) had earlier threatened to de-rail Gomersal.
Baildon can say they have made a solid start after beating Birstall by 18-runs. Australian Jamin Barron-Toop took 6-29 for Jenny Laners after James Ford (60) and Jonny Reynolds (50) had impressed with the bat.
This Week
If East Bierley are going to maintain their challenge at the top they need to prove they can beat sides like Batley.
Cleck have Waleed Akhtar in top form for the visit of Baildon, and they will be doubly keen to do well having lost to Carlton last week. Baildon need to keep their good form going to compete with a Cleck side who will be hell bent on proving that last week's aberration won't happen again.
Undercliffe will be going strong against Yeadon after the frustrations of last week, while Yeadon will be keen to make amends for their Morley loss.
East Ardsley have a derby match at Jeffrey Field when they take on neighbours Morley. It will be a difficult assignment for the home side if Morley can find the form that shocked Pudsey St Lawrence in the Priestley Cup, and beat Yeadon last week.
Carlton's victory over Cleck must have been a real fillip for a side that has not had the best of starts. They will go to fourth place Gomersal with a renewed optimism.
Sandal will need a decent tally of points this weekend at Birstall to get out of the basement positions in the league. Birstall competed well last week against Baildon, and if they replicate that form could beat Sandal.
Division One
East Ardsley v Morley
Undercliffe v Yeadon
Birstall v Sandal
Cleckheaton v Baildon
Gomersal v Carlton
East Bierley v Batley

Division Two
Last Week
Bowling Old Lane lead the way by one point from Hartshead Moor, while Hopton Mills are a further four points behind in third place.
Old Lane beat high flying Heckmondwike & Carlinghow thanks to solid performances from Muhammed Yasir (5-42) and Farhan Hussain who batted patiently for an unbeaten 50.
Second place Hartshead Moor were decisive winners at Buttershaw St Paul's as young off-spinner Lewis Lomax clipped the wings of the home side with 5-35.
St Paul's Mussawar Shah tried his utmost, but his 6-59 and innings of 44 was all in vain.
Hopton Mills look as if they have got a good overseas player in Jabari Mills. He made an unbeaten 60 as he steered third place Hopton Mills to a seven-wicket win over Northowram Fields.
Australian Harry Hauenstein (45) and Louis Cockburn (38) top scored for Northowram Fields who struggled to make a competitive score.
Highly fancied Liversedge tied with a Wrenthorpe side who seem to have the bit between their teeth this season. Wasim Nazir (53) top scored for Liversedge, but Mehmood (3-39) and Ben Brown (3-23) kept the match alive for Wrenthorpe.
Skipper Simon Bailey will be relieved that Keighley are at last off the mark with a win. But, it could have been so different if Alex Stead had a modicum of support from the Lightcliffe batting line up.
There were no half centuries in Keighley's 196, but Simon Bailey (38) and Amjid Hussain (36) dug in nicely. Stead hit a highly disciplined not out 109, but his side were all out 16 runs short.
Hunslet Nelson needs some batting practice this week after being bowled out for 30 at the hands of Crossflatts. Azhar Mehmood must have taken a liking to the batting strip as he took 6-9. Crossflatts knocked the runs off with little trouble, despite losing three wickets.
This Week
Simon Bailey's Keighley have chances to keep rising in the league when they visit Northowram Fields. However, on their day Fields they can set a big score, and if Australian Hauenstein is on his game it could be interesting.
Leaders Old Lane will be watchful of Wrenthorpe's improved form, while second place Hartshead Moor will not take Crossflatts for granted after their first win last week.
When Hopton Mills meet Buttershaw St Paul's at Woodbottom, it could be a battle between two virtuoso players- Mussawar Shah of St Paul's, and Jabari Mills of Hopton Mills. There are other good players on both sides, but it's a case of if the aforementioned click, the opposition will suffer.
The Liversedge v Lightcliffe is too close to call. The home side have more experience, but Lightcliffe's youngsters are developing all the time, and with that man Alex Stead opening the batting the away side have a big chance.
Hunslet Nelson will be looking to come back with a bang after their demoralising defeat at the hands of Crossflatts. However, Heckmondwike & Carlinghow, their opponents, will be after a good points haul to get back in the promotion frame.
Division Two
Northowram Fields v Keighley
Liversedge v Lightcliffe
Bowling Old Lane v Wrenthorpe
Hunslet Nelson v Heckmondwike & Carlinghow
Hartshead Moor v Crossflatts
Hopton Mills v Buttershaw St Paul's

Division Three
Last Week
Leaders Spen Victoria are showing no signs of fading in the early reaches of the season. Last week they defeated East Leeds by 15 runs to record their fourth win which gives them a 14-point lead.
Paolo Girardi (67) and Ollie Davison (50) were the batting stars as they worked hard to combat experienced seamer James Watling who took 4-43.
Adwalton are staying the pace in second place after a 35-run victory over Windhill & Daisy Hill. Australian Nathan Cant (4-35) and Tom Davidson (4-30) were the bowlers who made the telling contribution.
For Windhill & Daisy Hill, veteran Maz Bhatti (4-36) and Aarya Jadhav (3-52) worked hard for their side.
It was good to see Brighouse take the field again even though it ended in a loss to highly fancied Scholes. Brighouse's Ansar Mahmood could at least be satisfied with his contribution, scoring 43 out of 114.
Scholes, who are in touch with the top because of their game in hand, had Hamza Khan in form with the ball as he took 5-34.
Altofts captain Jordan Carter will not be happy with their two wickets loss to Wakefield St Michael's. However, its early days, and he will realise that there is time to rectify it.
Wakefield St Michael's, have not had the best of starts, but they showed character in getting over the line. Nazakat Hussain took 3-47 in the disappointing Altofts total of 122.
Gildersome & Farnley Hill are making promising strides this season and their hard fought 10 runs win over Crossbank Methodists propelled them up the table. They had penetrative overs from Sayed Salman (5-33) and Mohammed Shah (4-39) that more or less sealed the deal.
Crossbank can take heart from a good innings by opener Tyler Woodhouse who scored 64.
Looks like Altofts have the perfect match to get back on track if they win at leaders Spen Victoria, while another game with two contenders is the Scholes v Adwalton at New Popplewell Lane.
Wakefield St Michael's must have been buoyed by their victory last week while Great Preston is just eager to play some cricket.
In other matches Crossbank Methodists play Windhill & Daisy Hill, while Gildersome & Farnley Hill have a home match with East Leeds.
Division Three
Crossbank Methodists v Windhill & Daisy Hill
Scholes v Adwalton
Wakefield St Michael's v Great Preston
Spen Victoria v Altofts
Gildersome & Farnley Hill v East Leeds
Free: Brighouse