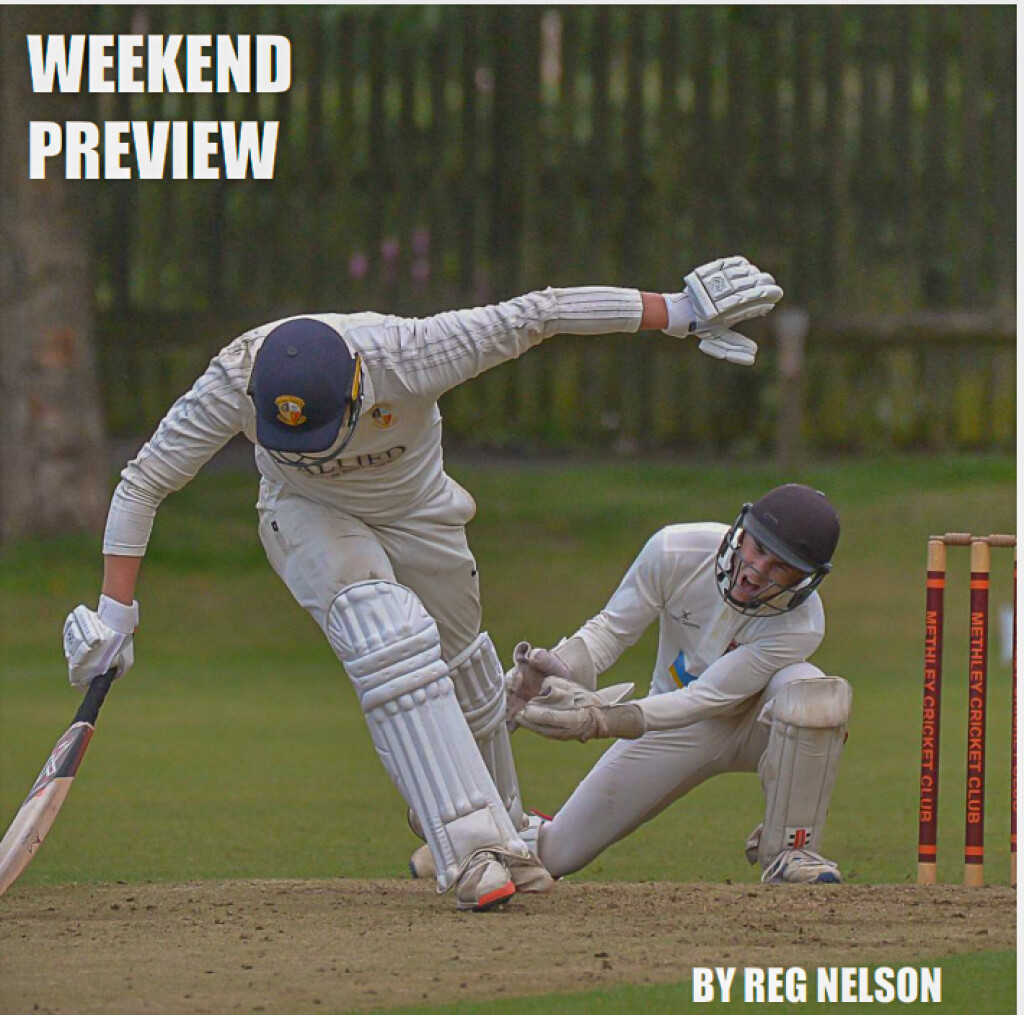 New Farnley and Woodlands had resounding 20-points wins last week, so it is status quo at the top with the former 13 points clear.
Batley failed to win a single point in their tough match with New Farnley, so in consequence, Cleckheaton and Bankfoot did themselves a power of good by winning. Things got even worse for Batley when they lost their re-arranged match against Bankfoot the following day.
Bankfoot have now gone above Hanging Heaton who are now back in the thick of the relegation battle.
The position now at the bottom is Batley (111 pts), Cleckheaton (137 pts), Hanging Heaton (147 pts) and Bankfoot (157 pts).
This week's matches
Acting captain Alex Lilley takes New Farnley to Methley to take on the side they will face in next month's Gordon Rigg Priestley Cup final. He will be aware that Methley have two high scoring batsmen in Jason Marshall and Alex Cree that might make this match an awkward one for the leaders. However, Methley's current form is very erratic and New Farnley will be expected to win.
Second place Woodlands might be favourites to win the derby at Cleckheaton, but the home side have nothing to lose in their fight against relegation.
Fellow relegation battlers Bankfoot have a difficult game at Ossett, while bottom side Batley will find it hard at Tofts Road where they play Pudsey St Lawrence.
Heavy Woollen Cup finalists Townville will be tuning up at Red Lane where they play Farsley.
Hanging Heaton might be T20 Finalists the next day, but they will be keen to beat Bradford & Bingley at Bennett Lane to ease the relegation pressure.
Highlights from last week
James Lee hit a six and 14 fours in making 107, while Hamzah Iqbal (79) also contributed well in Bankfoot's crucial 129-run win over Methley.
On the following day Bankfoot defeated Batley by three wickets with Seif Hussain (5-53) and Jawad Waheed (4-40) impressing with the ball.
Nikash Khan (53 and Yasir Ali (5-46) strived hard for Batley and deserved more support from their colleagues.
As for Bankfoot, two wins on the weekend is certainly not relegation form.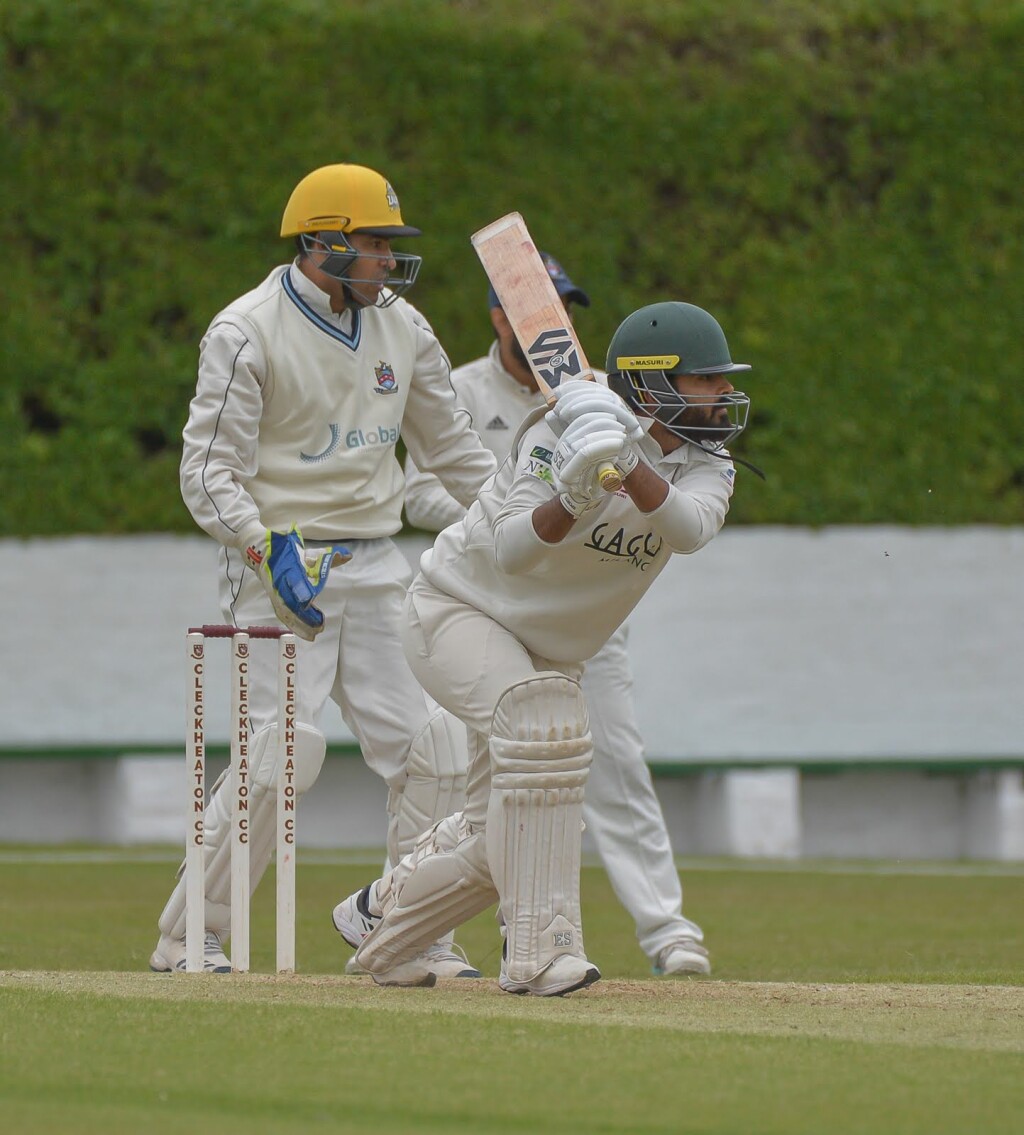 Another drop zone side Cleckheaton won well when they defeated third place Pudsey St Lawrence by six wickets. Cleck's overseas player Yousaf Baber, above, hit an unbeaten 104.
The Saints had their legendary left-hander Mark Robertshaw in the spotlight again with 76 runs.
Hanging Heaton lost to Townville despite Ben Kohler-Cadmore hitting a fine 108.Townville had Jonny Booth (68) anchoring the innings and Conor Harvey scoring runs in characteristic explosive style with 65 not out.
New Farnley had a regulation nine wicket win over Batley with Liam Guthrie (4-24) and Gurman Randhawa (3-14) proving effective with the ball, and Aidan Langley (50no) and Adam Waite (45no) highly proficient with the bat.
Woodlands kept pace with New Farnley scoring 334-7 (Brad Schmulian123 from just 86 balls, Tim Jackson (70) and Muhammad Bilal (52)). Part-time Woodlands spinner Liam Collins took 4-35 in a Farsley innings propped up for a time by Ryan Cooper who top scored with 61.
Bradford & Bingley are up to fifth after beating Ossett by seven-wickets. Ed Brown hit an unbeaten 117 from 75 balls, while the consistent seamer Yasir Abbas (5-43) again excelled.
Mattie Race (58) keeps turning it on for Ossett and proving again what a good all rounder he is making.
Premier: Ossett v Bankfoot, Methley v New Farnley, Batley v Pudsey St Lawrence, Cleckheaton v Woodlands, Farsley v Townville, Hanging Heaton v Bradford & Bingley.
Division One
It is now looking very much like a two-horse race for promotion after Carlton won a close one with Undercliffe. Second place Carlton now have a cushion of 35-points over third place Pudsey Congs, while Undercliffe are now slipping out of contention.
Jer Lane are still steaming on in pursuit of the title that will probably be confirmed by mid-August by this rate.
The drop zone is more complicated with three sides trying hard to avoid going down with Wrenthorpe who look doomed. Morley's improved form has taken them to 155 points, and Baildon (145 pts) should be okay if they string a couple of wins together. However, East Ardsley (122 pts) are in deep trouble and in need of a run of wins.
This week's matches
Carlton knocked one of their promotion rivals out of immediate contention last week when they beat Undercliffe and will be keen to do the same to Pudsey Congs this weekend.
Undercliffe could find it difficult at Morley who have had quite a resurgence of form of late.
Jer Lane are still not showing any signs of cracking, and it will be quite a task for East Ardsley to ease their relegation fears with a win against them.
Baildon need to keep winning decent point hauls to steer away from relegation, and they could do so against unpredictable East Bierley at South View Road.
Keighley will be displeased if they don't win at Wrenthorpe, but Birstall might have trouble returning from Gomersal with a victory.
Highlights from last week
Undercliffe are developing a reputation for not getting over the line in close calls. The seven-run loss to closest promotion rivals Carlton has put a serious spike into their ambitions of Premier Division cricket next season.
Jack McGahan (75) and Ollie Hardaker (60) needed more support in their quest for the 264-9 target, with Carlton's Farrukh Alam proving damaging with the ball to the tune of 4-53.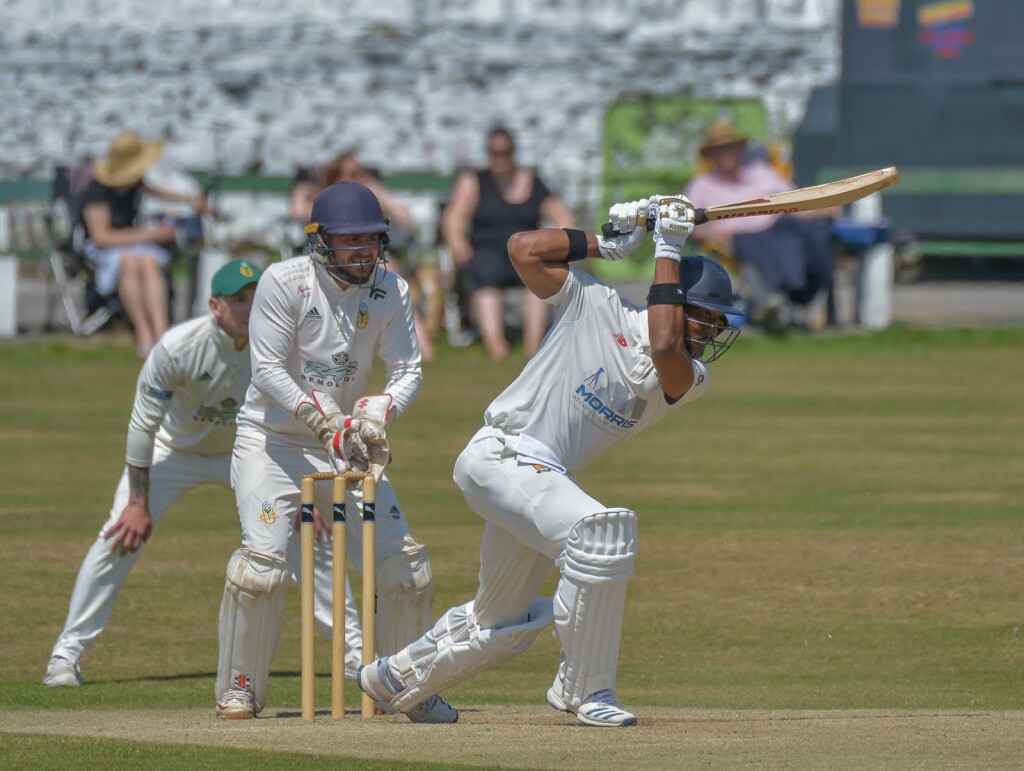 No Carlton batsman registered a half-century but consistent batting in the order from Kershaski John Lewis (above, 35), Jonathan Rudge (33no) and Dan White (32) showed the way.
Pudsey Congs are now third, a distant 35-points behind Carlton. They beat Gomersal by 47-runs largely down to Yohan Mendis who made an unbeaten 121 in a score of 287-8.
Gomersal's reply was impressive, but well short in the end despite 84 from Andy Gorrod.
Jer Lane had another 20-point win when they beat Keighley by seven-wickets. Deron Greaves (75) and Nasir Chowdrey (52no) got the runs for Jer Lane in a modest run-chase. Keighley's Australian batsman Noah McFadyen was the only threat to Jer Lane as he top-scored with 56.
Morley are now showing that they are too good to go down after beating East Ardsley by nine-wickets. Joel Murnan took 6-31 for Morley, while the in-form Jack Rowett (50no) took them over the winning line.
Baildon made good at just the right time when they beat Wrenthorpe by 168-runs. James Ford (162no) hit Division One's highest individual score of the season as the Baildon batters made hay in the sun. Chris Reynolds (61) and Mounam Ejaz (82no) also took advantage of the lowly opposition. Umar Zahoor put paid to Wrenthorpe's run chase with 5-48.
Wrenthorpe could take heart for the future after seeing gutsy performances from Daud Waheed (59) and Usman Shakir (32).
Birstall saw off East Bierley with a 74-run win after Eric Austin (61) and Andrew Robertson (48) had put on 119 for the first wicket. Bierley's skipper Brown top scored with 51 in reply, but Ryan Gray (4-42) and Dave McCallum (3-41) proved too good on the day.
Division One: Gomersal v Birstall, East Bierley v Baildon, Wrenthorpe v Keighley, Jer Lane v East Ardsley, Morley v Undercliffe, Carlton v Pudsey Congs.
Division Two
Yeadon consolidated the top position after a considerable run chase last week, while second place Sandal just edged out Bowling Old Lane.
Hopton Mills put the `cat amongst the pigeons' when they defeated Northowram Fields to further complicate the promotion race, while Lightcliffe improved their standing with a resounding win against Wakefield St Michael's.
The leading contenders for promotion are now Yeadon (229 pts), Sandal (218 pts), Lightcliffe (207 pts), Hopton Mills (205 pts) and Northowram Fields (183 pts).
Hartshead Moor gave themselves a lifeline by beating Crossflatts and are now out of the bottom two. This has put Crossflatts at second bottom and in trouble on 127 points, four points adrift of the Moor.
However, they have a valuable match in hand on the Moor, and they will have noticed that Great Preston are being dragged into the relegation battle as well.
This week's matches
The blockbuster promotion clash is at Yeadon, as the leaders take on Lightcliffe. It will not define the season as far as promotion is concerned, but if Yeadon should win, they would be nicely placed for the run-in.
Second place Sandal could have a fight on their hands to beat Buttershaw St Paul's on St Paul's Avenue, but a win would cement their position for a while.
Promotion seeking Northowram Fields should have too much batting for Crossflatts, but they will be aware that on their day their opponents can notch a big score themselves.
Hopton Mills have leapt into the thick of the promotion race and should be too good on current form for Bowling Old Lane.
Bottom side Wakefield St Michael's will find it hard to ease their relegation fears by beating Hunslet Nelson, while Hartshead Moor are in a similar boat at Great Preston. The Moor really need to replicate the form they showed in the Jack Hampshire Cup tie against Lightcliffe.
Hunslet Nelson will also be looking forward to their appearance in the c final against Altofts on the following Sunday.
Highlights from last week
Yeadon proved themselves worthy leaders after an exhilarating run-chase of 272-9 against Buttershaw St Paul's. Amer Ayoub (79) and Jonathan Burston (53) had contributed well to this total for Buttershaw St Paul's, and they appeared to be on top in Yeadon's reply.
However, Yeadon showed a depth to their batting as Muhammad Khan (84no), Gulsheraz Ahmed (59) got them there in a three-wicket win.
Second place Sandal were not entirely convincing in their 23-run win at Bowling Old Lane. However, in a relatively low scoring match Ashley Mackereth (4-26) and Zaeem Zulfqar (3-25) proved to be too testing for the Old Lane batsmen.
Hopton Mills shocked Northowram Fields thanks to a virtuoso effort from Sohail Hussain who made an unbeaten 111 and followed up with 6-51 to confirm a big victory for his side.
Lightcliffe went to town on bottom side Wakefield St Michael's scoring a massive 375-8 after Isaac Dikgale had made 151. Another centurion for Lightcliffe was Rob Edmond who scored 116. Ashley Hale worked hard with the ball for St Michael's taking 6-58.
Hartshead Moor's crucial victory over Crossflatts was down to Chris Wynd (64) and Iqbal Khan (86) with the bat, and young spinner Lewis Lomax (4-50) with the ball. Lomax is proving to be one of the brightest spin-bowler prospects around, and the Moor are using him intelligently.
Hunslet Nelson took themselves further away from the drop zone with a convincing win against Great Preston. Seamer Alistair Finn was the catalyst for the win with a fine spell of bowling that reaped 5-19.
Great Preston's Oliver Scott worked hard taking 5-53, but his side are now too close for comfort in the lower reaches of the table.
Division Two: Yeadon v Lightcliffe, Wakefield St Michael's v Hunslet Nelson, Great Preston v Hartshead Moor, Crossflatts v Northowram Fields, Hopton Mills v Bowling Old Lane, Sandal v Buttershaw St Paul's.
Division Three
Liversedge still leading the way, while Scholes have caught Adwalton after defeating them last week and are now 13-points in front of them.
Heckmondwike & Carlinghow and Spen Victoria are next in line to challenge, but they both need to win their game in hand to claw back the sizable points deficit.
This week's matches
Leaders Liversedge should win at Busy Lane where they taken on Windhill & Daisy Hill, while second place Adwalton have a `banana skin' match at East Leeds.
Scholes need to beat Gildersome & Farnley Hill to keep the pressure on Adwalton.
Heckmondwike & Carlinghow have an excellent chance of gaining points on their promotion rivals by beating Rodley. The impetus of reaching the Jack Hampshire Final last week should surely put them in good stead in future weeks.
Altofts tune up for their T20 Final the next day, by welcoming Spen Victoria to their splendid ground on Lock Lane.
Brighouse should beat bottom side Crossbank Methodists to boost their mid-table position.
Highlights from last week
The big match last week resulted in Scholes taking second place after their five-wicket win over Adwalton. Christian Jackson (60) top scored for Scholes, while Anas Imtiaz excelled for Adwalton with a fine innings of 77.
Leaders Liversedge proved too good for Altofts in an 86-run win. Wasim Nazir (95) and Matthew Gibson (46) led the way with the bat, while the consistent seamer Parvaise Khan (4-46) ensured that Altofts would not get close.
Rodley recorded their third win of the season against East Leeds with Jacques Moss (4-44) and Daniel Hill (4-28) proving too much of a handful for the opposition.
Rahat Shah was the star man in Spen Victoria's victory over Brighouse, taking 6-38 on a day when batsmen generally ruled.
Gildersome & Farnley Hill batsmen made hay in the sun to the tune of 382-7 in their victory against Windhill & Daisy Hill. Mick O'Halloran (67), Gethin Clarke (62), Liam Pearson (38) and Chris Harris (36) all put bat to ball with much success.
Heckmondwike & Carlinghow are still showing impressive form and their latest victims were Crossbank Methodists who were bowled out for 108. Wasim Khaliq (4-48) and Wajid Hussain (4-1) were just too good for them.
Division Three: Scholes v Gildersome & Farnley Hill, Windhill & Daisy Hill v Liversedge, Altofts v Spen Victoria, Brighouse v Crossbank Methodists, Heckmondwike & Carlinghow v Rodley, East Leeds v Adwalton.