Sandal is becoming one of the choice clubs in the Bradford Premier League with their progress on the field, and hospitality off it. That quaint little club one can see on the Northern train service passing Barnsley Road has now come to prominence. No longer do passengers say, "who plays there?"
In 2016, Sandal had a think about their future and put in an application to join the Bradford Premier League. They were accepted, and they went out of the Pontefract & District League with a bang, lifting the top flight title in their last season. The successful side included Kristian Shuttleworth, Danny Riley, Matthew Westwood, Jack Gibson, Karl Hewitt, Kieran Dransfield, Christopher Gibson, Sam Noden, Michael Trevethan (Captain), Lee Geldard, Raymond Aignworth.
There are several names there that would make an impact when they made the brave decision to enter the Bradford Premier League in 2017.
Sandal was competitive from the start and was obviously not here for the ride. When they gained promotion to the third sphere in 2019, they were on their way up the pyramid of the league structure
This season they had to battle with two of the traditional Bradford League clubs, Yeadon and Lightcliffe, and they came out on top with a fair margin of points as they took the Division Two title.
Kristian Shuttleworth took over the captaincy from Michael Trevethen for the 2019 season and led his side to the Confernce title. Three years on and he has guided them to the Division Two championship and a place in Division One.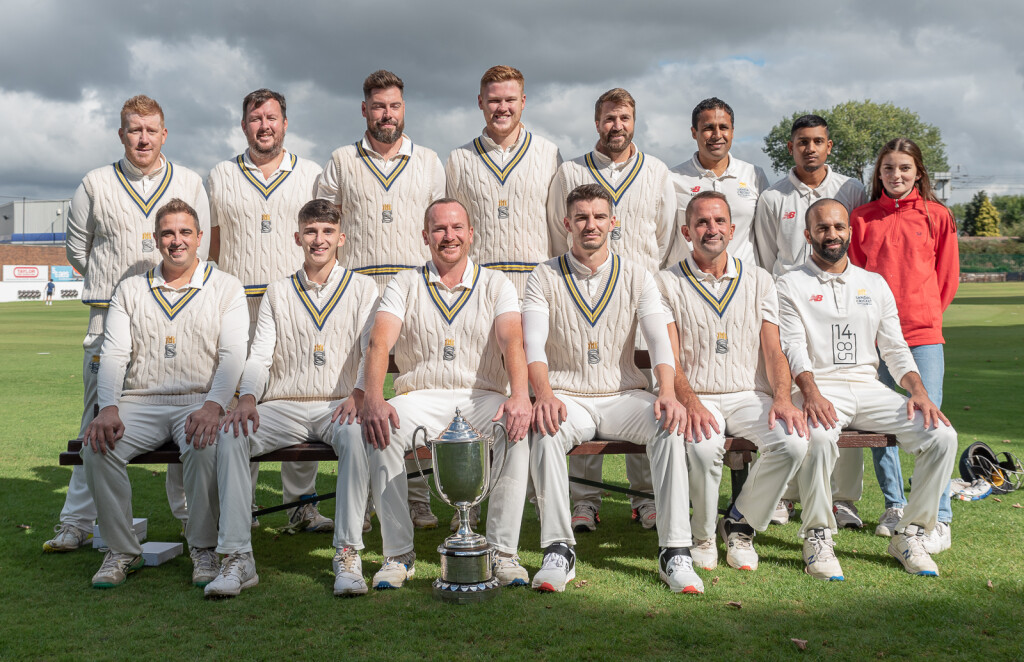 "We are absolutely delighted to be crowned Division Two champions after winning the Conference title in 2019". Said Shuttleworth.
"At the end of last season, we identified certain areas to strengthen and were delighted to sign Michael Carroll (Hopton Mills), Ashley Mackereth (Hopton Mills) and Zaeem Zulfqar (Wakefield St Michael's) - all quality, experienced players and fierce competitors. They have made significant contributions to the team but more importantly they are top blokes, who have fitted seamlessly into the club.
"Our success this season has been founded upon a real team effort. There have been several occasions where we have been under the pump but each time somebody has adopted that "over my dead body" mentality and stepped up to see the team over the line.
"Our batting strength in depth has been a huge asset to us, a last wicket match-winning 103 partnership at Crossflatts in week seven was probably the most notable example of that. Prior to that we had won just three of our first six matches but went on to win 15 of the next 16," added the proud captain.
"The bowling department has also regularly fired. Sam Noden (65 wickets), Zaeem Zulfqar (54 wickets) and Michael Carroll (45 wickets) have been outstanding with the ball. Sam has matured into a fine cricketer - 65 wickets and 415 runs (at an average of 32), mainly scored in tough circumstances down the order, must make him a candidate for the league's all-rounder award.
"Division Two has been a really strong competition this season with established Bradford League clubs like Yeadon and Lightcliffe challenging us all the way. I would like to congratulate Yeadon on winning promotion and I'm sure it won't be long before Lightcliffe follow suit given the young talent they have coming through".
"As a club we feel like we have continued to do everything we can to make a great impression on the Bradford Premier League and the clubs we have faced. We take huge pride in how we present our home ground and the hospitality we provide off the field - our teas and complimentary post match drink for our opponents are certainly always well received! We were proud to be asked to host the Heavy Woollen Crowther Cup Final for the second year running.
"Will continue progressing both on and off the field with both our senior sides and junior age groups. Standing still is never an option! It has been particularly pleasing to see our junior numbers expanding so much this year and that's testimony to all those involved with organising their training sessions and matches.
"Division One will provide new challenges next season but hopefully we can bolster our ranks with one or two equally ambitious new signings and stay on that upward trajectory."