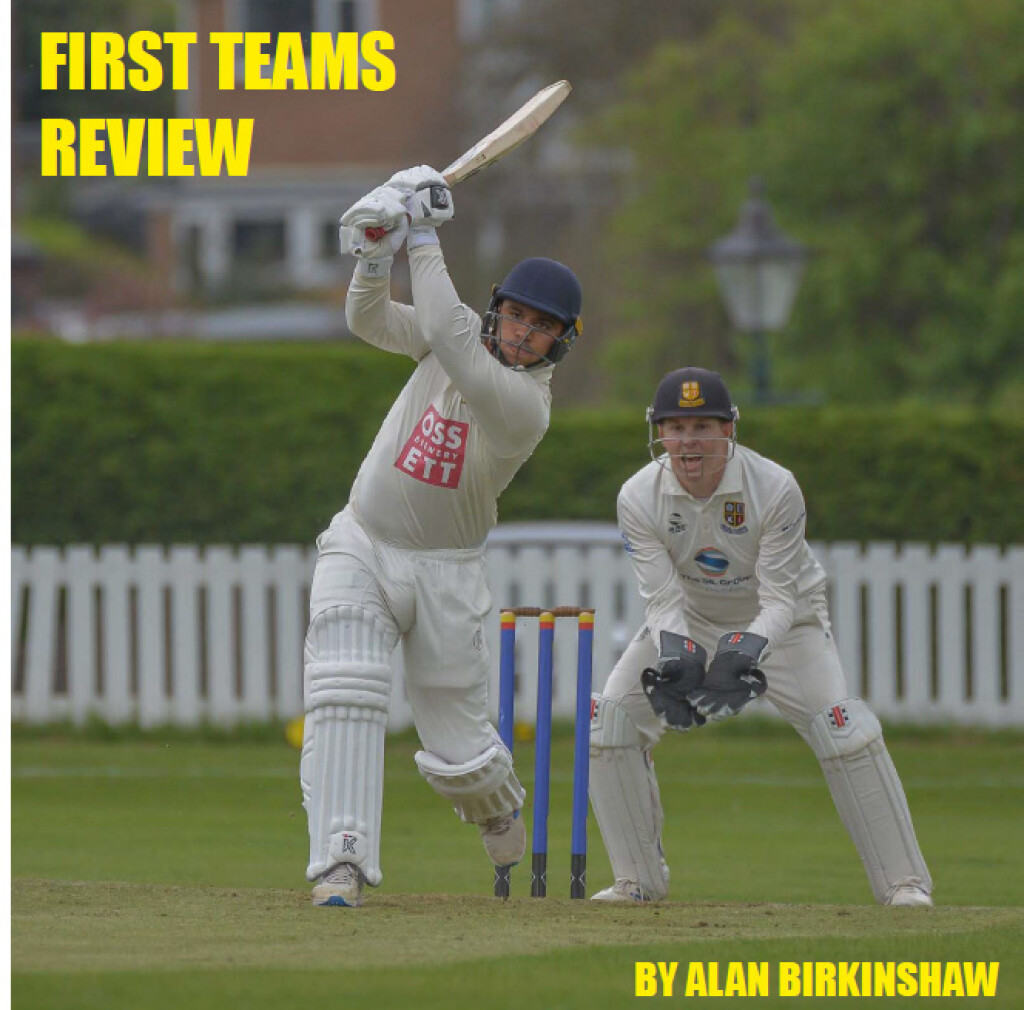 Premier Division
Hanging Heaton v New Farnley
Mark Lawson (6-32) returned his best bowling figures of the season to set leaders New Farnley on their way to an eight-wicket win over his former club. Opener Nick Lindley (40) was the only batsman to make an impression as Hanging Heaton were dismissed for 128 after being put in to bat.
New Farnley lost skipper Lee Goddard in the opening over but suffered few alarms as they eased to a DLS target of 123 with 18 overs to spare.
Adam Waite was unbeaten on 49 when victory was achieved. Hanging Heaton did not help their own cause by conceding 30 extras, 23 of them wides.
The win earned New Farnley a maximum haul of 20 points and they are now 27 ahead od defending champions Woodlands.
Nick Lindley was the top scorer in the Hanging Heaton innings. Picture: Ray Spencer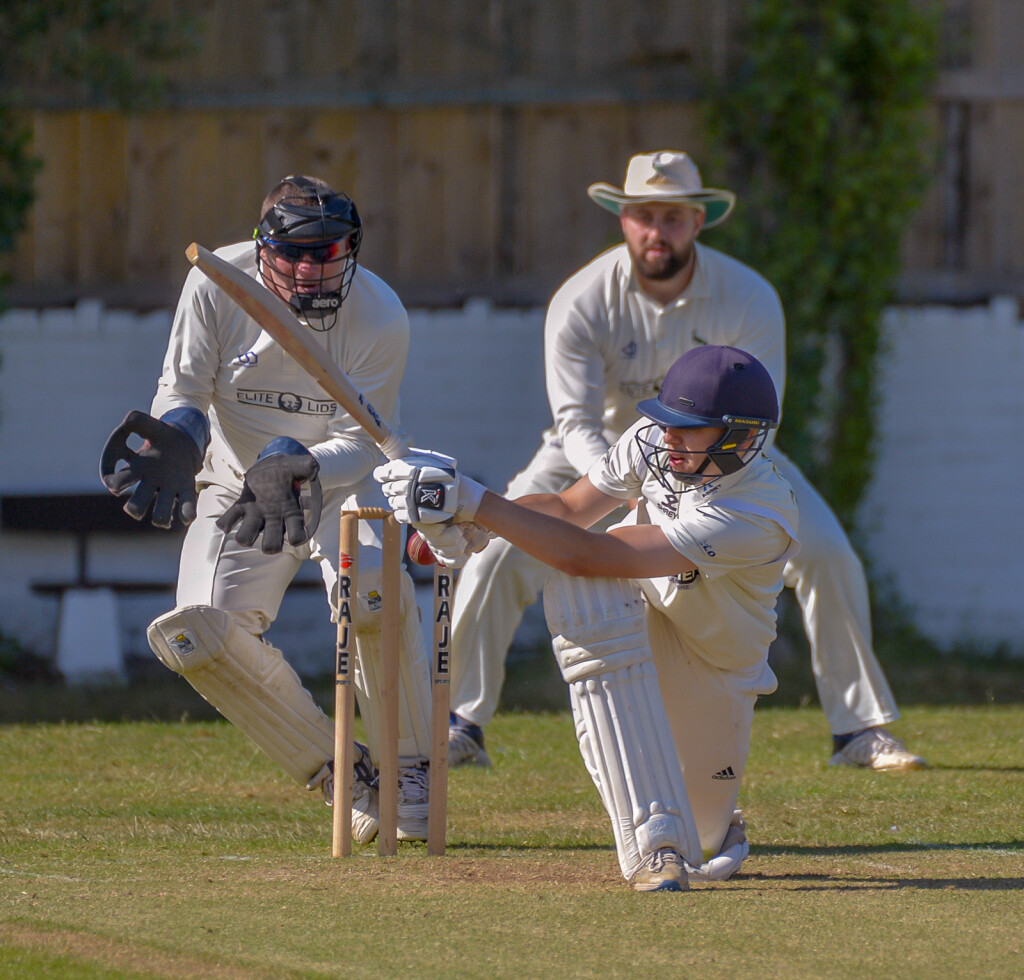 Aidan Langley looks to attack for New Farnley at Hanging Heaton. Picture: Ray Spencer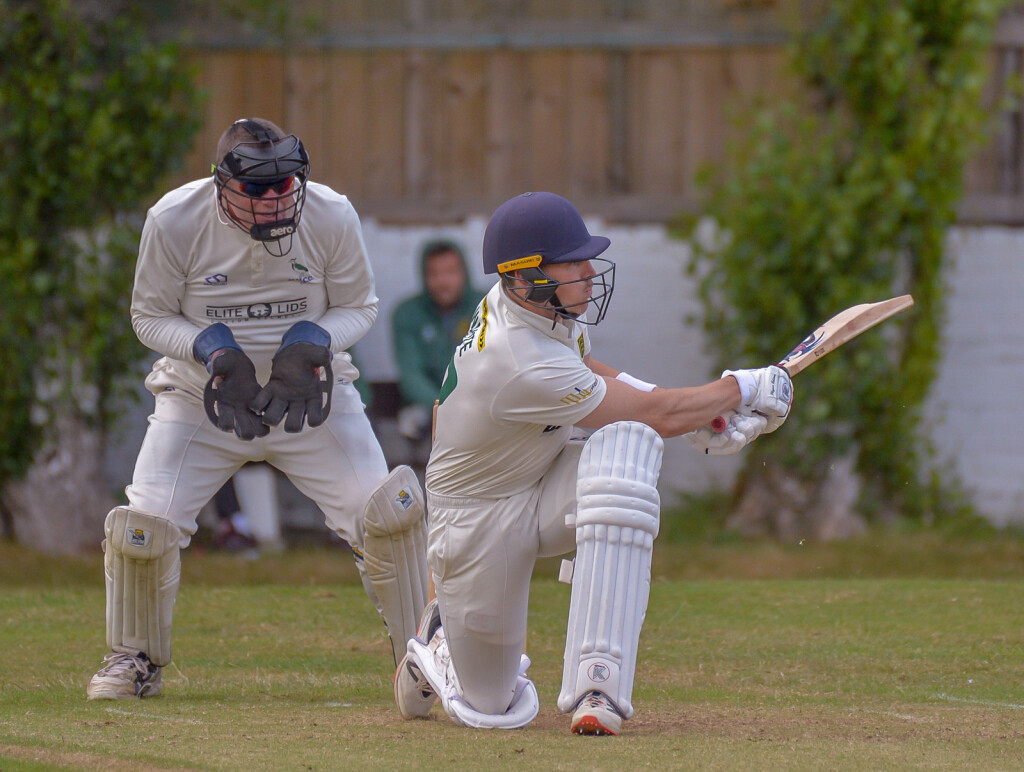 Adam Waite was 49 not out when New Farnley achieved victory Picture: Ray Spencer
Townville v Woodlands
Champions Woodlands chased down DLS target of 213 from 38 overs to secure a five-wicket win with two balls to spare. Skipper Brad Schmulian was again a key influence with an unbeaten 53 while openers Sam Frankland (43) and Tim Jackson (41) also played their parts.
Townville, who have now lost four games on the trot, must feel that Lady Luck has deserted them. This is the second time Woodlands have beaten them in the final over this season. On the opening day they were beaten off the very last ball.
While injuries to key bowlers, most notably Conor Harvey are hurting their cause, they may well draw heart from the batting of Harry Warwick (81), Jonny Booth (56) and Tom Brook (48) as they posted a score of 233-9 batting first. Muhammad Bilal was the best of the Woodlands bowlers with 4-50.
Scorecard
Ossett v Batley
Skipper Nick Connolly hit his fifth league century of the season and took his tally of runs to 846 as he helped Ossett to secure a 125-run win. The left-handed opener hit three sixes and 15 fours while making and unbeaten 120. Mattie Race (56) and Mubtada Akhtar (35) gave good support in a total of 284-6.
Rain resulted in Batley being set a DLS target of 266 from 42 overs which they never looked like achieving as Oliver Kilburn picked up 4-55. Kasir Maroof made 52 but Batley were bowled out for 140 as Ossett climbed up to third in the table.
Scorecard
Bradford & Bingley v Pudsey St Lawrence
Australian Corey Miller made a century as Bradford & Bingley completed the double over St Lawrence. Miller made exactly 100 from 91 balls and hit 19 fours. Charlie Davy (35) provided the main support as Bradford & Bingley chased down a DLS target of 176 from 40 overs to win by four wickets. Leg spinner Archie Scott again provided the main threat with 5-50.
St Lawrence made 212-8 in their 50 overs before the rain struck and caused 10 overs of the second innings to be lost. Josh Priestley (45) and Charlie Best (31) were their top scorers as Yasir Abbas (3-46) again spearheaded the Bradford & Bingley attack.
Scorecard
Cleckheaton v Methley
Cleckheaton lifted themselves off the bottom of the Premier Division table with a welcome a much-needed nine-wicket win over Methley. They were set a DLS target of 148 from 31 overs after rain caused 19 overs to be lost and chased it down thanks to an unbeaten second wicket stand of 119 between Toby Booth (69no) and overseas player Yousaf Baber (53no).
Defeat was tough on Methley batsman Jordan Laban. He made a splendid 120, seven fixes and 14 fours, which enabled his side to make 236. Skipper Tom Chippendale (43) shared a sixth-wicket partnership of 118 with Laban while spinner Andrew Deegan (4-53) and Hashim Wajid (3-23) proved to be the most successful bowlers.
Scorecard
Farsley v Bankfoot
Bankfoot ran up the Premier Division's highest score of the day of 328-5 in their 92-run win over Farsley at Red Lane. Afghan all-rounder Zia Ul Haq Parwani (77), Majid Khan (74), and skipper James Lee (55) provided the platform from which Osama Ahmad smashed 43 from 15 balls to add to the suffering of an injury-hit home attack.
After rain interrupted the Farsley reply they were left with a DLS target of 229 from 27 overs. Opener Jack Timby (35) was the only batsman to settle as Ahmad (7-53) followed up his batting fireworks with a match-winning bowling display. Parwani (3-49) picked up the remaining wickets as Farsley were dismissed for 136.
Scorecard
Premier Division Stats of the day
Top team total: 328-5 Bankfoot v Farsley
Top individual score: 120 Jordan Laban (Methley v Cleckheaton)
Best Bowling figures: 7-53 Osama Ahmad (Bankfoot v Farsley)
Premier Division Stats of the season
Top team total: 342-7 Methley v Ossett
Top individual score: 164 Jason Marshall (Methley v Ossett)
Best Bowling figures: 9-54 Zia Ul Haq Parwani (Bankfoot v Townville)
Division One
Morley v Birstall
Jack Rowett (112) and Kavindu Kulasekara (109) shared an impressive third wicket stand of 154 as Morley eased their relegation worries with a 60-run win over Birstall in a rain-affected contest at Scatcherd Lane.
Opener Rowett struck one six and 10 fours while Sri Lankan Kulasekara's innings contained three sixes and nine fours. Their efforts enabled Morley to make 308-5 in their 50 overs.
Birstall's innings was disrupted by rain and left them with a DLS target of 282 from 41 overs. Experienced opener Eric Austin (47) top scored as his side were bowled out for 221 with paceman Matt Dowse (4-69) and Joe Murnan (3-41) among the wickets.
Scorecard
Undercliffe v East Ardsley
East Ardsley were another side to improve their chances of avoiding relegation with an eight-wicket win at Undercliffe. South African opener James Van Der Merwe was unbeaten on 71 when they achieved their DLS target of 113 from 31 overs with 16 balls to spare.
The result was a setback to Undercliffe's promotion ambitions. They were bowled out for 184 after choosing to bat first. Skipper Bailey Worcester top scored with 59 while his counterpart Louie Hurley (4-62) proved to be the pick of the East Ardsley bowlers.
Scorecard
Carlton v Baildon
Dominican all-rounder Kershaski John Lewis was in top form as second place Carlton recorded a four-wicket win over a Baildon side who now find themselves in the relegation zone. John Lewis took 4-43 and was backed up by Farrukh Alam (3-21) as Baildon were dismissed for 201, a score that owed much to the efforts of Jonny Reynolds (72), James Ford (48) and Mounam Ejaz (32).
Rain resulted in Carlton having to chase a DLS target of 177 from 35 overs which they achieved thanks to John Lewis scoring an unbeaten 119, an innings punctuated with four sixes and 17 fours,
Scorecard
Gomersal v Wrenthorpe
Gomersal's batsmen enjoyed themselves as compiled a total of 398-7 on their way to an emphatic win over rock-bottom Wrenthorpe. Openers Liam Fletcher (91) and Graham Hilton (87) set the tone with a partnership of 148 before overseas player Lwandiswa Zuma thrashed 59 from 28 balls during a sixth wicket stand of 112 with Andy Gorrod (57). The persevering Usman Shakir picked up 5-83.
Set a DLS target of 374 from 46 overs, Wrenthorpe were bowled out for 131 to lose by 242 runs. Mustafa Bhatti made an unbeaten 50 but lacked support as Daniel Syme (4-20) and Jonathan Boynton (4-31) struck.
Scorecard
Jer Lane v East Bierley
There is just no stopping leaders Jer Lane. They maintained their perfect start to the season – they have maximum points from 11 games – with a an eight-wicket win. After bowling out East Bierley for 131 with Amjid Khan taking 3-42, rain reduced their target to 127 from 46 overs. It proved to be a breeze for their batsmen with Deron Greaves hitting an unbeaten 57 not out. The one bright spot for East Bierley was battling innings of 54 from Danny Cross.
Scorecard
Pudsey Congs v Keighley
Promotion-chasing Pudsey Congs suffered a one-run defeat in a nail-biting finish against an improving Keighley side. Set a DLS target of 196 from 38 overs, Congs finished on 194-8 despite the efforts of Sri Lankan Yohan Mendis (57) and Sam Wisniewski (32). Australian Noah McFadyen was the pick of the Congs bowlers with 4-64.
Batting first, Keighley made 224-8 thanks to half centuries from Ben Hemsley and Adam Smith who both made 54. Ryan Heptinstall took 3-63 for Congs.
Scorecard
Division One Stats of the day
Top team total: 398-7 Gomersal v Wrenthorpe
Top individual score: 119no Kershaski John Lewis (Carlton v Baildon)
Best Bowling figures: 4-43 Kershaski John Lewis (Carlton v Baildon)
Division One Stats of the season
Top team total: 398-7 Gomersal v Wrenthorpe
Top individual score: 160 Kevin McDermott (Baildon v Morley)
Best Bowling figures: 7-40 Danny Cross (East Bierley v Keighley)
Division Two
Yeadon v Great Preston
Yeadon are the new leaders of Division Two and the men they must thank for the 30-run win that took them to the top are openers Pasindu Thirimadura and Gareth Lee after they both hit centuries while sharing a partnership of 237. Sri Lankan Thirimadura struck one six and 25 fours while making a splendid 140, while Lee's 114 contained 16 fours.
Yeadon made 310-4 but rain reduced the target for Great Preston to 211 from 31 overs. Skipper Oli Baron (67) and James Conlon (40) fought hard, but their side finished on 180-6.
Scorecard
Sandal v Hunslet Nelson
An undefeated second wicket partnership of 234 between Kurt Chalker (125no) and Andy McIntosh (107no) enabled Hunslet Nelson to score a stunning nine-wicket win which cost Sandal their place at the top of the table. Australian Chalker hit six sixes and 15 fours while making his third century of the season and second in consecutive games. McIntosh struck two sixes and 19 fours.
Chalker and McIntosh were not the only key performers for Nelson. Leg spinner Sam Thewlis (6-67) impressed as Sandal were bowled out for 243 with Ashley Mackereth making 72 and Danny Riley (48).
Scorecard
Hopton Mills v Lightcliffe
South African opener Isaac Dikgala made a stunning debut for Lightcliffe. He marked his arrival on the Bradford Premier League scene by making 152, an innings which featured nine sixes and 14 fours. Fellow opener Alex Stead (42) was perfectly placed to watch his new colleague lay into the bowling. Thanks to Dikgala, Lightcliffe made 316 and one man who emerged from mayhem with real credit was Sohail Hussain who returned figures of 8-86.
Rain led to Mills have to chase a DLS target of 276 from 39 overs. Chris Scott (73) and Hussain (40) battled hard, but their side were dismissed for 175 as Peter Dobson (4-41) and Rob Burton (3-29) posed the main threat.
Scorecard
Bowling Old Lane v Northowram Fields
Third place Northowram Fields edged home by one wicket with one ball to spare after rain left them chasing 163 from 25 overs at Birch Lane. Louis Cockburn (40) led the way against an Old Lane attack in which Hazrat Abbas (4-89) and Shahzaib Khan (4-30) worked hard to turn the game their side's way.
Old Lane made 285-8 in their 50 overs thanks to Khan (57), Abbas (35), and Khurram Maqsood (33). Sam Gardner (4-64) again enjoyed success for Northowram Fields.
Scorecard
Buttershaw St Paul's v Hartshead Moor
Hartshead Moor hauled themselves off the bottom of the table with their second win in three games. Bowlers Dan Squire (5-42) and Abhishek Paradkar (4-19) skittled out Buttershaw St Paul's for 88 to set up the eight-wicket win.
Hartshead Moor were guided to victory by Hasnat Yousaf (39) and Chris Wynd (36no). The win was achieved without needing to call on the batting skills of former Yorkshire captain and coach Andrew Gale. He is fast becoming a lucky charm with his team winning on both occasions he has played.
Scorecard
Crossflatts v Wakefield St Michael's
Wakefield St Michael's sank to the bottom of the table after suffering an eight-wicket defeat at Ryshworth. They were skittled out for just 84 with South African Ruan Van Rooyen (4-2) and Wasim Hussain (4-35) doing the damage. Opener Josh Brooksbank hit an unbeaten 50 as Crossflatts wrapped up a win which moves them a little further away from the relegation zone.
Scorecard
Division Two Stats of the day
Top team total: 316 Lightcliffe v Hopton Mills
Top individual score: 152 Isaac Dikgala (Lightcliffe v Hopton Mills)
Best Bowling figures: 8-86 Sohail Hussain (Hopton Mills v Lightcliffe)
Division Two Stats of the season
Top team total: 353-4 Buttershaw St Paul's v Northowram Fields
Top individual score: 152 Isaac Dikgala (Lightcliffe v Hopton Mills)
Best Bowling figures: 8-24 Hazrat Abbas (Bowling Old Lane v Hartshead Moor)
Division Three
Adwalton v Spen Victoria
Adwalton skipper Chris Bishop-West hit the final ball for four as his side pulled off a dramatic six-wicket win in a match which produced 802 runs. Few would have expected such an outcome when Spen Victoria made the season's highest league score of 431-9.
But rain, the intervention of DLS, and a stunning innings of 195 from Adwalton opener Matthew Donohoe produced the amazing outcome. Donohoe hit 15 sixes and 15 fours and was joined in an opening stand of 304 by Will Cutt (90) which paved the way for their side to achieve their DLS target of 371 form 42 overs.
Spen were understandably stunned by the outcome, nobody more so than Junaid Jamshed who made 103 with seven sixes and 10 fours. Alex Leadbeater (83), Paolo Girardi (54) and Muhammad Ullah (35) also made valuable runs. Chris Priestley took five wickets for Adwalton, but they cost him 127 runs on a day when the batsmen dominated.
Scorecard
East Leeds v Liversedge
Parvaise Khan and Imran Dawood once again held the key to another victory for leaders Liversedge. Khan took 4-32 and was support by Mohammad Altaf (3-10) as East Leeds were bowled out for 119. Opener Dawood ensured that Liversedge eased to a nine-wicket success with an unbeaten 58.
Scorecard
Scholes v Altofts
Scholes maintained their promotion challenge with a four-wicket win. Set a DLS target of 172 from 34 overs they eased home thanks to Nick Firth (66), Hamza Khan (40no) and Adam Greenwood (32).
Saif Tahir (67) and Craig Wood (48) were the mainstays of the Altofts innings when they made 202 batting first. Mahlab Mahmood (5-23) and Christian Jackson (3-45) spearhead the Scholes bowling attack.
Scorecard
Brighouse v Windhill & Daisy Hill
Brighouse chased down a DLS target of 160 from 30 overs as they recorded a five-wicket win. Sohail Akram (38no) and Zain Jamsed (33) led the way as veteran Maz Bhatti (3-58) posed the main threat.
Windhill & Daisy Hill had made 236-7 before rain led to 20 overs being lost. Shoaib Iqbal (63), Zahid Iqbal 45no) were their top scorers.
Heckmondwike & Carlinghow v Gildersome & Farnley Hill
Wajid Hussain took 6-53 and scored 52 as Heckmondwike & Carlinghow recorded a six-wicket win. The home side were set a DLS target of 189 from 40 overs and cruised home with 13 overs to spare.
Gildersome & Farnley Hill made 211in their full 50 overs when they batted first. Gethin Clarke (59), and Muhammad Shah (43) were their top scorers.
Scorecard
Rodley v Crossbank Methodists
Rodley opener Gary Sagar (110no) and skipper Bailey Wilson (94) shared a second wicket stand of 180 as their side won the basement battle with Crossbank Methodists by 90 runs. Sagar's innings contained 12 fours and he received further support from Seamus Nazir (38no).
Husnain Shujjat (49) and Shazad Khalil (42no) top scored as Crossbank were bowled out for 191 with Thomas Ritchie taking 6-70.
Scorecard
Division Three Stats of the day
Top team total: 431-9 Spen Victoria v Adwalton
Top individual score: 195 Matthew Donohoe (Adwalton v Spen Victoria)
Best Bowling figures: 6-53 Wajid Hussain (Heckmondwike & Carlinghow v Gildersome & Farnley Hill)
Division Three Stats of the season
Top team total: 431-9 Spen Victoria v Adwalton
Top individual score: 195 Matthew Donohoe (Adwalton v Spen Victoria)
Best Bowling figures: 8-30 Greg Keywood (Scholes v Gildersome & Farnley Hill)