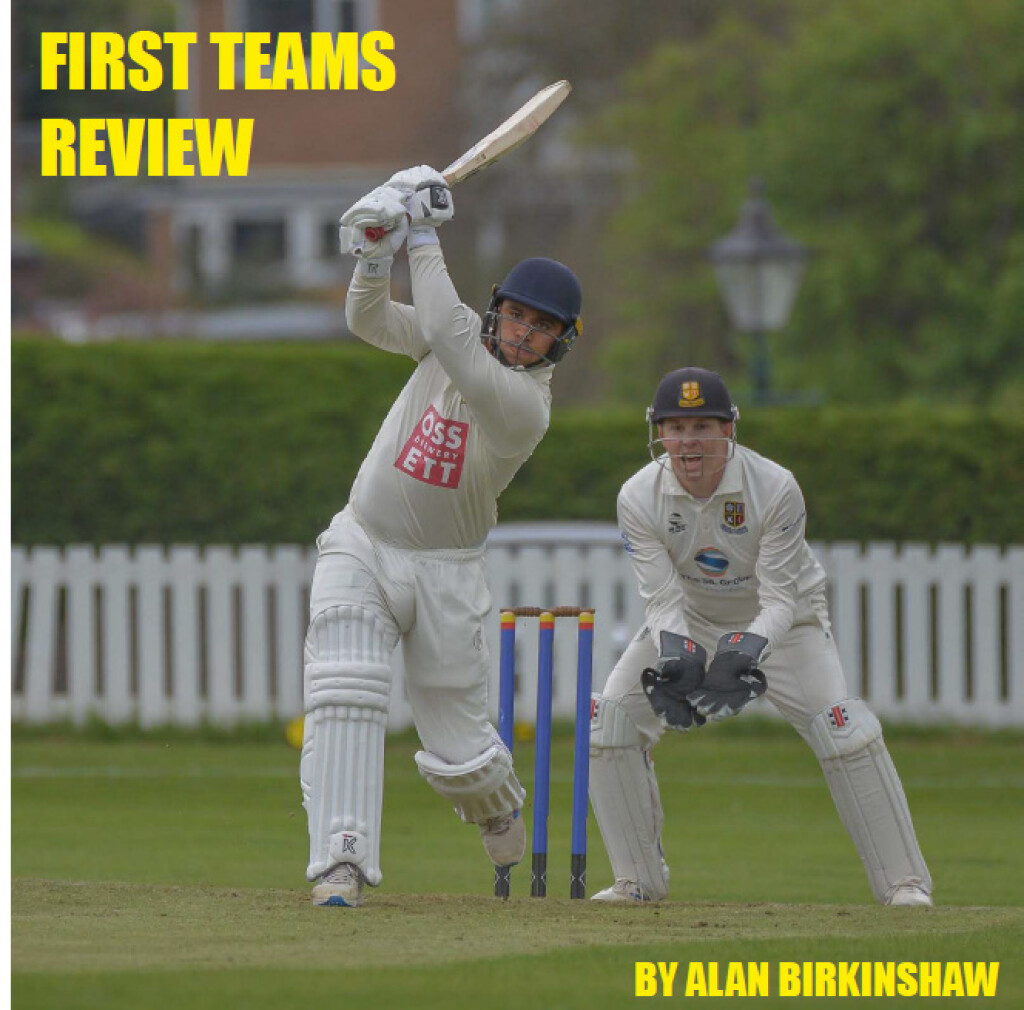 Premier Division
Batley v Bankfoot
Bankfoot secured their second win of the weekend to move closer to Premier Division. They defeated bottom team Batley by three wickets - a result that has enabled them to climb above Hanging Heaton in the table.
Batley, who are 26 points adrift of second bottom Cleckheaton, lost their way when they batted first after opener Nikash Khan (53) had offered hope of them posting a substantial total. Seif Hussain (5-53) and Jawad Waheed (4-40) prospered as Batley were dismissed for 150.
Bankfoot did not find things easy when they batted as Yasir Ali (5-46) proved a real threat. Majid Khan (34) top scored as they edged hom by three wickets.
Scorecard

Bankfoot v Methley
Skipper James Lee hit his first century of the season and opening bowler Osama Ahmad took 6-44 as Bankfoot secured an important 129-run win in their bid to pull clear of the Premier Division relegation spots.
Lee struck a six and 14 fours while making 107 and was joined in a fourth wicket partnership of 150 by Hamzah Iqbal (79) which rescued their side from 27-3 and helped them towards a total of 235.
Ben Waite took 5-25 for Methley but his batsmen didn't back up his efforts as they crumbled to 106 all out with Ahmad posing big problems.
Scorecard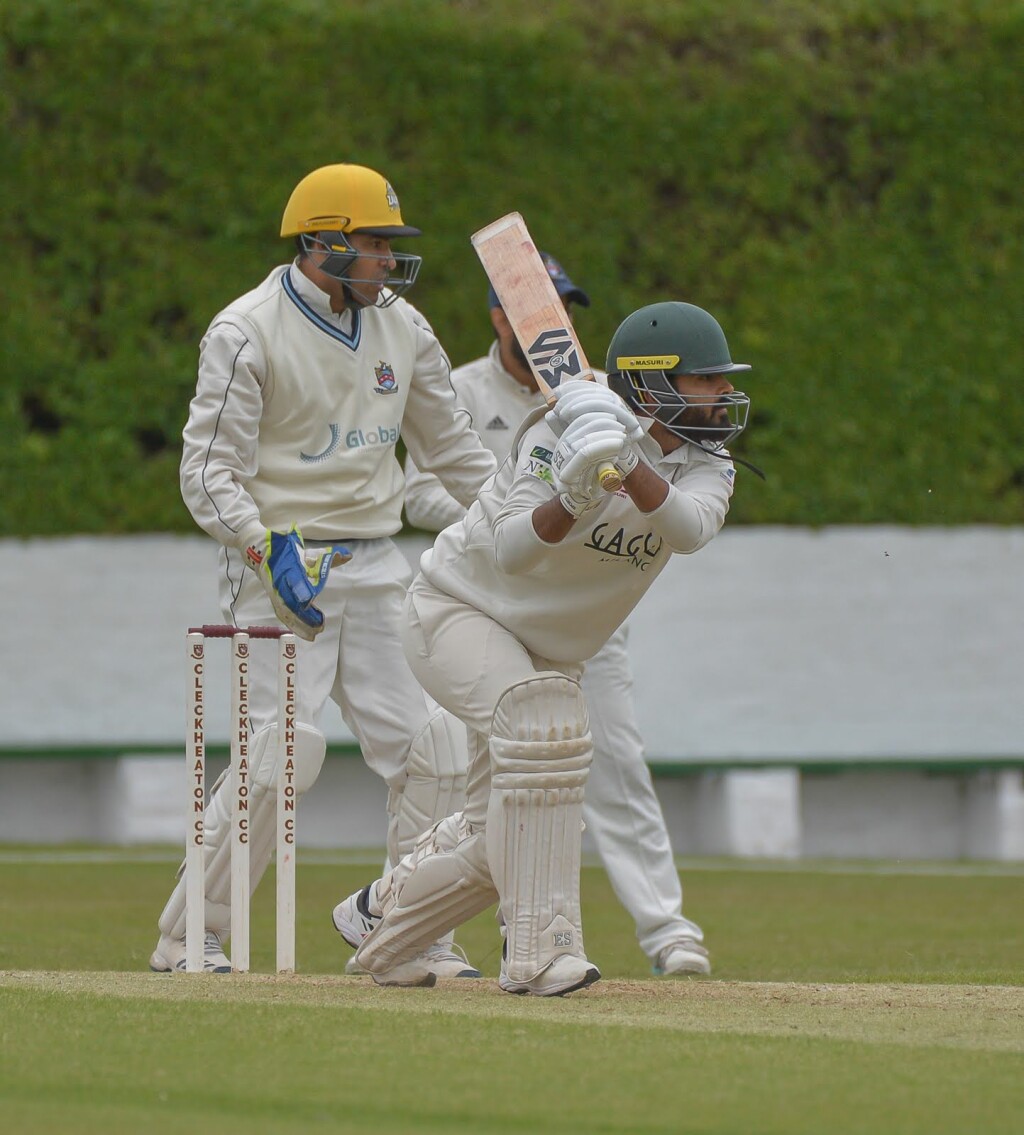 Yusaf Baber produced a match-winning innings for Cleckheaton Picture: Ray Spencer
Pudsey St Lawrence v Cleckheaton
Cleckheaton are just a point behind Bankfoot after securing a much-needed six-wicket win at Pudsey St Lawrence with their overseas player Yusaf Baber hitting an unbeaten 104 as they chased down the home side's score of 192.
Baber showed his quality by striking three sixes and 14 fours as Cleckheaton secured victory with 14.5 overs to spare.
St Lawrence made a sluggish start to their innings and it was only due to the patience of opener Mark Robertshaw (76) and a useful knock from Harry Cullingford (44) that they reached 192. Spinners Baber (3-13) and Andrew Deegan (3-45) were the pick of the Cleckheaton bowlers.
Scorecard
Townville v Hanging Heaton
Hanging Heaton will be looking nervously over their shoulders after their 44-run defeat at Townville left them just 10 points above the relegation positions.
Skipper Ben Kohler-Cadmore did his best to lift his side with a fine 108 which contained four sixes and 13 fours. Sri Lankan Sasith Manuranga (38) was the only other batsman to make an impression as the Bennett Lane side lost their last seven wickets for 39 runs to be bowled out for 195. Jack Hughes (3-43) and Conor Harvey (3-46) were the main wicket takers.
Opener Jonny Booth (68) got Townville's innings off to a good start when they batted first before Harvey produced some of his trademark fireworks with an unbeaten 65.
Scorecard
New Farnley v Batley
The top versus bottom clash resulted in a comfortable nine-wicket win for leaders New Farnley. Batley's decision to bat first didn't bring them the rewards they hoped for as they were dismissed for 110 with only opener Nikash Khan (35) settling for long as paceman Liam Guthrie (4-24) and spinner Gurman Randhawa (3-14) got to work.
Opener Aidan Langley (50no) and Adam Waite (45no) shared an undefeated second wicket stand of 102 as New Farnley pocketed a maximum 20 points to stay 13 clear of Woodlands at the top.
Scorecard
Bradford & Bingley v Ossett
Ed Brown hit an unbeaten 117 from 75 balls to propel Bradford & Bingley to a seven-wicket win at Wagon Lane. Brown arrived at the wicket with his side struggling at 14-3, but he quickly revived their fortunes, hitting four sixes and 19 fours. Opener Jacob Slator (38no) shared an unbroken fourth wicket stand of 158 with his shipper as Ossett's total of 171 was overhauled.
Mattie Race (58) and Marcus Walmsley (41) added 105 for the second wicket but once they were parted the Ossett innings went into decline with only Sam Storr (35) making a contribution as Yasir Abbas (5-43) produced another fine performance as the spearhead of Bradford & Bingley's attack.
Scorecard
Woodlands v Farsley
Brad Schmulian raced to 123 from just 86 balls as he helped his Woodlands side post the division's highest score of the day of 334-7 on their way to a 120-run win over Farsley.
The New Zealander struck three sixes and 18 fours as he an opener Tim Jackson (70) put on 155 for the second wicket. A late assault from Muhammad Bilal (52) added to the suffering of the Farsley bowlers. Spinner Mark Harrison (3-85) proved to be the most successful.
Farsley were never in the hunt for victory, but dud managed to garner four batting points after making 214. Ryan Cooper top scored with 61 as left-arm spinner Liam Collins picked up 4-36.
Scorecard
Premier Division Stats of the day
Top team total: 334-7 Woodlands v Farsley
Top individual score: 123 Brad Schmulian (Woodlands v Farsley)
Best Bowling figures: 6-44 Osama Ahmad (Bankfoot v Methley)
Premier Division Stats of the season
Top team total: 343-6 Woodlands v Hanging Heaton
Top individual score: 169no Alex Cree (Methley v Ossett)
Best Bowling figures: 9-54 Zia Ul Haq Parwani (Bankfoot v Townville)
Division One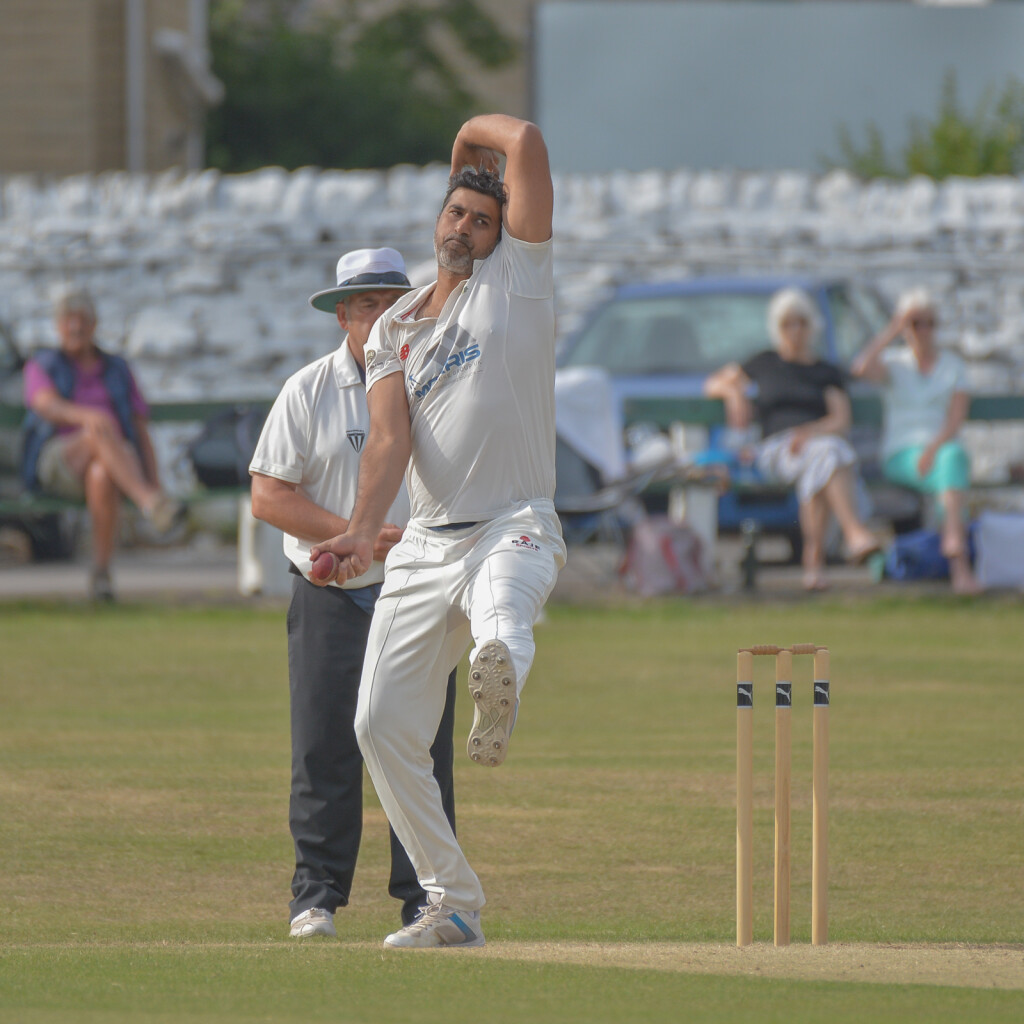 Farrukh Alam took crucial wickets for promotion chasing Carlton. Picture Ray Spencer
Undercliffe v Carlton
Carlton boosted their hopes of securing a place in the Premier Division next season with a nail-biting seven-run win over fellow promotion chasers Undercliffe.
It was former Undercliffe all-rounder Farrukh Alam who dealt his former side's hopes a blow by taking 4-53 as they were bowled out for 257. Jack McGahan (75) and Ollie Hardaker (60) led the pursuit of Carlton's 264-9, but in the end the absence of big-hitting Zeeshan Qasim who was injured while fielding, proved crucial.
Kershaski John Lewis (35), Jonathan Rudge (33no) and Dan White (32) led the way in the Carlton innings as Sunny Matharu (3-63) proved to be the best of the home bowlers.


Overseas player Kershaski John Lewis top scored for Carlton Picture: Ray Spencer


Jack McGahan made 75 for Undercliffe against Carlton Picture: Ray Spencer
Scorecard
Pudsey Congs v Gomersal
Sri Lankan batsman Yohan Mendis is proving to be quite a find for Pudsey Congs. The talented opener made an unbeaten 121 as his side returned to third place in the table with a 47-run win over Gomersal.
Mendis stroked a six and 14 fours while Josh Bennett added 34 as Congs scored 287-8 after opting to bat first. Jonathan Boynton was the most successful bowler for the visitors with 3-88.
Andy Gorrod (84) led the Gomersal response which also featured 39 from Joel Pollard and 35 from Graham Hilton as they finished on 240-9. Left arm spinner Sam Wisniewski impressed with 4-64.
Scorecard
Keighley v Jer Lane
There is simply no stopping Jer Lane as the leaders pocketed their 13th 20-point maximum of the season after a seven-wicket win at Keighley.
Their latest success was set up by Ibrar Younis (3-32) and Mohammed Jamal (3-40) as Keighley, despite 56 from their Australian batsman Noah McFadyen were bowled out for 177. Deron Greaves (75) and Nasir Chowdrey (52no) powered Jer Lane to their victory target.
Scorecard
East Ardsley v Morley
Joel Murnan lifted Morley further clear of the relegation positions and added to East Ardsley's fears of a quick return to Division Two by taking 6-31 to set up a comfortable nine-wicket win for the Scatcherd Lane club.
After young paceman Tinaye Mazonde (3-26) had made the initial breakthroughs, Murnan took centre stage and East Ardsley, despite 32 from Scott Mullins, were bowled out for 112. In form opener Jack Rowett (50no) and James McNichol (36no) ensured Morley bagged the maximum 20 points.
Scorecard
Baildon v Wrenthorpe
James Ford (162no) hit Division One's highest individual score of the season as Baildon made 333-3 in their 168-run win over bottom team Wrenthorpe at Jenny Lane.
Ford, whose innings included four sixes and 18 fours, featured in two century partnerships. He added 174 for the second wicket with Chris Reynolds (61) and an unbroken 156 with Mounam Ejaz (82no) for the fourth wicket.
Wrenthorpe made 165 in reply with Daud Waheed (59) and Usman Shakir (32) top scoring as Umar Zahoor (5-48) and Kevin McDermott (3-32) bowled Baildon to victory.
Scorecard
Birstall v East Bierley
Openers Eric Austin (61) and Andrew Robertson (48) put on 119 to provide the platform for their side's 74-run win over East Bierley. Dominic Cleghorn (44), and Matthew Dyson (31) built on their good work as, Nisar Ahmad (3-37) and Adam Brown (3-44) proved to be the best of the bowlers.
Skipper Brown followed up with 51 while Danny Cross scored 34 as East Bierley were dismissed for 175 with Ryan Gray (4-42) and Dave McCallum (3-41) posing the main threat.
Scorecard
Division One Stats of the day
Top team total: 333-3 Baildon v Wrenthorpe
Top individual score: 162no James Ford (Baildon v Wrenthorpe)
Best Bowling figures: 6-31 Joel Murnan (Morley v East Ardsley)
Division One Stats of the season
Top team total: 398-7 Gomersal v Wrenthorpe
Top individual score: 162no James Ford (Baildon v Wrenthorpe)
Best Bowling figures: 7-39 Nisar Ahmad (East Bierley v Gomersal)
Division Two
Buttershaw St Paul's v Yeadon
Yeadon maintained their position at the top of the table as their batsmen chased down a Buttershaw St Paul's total of 272-9 to secure a three-wicket win. Muhammad Khan (84no), Gulsheraz Ahmed (59), Pasindu Thirimadura (4) and Andrew Robinson (44no) all played their part in securing their side's 11th win despite the efforts of Zafar Jadoon (4-80).
Amer Ayoub (79) and Jonathan Burston (53) shared a third-wicket stand of 150 for St Paul's against a Yeadon attack in which Adeel Ashraf (4-41) and Robinson (4-84) were prominent.
Scorecard
Bowling Old Lane v Sandal
Ashley Mackereth (4-26) and Zaeem Zulfqar (3-25) helped second place Sandal bowl out Bowling Old Lane for 151 to secure a 21-run win at Birch Lane. Khurram Maqsood (35) top scored for the home side who must have been disappointed to lose after Ahsan Alishan had helped them bowl out the visitors for 172, Leighton Shuttleworth making 36.
Scorecard
Northowram Fields v Hopton Mills
Sohail Hussain produced an outstanding individual performance as he helped Hopton Mills to a 132-run win. Hussain made an unbeaten 111 and followed up with 6-51. His century contained four sixes plus 15 fours and helped his side to 283-6. Todd Reeday (3-63) was he best of the home side's bowlers but his figures were put in the shade by Hussain as Northowram Fields were all out for 151.
Scorecard
Lightcliffe v Wakefield St Michael's
Lightcliffe's South African opener Isaac Dikgale is proving quite a capture. He made
151 as he helped his side to the day's highest score of 375-8 in the194-run win over rock-bottom Wakefield St Michael's.
This was his second score of over 150 and contained five sixes and 16 fours. Joining him in a second wicket stand of 238 was Ron Edmond, whose 116 was laces with three sixes and 15 fours. Ashley Hale toiled hard and took 6-58 for St Michael's.
Peter Dobson (3-35 and Jonathan Whiteoak (3-56) helped Lightcliffe dismiss their visitors for 181. Lalit Mangalarapu (39) and Joe Finnigan (34) were the top scorers,
Scorecard
Hartshead Moor v Crossflatts
Hartshead Moor lifted themselves out of the bottom two where they have been replaced by Crossflatts who they defeated by 18 runs. A second wicket partnership of 116 between skipper Chris Wynd (64) and veteran Iqbal Khan (86) was built on by Joe Bowman (40no) as the Highmoor Lane side made 241-5.
Crossflatts knew the importance of the game and made a spirited reply which saw them fall short on 223-9 despite the work of Dominic Bennett (42), Joe Hicks (40) and Tinashe Gomwe (33) as spinner Lewis Lomax picked up 4-50.
Scorecard
Hunslet Nelson v Great Preston
Great Preston are only 11 points above the relegation positions after their four-wicket defeat at Hunslet Nelson. Alastair Finn (5-19) impressed as the visitors were bowled out for just 111. Oliver Scott (5-53) tried his hardest to turn things around for Great Preston but Nelson skipper Jack Scanlon (33no) ensured his side got over the winning line.
Scorecard
Division Two Stats of the day
Top team total: 375-8 Lightcliffe v Wakefield St Michael's
Top individual score: 151 Isaac Dikgale (Lightcliffe v Wakefield St Michael's)
Best Bowling figures: 6-51 Sohail Hussain (Hopton Mills v Northowram Fields)
Division Two Stats of the season
Top team total: 375-8 Lightcliffe v Wakefield St Michael's
Top individual score: 152 Isaac Dikgala (Lightcliffe v Hopton Mills)
Best Bowling figures: 8-24 Hazrat Abbas (Bowling Old Lane v Hartshead Moor)
Division Three
Adwalton v Scholes
Scholes leapfrogged over Adwalton into second place after skipper Josh Fell (7-39) inspired them to a five-wicket win.
Anas Imtiaz made 77 and Will Cutt (47) helped Adwalton to 192, but it was insufficient to trouble Scholes. Christian Jackson (60), Joe Duffy (38) and Hamza Khan (36no) saw them to their victory target.
Scorecard
Rodley v East Leeds
Rodley recorded only their third win of the season thanks to Jacques Moss (4-44) and Daniel Hill (4-28) helping them bowl out East Leeds for 144. Bailey Wilson (41) and Robert Young (35) helped Rodley to their five-wicket success. Kirti Tandel (3-45) was the pick of the bowlers.
Scorecard
Crossbank Methodists v Heckmondwike & Carlinghow
Crossbank Methodists are still searching for their first win after being bowled out for 108 in their seven-wicket defeat by Heckmondwike & Carlinghow. Wasim Khaliq (4-48) and Wajid Hussain (4-1) posed problems for the home side before Chris Allen (30no) steered the visitors to their modest target.
Scorecard
Spen Victoria v Brighouse
Rahat Shah proved to be the key to Spen Victoria's latest success. He took 6-38 as Brighouse were dismissed for 111, Adana Aamir making 32. Spen slipped to 22-3 before Paolo Girardi (31no) steered them to victory.
Scorecard
Liversedge v Altofts
Leaders Liversedge proved too good for improving Altofts as they raced to an 86-run win. Wasim Nazir (95) and Matthew Gibson (46) led the way with a fifth wicket stand of 119 which helped their side post 261. Altofts faded against the bowling of Parvaise Khan (4-46) and were all out for 175.
Scorecard
Gildersome & Farnley Hill v Windhill & Daisy Hill
The Gildersome & Farnley Hill batsmen had fun in the sun as they compiled a score of 382-7 which helped their side to a 214-run win. Mick O'Halloran (67), Gethin Clarke (62), Liam Pearson (38) and Chris Harris (36) put the heat on the Windhill & Daisy Hill bowlers.
The visitors replied with 168, Matthew Marshall and Shoaib Iqbal both making 34 as O'Halloran picked up 3-28.
Scorecard
Division Three Stats of the day
Top team total: 382-7 Gildersome & Farnley Hill v Windhill & Daisy Hill
Top individual score: 85 Wasim Nazir (Liversedge v Altofts)
Best Bowling figures: 7-39 Josh Fell (Scholes v Liversedge)
Division Three Stats of the season
Top team total: 431-9 Spen Victoria v Adwalton
Top individual score: 195 Matthew Donohoe (Adwalton v Spen Victoria)
Best Bowling figures: 8-30 Greg Keywood (Scholes v Gildersome & Farnley Hill)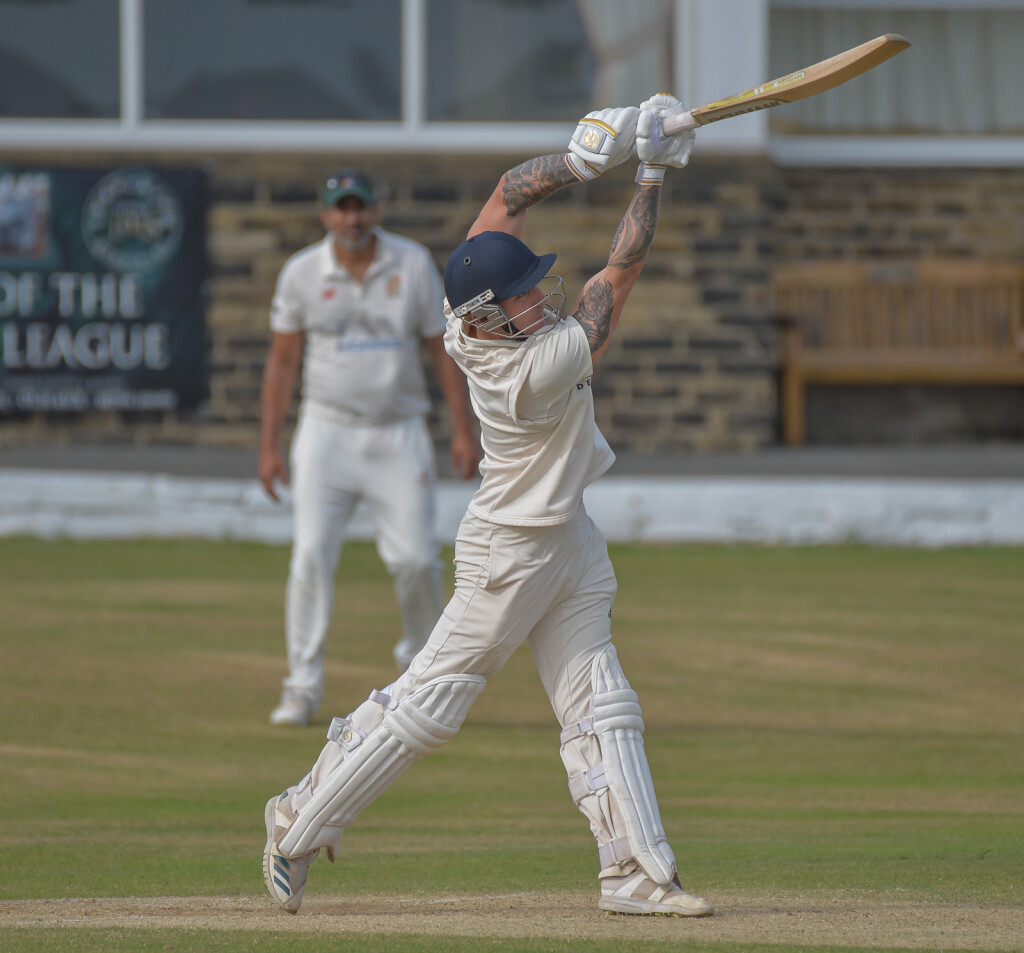 Oliver Hardaker hits out for Undercliffe against Carlton. Picture: Ray Spencer