It is semi-final day this Sunday in the Gordon Rigg Jack Hampshire Trophy, and there are two intriguing ties with a 1pm start- Heckmondwike & Carlinghow v Northowram Fields and Buttershaw St Paul's v Hartshead Moor.
Heckmondwike & Carlinghow v Northowram Fields
Third Division Heckmondwike & Carlinghow will probably start as underdogs to their higher division opponents, but after their sensational fight back in the last round against Sandal, anything can happen.
However, Northowram Fields have a multi-talented batting side and will take some stopping if they are in the groove,
How They Got There
Heckmondwike & Carlinghow
Heckmondwike began the cup trail in real form scoring 326-6 against Scholes. Usman Qureshi (95), Owais Hussain (57) and Fahad Imam (52no) effectively took the game away from the opposition.
Scholes scored a credible 254 with the tail wagging, but they were never really in the hunt.
If this was a bit of a breeze, the next round was truly attritional with a stunning ending in favour of Heckmondwike.
Batting first against much fancied Sandal, they could only score a below par 169. However, they did well reaching that total after being deep in trouble at 36-4. The score was given a semblance of respectability by a gutsy innings by Qamar Shahzad who scored a crucial 56.
Sandal would have been confident on reaching this despite being 25-3 at one point. They recovered nicely and at 103-4 they were odds on to win.
Heckmondwike's Paul Cooper had other ideas as he took a remarkable 5-3 as Sandal lost their last seven wickets for just four runs.
Heckmondwike are currently going for promotion, but this will be a nice distraction as they aim for their first final.
Northowram Fields
If Heckmondwike & Carlinghow started their cup campaign with a big score, Northowram Fields could beat that as they made history with a record score of 445-5 against Rodley,
South African Harry Hauenstein led the way with a cracking 182 which contained 10 sixes and 18 fours and he was joined in a second wicket partnership of 257 by opener Ben Grech who made a fine 121.
Grech struck two sixes and 17 fours and when he departed the Rodley bowlers found Northowram Fields skipper John Lister (77) keen to get in on the action.
Rodley were dismissed for just 89 to lose by 356 run s- the biggest in the competition since the Central Yorkshire League teams joined the Bradford League in 2016.
Northowram Fields reached the semi-finals with a six-wicket win at Great Preston. Half centuries by Australian Harry Hauenstein (61no) and Colin Phillipson (52) enabled them to chase down a Great Preston score of 158. Max Gardner (3-40) was the pick of the Northowram Fields bowlers.
Buttershaw St Paul's v Hartshead Moor
Buttershaw St Paul's will start as favourites because of their vastly superior league record this time. However, the cup can be a very different ball game, and Hartshead's destruction of Lightcliffe in the quarter-finals shows vividly what they are capable of doing.
Hartshead won this competition in 2017 when they defeated Wakefield St Michael's in the final, whereas St Paul's reached the Jack Hampshire Final the year before where they lost to Ossett.
How They Got There
Buttershaw St Paul's
Buttershaw started their cup run with a Duckworth Lewis Stern win after rain disrupted the game with Crossflatts.
They made 219-7 in a 31 over match with Gary Wainwright top scoring with 102. His pugnacious innings consisted of six sixes and ten fours.
Crossflatts made a fair stab at it and when the rain came again, their innings was curtailed at 103-3 after 16.2 overs. This fell just two short of the DLS par score, and St Paul's had won by the skin of their teeth.
In the next round Buttershaw St Paul's had little trouble cruising to a nine-wicket win over the eight men of Wakefield St Michael's. After bowling out their opponents for 85 with Atta Ur Rehman taking 3-17, St Paul's cruised home for the loss of one wicket with Jack Wakeling unbeaten on 42.
Hartshead Moor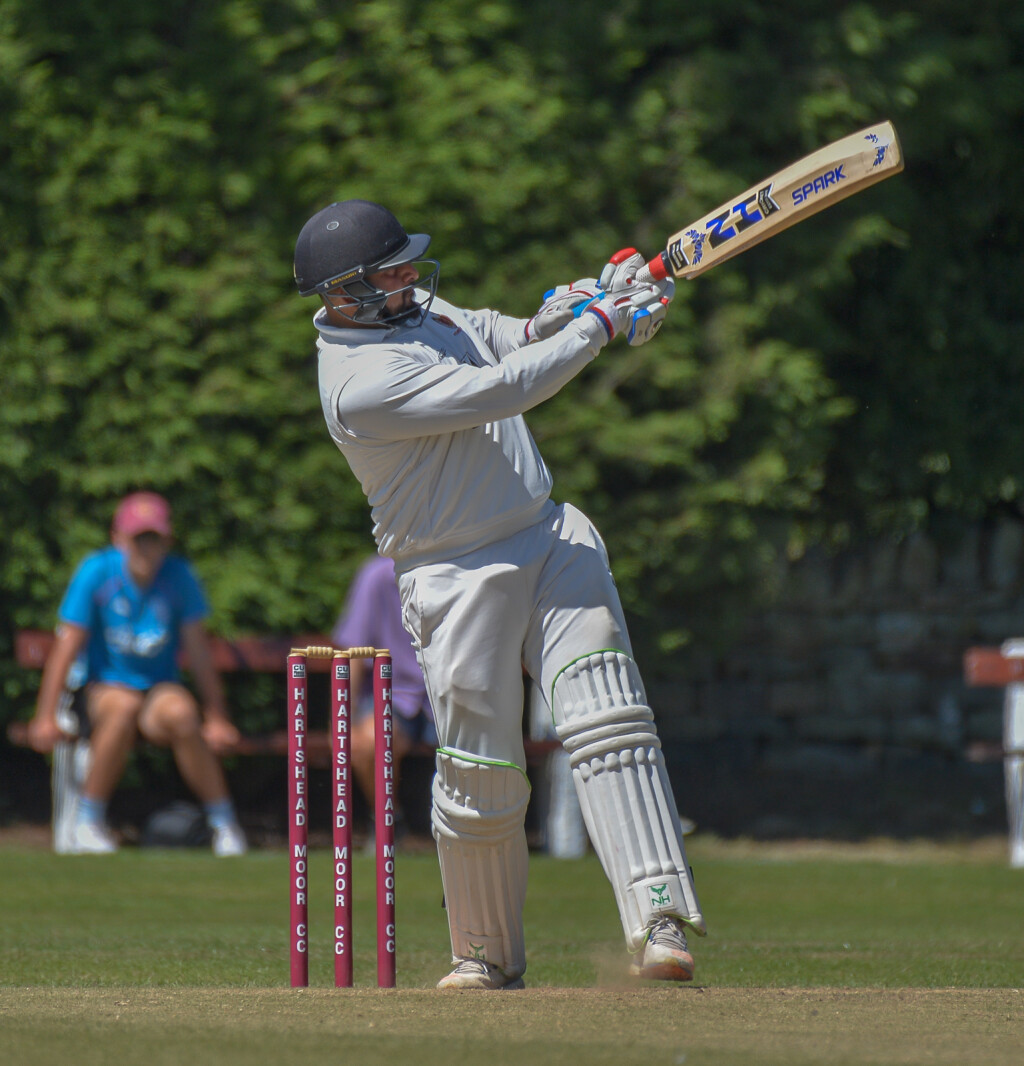 Hartshead started with a bye in this competition, before beating East Leeds by nine-wickets in a 20 over contest. Hasnat Yousaf, above, hit an unbeaten 105 in a 64-ball knock which contained three sixes and 16 fours.
In the quarter-finals, Hartshead were underdogs against promotion chasing Lightcliffe, but it turned out to be a real turn-up.
On a scorching day in front of a very decent crowd, the Moor batted first and never looked back. They scored freely from the start, but at 36-3 were in need of some consolidation.
Hasnat Yousaf chose to go on the offensive and with Josh Marsden put on 225 runs for the fourth wicket. Yousaf scored 81, but Marsden was utterly destructive and effectively batted Lightcliffe out of the match.
He smashed 14 sixes and seven fours during a destructive innings of 136 with his runs coming off 80 balls, as he peppered Highmoor Lane with monotonous regularity.
Hartshead Moor made 304-6 in their 40 overs before dismissing Lightcliffe for 130 to complete a 174-run win. The Moor knew they had to dismiss the dangerous Dominican batsman Isaac Dikgale as soon as possible, and they duly did first ball.
It was a clever ploy to start with young spinner Lewis Lomax who trapped Dikgale LBW, and went on to take 3-23. Yousaf also did well with his spin bowling taking 3-16.
It was a good day for Hartshead Moor Cricket Club with its handsome ground well populated, and buffet tea fit for a king.
Jack Hampshire Winners since 2016
2016 Ossett 230-7 Buttershaw St Paul's 93
2017 Hartshead Moor 227-2 Wakefield St Michael's 206-7
2018 Keighley 202-8 Bowling Old Lane 203-4
2019 Birstall 132 Yeadon 136-8
2020 No competition
2021 Jer Lane 306-5 East Ardsley 254-9