There are certainly big hitters capable of making Sunday's Gordon Rigg T20 Group A Cup final at Bradford & Bingley's Wagon Lane ground another thriller.
Hanging Heaton and Woodlands served up an absolute cracker at New Farnley last year with Ben Kohler-Cadmore's side snatching a one wicket win with a four off the final ball.
It was the fourth time in five years that Hanging Heaton had won the cup and chasing down the Woodlands score of 204-3 was a big challenge.
Leading the run chase was Callum Geldart with a dazzling 92 and it was the second time he has broken Woodlands' hearts in T20 Cup finals.
Back in 2014 the left hander became the first player to score a century in a final when he hit 114 from 54 balls for Pudsey Congs as they defeated Woodlands by 65 runs.
It proved to be a night of records under the Wagon Lane floodlights with Congs making the highest score in a final of 252-4 with Geldart and Adam Patel (77) – who is now a team-mate of his for Hanging Heaton – sharing a record opening stand of 198.
Woodlands will be hoping that Geldart doesn't repeat his final heroics on Sunday at the ground where he blitzed their bowlers eight years ago.
But Geldart isn't the only master-blaster in Hanging Heaton's line-up. Those who were at Tofts Road for the 2020 final still speak in awe of David Stiff's 68 from just 19 balls as he helped his side to a 60-run win over Bradford & Bingley.
Despite having won eight league titles and four Priestley Cups, a T20 Cup win is the only league honour Woodlands have not won. Now they will be hoping it is third time lucky.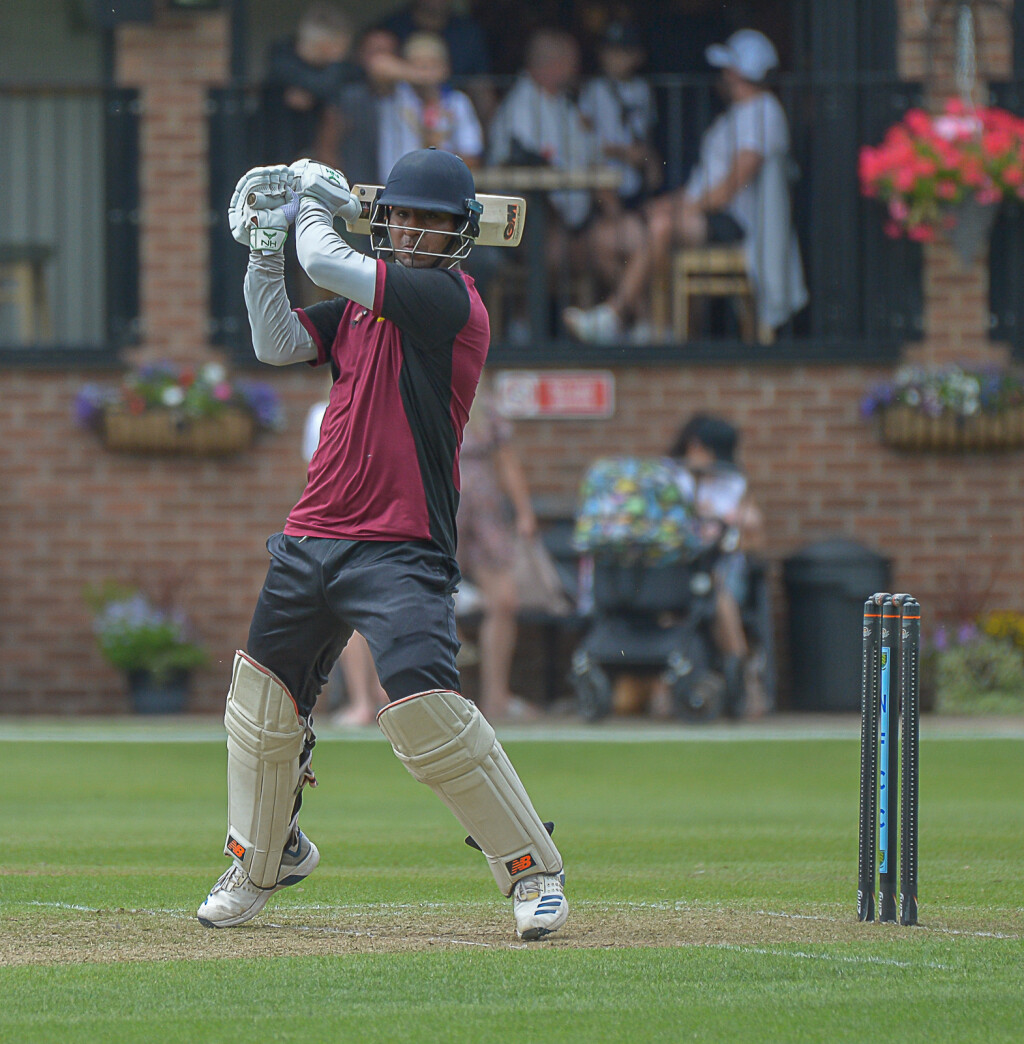 Woodlands certainly have heavy batting artillery of their own. Muhammad Bilal above, is one of the most powerful striker of a ball and smashed a century off just 37 balls against Morley in the Premier Division last year.
They also have the considerable all-round talents of skipper Brad Schmulian who can take any bowling attack apart as well as taking vital wickets with his leg spin, while Liam Collins and Tom Clee have produced quick runs
Perhaps the key to the contest will be the performance of the respective bowling attacks and it is likely both sides will put a great emphasis on slow bowling.
Woodlands have Schmulian, Kez Ahmed and Liam Collins while Hanging Heaton will turn to Callum Bethel, Callum Geldart and Sasith Manuranga.
The ingredients are there for a tasty treat. Another game like last year's final would be perfect.
Hanging Heaton (From): Ben Kohler-Cadmore (Capt), Nick Lindley, Callum Geldart, Adam Patel, Josh Wheatley, Sasith Manuranga, Tom Lindsay, David Stiff, Mustafa Rafiq, Callum Bethel, Shahban Raheem (wkt), Ghulam Hussain, Jack Rich, James Byrne, Fin Morgan.
Woodlands (from): Brad Schmulian (Capt), Tim Jackson, Liam Collins, Kieran Collins, Tom Clee, Scott Richardson, Muhammad Bilal, Elliot Richardson, Greg Finn (wkt), Kez Ahmed, Jack Bleazard, Nicky Rushworth, Jak Murphy.
Umpires: Steve Malone & Martin Kelleway
View our digital T20 Finals Day programme