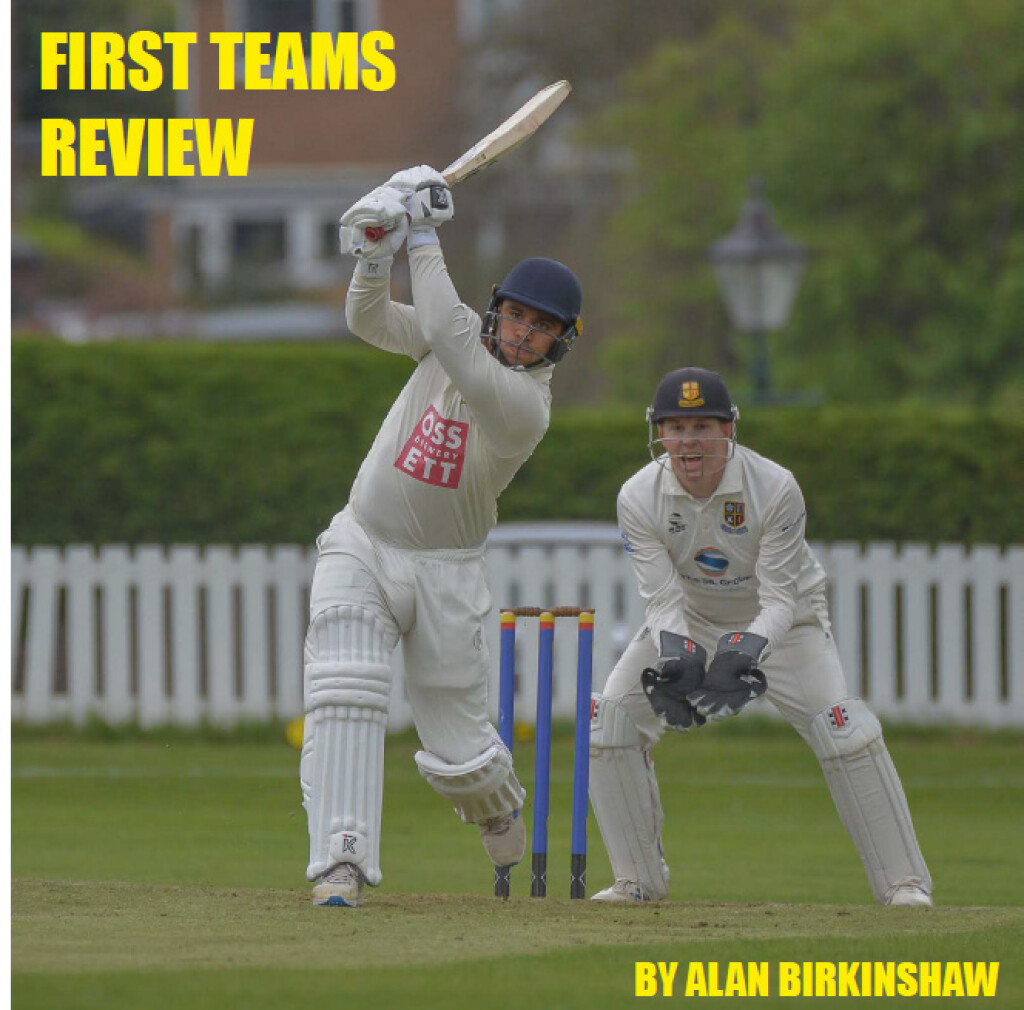 It has been a dramatic day in the Premier Division with Woodlands taking over at the top after they defeated Bankfoot by 94 runs to capitalise on New Farnley suffering their second successive defeat by nine runs at Pudsey St Lawrence.
Woodlands lead the way by seven points ahead on next Saturday's huge match at New Farnley.
Cleckheaton kept alive their hopes of avoiding relegation with Yousaf Baber, pictured above, making 190 not out as they defeated Hanging Heaton by seven wickets.
Baber was one of five century makers, Liam Collins (Woodlands), Jason Marshall (Methley), Harry Warwick (Townville) and Corey Miller (Bradford & Bingley) were the other.
Pudsey St Lawrence v New Farnley
Patient batting from Mark Robertshaw (65) and fine work by spinners Chris Marsden (4-56), and Archie Scott (3-36) enabled St Lawrence to put a huge dent in New Farnley's title ambitions.
Once again New Farnley faltered when batting second. Opener Aidan Langley (37) was their top scorer, but nobody was able to dominate the Pudsey St Lawrence spinners and wickets fell at regular intervals.
The value of Robertshaw's runs plus 31 from Harry Cullingford in a total of 184-8 became clear when New Farnley began to struggle. Paceman Dan Houghton (3-37) was the best of the bowlers, but this was another afternoon when the title hopefuls faltered when they came under pressure.
Scorecard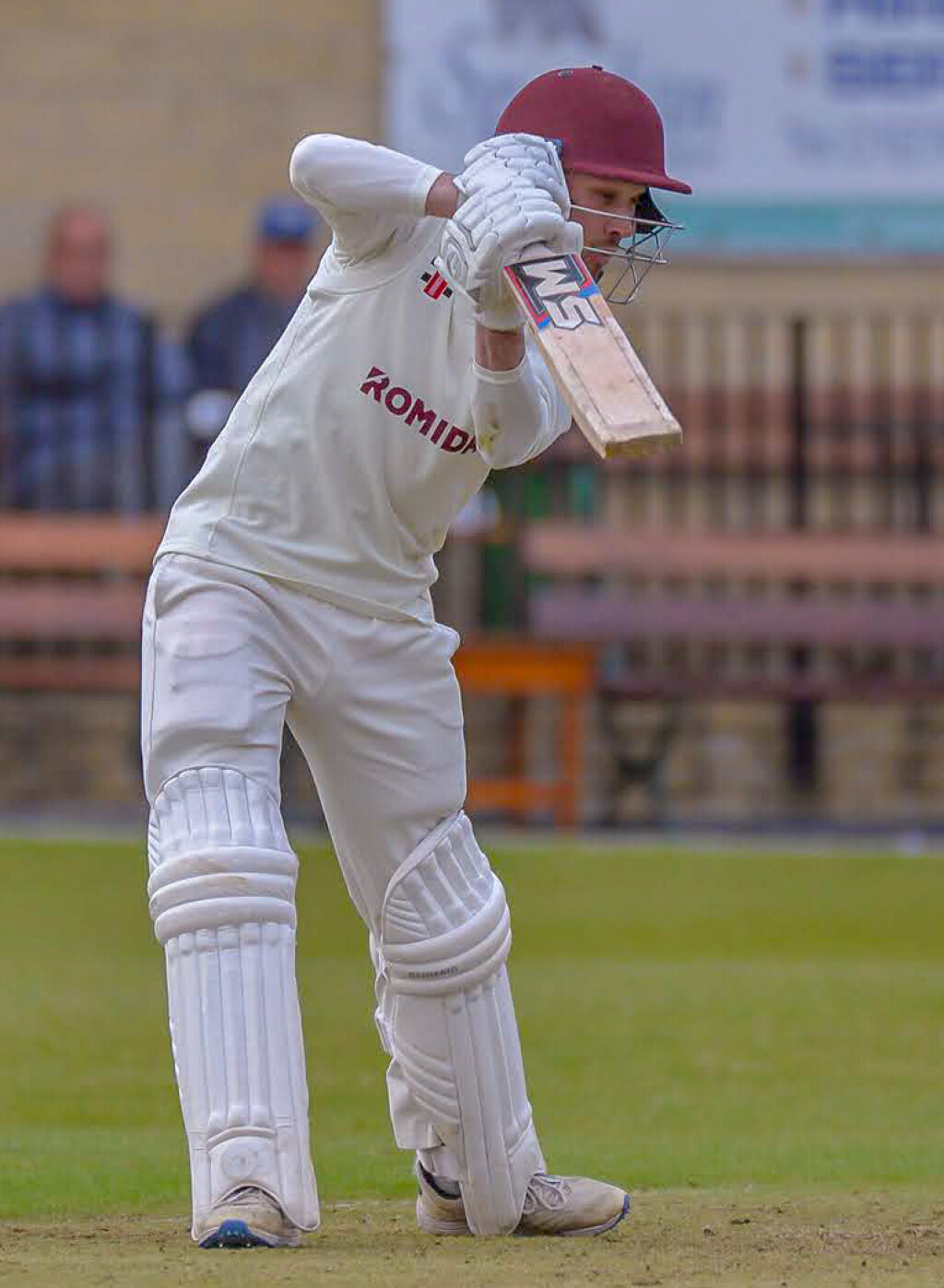 Woodlands v Bankfoot
Liam Collins, above, hit a century and skipper Brad Schmulian picked up 5-28 as champions Woodlands recovered from a shaky start to defeat Bankfoot by 94 runs.
Collins arrived at the wicket. With his team struggling at 16-3 but he soon changed the course of the game in a stand of 107 with Tim Jackson (49).
Collins hit three sixes and 12 fours in his 103 as Woodlands made 269-7. It was a total that was beyond the reach of Bankfoot as they were dismissed for 175. Overseas player Zia Ul-Haq Parwani top scored with 68 but lacked support as Schmulian and Elliot Richardson (3-35) helped bowl them out for 175 to take Woodlands to the top of the table.
Scorecard
Hanging Heaton v Cleckheaton
Yousaf Baber hot the highest Premier Division individual score of the season as he powered Cleckheaton to a seven-wicket win which keeps alive their hopes of avoiding relegation.
The talented Pakistani batsman struck nine sixes and 21 fours while making an unbeaten 190 which enabled his side to chase down Hanging Heaton's score of 296. He was joined in an unbeaten fourth wicket stand of 209 by skipper Mally Nicholson (64)
Ben Kohler-Cadmore (59), Callum Geldart (58) and Sasith Manuranga (50) all hit half centuries for Hanging Heaton, but their efforts were put in the shade by that man Baber.
Cleckheaton are 29 points adrift of Bankfoot with three games to play, but this result could be the springboard for a great escape.
Scorecard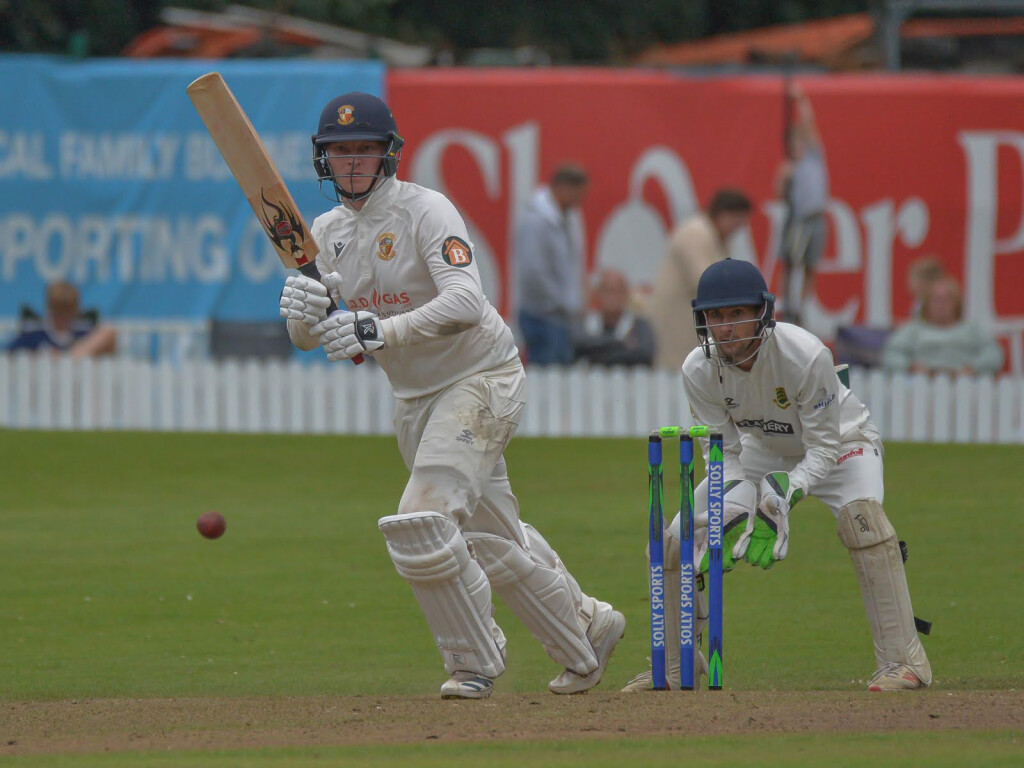 Townville v Methley
Harry Warwick (pictured above, 116no) and Jack Hughes (67no) shared an unbroken fourth wicket stand of 199 as Townville cruised to a seven-wicket win over Priestley Cup finalists Methley.
Warwick's fine innings contained a six and 16 fours and demonstrated once again his ability to make big scores as Methley's total of 257-5 was overhauled.
Methley opener Jason Marshall took his tally of league runs to 884 with his fifth century. His latest three-figure score included two sixes and 13 fours. His opening partner Alex Cree made 55.
Scorecard
Farsley v Ossett
Farsley virtually banished lingering fears of being dragged into the relegation battle with a comprehensive nine-wicket win over enigmatic Ossett.
Paul Malone (51) was the only Ossett batsman to get going as they were dismissed for just 136. Dan Revis (3-32) and James Rogers (3-38) did much of the damage.
Farley took just 17.4 overs to knock off the runs with stand-in captain Ryan Cooper racing to 79 not out and Revis (34no).
Scorecard
Bradford & Bingley v Batley
Australian batsman Corey Miller and seamer Jack Luxton were the outstanding performers as Bradford & Bingley cruised to a 252-run win over Batley.
Miller's 144 was the key ingredient in his side's total of 328-6. He struck a six and 20 fours as he showed again what a good acquisition he has been.
Yorkshire's Will Luxton (74) joined him in a second wicket partnership worth 112 while skipper Ed Brown (42no) and Charlie Davy (31) helped swell the total. Umar Farooq (3-55) was the best of the visiting bowlers.
Batley struggled against the bowling of Luxton (7-42).Kasir Maroof's 49 saved Batley from an even lower score than the 76 they were dismissed for.
Scorecard
Premier Division Stats of the day
Top team total: 328-6 Bradford & Bingley v Batley
Top individual score: 190no Yusuf Baber (Cleckheaton v Hanging Heaton)
Best Bowling figures: 7-42 Jack Luxton (Bradford & Bingley v Batley)
Premier Division Stats of the season
Top team total: 343-6 Woodlands v Hanging Heaton
Top individual score: 190no Yousaf Baber (Cleckheaton v Hanging Heaton)
Best Bowling figures: 9-54 Zia Ul Haq Parwani (Bankfoot v Townville)
Division One
Pudsey Congs v Wrenthorpe
Pudsey Congs showed no mercy for already relegated Wrenthorpe as they romped to a 213-run win which enabled them to climb above Carlton into second place in the table.
The tone for the afternoon was set by an opening stand of 177 between Callum Oliver (103) and Sabir Mahmood (79). Oliver struck two sixes and 15 fours in his sparkling knock and his good work was backed up by Yohan Mendis (65no) and Richard Jubb (63) as they added 117 for the third wicket.
Congs' total of 341-3 was way out of Wrenthorpe's reach as they crumbled to 128 all out. Spinner Sam Wisniewski (5-40) and Adam Pearson (3-20) were the best of the bowlers while Amir Afzar (39) was the top scorer.
Scorecard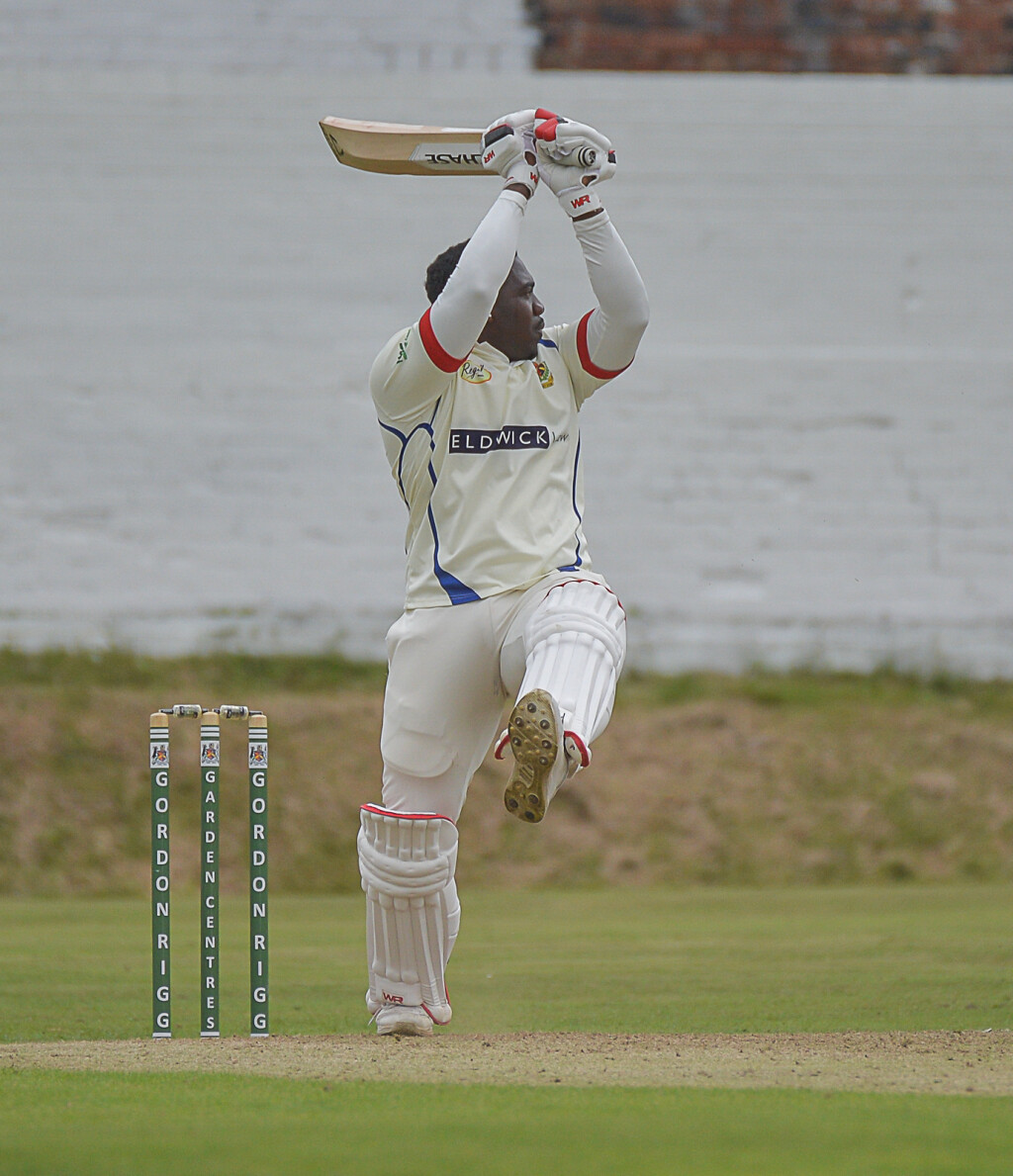 Carlton v Jer Lane
Leaders Jer Lane returned to winning ways after two defeats with an 88-run win over a Carlton side who started the day in second place.
All-rounder Cosmond Walters, above, was the star of the show with 115 and 5-46. Walters, who hit three sixes and 16 fours, shared a fourth wicket stand of 162 with opener Mehrban Khan (96) as Jer Lane posted a score of 318-6.
Big-hitting Farrouk Alam responded with 108 for Carlton, peppering the boundaries to record eight sixes and 10 fours, but Nick Busby (39) was the only batsman able to provide support as Carlton were bowled out for 230.
Scorecard
Undercliffe v East Bierley
Nisar Ahmad (5-56) and Daniel Cross (4-40) bowled East Bierley to a 90-run win over inconsistent Undercliffe.
The home side were dismissed for 132 as they replied to East Bierley's 222 which featured 70 from opener Sam Gatenby. Danish Hussain (4-67) and Sunny Matharu (4-50) posed the main threat.
Scorecard
East Ardsley v Birstall
East Ardsley kept alive their hopes of avoiding relegation with an eight-wicket win over Birstall. The result closes the gap between themselves and tenth placed Morley to 33 points.
Muhammad Tariq (3-28) and Ashley Pearson (3-29) helped their side bowl out Birstall for just 123 before Tariq (54no) and James Van Der Merwe (37) enabled them to knock off the runs in just 19 overs.
Scorecard
Morley v Gomersal
Gomersal skipper Richard Wear made 102 as his side defeated Morley by 99-runs at Scatcherd Lane.
Wear's inning contained 15 fours and he shared in a second wicket alliance of 109 with Connor Read (54). Andy Gorrod (55) and Jonathan Boynton (38no) swelled the score to 323-7 despite Tinaye Mazonde taking 5-75.
James McNichol (66), Kavindu Kulasekara (43) and jack Rowett (42) were the main contributors to Morley's 224. Spinner Daniel Syme returned figures of 4-70.
Scorecard
Keighley v Baildon
Opener James Ford hit an unbeaten 114 as Baildon chased down a Keighley score of 230-6 to record a seven-wicket win. Ford struck 15 fours and was joined in an opening stand of 100 by Kevin McDermott (51). Skipper Dwayne Heke (36) helped complete the successful run chase.
Skipper Scott Etherington (72), Ben Hemsley (51) and Nathan Storton (56no) were the main contributors in the Morley innings as Abdullah Khan (3-81) proved to be the most successful bowler.
Scorecard
Division One Stats of the day
Top team total: 341-3 Pudsey Congs v Wrenthorpe
Top individual score: 116 Cosmond Walters (Jer Lane v Carlton)(Keighley v Birstall)
Best Bowling figures: 5-56 Nisar Ahmad (East Bierley v Undercliffe)
Division One Stats of the season
Top team total: 398-7 Gomersal v Wrenthorpe
Top individual score: 162no James Ford (Baildon v Wrenthorpe)
Best Bowling figures: 7-39 Nisar Ahmad (East Bierley v Gomersal)
Division Two
Sandal v Crossflatts
Sandal retained their position at the top of the table with a 155-run win over a Crossflatts side still flirting with relegation.
Karl Hewitt (75), Brandon Hewlett (59) and Sam Noden (42no) helped Sandal make 266-9 despite the efforts of ), Wasim Hussain (4-77) and Ruan Van Rooyen (3-79).
Crossflatts were dismissed for 11 with Michael Carroll (4-51), Noden (3-55) and Ashley Mackereth (3-5) sharing the wickets.
Scorecard
Hopton Mills v Yeadon
Adeel Ashraf impressed with bat and ball as second-place Yeadon overcame Hopton Mills by 29 runs.
Ashraf first took centre stage when hitting seven sixes and nine fours while making exactly 100 in a Yeadon total of 314. Muhammad Khan (47) and Gulsheraz Ahmed (45) gave good support as Sohail Hussain (7-59) impressed for Hopton Mills.
Imran Patel hit two sixes and 15 fours in an unbeaten 103 for Hopton Mills. Kashif Talib (63no) joined him in an unbroken eighth wicket alliance of 111 as Mills finished on 285-7. Ashraf was Yeadon's most successful bowler with 4-75.
Scorecard
Buttershaw St Paul's v Great Preston
Great Preston closed to within seven points of tenth place Crossflatts as they raised their hopes of avoiding relegation with a 68-run win.
Oli Baron (64), Jamie Willis (46), Danny Harwood (41) and Ben Wilkinson (35no) steered them toa total of 287 as Zafar Jadoon (3-92) and, Amer Ayoub (3-46) proved to be the best of the St Paul's bowlers. Ayoub struck 16 fours while making 100 for St Paul's and shared a stand of 136 for the third wicket with Jonathan Burston (55) before the innings petered out against Stuart Ruddick (4-66) and James Conlon (3-55).
Scorecard
Bowling Old Lane v Wakefield St Michael's
Bottom team Wakefield St Michael's showed that they have not given up the fight with a 16-run win over Bowling Old Lane. Chris McHale (46), Joe Finnigan (35), and Myles Wood (32) helped them make 200-9 as Abdulla Ijaz picked up 3-21.
Despite the contribution of Zahir Shah (45) and Shahzaib Khan (41), Old lane were dismissed for 184 with Joe Finnigan taking 3-54.
Scorecard
Buttershaw St Paul's v Bowling Old Lane
Old Lane bounced back from Saturday's defeat with a four-wicket win in their re-arranged game. Farhan Hussain (77) and Shahzaib Khan (46) helped them chase down a St Paul's score of 190. Jack Wakeling (57) and Zafar Jadoon (30) top scored for the home side as Hazrat Abbas (4-31) and Gurdev Singh (3-51) took the bowling honours.
Northowram Fields v Lightcliffe
Alex Stead fuelled Lightcliffe's late ush for promotion with a fine innings of 129 which enabled his side to overhaul a Northowram Fields score of 256-8 to win by five wickets.
Stead struck a six plus 21 fours and was backed up by Isaac Dikgale (32) as Northowram's score of 256-8 was chased down.
Richard Gould (86) and Australian Harry Hauenstein (54) top scored for Northowram while Jonathan Whiteoak (5-47) impressed for Lightcliffe.
Scorecard
Hartshead Moor v Hunslet Nelson
Half centuries from Asif Ayub (76), Andy McIntosh (58) and Jack Scanlon (50) enabled Hunslet Nelson to overhaul Hartshead Moor's score of 254-8 to record a two-wicket win at Highmoor Lane. Robert Swift (3-74) was the most successful bowler for the home side.
Veteran Iqbal Khan (85no), Jack Baldwin (66) and Hasnat Yousaf (35) were the main run scorers for Hartshead Moor.
Scorecard
Division Two Stats of the day
Top team total: 314 Yeadon v Hopton Mills
Top individual score: 129 Alex Stead (Lightcliffe v Northowram Fields)
Best Bowling figures: 7-59 Sohail Hussain (Hopton Mills v Yeadon)
Division Two Stats of the season
Top team total: 375-8 Lightcliffe v Wakefield St Michael's
Top individual score: 152 Isaac Dikgale (Lightcliffe v Hopton Mills)
Best Bowling figures: 8-24 Hazrat Abbas (Bowling Old Lane v Hartshead Moor)
Division Three
Heckmondwike & Carlinghow v Scholes
Heckmondwike & Carlinghow leap-frogged over Scholes into second place after defeating them by five wickets.
Nikhil Thakur hit an unbeaten 72 as the jack Hampshire Cup finalists eased past the Scholes score of 155. Owais Hussain (41) gave good support as Hamza Khan (3-40) tried to keep the visitors in the hunt.
David Young (45) was top scorer in a disappointing Scholes innings. Wajid Hussain (3-28) and Thakur (3-38) led the bowling effort.
Scorecard
Heckmondwike & Carlinghow v Spen Victoria
Heckmondwike & Carlinghow strengthened their hold on second place with a three-wicket win over Spen Victoria on Sunday.Wajid Hussain (38), Owais Hussain (34) and Qamar Shahzad (33no) enabled them to overhaul the Spen Victoria score of 206 despite the efforts of Junaid Jamshed (5-67). Ayaz Ali (60) and Paolo Girardi (46) were the top scorers for Spen as their former player Chris Allen (4-31) and Nikhil Thakur (3-62) posed the main threat.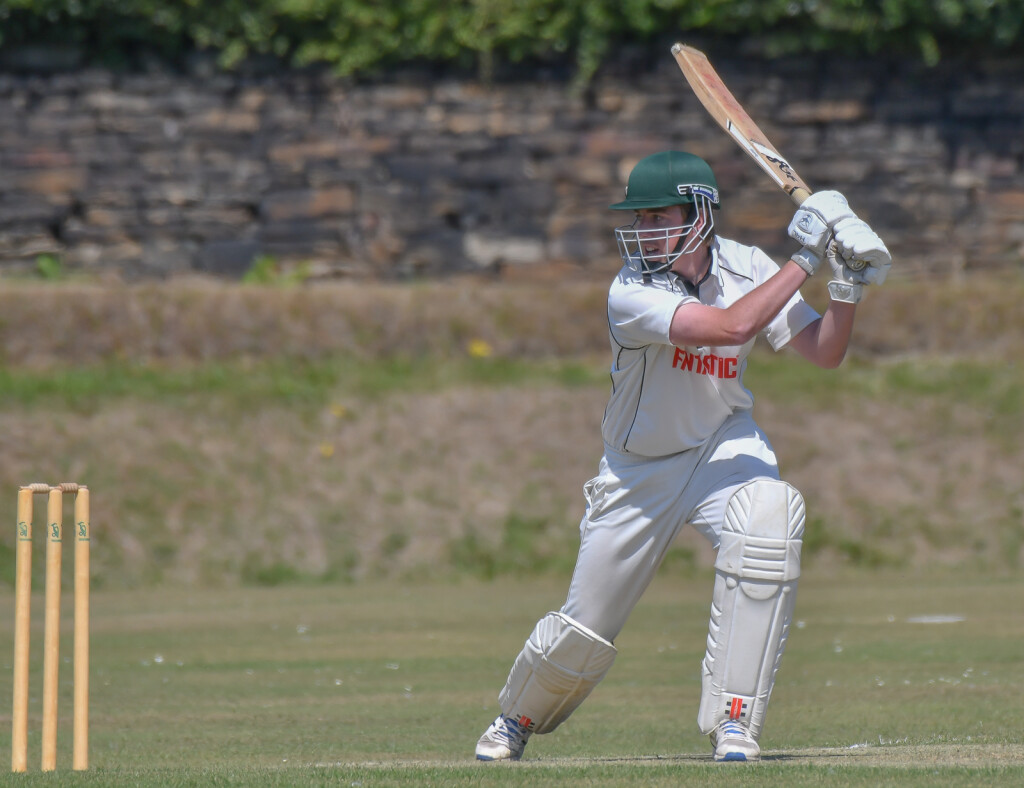 Spen Victoria v Liversedge
Bryson Nicholls, above, made 106, an innings laced with 10 fours, as leaders Liversedge closed in on promotion with a 112-run win at Spen Victoria. Nicholls added 140 for the third wicket with Shoaib Rehman (89) in a total of 277-6.
Despite the knocks of Rahat Shah (66) and Paolo Girardi (47no), Spen were dismissed for 165 with Parvaise Khan (pictured below, 5-65) and Mohammad Altaf (3-25) securing their side's 17th win in 18 games.
Scorecard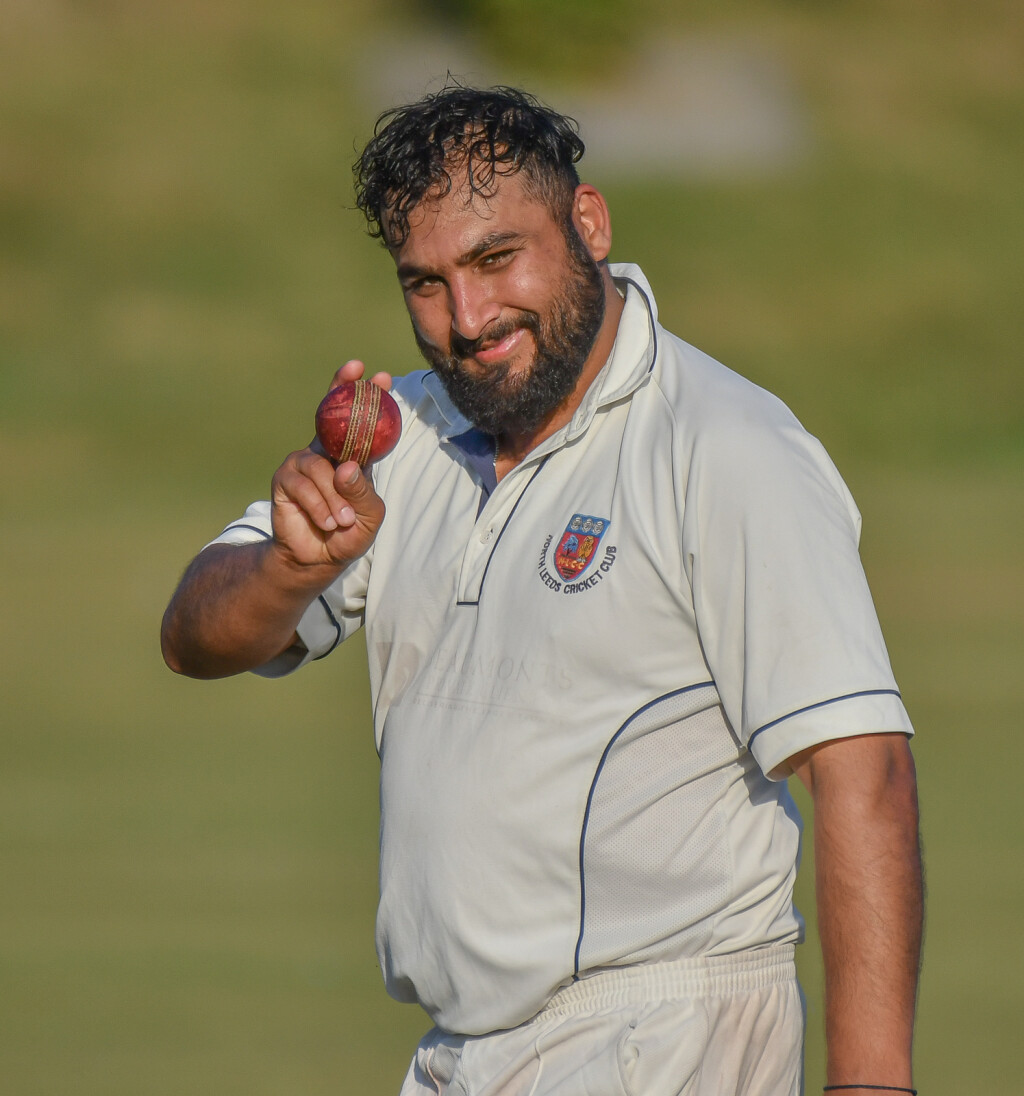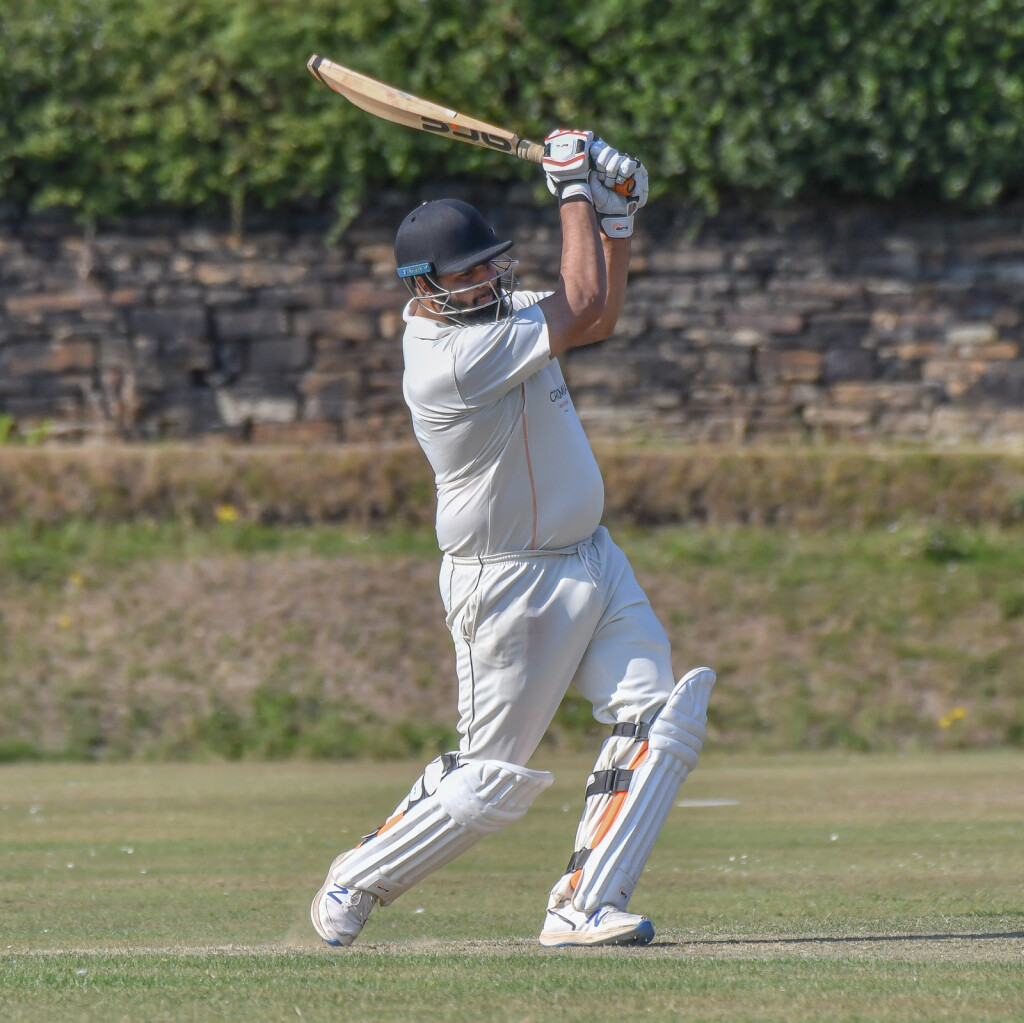 Rahat Shah hit out for Spen Victoria against Liversedge Pictures: Ray Spencer
East Leeds v Brighouse
Asif Amir (5-16) helped Brighouse bowl out East Leeds for 155 as they eased to a seven-wicket win. Sohail Akram (51no) and Gul Hussain (34) guided them to their modest target.
Scorecard
East Leeds v Crossbank Methodists
James Watling (66no) and Daniel Thewlis (31) helped East Leeds to make 251 in their 135-run win over Crossbank Methodists on Sunday. Lewis Lockwood took 3-49 before top scoring with 38 as Crossbank were bowled out for 116. Kirti Tandel was the pick of the bowlers with 5-35.
Adwalton v Altofts
Altofts stayed in the hunt for promotion with Andrew Wood (48), Chris Walker (31) and Ben Walsh (30) enabling them to chase down an Adwalton score of 213-7 to win by three wickets. Mark Palfreeman top scored with 57 for the home side while
James Colbourn (3-31) was the pick of their bowlers.
Scorecard
Rodley v Windhill & Daisy Hill
Skipper Bailey Wilson (91) led the way as Rodley recorded a 127-run win. Rob Young (65no), Gary Sagar (33) and Jacques Moss (30) gave him support as Shoaib Iqbal picked up 3-60.
Rodley's total of 281-5 proved too many for Windhill & Daisy Hill despite opener Khalid Mehmood (58no) carrying his bat as his side were bowled out for 154, James Bradbury taking 3-11.
Scorecard
Crossbank Methodists v Gildersome & Farnley Hill
Gildersome & Farnley Hill took just 10.2 overs to pass the Crossbank Methodists total of 145 and secure a nine-wicket win. Tanzeel Khan smashed 70 not out from 26 balls while skipper Liam Pearson finished 43 not out.
Modasar Liaqat (30) was top scorer for Crossbank Methodists as Muhammad Shah (3-49) and Martyn Morley (3-57) posed problems.
Scorecard
Division Three Stats of the day
Top team total: 277-6 Liversedge v Spen Victoria
Top individual score: 106 Bryson Nicholls (Liversedge v Spen Victoria)
Best Bowling figures: 5-16 Asif Amir (Brighouse v East Leeds)
Division Three Stats of the season
Top team total: 431-9 Spen Victoria v Adwalton
Top individual score: 195 Matthew Donohoe (Adwalton v Spen Victoria)
Best Bowling figures: 8-30 Greg Keywood (Scholes v Gildersome & Farnley Hill)