The early days
The historians reckon that cricket was first played in Batley in the 1840s, although the probability is that it started earlier in some form. One key date in the emergence of cricket in Batley was documented when an All England XI visited Batley in 1862 and beat the home side by 62 runs. This sporting spectacle would have increased interest in the embryonic game and it is no coincidence that a year later, Batley Cricket Club was founded as successor to Prince of Wales CC.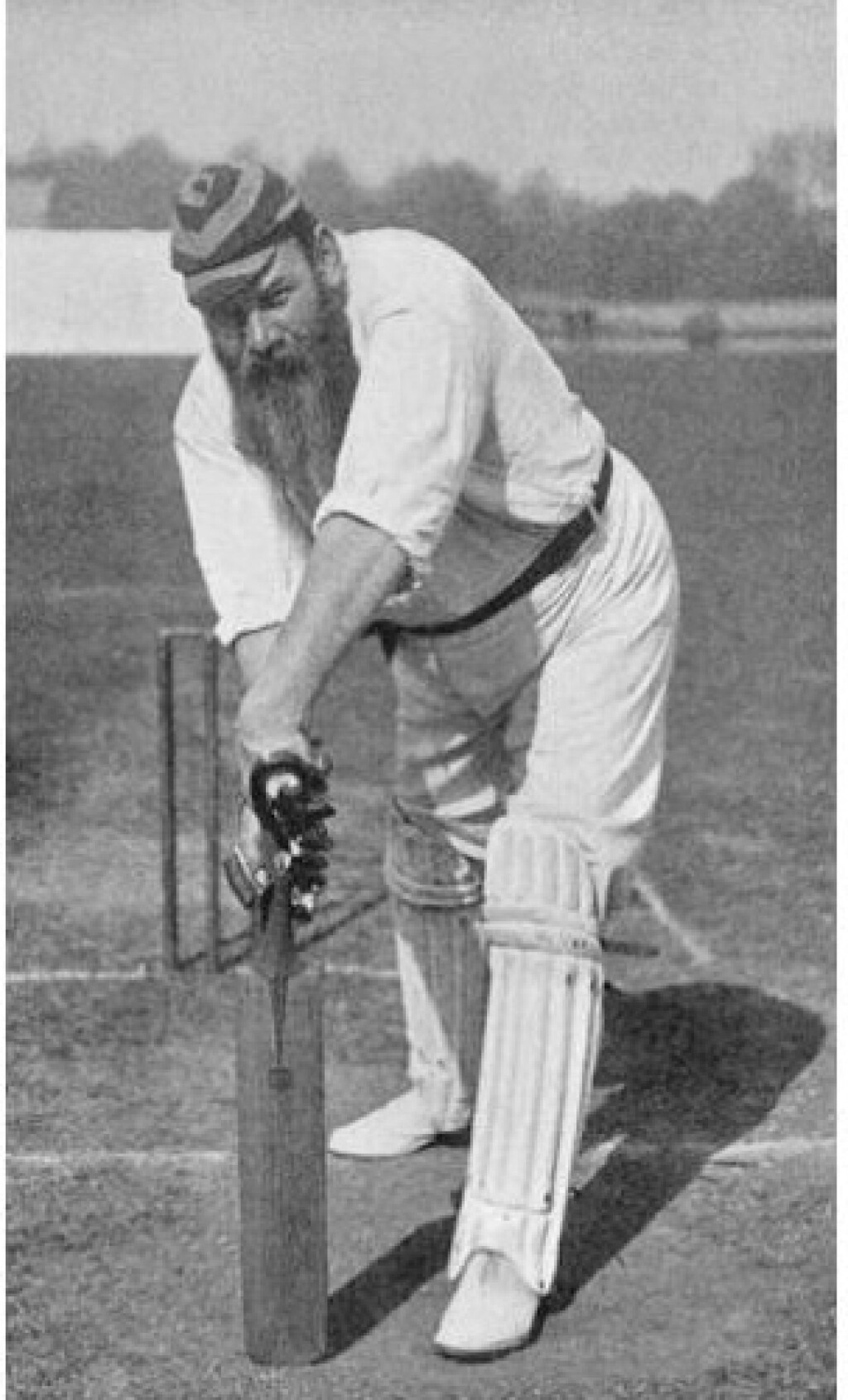 In May 1876 the United South of England XI played against '20 of Batley & District', the visitors included the great W.G.Grace, above. When the match commenced in front of an estimated 4,000 to 5,000 spectators, Grace scored 4 and 40 as the local 'Twenty' won by 11 wickets. Two years later, Batley took on the formidable Australian tourists who included the demon fast bowler, Fred Spofforth.
By 1880, the club had set up home at Mount Pleasant, and was joined by other local sportsmen, including rugby players who had set up Batley RFC – later to become known as 'The Gallant Youths'. On 17 September 1883 Mount Pleasant, Batley, hosted its first and last first-class fixture, between T. Emmett's XI v RG. Barlow's XI.
First hero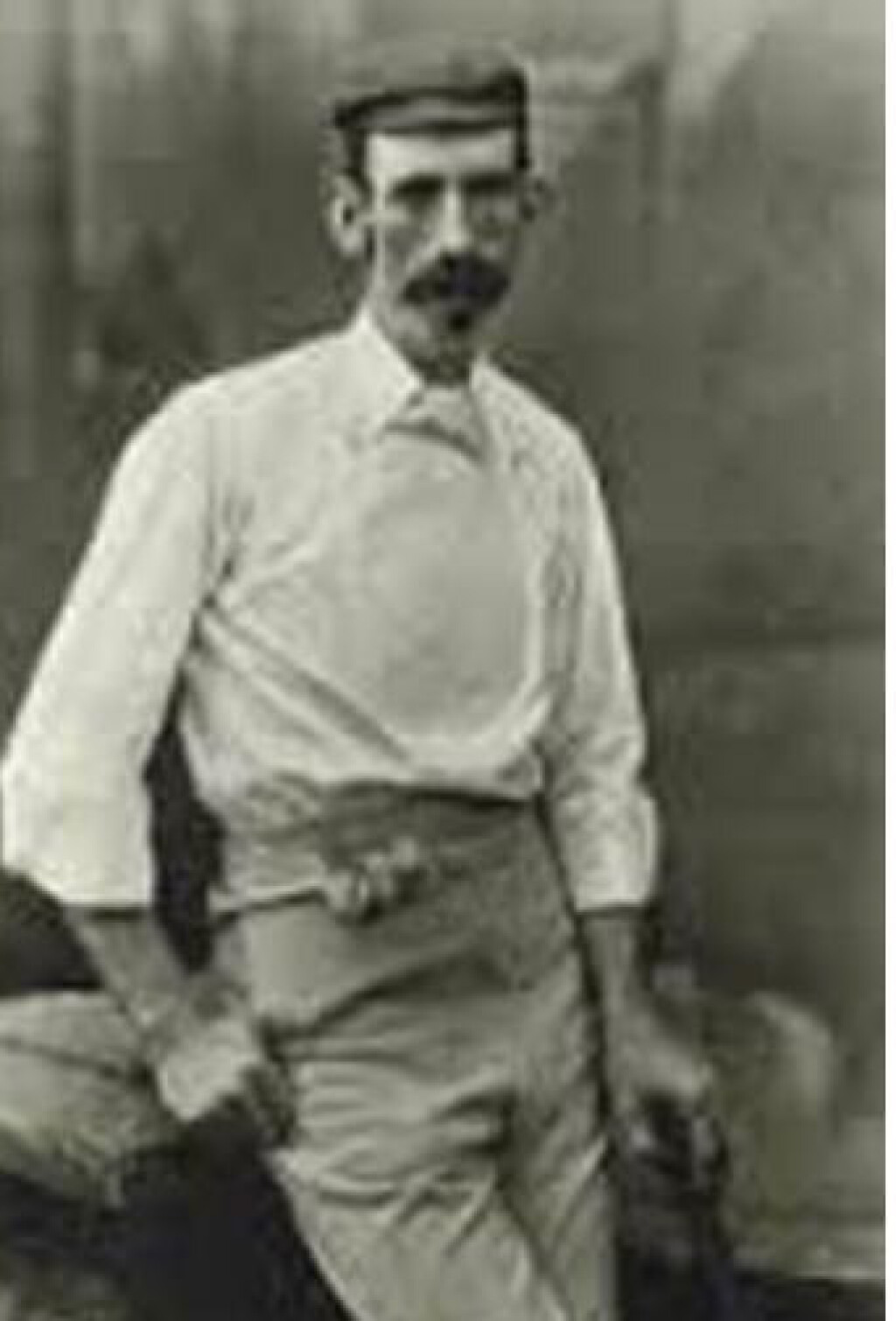 Louis Hall, left, was probably Batley's first hero – a prolific batsman who had a reputation for being dour in his run scoring. He was a thin, wiry man with a lived-in face and a fierce, drooping moustache. Known as the Batley Giant despite his average size, his characteristic upright stance belied his real height.
Hall scored 9,757 runs for Yorkshire in first class matches at an average of 23.28 with nine centuries. These figures represent a considerable achievement given the substandard wickets at the time even in the First Class game. He topped the county averages in 1883, scored four hundreds in 1884 and exceeded 1,000 runs in the season in 1887. This was the pinnacle of his First Class career with 1,120 runs at 38.62 which included three centuries.
One of these was Hall's highest score in first-class cricket, 160 (out of 590) against Lancashire in 1887 (occupying the crease for a total of 6 hours and 40 minutes) when he and Fred Lee put on 280 for the second wicket. Against Middlesex at Bramall Lane in 1884, he just failed to perform the feat of two centuries in the match, with scores of 96 and 135.
Heavy Woollen Cup exploits
In 1883 the Heavy Woollen Cup began and this competition was destined to put Batley Cricket Club well and truly on the local cricketing map. In 1890 and 1892 Batley reached the Final only to be beaten by Dewsbury & Saville and Birstall respectively. However, in 1894 they reached the Final again and were victorious when they scored a massive 307 runs to Chickenley's 102 at Dewsbury.
They retained the trophy in 1895 in a low scoring Final against Spen Victoria when they scored a paltry 56. This proved to be sufficient as they bowled out Spen for 44 and won by 12 runs.
In 1898 they reached the Final again but the Heavy Woollen Cup was awarded to Morley after Batley refused to play due to a rugby league game being played at Mount Pleasant on the same day.
The chaotic world of Saturday cricket in the area was simplified when Batley joined the newly augmented Yorkshire Council in 1904. This brought together major town teams within Yorkshire and became the main rival to the powerful Bradford League. However, it was the Heavy Woollen Cup where Batley continued to make their name.
In all they contested 10 finals before 1914, winning five of them beating Ossett in 1900, Hodgson & Simpson in 1905 and Hopton Mills in 1911. The latter was a particularly memorable victory as the game entered the record books as the highest-scoring final ever, and carried on for two days, with Batley setting Mills a target of 445. The Batley captain, A. Crowther, scored 231 not out, the highest individual score in a final.
It was a bridge too far for Hopton Mills, but they did score 283. The gate receipts of £125 were the highest in the competition's 28-year history at the time.
Batley won the Heavy Woollen Cup again in 1919, 1922 and 1930, against final opponents of the calibre of Dewsbury & Savile (twice) and Thornhill. The battle for supremacy against the Dewsbury team was truly epic as their paths crossed again in the finals of 1925 and 1931 with Batley losing out in low scoring matches.
The 1930 crowd of around 3,000 watched Batley make a modest total of 123. When Thornhill lost four wickets for six runs they were never really in the hunt after that, though they did recover somewhat to reach 76. Batley had now won the cup eight times, a feat only bettered by their arch-rivals Dewsbury & Savile with 11 victories.
Formation of Central Yorkshire League
By the 1930's the Yorkshire Council had become unwieldy in the number of clubs and when the likes of Cleckheaton, Ossett, Morley and Birstall agreed to create a quality ten-fold unit named as the Central Yorkshire League, Batley decided to join. The first year was 1938 and Batley would not look back as they went from strength to strength.
Domination of the league
Batley's power was such that by the 1940's they began to make their presence felt in the Central Yorkshire League. They won the First Division title in 1942 and 1943 under the shrewd leadership of J S Barritt. In 1943 their supremacy in the district was complete when they beat Liversedge decisively in the Final of the Heavy Woollen Cup by eight wickets.
They won the First Division title again in 1949 to complete a dominate decade at Mount Pleasant. Batley's competitiveness at the time saw them compete in two more Heavy Woollen Cup Finals in 1945 and 1949 only to finish second best to Heckmondwike and Ossett. The losing habit in these Finals continued in 1950 when Morley beat them by 22 runs.
Fading fortunes
The fifties were not as illustrious as the previous decade and Batley found themselves out of the First Division. The fight back started at the dawn of the sixties when they won the Second Division Championship in 1960 under the captaincy of Bernard Brown, who they had brought in from Hanging Heaton. He would prove to be the catalyst for further success.
That season there was a remarkable bowling performance in the league from Batley's John Hastings when he took all ten wickets against Gomersal.
Notable double
The great renaissance continued in 1961 when they replicated the 1943 season by winning the First Division title and Heavy Woollen Cup. In the Final they easily defeated Morley by eight wickets
After 1963 when they reached the Heavy Woollen Cup Final, fortunes would change starkly with two decades of mediocrity. The last of the Finals for a couple of decades ended in ignominy for Batley as Mirfield bowled them out for 33 and then proceeded to win by nine wickets.
Two decades of mediocrity
Batley endured spells in the Second Division as they found it difficult to recapture the good times. In March, 1967 the Batley club announced that they were resigning from the Central Yorkshire League, the Heavy Woollen Cup and the Yorkshire Heavy Woollen Council as they were in financial difficulty and in danger of winding up. Two weeks later, this decision was rescinded.
The eighties decade began with a bang when Batley were crowned champions of the Second Division with a team comprised of- P Trevitt (Captain),S Derry, P Wilman, G Gill, W Settle, B Mason, R Varney, A Howden, A Hampston, D Laycock, I Kenworthy.
It was a remarkable season given that they also won the league cup competition for 1980, the Wheatley Cup, to complete a unique double.
Halcyon days
This decade would prove to be Batley's halcyon years in league and cup cricket and Solly Adam, above, proved to be the influence. Originating from India spinner Adam captained Batley to the Jack Hampshire Cup Final in 1983 when they beat Liversedge at Ossett.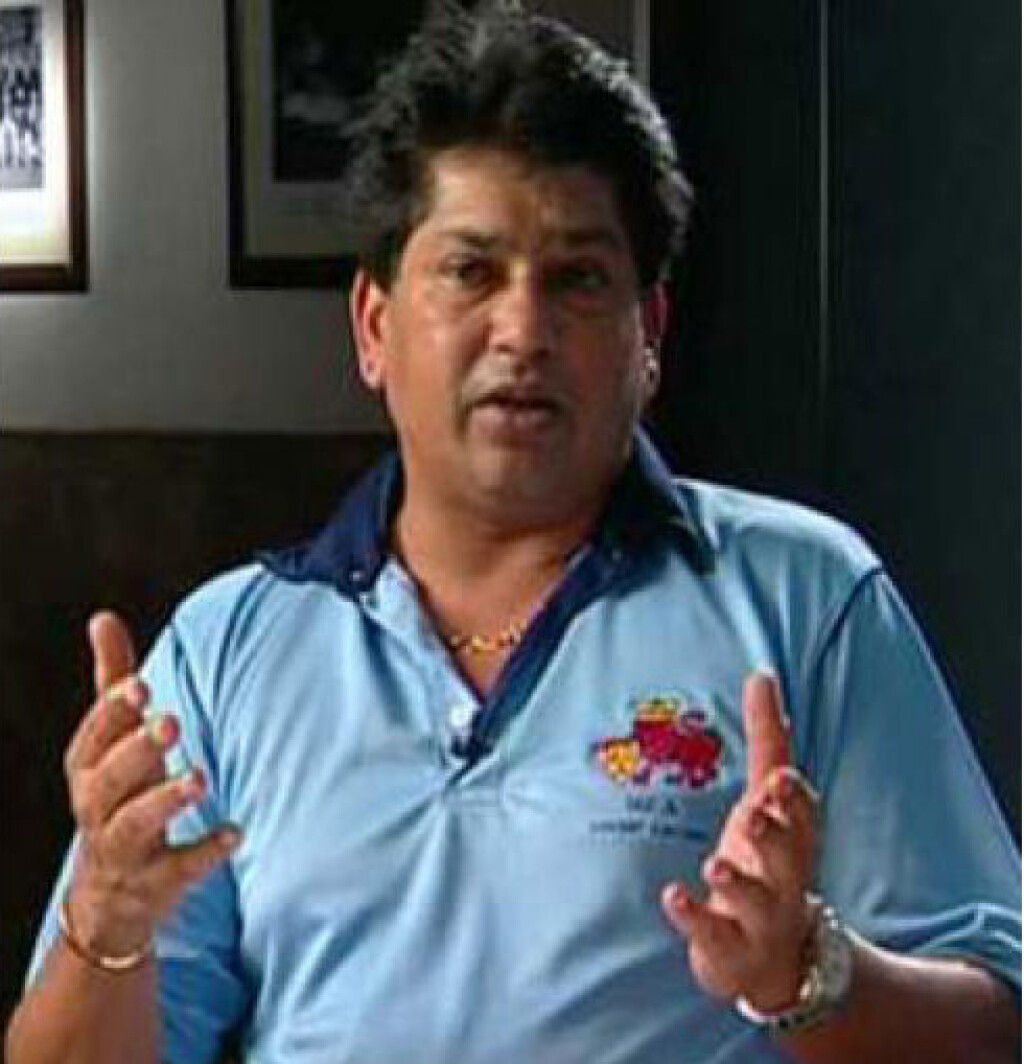 The notable cricketer in Batley's class of 1983 was 22-year old Chandrakant Pandit, above, who would play for India in five test matches and numerous one-day tests. He won the First Division League Batting Averages that year with 853 runs at 53.31, and was largely instrumental for Batley evolving into a first rate side. The following year Pandit won the First Division League Wicket-Keeping Trophy.
Yorkshire's quick bowler Paul Jarvis assisted Batley during 1983. The 18 year old had been the youngest ever county cricketer at Yorkshire two years previously when he made his debut at 16. He went on to take 644 First Class wickets and played in nine test matches for England with limited success.
After the cup win Adam led Batley to three more trophies - the First Division titles in 1984 and 1987 and the Heavy Woollen Cup in 1986. Such was their supremacy they despatched Kirkheaton in the final by nine wickets after bowling them out for 64.
During this period individual league awards were also won with N Haines taking the League Bowling prize with 53 wickets at 13.33 in 1984, and M Anwar the League Batting Averages in 1987 with 841 runs at 60.07. In 1988 David Bruce replicated Haines' feat by taking 44 wickets at 13.50.
Greatest ever season
After the Solly Adam era things didn't exactly fall apart when David Dove lead Batley to their greatest ever season in 1989. The quadruple of domestic League & Cup double, Heavy Woollen Cup and Yorkshire Council Championship were won with a team for all seasons.
It was an amazing season in which Mirfield tracked them all the way but finished runners-up in all four competitions. In the league Batley tied a critical match with Mirfield when they successfully chased 15 in the last over to draw level, with David Lovell making a decisive 70 not out. In the Jack Hampshire Final at Altofts a drying wicket caught out Mirfield in a match that Batley won in some comfort.
It was closer in the Heavy Woollen Cup Final when Batley made 196-7. Mirfield were going well but Batley had the edge winning by 42 runs, with Bob Cooper top scoring with 72* and Elliott Noble taking 4-35. This was Batley 24th appearance in the Heavy Woollen Cup Final and with twelve wins their record could compare with any club's.
The icing on the cake came in 1989 when the Yorkshire Council Championship was won by seven wickets over a sickened Mirfield side that were probably haunted by the spectre of Batley CC. The decisive innings in the Final at Glasshoughton were made by Dove (90) and Blakeley (55). In the semi final Batley beat Darfield by one run in a cliff-hanger match that threatened to derail their pursuit of four trophies.
Paul Blakeley
Paul Blakeley was probably the most outstanding Batley player of 1989 winning the League's All Rounders Trophy after contributing 659 runs at 54.91, and taking 41 wickets at 13.29.
Blakeley, a right handed batman, and right arm medium-pace bowler played Minor Counties cricket for Shropshire from 1993 to 1994, making 14 appearances. He made only one List A ppearance against Somerset in the 1993 Nat West Trophy..
He had a reputation of bowling extremely accurately and was very difficult to score off in league cricket. His batting ability was unquestioned; often scoring runs when they were most needed. To prove his all-round class he won the Premier League All Rounder Award at Birstall in 2000 and 2001 with 622 runs & 47 wickets, and 603 runs & 48 wickets respectively in successive seasons.
Other high achievers in 1989 were Dove who scored 710 runs and David Lovell who bettered that with 727 runs at 40.38.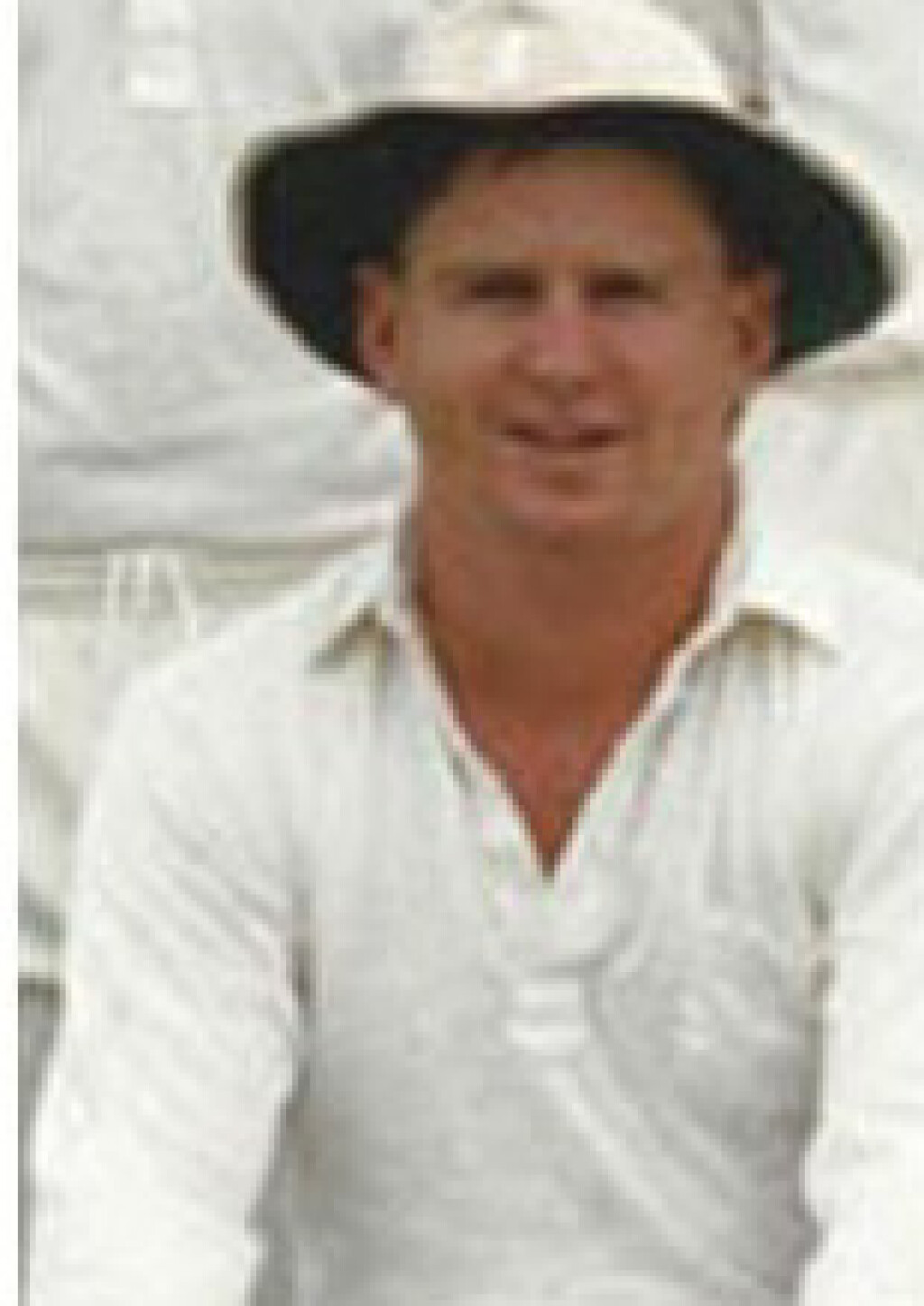 Lovell, above, would win the League Batting Averages in 1990 with 1,120 runs at 65.88. He went on to score 1,000 runs for Windhill in the Bradford League in 1992.The hard-hitting Australian could not quite break through into English First Class cricket, but he did play in numerous county second teams.
When available behind the sticks was Tim Rukin who had played regularly for Yorkshire Second Eleven in the early to mid seventies. He was a quality wicket-keeper who had plied his trade in league cricket for many years. His deputy Paul Wilman filled in admirably in the finals of the Jack Hampshire and Heavy Woollen cups.
Finest team
The 1989 team is generally acknowledged as Batley's finest ever side and the trophies won that year justifies that tag. The class of 1989 comprised of David Dove (Captain),David Lovell, Bob Cooper, Elliott Noble, David Bruce, John Prentice, Paul Heaton, Richard Sidle, Tim Rukin, Neil Harrison, Paul Wilman.
Locally, the Yorkshire Champions Trophy was anticipated keenly the following season when they pitched themselves against the champions of the other senior leagues. They passed the test when they beat the trophy holders East Bierley at Mount Pleasant, but were comfortably beaten in the final by their local rivals Hanging Heaton.
Another star player of the era was Indian Samir Dighe who scored 1,081 runs in 1991 to top the League Batting Averages- the second successive season Batley enjoyed that honour. He was a right-handed batsman and a wicketkeeper who was a late entry to Test cricket during the 1999–2000 season, at which time he was 31 years of age. On the final day of the Third Test against Australia in Chennai, Dighe made an unbeaten 22 on debut, after a collapse during the run-chase, guiding the Indians in securing a historic 2-1 series win.
Progress was made off the field when Yorkshire cricketer Martyn Moxon opened the new pavilion at Batley CC in 1993. However, time was spent in the Second Division before they were promoted in 1995 under captain Dale Burns when they took top spot. Burns was an Australian who played good class club cricket in his native country. The momentum continued in 1996 when they finished runners-up in the top flight.
Club in decline
However, in 1997 they could only muster three wins in a season they just managed to scrape to safety. Although Steve Bourne was the top batter with 558 runs it was S Linton who had a season to remember. Linton scored 451 runs, including an unbeaten 117 against Gildersome, and a tally of 55 wickets with the ball. His best returns were 6-47 v Gomersal and 6-38 v Woodlands.
Times were hard after that with cricket fortunes in decline akin to the famous Batley Variety Club. It was the late 90's and social change impacted on the cricket club, but the Asian community living in the Mount Pleasant and surrounding areas rallied to save the club. They supplied replacements on the field for the many indigenous cricketers that left.
The Yorkshire Central League created a Premier League for their top division to follow the trends of the other senior leagues in the county. Batley found it difficult to compete and lost their status in 2010 when only five wins spelt relegation. Ajaz Seedat could not have been blamed for his efforts as he scored 664 runs with a top score of 151.
All-Asian side
Batley had become an all-Asian side and in 2011 Tariq Hussain led his team to promotion with three virtuoso players at the forefront. Seedat again excelled with the bat with 605 runs at 40.33, while Huzaifah Patel was the leading league wicket-taker with 59 at 12.49.
However, the most influential player in 2011 was Mohammed Tahir who took the league's all rounder award for the First Division with 700 runs scored at 36.84, and also took 30 wickets with the ball.
Batley clinched the Division One championship with a 26-run win at Moorlands on the final day finishing two points ahead of Carlton. Mohammed Arshad (74no) and Ebrahim Laher (47no) shared an unbroken seventh-wicket stand of 127 as Batley recovered from 88-6 to post 215-6. Huzaifah Patel (6-44) toppled Moorlands for 189 in reply.
It was much tougher in the Premier League in 2012 but six wins just about retained Batley's status with former Saltaire batsman Fawad Maqsood (489 runs) excelling with the bat and Huzaifah Patel proving to be the top bowler with 40 wickets. Ironically, six wins in 2013 could not save them from the drop despite Shoukat Ali (421 runs) and Chinnada Rudramurthy (40 wkts) battling against the odds.
Batley maintained their volatile adventures by gaining promotion in 2014 with a team without stars. They finished a massive 17 points ahead of Buttershaw St Paul's at the head of the division. The key performers were Tahir (377 runs),Maqsood (437 runs) and Hussain (30 wkts) , while an individual honour came in the shape of Naik Zada who took the First Division Wicket Keeping prize.
For 2015, Batley were mindful of consolidation in the top section and later concentrated their minds on qualifying for the new Bradford League Championship. It was clear they had to finish in a high position to be one of five clubs to qualify in the Central Yorkshire League's last season. As it happened the Championship was later extended to more clubs.
Batley were competitive throughout the season and duly qualified after finishing their long history in the league in a respectable sixth place. Again, they had no stars and were reliant on the consistency of Sardar Hassan Khan (468 runs) and Muhammed Shahnawaz (46 wkts).
Promotion to the Bradford Premier League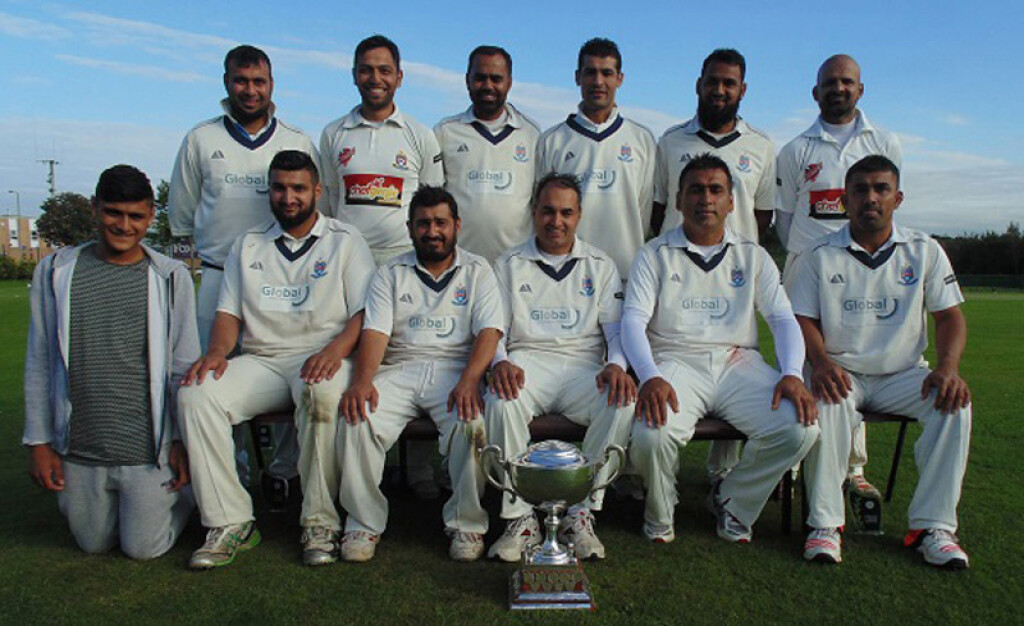 The Batley team that won Championship A in 2016
Batley strengthened for the challenge of chasing Premier League cricket, and they led Championship A for most of the season. Undercliffe were their early rivals for the title, but faded to leave Yeadon as their only challengers. On the penultimate Saturday, Yeadon were frustrated by the rain on Batley's open date, and this left the latter to clinch it on the last day with 24 points to spare.
A-List Pakistani cricketer Aqeel Mukhtar anchored the batting with 604 runs at 43.14, while Aqsad Ali, Tarib Mehboob and Sufyan Patel all topped 300-runs.
Ali proved his all round talent by taking 47 wickets at 10.36 and in consequence won the Championship B Bowling Averages, bowling an incredible 61 maiden overs in the league. Batley's bowling was probably their strength with Tariq Hussain supporting Ali well with 40 wickets at 15.15.
Another notable individual performance came from Muhammed Shahnawaz who took the most catches in Championship A with eighteen.
It was always going to be difficult for Batley in 2017 without extensive strengthening, and their overseas batsman Muhammad Abubakar Khan didn't have the necessary impact, despite his 533 runs at 35.53.
From the start they struggled, and along with Pudsey Congs seemed destined for relegation from the start. However, as the season progressed they became more competitive, but just could not get over the winning line in matches. But, after impressive wins against Townville and New Farnley they gave themselves a lifeline in their fight against relegation, especially with the decline of East Bierley.
They entered the last fixtures out of the bottom two, but only 2 points in front of East Bierley, and 3 points above Pudsey Congs. To complicate things further the vagaries of the weather would also play its part. Batley played a 20 over match against Woodlands at Mount Pleasant and lost decisively by 99 runs.
Batley could still have avoided relegation because East Bierley was effectively losing their game. However, Bierley's match with Bradford & Bingley was abandoned when they were in trouble at 75-5 with little chance of reaching 186-6. In consequence Bierley finished with 166 points, two more than Batley.
The league campaign saw little batting support for Khan, and the bowling was steady rather than penetrative with Muhammad Shahnawaz (34 wkts),Muhammed Hafeez (32 wkts) and Tariq Hussain (29 wkts) the best performers. The club won the Albert Smith Spirit of Cricket Award for 2017.
Batley never really threatened promotion in 2018, but they were capable of beating any team in the division, and this was proved by their win over champions Undercliffe. The most consistent performer was Naveed Zamurad who scored 493 runs, and also took 26 wickets.
An individual winner in 2018 was Naik Zada who won the league's wicket-keeping award with 37 victims.
Batley bounce back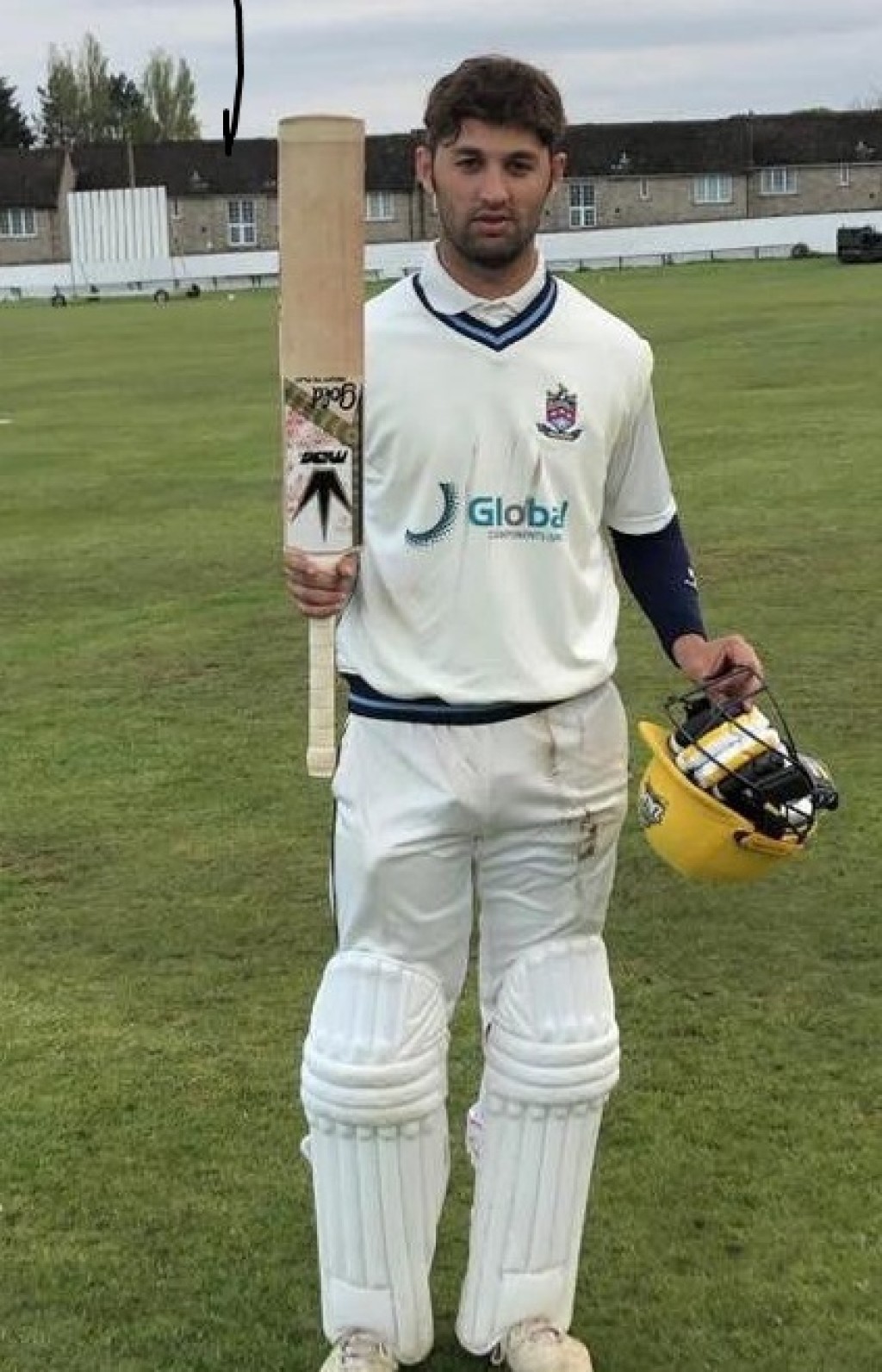 The recruitment of overseas batsman Sami Ullah, above, raised the stock of Batley for 2019, but by June they had lost two matches and hovered half-way in the table. After a run of five successive victories later in the season, Batley found themselves leaders of a very volatile division.
However, after their victory over Wakefield St Michael's on 17th August, they lost three consecutive games, and their healthy lead at the top had gone, and they found themselves in third place going into their final match against Gomersal.
Morley and Bankfoot were in prime position in the top two and needed to win their final matches to ensure promotion. Batley had to win without the services of Ullah who had been recalled home to Pakistan.
Despite this unlikely scenario, Batley pulled it off when Morley and Bankfoot both lost and they beat Gomersal in relative comfort. Sufyan Patel (74 runs) and Adnan Mahmood (65 runs) ensured a healthy total of 205-7 that Gomersal never looked like reaching. They were bowled out for 91 with Tariq Hussain the best bowler taking 4-23.
Ullah was the key batsman in the season scoring 575 runs at 52.27, and in doing so he won the Margaret E Mallinson League Batting Trophy. In addition, Naik Zada retained his Parkside Wicket-keeping Trophy with 25 victims.
Kasir Maroof (378 runs) and Faisal Javed (336 runs) were the best of the rest, while Shahnawaz was the chief wicket-taker with 49 wickets at 12.27.
Batley showed ambition bringing free scoring Gharib Nawaz in for 2020, but Covid-19 meant they had to settle for playing in the Gordon Rigg Premier League Cup.
They were in a tough group, but managed to beat the eventual winners Townville in the late season tournament.
Sufyan Patel was their most successful batsman, while Imran Mahboob finished second in the Premier League Bowling Averages, with Mohammed Bhoola not far behind.
Their second team had a good campaign and won the the Second Teams Premier League Cup.
Batley couldn't come to terms with Premier League cricket, and were seemingly relegated in 2021 after seventeen losses. Often they would get into a winning position, but frustratingly could not get over the line.
However, a retrospective `points' punishment to Wrenthorpe in October saved Batley from the drop. Their relegation rivals had a total of 188 points docked for playing an ineligible player, and were subsequently demoted from the division.
In early August, Batley had lifted themselves off the bottom of the table after beating Morley by 11 runs at Scatcherd Lane. Overseas left arm spinner Zafar Gohar picked up a crucial 6-33 to give his side hope.
Gohar, who had played Test and one-day international cricket for Pakistan, took his tally of wickets in three games for the club to 16. However, his time at Mount Pleasant was short lived and he only played a handful of matches before joining Gloucestershire.
The only player to make the league averages in 2021 was Abdul Wahid who was always difficult to prise out and made 476 runs in the league.
It was always going to be difficult for Batley to survive in the Premier League after losing their first nine matches of the 2022 campaign. They did win their next two games, but a final total of five victories saw them anchored at the bottom 63 points from safety.
They did have their moments and beating Pudsey St Lawrence by six wickets showed their competitive edge. They also narrowly lost to champions-elect Woodlands by three wickets. But they were too reliant on Yasir Ali and Kasir Maroof who both showed a top flight class on several occasions.
The well travelled veteran Ali has always been one of the great competitors and he proved it again with 621 runs at 38.81, and he also took a haul of 42 wickets. The left-handed Maroof was the Batley batsman to get out as he amassed 703 runs at 46.87 including two centuries