Eric Austin has been a consistent runscorer for Birstall in two spells with the club.
The early days
The first cricket club to appear in Birstall was Birstall Albert Cricket Club, named after the Prince Consort. They played six matches per year, including prestigious Feast matches against Holmfirth.
Local cricket historians claim that the team played near the Black Bull in Kirkgate as early as 1854. However, there is much conjecture as to whether this club is a direct ancestor of the current club. This club had a small membership of around 30 people, and these saw fit to change their name in 1860 to Birstall Victoria – in honour of the Queen.
In 1860 Birstall Victoria moved from near the Black Bull to a site behind the National Schools, in Scott's Field. The team remained here for 10 years (occasionally competing under the name Birstall Cricket Club) until notice was served for a housing development to take place.
Therefore, a ground move had to take place yet again. Eventually, the club settled at its current location around 1870. In 1883 Birstall Victoria embarked on a brief merger with Birstall Rugby Club. However, this was short-lived and the separation of the two establishments in 1885 signalled the official birth of the present cricket club as an entity.
Success on the field was soon coming when they had two thrilling clashes with Dewsbury & Savile in the finals of the Heavy Woollen Cup in years 1885 and 1886. In 1885 they won a closely fought match against their opponents from Dewsbury when they scored a winning 243-8 reply to their target of 242. The following year they retained their trophy in an even tighter match. After being dismissed for 112 they bowled out Dewsbury & Savile for 102 in the final at Batley. Skipper F Crowther had put Birstall well and truly on the map as a force to be reckoned with.
Plans for a grandstand were passed in April 1887 and around 5,000 people were reported as attending that year's Heavy Woollen Cup semi-final defeat against Dewsbury & Savile. At least they had succumbed to opponents that matched them almost all the way in three epic ties.
Ground improvements
Money was ploughed into ground improvements and in 1892; the pitch was levelled out using pit waste from the local industries. This off-field investment seemed to have a knock-on effect on the field of play - when the club scooped the Heavy Woollen Cup in 1892 for the third time in 7 seasons, defeating Batley in the final.
In a torrid but absorbing game Birstall scored 171 batting first which proved to be sufficient as their neighbours Batley succumbed to 144 all-out and 27 runs short. As the team walked home through Batley, some disgruntled opposition supporters pelted the team and the accompanying Birstall Band with grass sods.
This didn't dampen the celebrations, which lasted for a full week and, as one local historian states, 'the cup was hardly ever empty of alcohol' as skipper A Ackroyd celebrated with his team.
Five years later in 1897 Birstall's fine Heavy Woollen Cup record continued as they reached the final again, this time against Chickenley at Dewsbury. On this occasion they were beaten easily under skipper A Appleyard. Batting first their 133 was no match for a Chickenley side who marched to victory by eight wickets.
Heavy Woollen tradition
In the next 35 years Birstall would win the Heavy Woollen Cup on three more occasions:
1909 Hopton Mills 76 Birstall 77-0 at Dewsbury
1915 Birstall 201 Ossett 148 at Dewsbury
1932 Birstall 175 Thornhill 171 at Dewsbury
Birstall's last final before a crowd of 3,000 at Heckmondwike on 6 August, 1932 proved to be a memorable match. Birstall batted first and reached the suspension point on 153-6. In reply Thornhill had nine wickets down when the suspension was reached, but Perkins, the number-four batsmen, was well set and in a useful last wicket partnership with Halstead.
Because of this, Birstall's captain Thurmand took the somewhat unusual decision to resume their innings, but only 22 were added for the loss of the remaining four wickets. Set a target of 175, the last-wicket pair of Thornhill advanced cautiously and got agonisingly close, surviving four lbw appeals when last man Halstead was controversially adjudicated lbw on 17. Birstall had won by four runs.
There was a bizarre story surrounding the 1935 Birstall v Ossett semi-final. The tie started on the Saturday and continued on the Wednesday and Thursday evenings without completion. Ossett failed to turn up on the Friday evening, claiming an agreement to continue on Monday had been made. Birstall refused to continue the match on the Monday, claiming Ossett had failed to complete the match on the Friday. The match was awarded to Ossett!
After this dispute, the club left the Heavy Woollen League and spent the 1936 season in the Leeds League before re-joining the Heavy Woollen League for the 1937 season.
The hardships of wartime were evident in the informal nature of a contract to engage W.H. Newell as pro in 1945. His fee was 25/- per match. It was written on the back of an invoice for a 12 volt 6 watt S.C.C. bulb from George Box Ltd.!
Central Yorkshire League
The structure of the Yorkshire Council was for ever changing and when the Central Yorkshire League was set-up Birstall enjoyed a newly found stability. In 1946 promotion was obtained from the Second Division as title winners with J W Lamb winning the league bowling averages taking wickets at a fantastic average of 5.56.
Three years later in the First Division E Snowden replicated this feat in the higher division taking 35 wickets at a higher average of 9.28.
Birstall were progressing as a club and in 1951 S Naylor won the First Division Batting Averages with 304 runs at 38. This appears to be a modest performance, but one must acknowledge that on uncovered wickets this was a mighty feat.
Remarkable treble
True history was made when Birstall Cricket Club claimed a remarkable treble in 1954: scooping the Central Yorkshire League, the Heavy Woollen Cup and the Wheatley Cup.
Led by skipper Harry Hainsworth who won the First Division Bowling Averages with 48 wickets at 10.02, Birstall claimed the league title for the first time. To illustrate their class in 1954 they also won the Heavy Woollen Cup for the seventh time beating Ossett by two wickets in a closely contested final at Batley.
The icing on the cake came when their strong Second Eleven made it three club trophies in the season when they won the Wheatley Cup.
Fading fortunes
Unfortunately, Birstall failed to build on this momentum and relegation soon followed, coupled with a losing Heavy Woollen Cup Final appearance at Dewsbury when Ossett took revenge with a 5-wicket victory in 1955. The volatility on the field continued when they won the Second Division title in 1957.
After some difficult years in the mid-1960s, the club started to plan for the future, and in 1969 a new bar was opened. Later in 1974 a clubhouse extension was then officially opened by Brian Sellers, the former Yorkshire captain, and in the following year the bar was extended.
The seventies were far from sensational on the field, but there was a remarkable sequence of Birstall bowlers winning the Second Division League Bowling Averages:
1975 Ken Haley 45 wickets at 8.77
1976 Ken Haley 61 wickets at 7.85
1977 Charlie Manby 66 wickets at 9.56
1978 Andrew Townsley 98 wickets at 8.90
Andrew Townsley
Townsley completed a brilliant season in 1978 by also winning the Second Division League Batting Averages with 961 runs at 48.10. This performance was largely instrumental in Birstall obtaining promotion as title winners under the leadership of Charlie Manby.
Castleford born Townsley was on Yorkshire's books, playing regularly in the Second Team, graduating to two first-class matches for in 1974/75, and a handful of one-day matches. A left-handed batsman, Townsley scored 22 first-class runs, with his best score being 12 against Sussex. He scored 81 runs in one day games, with a best of 34 against Somerset. A right arm medium bowler, he failed to take a wicket in either form of the game.
The club gained a reputation of being a yo-yo club- finding it difficult to sustain longevity in the top section, and making little impact in the Heavy Woollen Cup. The only other silverware this century came in the guise of another Second Division title win in 1985.
Notable players with Birstall associations are Peter Ingham the Yorkshire & Northumberland batsman, and wicket-keeper batsman Steve Rhodes of Yorkshire, Worcestershire and England fame.
In 1990, Birstall finished high enough in the top flight to qualify for the Yorkshire Council Play-Offs, and actually won the competition, despite the all conquering presence of Mirfield.
By 1997 Birstall was a major force in the First Division finishing fifth in a season where Methley and Mirfield battled for the title. All rounder Paul Blakeley was their outstanding player scoring 519 runs and taking 65 wickets.
The introduction of Eric Austin
In 1998 Birstall decided to take a chance on the 24 year old New Zealand cricketer Eric Austin who had just started playing first class cricket as a wicketkeeper for Central Districts. He topped 700 runs in his first two seasons where he made his name as a flamboyant early order batsman; never taking a backward step and playing outrageous reverse sweeps and switch hits before they became de rigeur.
Paul Blakeley

Later in the early 2000's Blakeley was arguably the most outstanding player in the league. Blakeley, a right handed batman, and right arm medium-pace bowler played Minor Counties cricket for Shropshire from 1993 to 1994, making 14 appearances. He made only one List A appearance against Somerset in the 1993 NatWest Trophy.
He had a reputation of bowling extremely accurately and was very difficult to score off in league cricket. His batting ability was unquestioned; often scoring runs when they were most needed. To prove his all-round class he won the Premier League All Rounder Award in 2000 and 2001 with 622 runs & 47 wickets, and 603 runs & 48 wickets respectively in successive seasons.
Premier League title
Like most senior leagues a Premier League had been formed and Birstall were very much part of it and to prove it they won the title in 2002 after being on top virtually from the start.
Blakeley was the inspiration and topped the League Bowling Averages with 51 wickets at 17.33. Paul Marlow, the captain was another key figure in the side.
Ostensibly it was a side with few stars but it gelled together well to produce a top team spirit. It contained a mixture of youth and experience and remained unbeaten for the first half of the season. They finally won the league by the end of August having lost just three matches.
The regular 2002 title winning side was-Paul Marlow, Martin Pickersgill, Rob McFarlane, Craig Russell, Will Smith, Dave Fozard, Chris Purslow, Richard Sidle, Cameron Merchant, Paul Blakeley, Chris Hill.
Fortunes dipped a little, but in 2006 John Carruthers returned to the club after an illustrious career with Hanging Heaton. He had won every honour possible and was widely accepted as one of the leading pacemen in the Bradford League in the post-war era. He might have lost some of his fire but his experience would keep Birstall very much in the higher echelon of the league.
Carruthers lead the side to more glory

By 2008 Carruthers, above, led a side that could challenge the all-conquering Wrenthorpe who were the team to aspire to be. After an early season victory over Wrenthorpe it was clear that Birstall were the real deal and the title battle would go to the wire.
The fact that they finally prevailed after beating Scholes on the last day proved that this was one of the best Birstall teams in history. Scholes were bowled out for 67 and Birstall knocked off the runs in seven overs without loss. Carruthers claimed 5-34 and Blakeley 4-25 in a commanding end of season performance. Although Wrenthorpe ran them close they were deserving winners having lost just the one league match all season.
Robert McFarlane's introduction that season as a hard-hitting opener made a big difference to the side and he finished off with an unbeaten 44 in just 16 balls at Scholes – including 32 off the last six balls faced. Also, a highly credible seamer, he weighed in with 725 runs scored at a fair rate.
The top batsman was Indian Vikram Rathour , above,who scored 818 runs, followed by another Indian Connor Williams who scored 765 runs. Rathour was a prolific run scorer at the first class level, scoring 11,473 runs at an average of 49.66, including several fluent, stroke-filled centuries. In his test career, he scored 131 runs in 10 innings with a highest of 44 against South Africa at The Wanderers.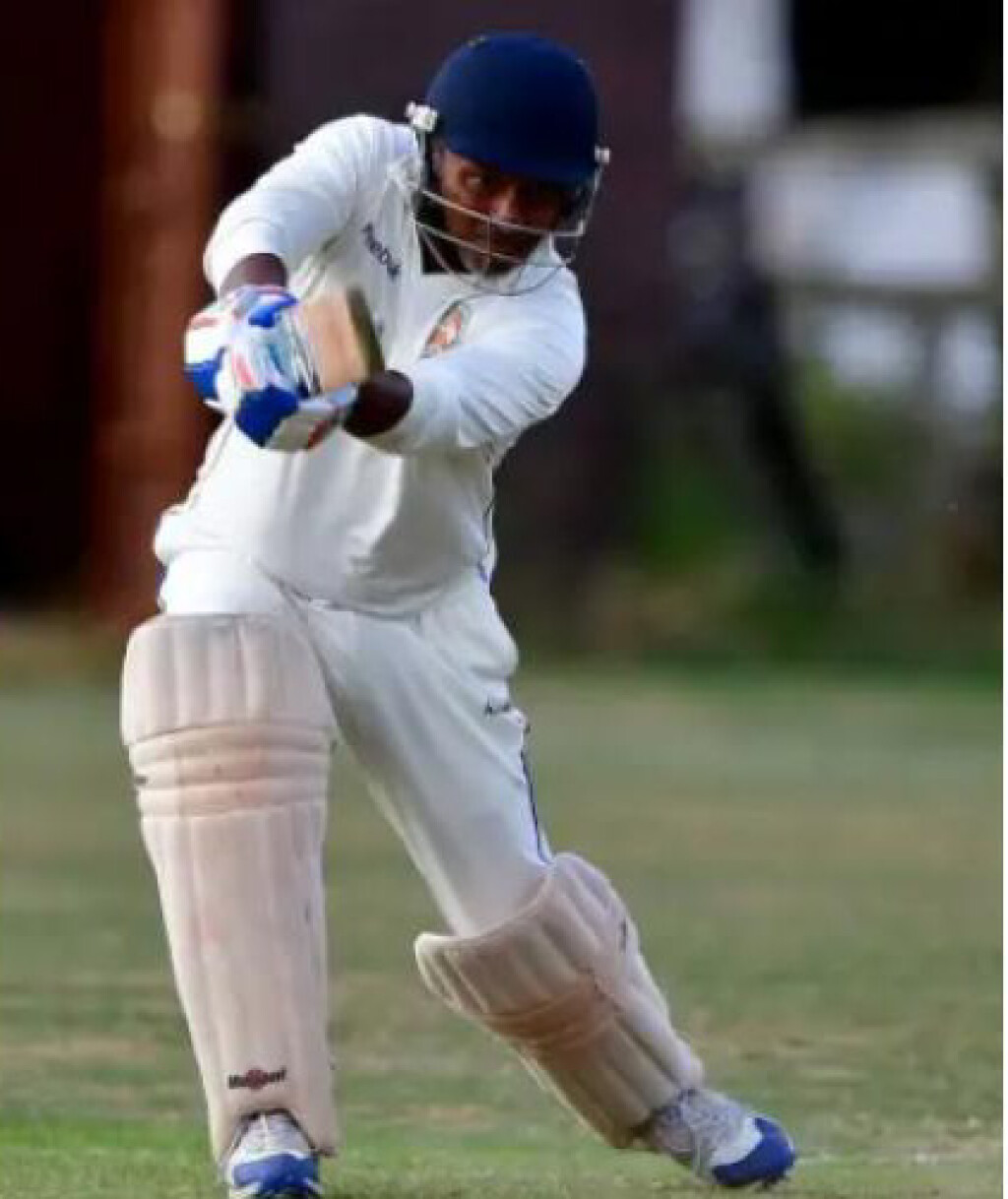 Connor, above, a left-handed opening batsman was another Indian first class cricketer who played for Baroda.. His performance in the 2001 Irani Trophy where he scored 143 in the first innings and 83 in the second brought him to the attention of the test selectors. He was rewarded with a place in the Test squad later in the year for the tour of South Africa when he played in the Centurion Test.
The successful seamers for Birstall were Blakeley (56 wkts) and Carruthers who won the Premier League Bowling Averages for a mere 10.31 per wicket. Seamer Danny Busfield and spin bowler Richard Pearson both took 35 wickets.
The 34-year old Pearson represented England in two Youth Test matches in 1991, and went on to play first class county cricket in England between 1992 and 1997 for Northants, Essex and Surrey.
A right-arm off-break bowler, Pearson's career featured 98 matches across the one and four-day formats of the game, where he captured 137 wickets. Birstall also advanced to the semi-final of the Heavy Woollen Cup before losing to Barnsley.
The title winning side of 2008 comprised of a pool of twelve players of - John Carruthers, Paul Blakeley, Paul Marlow, Sam Newman, James Keen, Matthew Butler, Connor Williams, Vikram Rathour, Robert McFarlane, Danny Busfield, Richard Pearson, Mick Kaye.
Carruthers returned to Hanging Heaton in 2010 as Cricket Chairman and took Nick Bresnan and McFarlane with him.
Success more elusive
Silverware proved to be more elusive but this did not hamper the exploits of Connor Williams who scored even more runs than before.
In 2010 he scored 1064 runs at 81.85 to finish 2nd in the league batting averages, followed by 854 runs in 2011 when he finished 4th. In 2012 he took the Premier League Batting Averages with 960 runs at exactly 80 per innings.
Birstall struggled in 2013 and narrowly escaped relegation. This was despite Eric Austin re-joining them and contributed 748 runs. Austin had played in the formidable Wrenthorpe side which dominated the Heavy Woollen Cup circa 2007-2010.
The 2014 season was notable for Craig Wood winning the Premier League All Rounders Trophy for his feat of 523 runs coupled with 41 wickets.
It was also notable for the club reaching the Jack Hampshire Cup Final where they met champions-elect Methley. Birstall batted first and struggled all the way to 169-6. Only Austin's determined 69 at No.5 took the score to respectability. Methley coasted to victory by 8 wickets with only Nick Kaye bothering the batsmen with a fine spell of 2-26.
Club decides to join Bradford League
In the early 2015 season Birstall made the momentous decision to leave the Central Yorkshire League to join the Bradford League.
Knowing the value of breeding their own Birstall had great satisfaction seeing spin bowler Ben Twohig represent England at Under-17's level, and then earn a contract with Worcester in 2015.
Birstall's last season in the Central Yorkshire League was not a happy one with twelve defeats and a third bottom placing. Skipper Craig Wood was the only qualifying Birstall batman in the league averages with 421 runs at 21.05, and he also contributed 31 wickets.
Things could have been better if Eric Austin had been available more than ten matches- he scored 545 runs at 77.86 with a top score of 77.86.
Into the Bradford League Championship
After a very shaky start to their Bradford League career, the club made a late flourish to their season to secure qualification to Championship One for 2017.
Nick Kaye was their leading batsman scoring 482 runs at 40.17, while Craig Wood contributed 382 runs. The cutting edge of the bowling was supplied by Kamran Khan and Alexander Debs who both topped 30 wickets.
Birstall struggled from the start in 2017 and did not win a league game until July 15th when they defeated prospective champions Scholes. Chasing 235-6 they won by 5 wickets with Austin top scoring with 58.
This was not the catalyst for a revival as they won just two more matches and finished bottom of the pile, 51 points from safety. The bowling had little penetration with no player taking as many as 30 wickets. Austin was again the backbone of the batting with 591 runs at 34.76.
In some ways it was an enigmatic season for Birstall because they proved they could beat the top teams. In the Priestley Cup they beat Wrenthorpe in commanding style scoring an impressive 295-6, and winning to the tune of 50 runs. Batsmen Craig Wood (76 runs),Nick Kaye (56 runs) and Siraj Hussain (64*) all proved they could score runs against a good attack.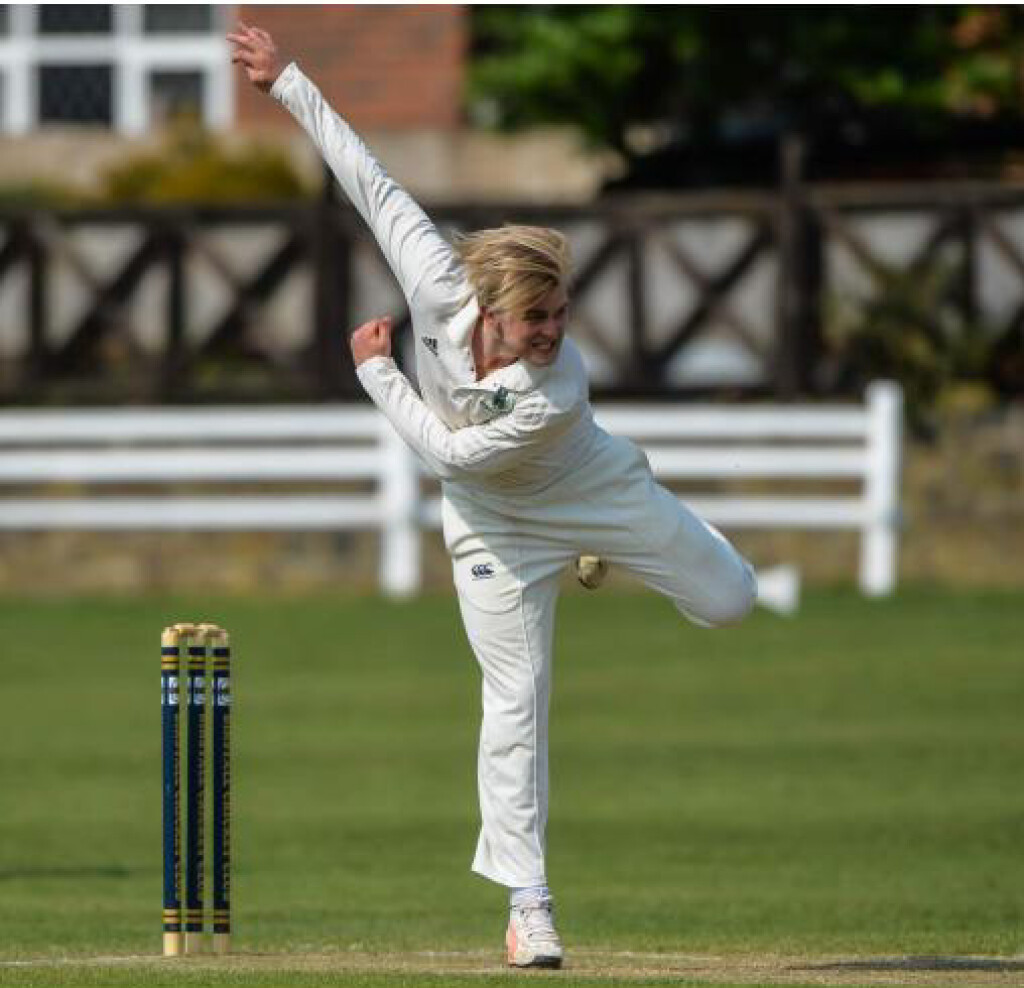 The club looked like challenging strongly for promotion in 2018 as they jockeyed for position at the top with Keighley and Wakefield St Michael's. They showed their potential with commanding form against Altofts in a 255-runs victory, after posting 322-7.Worcestershire Academy player Josh Haynes, above, demolished Altofts with an innings of 168, before bowling them out with an analysis of 5-21.
If Haynes had been available more often than his seven appearances, doubtless Birstall would have been promoted. His league record in this short time was 304 runs at 50.67, and 33 wickets at an average of 7.82. This won him the League's Gordon Bower's Young Cricketer Award and also the Ernest Lodge Young Spinner of the Year Trophy.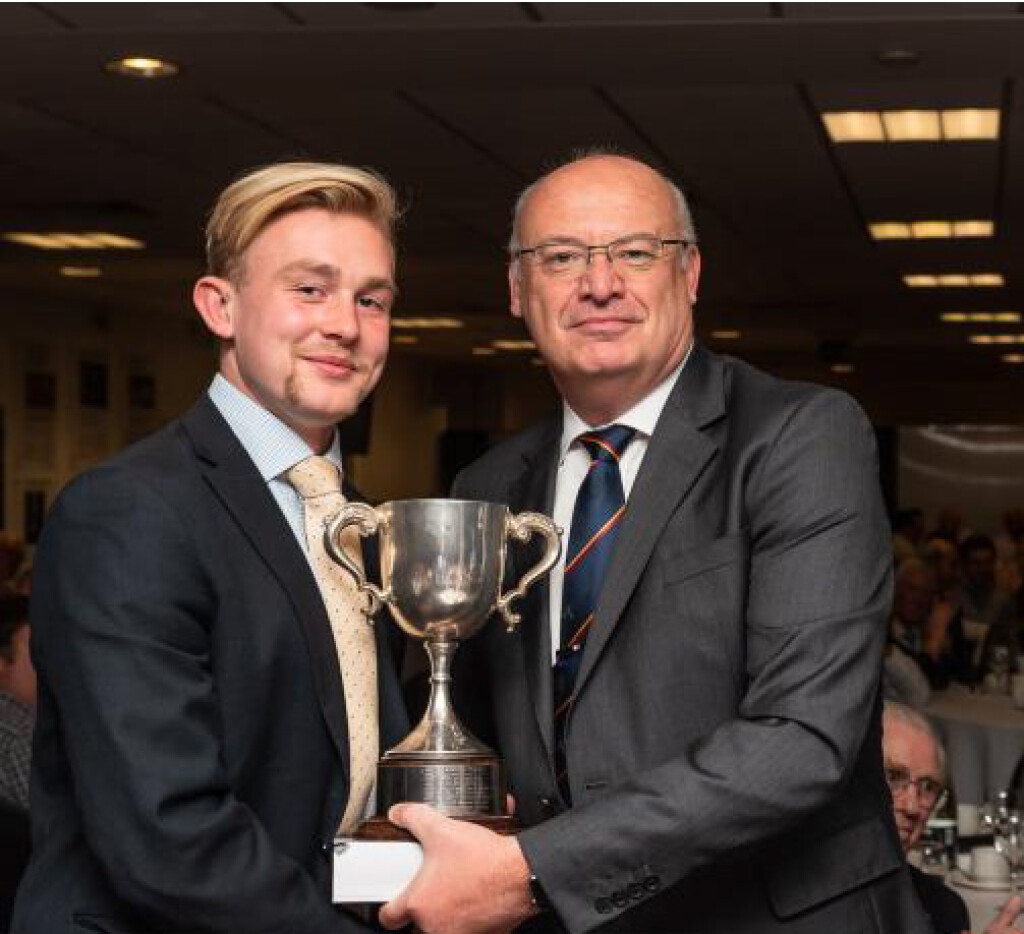 On July 21st Birstall were beaten by the bottom club Liversedge, and from then on lost momentum to fade out of the promotion chasing pack, ultimately finishing in fifth position.
The batting was strong with Rishi Limbechaya (477 runs) leading five batsmen who topped 400-runs. All rounder Peter Gregerson, below, also impressed taking 39 wickets, and scoring 426 runs.
When the 2019 season started, Birstall were faced with a first match abandonment, followed by two defeats. Although they recovered their form, it was Carlton and Yeadon that grabbed the promotion initiative in the first half of the season
However, Birstall's deep batting line up was illustrated nicely in their 187 run defeat of Hopton Mills when the middle order of Ashley Burton (72 runs),Brad Lay (93 runs) and Matthew Dyson (46 runs) boosted the score to 317-9.
They eventually overtook Yeadon in the promotion race, and although they could not catch Carlton, they finished second 76 points clear of third place.
Josh Haynes had another virtuoso all-round season scoring 604 runs at 31.79, and taking 44 wickets at 12.07. He again won the League's Gordon Bower's Young Cricketer Award, and he also won the Jack Hill All Rounder trophy to make it a remarkable quartet of awards in two seasons.
Eric Austin anchored the batting with 626 runs at 52.17, while Australian Ashley Burton, Nick Kaye. Brad Lay and Ian Carradice all averaged in excess of 30 runs per innings.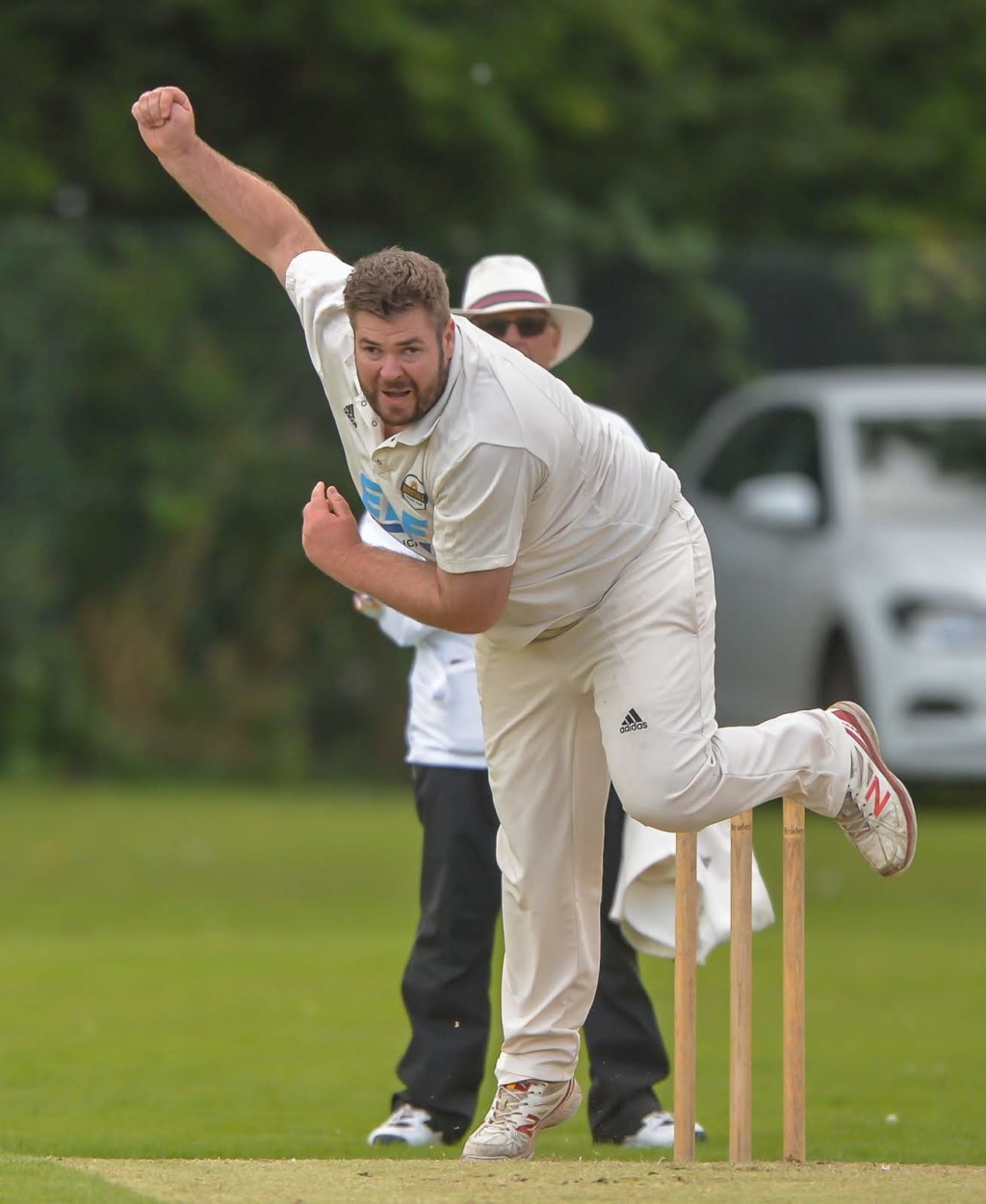 James Russell, above, took 52 wickets at 8.88 to clinch the G D Wolfenden League Bowling Trophy. Haynes finished in third place in the league averages, and Saif Ur Rehman's 31 wickets at 13.26 ensured the club had three bowlers in the top six.
Despite promotion, the season had a bittersweet hint to it after Birstall missed out on a major trophy when they lost the Jack Hampshire Final at Liversedge to Yeadon in a thriller.
They powered to the final after beating Hunslet Nelson in the semi-final; skipper Nick Kaye made 115 and Matt Dyson 110 not out, as they piled up a winning score of 293-2. Kaye hit five sixes and 13 fours while Dyson's innings contained seven sixes and seven fours.
Birstall batted first in the final on a slowish wicket that would take turn. They steadily built a score with Austin (45 runs) anchoring the innings as they progressed to a promising 80-3. However, when Yeadon turned to spin, wickets fell at regular intervals and they ended with an under-par 132 when the tail failed to wag.
Yeadon's innings went a similar pattern when they carefully built a winning position at 82-3. However, they could not cope with the leg-spin of Benedict Gundry (4-21) who halted their charge, and at 85-7 it was wide open. They lost another wicket, and needed 20 runs in 8.2 overs for victory.
They edged home, mainly scoring singles, to the frustration of Russell (2-15) and Haynes (0-13) who had superb eight-over' bowling performances. Covid-19 struck in 2020, but Birstall took part in the Gordon Rigg Division One League Cup, and managed to reach the final.
They might have had their customary slow start to the season, but later crushing defeats of East Bierley and Ossett propelled them into the Division One Cup Final.
However, this was a bridge too far as they fell by 83 runs to a young Pudsey Congs who made 235-4 batting first. Benedict Gundry (40 runs) and skipper Nick Kaye (37no) were the best of the batters when replying.
In a season where the strength of the team was in the batting, with Haynes and Kaye excelling, they lacked penetration in the bowling.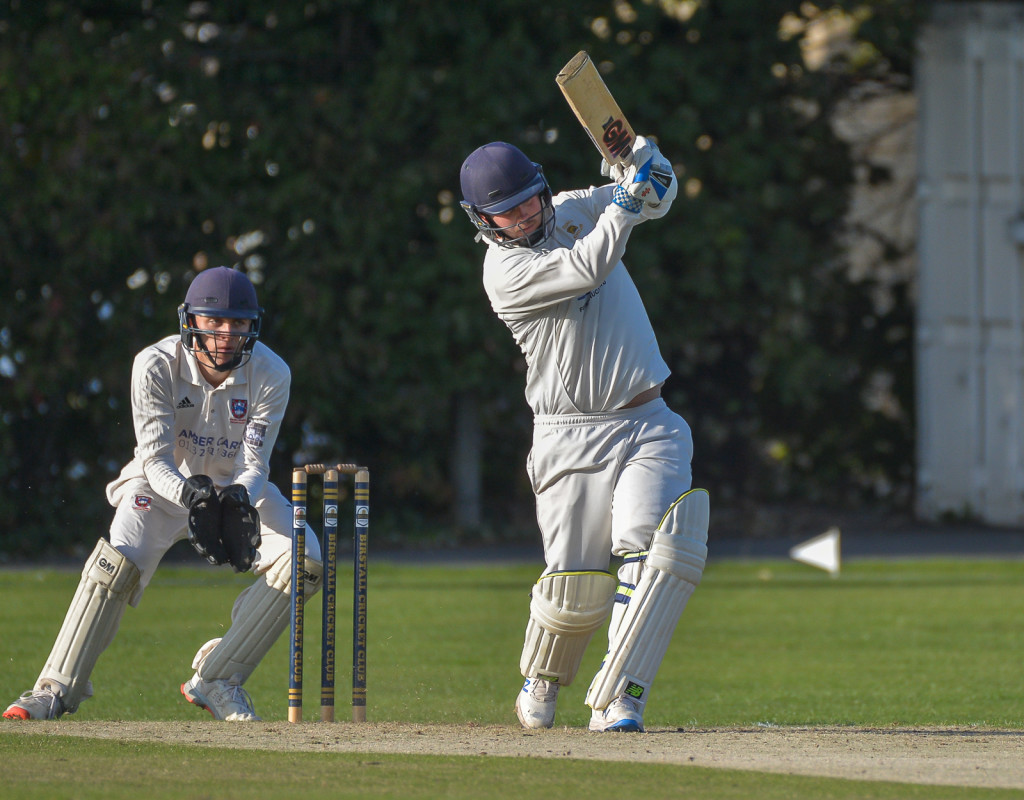 NIck Kaye could not save Birstall from defeat in the final Picture Ray Spencer
There was a stage of the 2021 season when Birstall looked bankers for promotion with Ossett. However, a late July mauling by Bankfoot finally scuppered their chances when they fell 25 points behind second place.
The club were the victim of player unavailabilities that reached epidemic proportions when a scratch side lost by 256 runs to Pudsey St Lawrence in the quarter-finals of the Priestley Cup.
They did have some good performers in Eric Austin who scored 595 league runs at 37.19 with a top score of 153, and Nick Kaye who registered 484 runs at 34.57. Josh Haynes was again the key all rounder with 607 runs and 49 wickets, He also figured in an opening stand of 250 runs with Eric Austin to secure the John Heaton Trophy for the club.
Haynes departs
When he pursued a career in London after the season, his class was sorely missed at Birstall who ended in a disappointing ninth position. After losing their first match, they won the next six and put themselves in early contention for promotion. However, their form slipped badly after that.
Their most memorable match of the season was against Wrenthorpe when they had two centurions in Eric Austin (125no) and Dominic Cleghorn (118no) in a score of 316-2. To counterbalance that, they did concede 308 versus Morley, and 382 against Jer Lane in a season when batsmen flourished.
The best of the Birstall performers was Austin (657) again, and Matthew Dyson (527) in a season when the bowling lacked penetration.