The Bowling Old Lane side led by Brian Clough which won the 1968 Priestley Cup
The early days
Although Bowling Old Lane was formed in 1905 they didn't take part in the Bradford League until 1915. They made an amazing start in their inaugural season when they pulled off the coveted league and cup double. Old Lane won the league by a single point from Bingley.
They suffered just two defeats in 20 games and one of them was inflicted by Saltaire in a match which marked S.F. Barnes's debut. He took eight for eight as Old Lane were dismissed for 31. Other stars of 1915 for the Old Lane were Fred Popplewell and A Emsley.
Further silverware
Bowling Old Lane really dominated in the 1915 Priestley Cup, starting by beating Undercliffe by three wickets in the First Round with Charles Grimshaw scoring a match winning 90. In the Second Round Bowling Old Lane scored 455 in a 351-run win over Great Horton, with Grimshaw breaking the cup record with a innings of 230. Other top performers were Popplewell (97*) and Emsley who scored 56 runs and also took 5-23. In the semi final Grimshaw top scored with 72* as Saltaire were beaten by 53 runs, Ernest Holdsworth doing the damage with the ball with 5-13.
The days of Charlie Grimshaw
In the 1915 Final Grimshaw scored 71* to take his team to a ten-wicket victory against Windhill who were dismissed for 107. In four cup-ties Grimshaw scored 463 runs for an average of 231.50.
All-rounder Charlie Grimshaw, who was as good as anybody in the league at that time. He was a left-handed batsman, and left arm spin bowler who played county cricket for Yorkshire between 1904 and 1908. Born in Calverley he scored 1,219 First Class runs at a modest average of 17.92, with a highest score of 85 against Oxford University.
Grimshaw posted half centuries against Ireland, Somerset and Worcestershire. He took 42 catches and seven wickets with his occasional slow left arm orthodox spin, at an average of 31.57. His best figures of 2 for 23 were taken against Warwickshire. He also played for the Yorkshire Second XI in the Minor Counties Championship.
Although his First Class figures appear modest he achieved more in league cricket than a host of other county cricketers with better reputations. Statistics certainly support the argument that he was one of the best of the era. In 1915 his league record was 618 runs at 47.50 with the bat and 68 wickets for an average of 8.40 with the ball. This haul of runs included the best score in the league of 124* against Pudsey St Lawrence.
10,000 gate at Birch Lane
In 1918 a massive 10,069 spectators packed into the Old Lane ground to watch a cup final replay between Saltaire and Bankfoot. It was a honour for Bowling Old Lane to host such a match.
Bowling Old Lane continued to be one of the forerunners in the league but it wasn't until the 1920s when they won silverware again.
Root makes an impact
When Fred Root was injured in action in France he found himself in St Lukes War Hospital, Bradford in 1916. During his mend he got the notion to play Bradford League cricket, and in 1918 returned to Bradford to play for Bowling Old Lane. He was an early exponent of `leg theory' - bowling fast at the leg stump with a packed leg side field. This paid dividends in the Bradford League with returns of 8-46 v Lidget Green, 7-41 v Great Horton and 6-17 v Farsley.
Root joined Worcestershire in 1921 after three seasons in league cricket. After a season and a half when he failed to establish himself as an orthodox fast-medium bowler. Root became an exponent of the leg theory style of bowling, and achieved great success with it. His ability to swing the ball in and make it gain pace off the ground made him very difficult on anything like a fiery pitch, whilst his powerful physique and consequent stamina made Root respected even on pitches giving bowlers no assistance.
In 1923 he took 170 wickets for 20.53 each and 153 for less than 17 in 1924, but spoilt his chances of going on that winter's Ashes tour th a poor performance for the Players at the Oval on a pitch that should have suited him.
Although Worcestershire was entering a period where they were the weakest of the county teams, Root's tireless, accurate and lively bowling only improved. In 1925 he took a record 207 wickets for the county, almost half of Worcestershire's wickets in first class matches. During the late 1920s, Root was effectively the team's only penetrative bowler. In 1926 Root took 7 for 42 against the Australians on a pitch so dead as to be quite unsuited to him.
Though he was less effective than previously in county cricket (soft pitches may have played a part),Root played three Tests for England against Australia that year.
In 1927 Root took 145 Championship wickets as the County won only one of thirty fixtures. The batsman's pitches of 1928 resulted in an expensive yield though he did achieve the double for the only time in his career. Root's 146 wickets in 1929 were almost triple the next best return by his team mates.
In 1931 he took 9 for 23 againstt Lancashire representing the best bowling ever achieved for Worcestershire.
Bowling Old Lane continued to be one of the forerunners in the league but it wasn't until the 1920s when they won silverware gain. In 1919 Old Lane were still competing well with a second position in the league and comfortably in front of Keighley who had Frank Woolley on their books, and Saltaire who still had Barnes.
The return of the glory days
The glory years were back in 1920 when they won the Priestley Cup for a second time. They bowled Bankfoot out in the Final for a paltry 30 runs, and passed their total for the fall of no wickets. The only notable aspect of this non-event was the fact it was the shortest final on record- 1 hour, 28 minutes. It could have been the second double in five years but they fell two points short of Saltaire as they finished runners-up. Grimshaw picked up 74 wickets at 8.05.
An unusually barren season in 1921 was followed by unprecedented success in the rest of the decade. They won the league title in 1923 and 1924 after winning the Priestley Cup in 1922 . They were beaten finalists in 1923, and 1928 before lifting the trophy again in 1929 with a 75-run win over Bradford.
Old Lane defeated Saltaire in the 1922 final by 23 runs and the following year the two sides attracted a league attendance of 6,400 for their encounter at Old Lane.
On the way to the 1923 Final batsmen H Taylor (119) and A Lashbrooke (113) had a stand of 184 versus Windhill. Taylor had a tremendous league season finishing third in the averages with 49.90.
In 1928 it was the first occasion that the losing team in the final set a score of over 200.
Although they were not always winners in the finals they were at the very top of their game which is reflected in their two title wins in the decade.
In 1923 they won the league title with H Kearney winning the League Batting Averages with an average of 43.90. Grimshaw was the most prolific bowler, as he was the following year in 1924 when the Old Lane retained their title.
Grimshaw's record circa 1922-1923 was nothing short of sensational-
1923 82 wickets at 8.15 third in league bowling averages
1924 60 wickets at 6.38 first in league bowling averages- topped battimg averages
1927 63 wickets at 9.34 first in league bowling averages- topped batting averages
1928 54 wickets at 11.25 third in league bowling averages
1929 63 wickets at 11.35 third in league bowling averages
In 1924 Grimshaw won the league batting averages with 43.90 per innings to complete the rare double of topping both averages. His haul of wickets included a hat-trick against Low Moor.
Old Lane missed out on a hat-trick of titles by one point in 1925, Undercliffe just taking top spot.
More challenging times
The 1930s were more challenging times in the league and in 1937 they took their place in the newly formed Section B. However, their great cup tradition continued apace even though they lost the habit of winning in the Final.
In 1931 Old Lane lost the Priestley Cup final to Undercliffe who scored 184 with Old Lane falling just 13 runs short. However, their closest defeat was in 1932 when Keighley defeated them by just three runs. Once again Grimshaw did his best to try and turn the game his side's way. He took six for 94 as Keighley made 200 and hit 55 when Old Lane replied with 197. The Priestley Cup Final jinx occurred on one more occasion in the thirties when Bradford Park Avenue (1934) beat them with some comfort by 69 runs.
Grimshaw recorded the highest score in the league in 1930 with an unbeaten 127 against East Bierley.
Grimshaw's ability was definitely not on the wane in 1932 when he took 65 league wickets at 13.60, including 9-25 against Bradford Park Avenue, and 7-28 versus Undercliffe. His following three seasons saw him with wicket tallies of 55, 61, and 45, which featured 9-56 v Idle in 1934 and 8-39 against Bradford Park Avenue in 1935.
In 1932 H V Douglas actually finished above Grimshaw in the league bowling averages to take the coveted first place with 35 wickets at 9.84.
Other fine performers in this period up to the Second World War included W. A. Shackleton who was a fine bowler who could also score runs prolifically. His best performances with the ball was 7-45 v Lidget Green in 1933, bettered by 9-37 v Baildon in 1934.
In fact statistics denoted that Shackleton was a better batsman having won the League Batting Averages in 1934 with 51.09. This was no fluke as he was Old Lane's best batsman in 1941 averaging 40.47.
In the immediate pre- war years E Luscombe, J Parkinson, J Lightowler, E North, A Wells, l Powell and E Pawson were also influential players at the Old Lane.
Powell had the season of his life in 1937 taking 67 wickets for 8.65 and in doing so winning the League Bowling Averages. Later he took 68 wickets in 1943 at 8.02, and 76 wickets in 1944 at 8.89.
During the 1939-1945 war Harry Elam captained the side with mixed fortunes. He would later become the club president and a much respected official at league level. The best season was 1940 when he led his side to runners-up behind Windhill in Division One. A Shackleton maintained his form under Elam, but the best performance came from A Booth who took 89 wickets in 1940 at 11.11.
Arthur Mitchell stars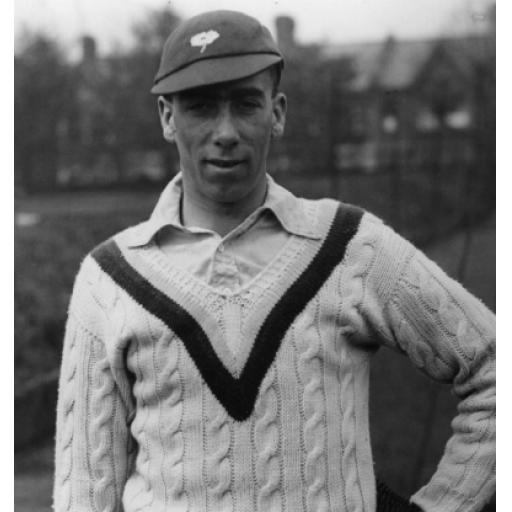 In 1944 Bowling Old Lane just missed out on promotion to the First Division with a team that contained former Yorkshire and England batsman Arthur Mitchell, above,. He scored 573 runs at 44.07 with a top score of 105.
Born in Baildon and nicknamed "Ticker" because of a habit of chatting to himself while batting, Mitchell was a solid, determined and sometimes dour middle order batsman who converted to become an opening batsman after the retirement of Percy Holmes in 1932.
An accumulator of runs rather than a stroke maker, he very occasionally allowed himself to bat more freely, and when he did he revealed himself as a particularly fine cutter. He scored centuries in four consecutive innings for Yorkshire in 1933.
Mitchell's Test career might have consisted of just three matches on the 1933-34 tour of India, when he performed without distinction in what was, in effect, an England second eleven. But an injury to Maurice Leyland just before the Headingley Test against South Africa in 1935 led to Mitchell being summoned, literally, from his back garden. With scores of 58 and 72, he retained his place for the final Test, and played once more, against India in 1936.
In 1946 the Old Lane were well down the table despite their wicket-keeper J Higgins winning the league wicket-keeper's prize. Mitchell was the main batsman with 335 runs at 25.76.
The late forties brought something of a renaissance at Old Lane when they won the Division Two title in 1948. This inspired them to challenge for the title in Division One in 1949 falling just one point behind Salts finishing second.
All Rounder K Speight was one of their star players performing heroics with bat and ball. He took 66 wickets in both 1947 and 1948, coupled with 400-plus runs with the bat which included an unbeaten century in the latter year.
Frank Lowson shines
The 23-year old Frank Lowson excelled in 1948 with 803 runs at 47.23 taking him to second spot in the League Averages. That year he scored his first Bradford League century at the expense of Lidget Green. He had first played for the club in 1942 as a seventeen year old.
Lowson came late to first class cricket and then was an instant success as an opening batsman for Yorkshire, scoring 1,799 runs in his first season, 1949, and partnering Len Hutton in the most prolific season of Hutton's career.
The following year in 1950 he did even better scoring a massive 2,152 runs. The partnership moved into Test cricket against the South Africans in 1951. Lowson's first Test innings was 58 out of a first-wicket partnership of 99 with Hutton at Headingley and he retained his place for the final match of the series at The Oval.
Lowson toured India playing in four of the five Tests against India making his highest Test score (68) in the first match. He scored more than 1,000 first-class runs on the tour, at an average of 44 runs per innings, but could average only 18 in the Tests.
Wisden's review of the tour said; "Lowson possessed more strokes and looked the most accomplished batsman on the side, but he had an unfortunate time in the Tests. His skill could not be denied, the only doubt being the question of temperament".
The influential Jack Hill
In 1949 Jack Hill signalled the start his influential career at the Old Lane scoring 432 runs at 36.00. His influence was to last in various guises for more than 40 years and a more dedicated club man it would be impossible to find. He was the captain for ten years and holds the club record score in league matches of 148 not out.
Having served in India during the war years, he had an instant rapport with the Asian people when they came to the area in the 1960s. It is as a direct result of his actions that a strong bond began to exist between the communities.
Bob Appleyard on the scene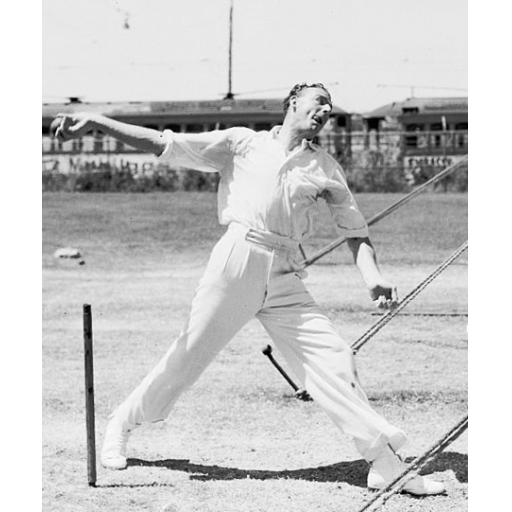 In the same year as Hill broke through a future Test cricketer of the name Bob Appleyard, above, who was 24 at the time, announced his presence with 69 wickets at 13.43. Appleyard, pictured thiecame a Yorkshire legend who benefited from his spell playing Bradford League cricket with Bowling Old Lane.
He quickly proved himself a tough proposition for batsmen with his ability to bowl fast-medium swingers or seamers and off-spinners with almost exactly the same action.
Appleyard was one of the best English bowlers of the 1950s, a decade which saw England develop its strongest bowling attack of the twentieth century. Tragically his career was almost destroyed by injury and illness after an amazing first full season in 1951 when he took 200 First Class wickets at the small cost of 14 each. In his limited Test life, he took a wicket every 51 balls, and in first class cricket his 708 wickets cost only 15.48 runs each.
When he was fit he was one of the finest bowlers to represent county and country. In the early 1950s Doug Padgett and Gordon Barker was a very successful opening pair at the Old Lane. Padgett went on to play for Yorkshire and England, while Barker made over 20,000 runs for Essex.
Although Gordon Barker was born in Yorkshire he was overlooked by his native county and played his entire career with Essex. He was a dogged right-handed opening batsman who made his Essex debut in 1954 against the touring Canadians, scoring a century. He passed 1,000 runs in a season every year from 1955 to 1967 with a best of 1,741 runs in 1960. He finished his career with 21,893 runs with a career best score of 181.
Doug Padgett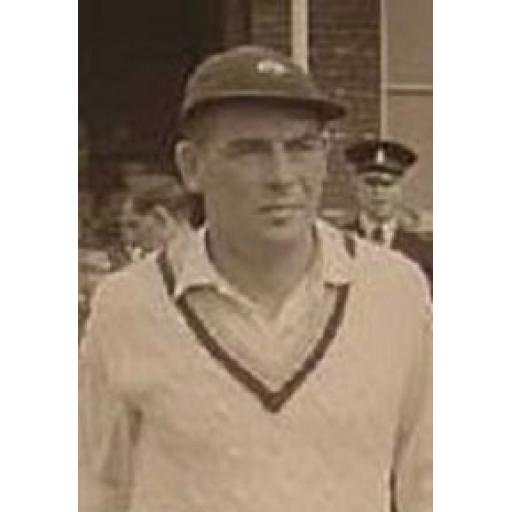 In the fifties county players stood out in the field and nobody more than Padgett, above, who won the league's Fielding Prize in 1954. Ironically the next time that honour was bestowed on Old Lane was in 1975 when namesake but no relation Phil Padgett did the deed.
After National Service, Padgett was one of the first of a new generation of Yorkshire batsmen to cement his place in the Yorkshire first team. He scored more than 1,000 runs in 1956, and in the County Championship-winning side of 1959 he was the leading batsman with more than 2,000 runs.
Padgett usually batted at No 3, though he occasionally opened the innings. In 1960, a tour by the South Africans, widely perceived as weak, led the England Test selectors to experiment with new batsmen, and Padgett played in the fourth and fifth matches.
Padgett often failed to convert his innings into big scores, albeit registering 129 half centuries in his first-class career, Padgett only reached the century mark on 32 occasions. This counted against him when the England selectors considered his promotion to further international duty. However, he remained a valued member of the Yorkshire side that won six further Championships across the 1960s.
He scored more than 1,000 runs in 12 seasons. He retired from playing in 1971, much to the frustration of the new captain, Geoffrey Boycott who relied on his counsel. Padgett then captained Yorkshire's second eleven, becoming assistant, then head coach. He kept a keen interest in Old Lane and cajoled countless county fledglings to play at Birch Lane.
The fifties decade saw little achievement at the Old Lane with Second Division cricket the diet for their faithful spectators. The outstanding club cricketers on their books apart from the aforementioned were J A Swift, Alf Clayton, F Sunderland and J Walker.
In 1953 there was a remarkable start to the Keighley v Bowling Old Lane fixture. Keighley batted first and lost their first six batsmen for ducks.
Alf Clayton took four wickets in his opening over, including the hat-trick and when fast bowler Jack Stocker started his first over, the score was 1 run for 4 wickets, the one run being an extra. At the end of his first over the Keighley total stood at 2 runs for 6 wickets. Clayton finished with 7-22, while Stocker took 3-28 in a partly recovered total of 61 all-out. The Old Lane won by eight wickets.
Brian Clough arrives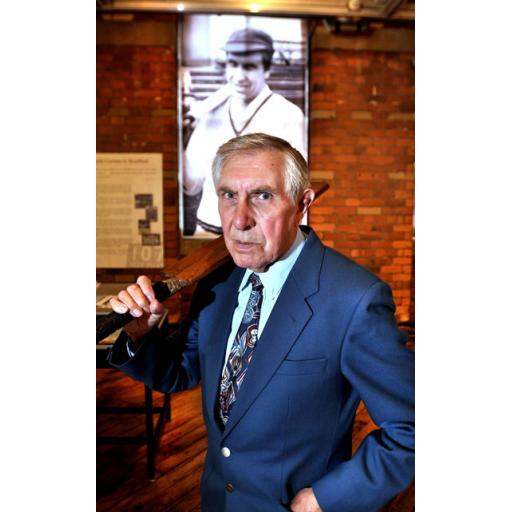 The legendary Brian Clough, above, first burst into the League averages at Old Lane in 1956 when his haul of 381 runs at an average of 22.41 ranked him third best batter in the club after J Hill and J Stocker.
Old Lane possessed good class wicket-keepers in the shape of D Bastow followed by Peter Bretherick who won the League Wicket Keepers Award respectively in the successive seasons of 1957 and 1958. Bretherick's longevity behind the stumps was rewarded when he repeated this feat exactly ten years later in 1968.
In the late 1950s Malcolm Shackleton and Harry Rider were first united as Old Lane's opening bowlers. Shackleton topped fifty wickets in 1957, while Rider replicated the feat in 1959.
They went on to form a lethal partnership in the sixties and were generally acknowledged to be the best in the league since the war. Bradford Park Avenue batters who were used to playing on their county strip feared what Shackleton and Rider might do to them at Old Lane especially if there was moisture about.
Jack Hill managed to unearth a rookie 24-year old quick bowler of the name David Pickles. In 1959 he proved too quick for many of the league batsmen taking 47 wickets at 13.49. Farsley's Brian Claughton recalled in 2014 that Yorkshire's Bryan Stott and himself opened the batting once against him and endured a torrid time.
"Pickles was lightening quick, in fact the quickest I ever faced, and that includes Freddie Trueman who I faced in challenge matches. He had us both dropped in the slips before dismissing us both before the end of the third over. Ray Illingworth always said that he should have been given his head in county cricket despite the no balls and wides he was inclined to bowl", said Claughton.
Pickles went on to play for Yorkshire where there was a feeling that he was indeed as fast as Trueman. However, it was said that the Yorkshire coaches insisted on changing his action and he wasn't the same bowler again.
He played 41 matches for Yorkshire taking 96 wickets at 21.47, with a best of 7 for 61 against Somerset. He took five wickets in a match four times, including 5 for 42 in a Roses Match. After his brief glories little was heard of a bowler who had lost all bowling rhythm.
Despite their status as a Division Two club in 1959 they reached the Priestley Cup Final where they battled all the way against a strong Bradford Park Avenue side. Bradford batting first scored 198-7, but the Old Lane made a monumental effort to edge to 178-8 and lose by the modest margin of 20 runs.
Rider took 3-41 in 13 overs, while Shackleton had 2-51 in 14 overs to peg the Bradford side to fewer than 200. Clough opened with 50, and the Dimbleby brothers (Alan & Keith both coincidentally contributed 20 before being run out).
In 1960 the Old Lane made a promising start in the Priestley Cup beating Farsley by 136 runs with Rider taking 7 for 17. In the same match Barrie Jenkinson showed great promise scoring 98. He went on to be the club's most consistent batsman that season with 556 runs at 37.06.
Jenkinson had a greatly fulfilled career at Lidget Green, Bowling Old Lane, Bradford Park Avenue and Idle with a particular panache for the square cut. He could also swing the ball profusely off a short run of gentle medium pacers. Incredibly he won the Batting, Fielding, Bowling League prizes in successive seasons- 1957, 1958, 1959.
In 1961 the Old Lane won the Division Two title with Clough (417 runs) the principle batsman, and Rider and Shackleton at their most deadliest with the ball. Shackleton's 58 wickets were taken at a cost of 8-48.
They also reached the Priestley Cup Final again only to concede defeat to Keighley when setting a score of 126. It was a real nail-biter to the bitter end with Keighley scraping through by two wickets.
Title challengers
This achievement was the catalyst for a genuine title bid in the top division the following year in 1962 when they ran eventual winners Farsley very close, just failing by one point. Again Clough (415 runs) was the leading batsman, and Shackleton (52) and Rider (64) the potent bowlers. The only difference in personnel this time was the presence of John Woodford who contributed 373 runs at 33.91.
The 19-year old Woodford graduated to First Class cricket playing 38 matches for Yorkshire principally as a batsman claiming one career century. He later became a one-day specialist when this form of the game was just about to take off.
In 1962 Old Lane had a legendary hitter in their ranks of the name Geoff Thompson. He would mainly hit to leg and older supporters can remember him hitting the ball out of Park Avenue into Horton Park. In 1962 he recorded the Fastest Fifty in seventeen minutes against a very good Bradford side.
It must have been a great source of disappointment to the Old Lane followers to be relegated the very next season after going so close in their title pursuit. Clough's 404 runs could not prevent the 1963 relegation.
Old Lane made up for this disappointment the following year when in 1964 strolled to the Division Two title with a well balance side. The runs came from A Gray (333 runs),Graham Boothroyd (507 runs),Bernard Ellison (377 runs),and Clough (347 runs),while the formidable trio of seamers Rider, Naylor and Bateson shared 128 wickets.
In 1965 with a similar side they finished in fourth place in the top division, and also reached the Priestley Cup Final. They were no match in the final for an Idle side who were taking all before them in the mid sixties shooting Old Lane out for 55 after setting a challenging 192-5.
Malcolm Naylor and Michael Bateson took over the fast bowling mantle of Shackleton and Rider and were feared by the opposition batsmen. Bateson's best season was in 1965 when he took 65 wickets, while Naylor claimed 53 wickets in 1968.
Brian Clough had a sojourn of 14 years as captain with his greatest triumph in winning the Priestley Cup in 1968. The most significant aspect of a fairly low key drab final was that in beating Saltaire by 18 runs they recorded the lowest all-out total of 125 for a winning side since it became a 50-over-a-side contest. However, they had at last broken their Priestley Cup Final jinx after nine final defeats.
Highs and lows
The highs and lows at Bowling Old Lane continued in the seventies with relegation in 1970 followed by promotion in 1973. Clough was still scoring runs steadily with Jack.Bethel, Barrie Jenkinson, D Sumnal and Peter Holdsworth being the main men, while M Mantle was the chief wicket-taker with 59 wickets in 1971.
Doug Padgett had returned to the fold in 1972, team poicture above, averaging 67.62 from 541 runs and finishing second in the league batting averages. When available from Yorkshire contract duties he played, particularly in 1975 and 1976 when he supplemented a good batting team.
Test bowler Harold Rhodes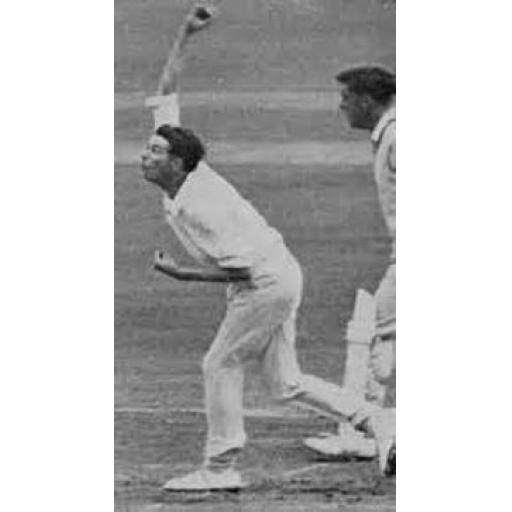 The 1973 promotion team was based around the former Derbyshire and England bowler Harold Rhodes who was 37 years old at the time. He took exactly 50 wickets at the small cost of 9.20 each and a quarter of his overs resulted in maidens.
Rhodes was a right-arm fast bowler who took 1,073 First Class wickets at an average of 19.50 and with a best performance of 7-38. His best season was 1965 when he took 119 wickets at 11.04 runs per wicket, which ensured he would top the First Class Bowling Averages.
He took nine wickets in his two Test appearances. Although facing strong competition from bowlers such as Brian Statham and Fred Trueman, Rhodes might have expected to play many more Tests.
But doubts about the legality of his bowling action emerged, and in the 1960 season, playing for Derbyshire against the South Africans, he was "called" for throwing – bowling the ball with a bent arm that straightens in the delivery – by the umpire and former Test batsman, Paul Gibb. Later in the 1960 season, he was no-balled again by Gibb, and by Syd Buller.
In 1975 when the Old Lane finished a credible fourth in the top flight they had four batters in the league averages,
Bill Athey (485 runs),Doug Padgett (454 runs),J Wood (426 runs) and Phil Padgett (419 runs),with Rhodes taking the honours with the ball to the tune of 52 wickets at 9.61.
Athey who was only 18 at the time made his debut for his native Yorkshire in 1976, before moving to Gloucestershire in 1984. He captained the side in 1989, and scored four hundreds in successive innings while there. In 1993, he moved to Sussex, and passed the increasingly rare landmark of 25,000 first class runs when he made an unbeaten century against Somerset in 1997.
He played 467 first class matches and batted 784 times with 71 not outs. He scored 25,453 first-class runs, with a best of 184, at an average of 35.69, with 55 centuries and 126 fifties. He also took 429 catches. He played in 23 Test matches between 1980 and 1988, but scored more than 50 runs only five times in 41 innings.
Fighting relegation
In 1977 Bowling Old Lane finished a mere three points above a relegation placing. There was no real prospects of anything better than mid-table the following season despite the signing of county bowling prospect Steve Sylvester. He played six matches for Yorkshire in 1976 and 1977 taking 12 wickets at 26.08 with a career best of 4-86 against Lancashire.
Against the odds
Against all odds skipper Terry O'Connor led Bowling Old Lane to the 1978 Division One title. It was a real team effort with few stars, but they gelled into a tight unit and played to a team plan that was conducive to each individual's capabilities. Essentially a bowling team they scored barely enough runs at times with a limited batting line-up.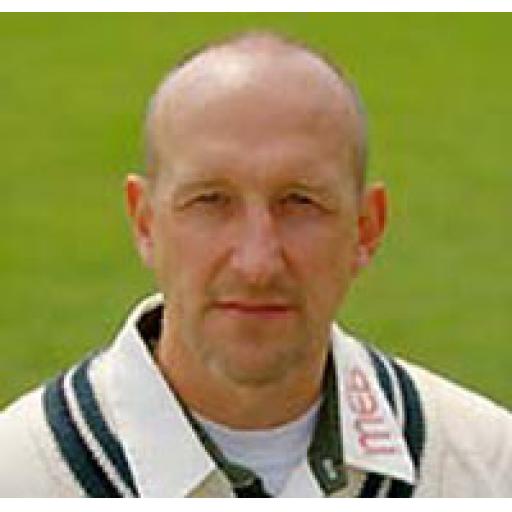 They opened the season against Manningham Mills and won by twenty-three runs, largely through a knock of 56 from Yorkshire prospect Bill Athey, above. When Athey made his next appearance three games later he scored 75 but Undercliffe reduced Old Lane to a losing draw. Athey only batted three more times for the club that season because of county duties.
Captain O'Connor did a splendid job in the face of adversity when it arrived- after four wins in a row, commencing on 30th May the team were thrashed at East Bierley (by seven wickets) and Manningham Mills (by six wickets) in their next two matches. Back to the drawing board O'Connor coaxed extra effort out of his team. This double setback was followed by a spell of seven games, six of them were won- the other a winning draw. The team had pulled itself together after a small hiccup and went on to win a much deserved title. Undercliffe tracked them all the way but they were tenacious enough to hold on.
The bowling had variation and potency- paceman Sylvester (52 wickets) and left-arm spinner Russell Heritage (53 wickets) were the main bowlers backed excellently by accurate seamer David Pepper and workhorse John Wood. The batting had an ordinary look about it and could even be described as the least talented batting side to win the title.
However, skipper O'Connor (319 runs),P.Sykes (412 runs),Sylvester (349 runs) and Wood (360 runs) conjured enough runs to ensure victory on the back of a virtuoso bowling attack. Derek Wainwright proved to be a tidy wicketkeeper complimenting the bowlers at all times. Quite a useful batter by reputation he embarked on a spell from May 13 of seven ducks in 11 innings.
Yorkshire Champions Trophy winners
Although they slipped to third bottom in 1979 they won the Yorkshire Champions Trophy beating Knaresborough in the final. They might have been the surprise title winners in 1978 but they could rightfully claim to be the club champions of Yorkshire in 1979.
Heritage had a fine season in the league in 1979 scoring 479 runs at 29.88 including a top score of 119*, and also taking 38 wickets with his considered spin. At the start of the eighties he continued his batting form scoring 779 runs in 1980 with a top score of 129*, and had a fine all round year in 1982,
21 year old Martyn Moxon enjoyed a good season in 1981 scoring 431 runs at 35.91, only to surpass this in 1982 when he finished 2nd in the league batting averages with a haul of 625 runs at 48.08 and a top score of 103. His time at old Lane was short as his blossoming county career took hold.
Moxon's county career spanned seventeen seasons with Yorkshire where he scored 21,161 first class runs at 42.83 with a highest score of 274*. He began his career with two centuries in his first two home County Championship matches, and it was not long before his elegant driving saw him earmarked for England honours.
He established a reliable opening partnership with Ashley Metcalfe and later captained the county. In 10 Test matches he averaged a modest 28.43 with a top score of 99.
Struggling times
After four seasons between 1979 and 1982 finishing third bottom the inevitable relegation was reality in 1983 when they finished bottom of the pile with only one win. O'Connor was the only player who could walk tall when he scored 574 runs. Worse was to follow in 1984 when they had to apply for re-election by virtue of finishing in the bottom two of the 2nd division. This was despite Donald Holdsworth winning the league bowling averages for this division.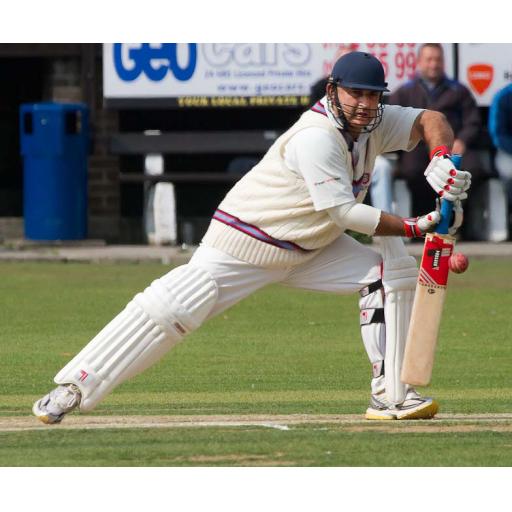 Things became easier in 1985 when the outstanding Babar Butt, above, was in place as the overseas signing. He was the youngest player in the league to total 1,000 runs in a season, scoring 1,027 at 60.41 with a top score of 112. This ensured he would win the Division Two League Batting Averages.
Butt went on to play for both Doncaster Town and Rotherham in the Yorkshire League before returning to the Bradford League with Pudsey Congs to win virtually every honour in the game.
In 1987 promotion was won with Jimmy Poutch being a major influence. Poutch was a very competitive all-rounder who hit the ball hard and would take early vital wickets with his brisk pace. In 1987 he took the league's bowling prize with 48 wickets at 11.33, and also hit 338 vital runs.
The emergence of Doidge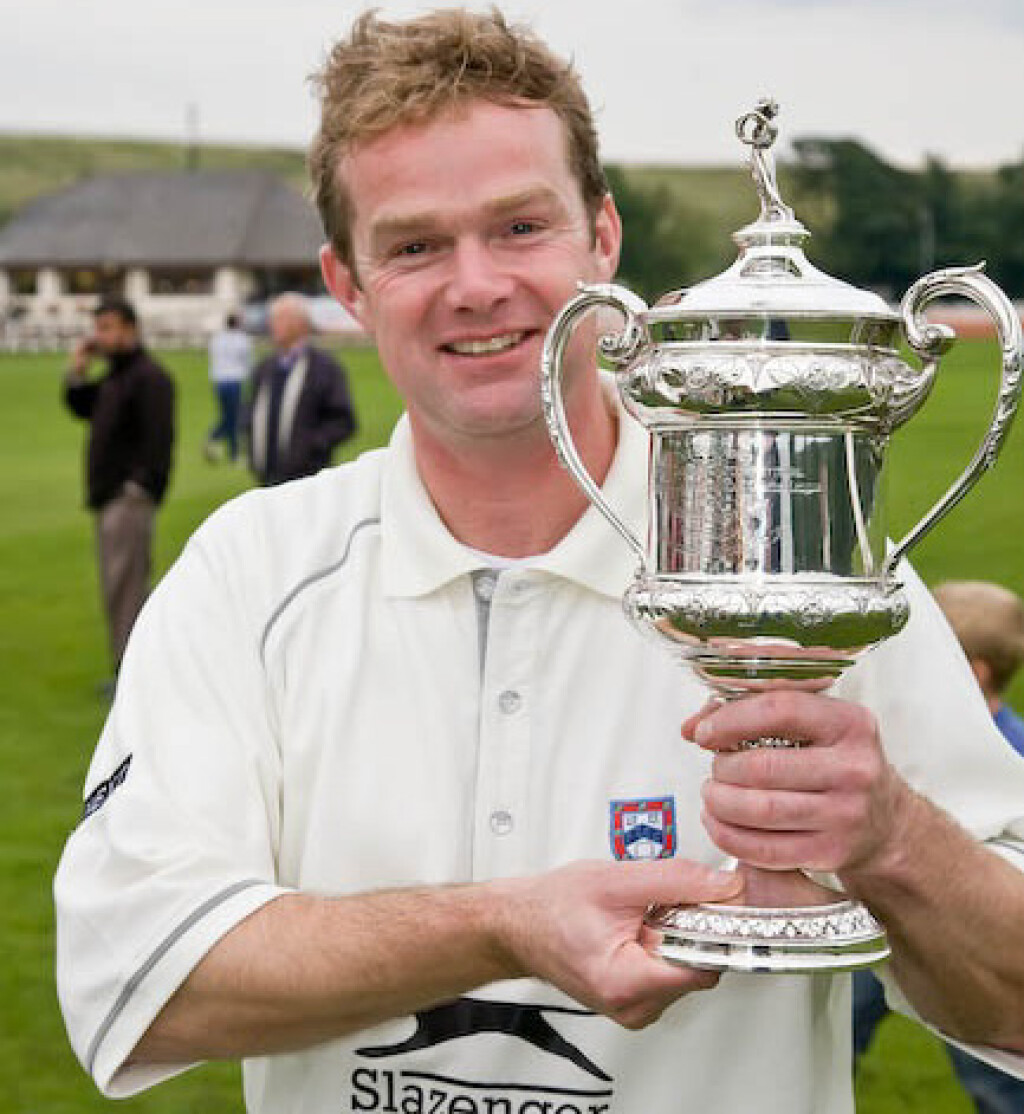 Another important player was 17-year old Matthew Doidge who had left Pudsey St Lawrence for better opportunities. He had a highly promising season scoring 340 runs, and taking 31 wickets.
He went on to top 50 wickets in 1988 and 1989, progressing well enough to win the Young Player of the Year Award for 1988 whilst at Old Lane. His subsequent great career at Pudsey Congs, after developing further at Farsley owed a sizeable debt to Bowling Old Lane.
Doidge was on Yorkshire's books principally as a bowler. His only first class appearance came against the Indian tourists in 1990 at Headingley. Doidge bowled 24 overs of left arm orthodox spin, conceding 106 runs, but failed to take a wicket. A left-handed batsman, he did not get to bat in the drawn game.
Jack Hill was wily enough to recruit good prospects from fashionable clubs like Doidge who were denied opportunities at a young age. Danny Waddell was another recruit from Pudsey St Lawrence who later benefited from this.
Another notable feat in 1987 was Steve Lee winning the league wicket-keeping prize. He would establish himself at various clubs as one of the top keepers in the league.
In 1989 Simon O'Dowd captured the imagination of the spectators as the overseas player at the Old Lane. His special brand of aggressive stroke play arguably kept his team safe from relegation with his 964 runs at 41.91 and a top score of 119*. His star faded slightly in the following year in 1990 when he could only manage 675 runs in the relegation season.
Simon O'Dowd and Karl Krikken set the highest opening partnership in the league in 1989 of 240 runs. Krikken played First Class cricket for Derbyshire, primarily as first choice wicket keeper, between 1987 and 2003, and was also a lower-order right-handed batsman.
County players
During the 1980s and 1990s Old Lane had the assistance from time to time of several young county-players who played in ad hoc matches, Darren Gough being the most famous. Alan Ramage played more often than Gough did, but didn't complete a full season.
Ramage was a right arm fast bowler who took 44 wickets at 37.47 in first-class cricket, with a best of 5-65. As a left-handed batsman he was less effective scoring 219 runs at 16.84 with a top score of 52. In 37 one day matches, he took 31 wickets at 39.90, and scored 184 runs at 18.40, with a highest score of 32 not out.
Ramage first played for Yorkshire, in the John Player League in 1975. He played seven one day games before making his first-class debut for his native county against Cambridge University in June 1979. He made sporadic appearances until his 23rd and final first-class match, against Nottinghamshire in July 1983.
Twenty-one-year-old pace bowler David Pennett was the only other credible performer in 1990 taking 48 wickets. Having played Second XI cricket for his native Yorkshire. Pennett was signed by Nottinghamshire 1992 season. In first-class cricket, Pennett appeared 31 times for Nottinghamshire taking 60 wickets at an average of 44.95, with best figures of 5/36.
These figures were his only first-class five-wicket haul and came against Durham in 1993. Pennett scored 196 runs at an average of 9.80. His only innings of note was a score of 50 against Durham in 1995.
During a transitional period in the 90s Richard Coates was captain and he soldiered on with a mainly inexperienced side. There were highlights dotted about in a largely undistinguished decade.
Although they struggled to make an impact in 1993 there were some remarkable individual performances. The 20-year old Hampshire batsman Jason Laney showed obvious class in scoring 525 runs at 47.73. His First Class career resulted in 87 matches with a haul of 4,414 runs at 29.82, and a top score of 112.
In the same year quick bowler Nigel Hanson burst on the scene with 63 wickets. Hanson would develop into a consistent seamer later plying his trade with Bankfoot.
The 1993 season saw the first introduction of 17-year old Ian Fisher who was on Yorkshire's books. A left-handed batsman and left-arm spin bowler he took 42 wickets for the Old Lane at the expense of 19.36 per wicket.
Fisher made his first-class debut in April 1996 during Yorkshire's pre-season tour of Zimbabwe, and in his first innings took 5 for 35 against a Mashonaland Invitation XI. Fisher moved to Gloucestershire for the 2002 seasono
He had a decent summer, scoring over 500 runs and taking more than 30 wickets in first-class cricket; he also scored 103no against Essex, which remains his only first-class century. Fisher helped Gloucestershire to promotion to Division One in the County Championship in 2003, but gradually fell away from first-team contention.
In the second team left-arm spinner Geoff Hanson, father of Nigel, won the league averages in 1994 for the second time in seven years. He was a wily old spinner who bowled quite brisk and squeezed every ounce of assistance from the pitch.
Hanson's worth at Old Lane could be measured as even greater off the field as he took on a host of duties. He ensured that despite protracted problems beyond their control at Old Lane the cricketers would play on a good surface.
In 1995 promotion was achieved largely due to Yorkshire prospect James Middlebrook. Like Doidge before him he was brought to the Old Lane at an early age to gain valuable First Team experience. The 19-year old scored 689 runs at 40.53 with a top score of 127, and also chipped in with 31 wickets.
An off-spinning all-rounder, Middlebrook represented Yorkshire at every age level from under-11 upwards before he made his first-class debut for the senior side in 1998. Though he made a tentative start, he impressed sufficiently against Essex in 2001 - taking three wickets and hitting 84 - to earn a move to Chelmsford the following season.
He was the only Essex bowler to take 50 wickets in 2003, while he underlined his prowess with the bat courtesy of a maiden first-class century against Cambridge UCCE in 2004, a season that also saw him hit 115 against Somerset. In 2007 - he averaged almost 32 with the bat and took 24 wickets - and in the following season took 31 wickets.
However, his time at Essex came to an end at the conclusion of the 2009 season and he then established himself at Northants as a vital, versatile performer. It came as a great surprise that after being voted the Player of the Year he was released from the county at the end of the 2014 season.
Another influential player in 1995 was Mohammed Sohail from overseas who scored the fastest fifty in the league in 22 minutes. Despite this effort he was not considered to be one of the better signings from overseas, albeit he did take 48 wickets.
Mohammed Yousuf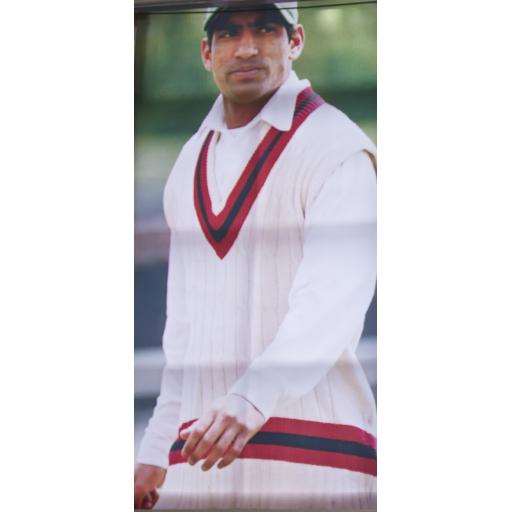 In 1996 Old Lane introduced Yousuf Youhana - now known as Mohammed Yousuf - and he has gone on to be a key player for Pakistan. Yousuf made his Test debut against South Africa at Durban and One Day International debut against Zimbabwe at Harare. Yousuf, he has scored over 9,000 One Day International runs at an average above 40 (2nd highest batting average among Pakistani batsmen after Zaheer Abbas) and over 7,000 Test runs at an average above 50 (highest batting average amongst all Pakistani batsmen) with 24 Test centuries.
He has the record of scoring the most runs without being dismissed in the One Day International match, with a total of 405 runs against Zimbabwe in Zimbabwe in 2002–2003. He has also scored a 23-ball fifty and a 68-ball hundred in One Day Internationals. In Test match, he has scored a 27-ball fifty, which is third fastest by any player.
Despite his undoubted class Yousuf could not save Old Lane from relegation despite scoring 894 runs at 38.87 with a top score of 128*.
The Old Lane bounced back yet again gaining promotion as title winners in 1997. They had a good all round side with Tahir Khan taking the honours with the bat scoring 422 runs at an impressive 52.75. He had assistance from J Child who scored 622 runs and took 39 wickets, and seamer Hanson who was the lynch pin of the attack with 59 wickets. This revival was short lived as relegation was the name of the game in 1998.
Remarkable fielder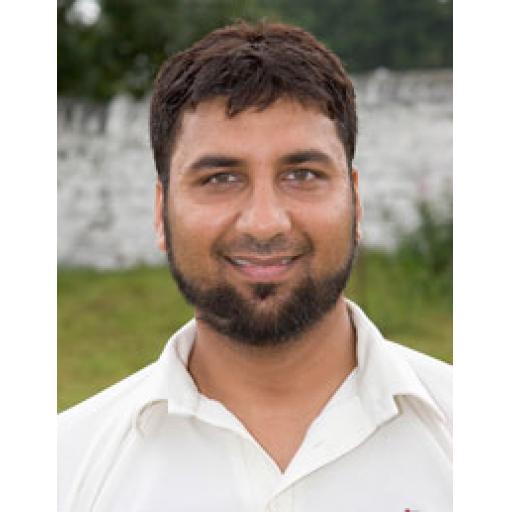 Gazanfar Rehman, above, was a remarkable fielder winning the league fielding award three times between 1993-1997, the middle one at Great Horton. His best season with the bat came in 1997 when he scored 642 runs at 40.13 for the Old Lane.
Spinner Andrew Stothart won the League's Most Promising Young Spinner Award in both 1996 and 1997. He was particularly effective in 1997 taking 42 wickets.
Vandalism attacks to the Old Lane ground negated their progress for a while. In the aftermath they showed a steely determination to continue and built relationships with the local community. Later they would qualify for grants to update their seating.
At the end of the nineties the team was in an uninspiring position in the lower division, but possessed a remarkable overseas player in M Shafeeq. He was a top class wicket-keeper who could bat- scoring 865 runs at 43.25.The following year at the start of the 21st Century he scored even more runs in averaging 46.10 from 968 runs. Both years he took 35 victims to place him second in the league keeper's chart.
By this time Bowling Old Lane had evolved into a largely Asian team. One constant from 2000 to 2013 was the performances of seamer Zubair Najeeb. He was never a prolific wicket-taker but he would tie an end up for a miserly rate of scoring and was extremely difficult to get away. Known as grim faced and determined few batsmen took liberties with him. His best season was 2003 when he reached 53 league wickets.
The club unleashed their overseas bowler Mohammad Siddiq on the Bradford League in 2004 and he took 110 wickets at 11.44 to become only the fourth player to achieve the feat in the competition's long history.
In 2006 they were powerful enough to win the Second Division title with a diverse array of fine bowlers in Zubair Najeeb (30 wkts),Jamal Nasir (52 wkts),Mohammed Hanif (38 wkts) and Malik Aftab (36 wkts). It was a great achievement for a club with limited funds. The batting was strong enough to get by with Amjid Khan scoring 360 runs at 45.00, and Imran Mirza contributing 407 at 31.31.
The same year they confounded all the pundits to reach the Sovereign Health Care Priestley Cup Final at Wagon Lane against all-conquering Woodlands. In a fluctuating game Old Lane gave Woodlands a real scare as the favourites finally sneaked home on 146-8.
Relegation
Old Lane was relegated two years later and has failed to mount a serious challenge since. However, they have had some fine cricketers in the 2009-2014 period.
All rounder Amjid Khan was a very useful acquisition who performed with both bat and ball, taking 55 wickets in addition to his 470 runs at 42.73 in 2009. He followed this with a very strong performance in 2010 scoring 350 useful runs, and 44 wickets.
The remarkable overseas cricketer Mapa Bandara was a superb wicket-keeper who would often take his pads off to bowl seam if needed. He was also a specialist batsman of some standing. In 2010 he scored 606 runs at 55.09, and in 2011 scored 718 runs at 32.64. His efficiency behind the wicket resulted in him winning the 2nd Division wicket-keeper's trophy in both seasons. The Sri Lankan played First Class cricket in his home country with a top score of 104*.
The diminutive Left arm spin bowler Mohammed Hanif, who had a spell at Harrogate, proved a tricky customer for the division batters for much of the decade. Not a prolific wicket-taker he would break a difficult stand after lulling the batters into a false sense of security. His best season was in 2011 when he took 42 wickets.
The much travelled Ashan Butt was the most accomplished player of 2013 scoring 902 runs at 45.10. He also won the 2nd Division Fielding Award. Other good performers were Ayyaz Akram (719 runs) and Amjad Hussain (788 runs). The overseas player Devraj Patil was also a handy cricketer scoring 619 runs and taking 47 wickets.
Long-serving Michael Hope, below, died at the age of 71 in 2013. He will certainly go down in the folk-lore of Bowling Old Lane - in later years he was part of the famous trio dubbed "The Three Musketeers" – Geoff Hanson and Brian Clough being the others who have fought to keep their club going against all odds.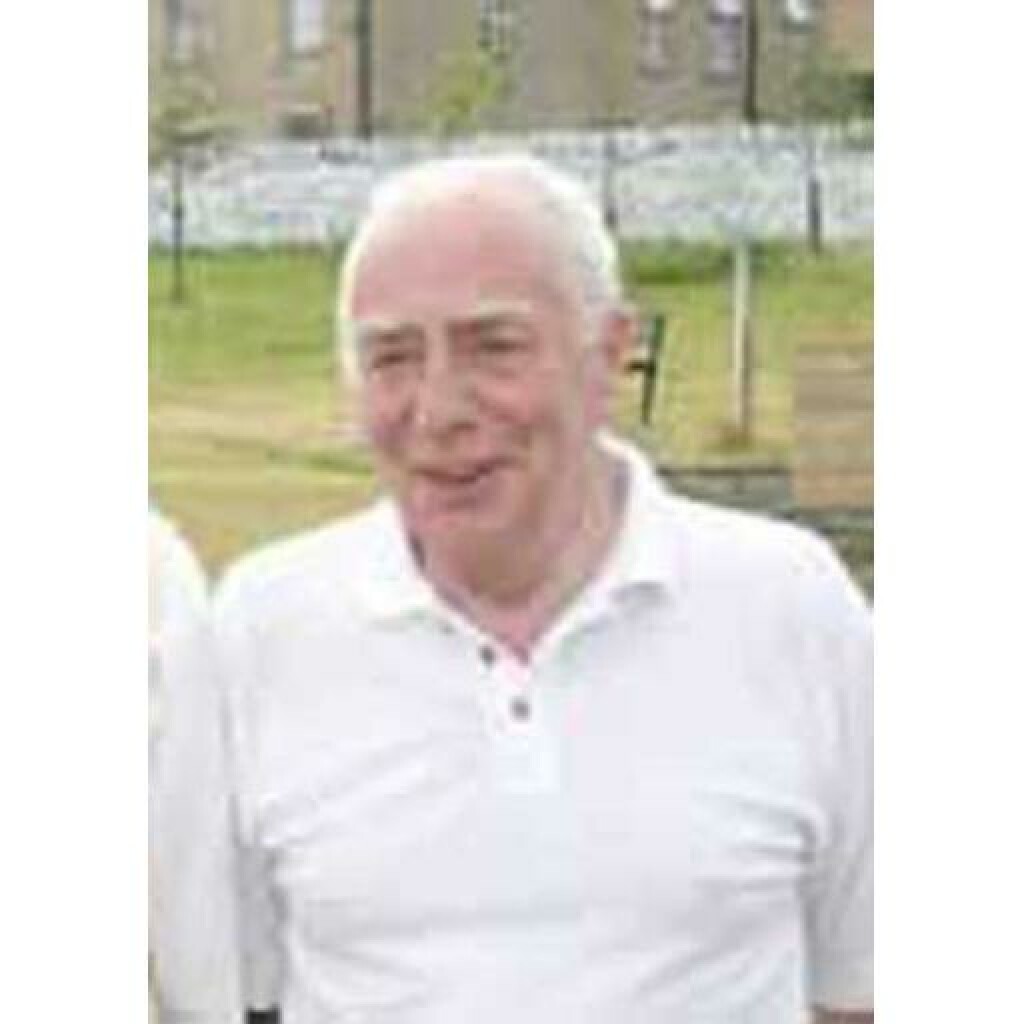 His association with the club went back to his childhood where he graduated to senior cricket before taking on a host of duties post-retirement. His greatest feat was probably helping to nurture a host of young talent through his work with the Bradford Junior Cricket League.
In 2014 the Old Lane registered nine wins in a season when they finished ninth. Ashan Butt was their leading batsman again with 561 runs at 37.40, followed by Ayyaz Akram with 445 at 26.18. After previously announcing his retirement seamer Zubair Najeeb made another comeback to spearhead the attack taking 30 wickets at 13.63, while Arsalan Ijaz captured 37 wickets.
Old Lane made further progress in 2015 finishing 5th with twelve victories. They had a powerful batting side in Nawaz Sardar (575 runs) and Ashan Butt (658 runs) and often piled up the runs. However, they lacked the penetration with the ball to join the promotion race.
Now playing in the stronger Championship B division in 2016, the Old Lane did well to finish in fifthposition with 10 wins. They played positive cricket throughout the season and inflicted on Townville their only league defeat.
Adal Islam had a fine all round season scoring 581 runs at 36.31, and also taking 52 wickets at 13.60, while Ashan Butt topped the batting with 604 runs at 37.75.
Agonising relegation on last day
Key players departing resulted in relegation in 2017 after a start that suggested different. The decline set in during the last third of the season when they gradually drifted into the relegation zone. The last fixture against Ossett gave them the opportunity to survive if they had beaten them decisively, and in doing so put them down.
Old Lane certainly had a chance, despite being bowled out for 105 in a reduced overs game. They needed to win and take eight wickets in the process to conjure enough points for safety.
They had Ossett in all sorts of trouble and duly won the match, but could only take six wickets despite the efforts of Sadaqat Zaman who took 4-23.
The two extra wickets they were unable to take would have given them the vital point that would have put them level on points. This would have been sufficient because Old Lane would have survived having one more win than Ossett.
Farakh Hussain (589 runs) and Bilal Ejaz (457 runs) were the main batters, but the bowling lacked penetration with only Khalid Bilal reaching 30 wickets.
First silverware in 39 years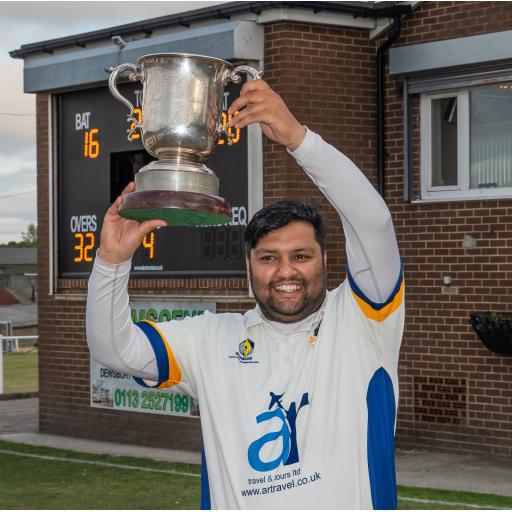 A promotion bid was expected in 2018, but it didn't materialise despite skipper Farakh Hussain, above, recruiting proven run-getter Ahsan Butt. However, it was still a season to remember because genuine silverware was won for the first time in 39 years.
The league form was patchy, but in the Jack Hampshire Cup it was a different matter as they swept aside Gildersome & Farnley Hill, Wakefield St Michael's and Adwalton to reach the semi-finals against Conference side Great Preston.
Old Lane was set a very credible 203-7 to chase as they used seven bowlers in an attempt to lessen the glut of early runs from Great Preston. The 40-over target could have been much higher but for Zeeshan Haider's economical spell of 2-20 from his eight overs.
In reply, they lost Abid Alishan early on for nine, but Ahsan Butt (89 runs) and Farakh Hussain (52 runs) took control and the result was never in doubt as they reached their target with 13 overs to spare.
Old Lane met league leaders Keighley in the final at Carlton, and won in emphatic fashion. On an excellent wicket, Keighley batted first and only reached 202-8 because of some late order hitting. Haider was by far the best bowler with 3-34 from his eight overs.
When Farakh Hussain (76 runs) and Amjid Hussain (40 runs) put on 98 runs for the first wicket in reply, it set the side up for a comfortable 6-wicket victory in 32.1 overs.
Farakh Hussain, who had a moderate record in the league in 2018, found the cup very much to his liking registering scores of 101, 47, 153, 52 and 76.
In the league Ahsan Butt took the honours with the bat scoring 757 runs at 58.23, while Haider was the outstanding bowler with 38 wickets.

Progress Stifled
The momentum of winning silverware did not carry through to the 2019 season when they hovered too close to the relegation places on occasions. The fact that they finished in 10th place with eight wins and eight losses represented a setback to genuine progress.
Farakh Hussain (528 runs),Ahsan Butt (509 runs) and Zeeshan Haider (332 runs) all averaged in excess of 30, but the problem was with the bowling where no player could reach 25 wickets for the season.
When Covid-19 hit the nation in 2020, Bowling Old Lane took part in the Gordon Rigg Division Two League cup competition, winning two matches, and losing three in the West Section.
The club finished in mid-table in 2021 with ten wins and nine losses to their name. They just could not gain consistency despite showing spasmodic form, illustrated the most by their defeat of runaway league leaders Jer Lane in August. In the Jack Hampshire Cup they played the same opponents in the semi-final and could not chase 169-9. Zeeshan Haider was by far their most productive player with 499 runs at 31.19, and also 35 wickets.
Long serving Haqeeq Siddique was recognised by the league with the Unsung Hero Trophy of 2021 for his work off the field, and in particular setting up a Community Cafe at the club.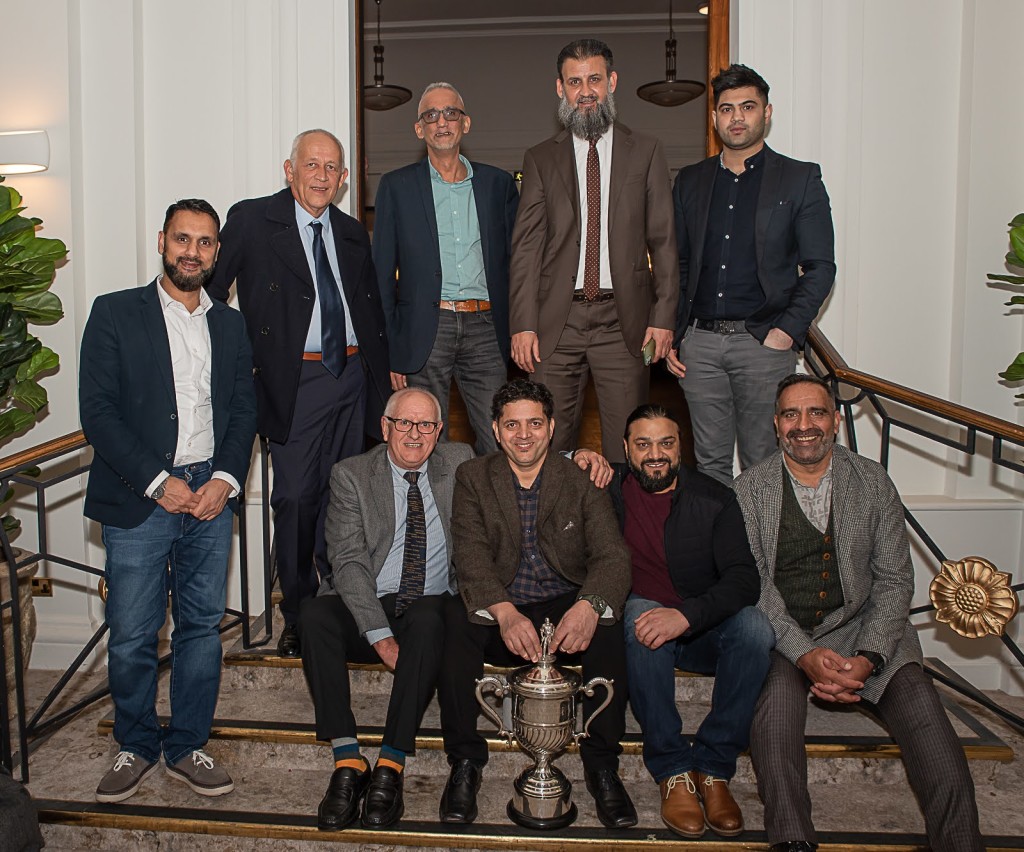 Old Lane were inconsistent in 2022, and they would lose to a basement side just as easily as beating a promotion contender. The last point is illustrated by their notable double over high-flying Lightcliffe.
Just when it seemed they were stagnating in the lower half of the table, they ended the season with five successive wins to propel them into fifth place.
The Pakistani overseas player Hazrat Abbas had a solid season with 570 runs at 31.67, and he also took 45 wickets at 18.29. Farhan Hussain and Imran Malik also topped 500 runs with an average more than 30. Veteran spinner Gurdev Singh (36 wkts) was highly placed in the averages.