Buttershaw St Paul's celebrate winning the Gordon Rigg Jack Hampshire Cup in 2022 Picture: Ray Spencer
Early origins
The original settlement of Buttershaw was a mile further to the east than in present times, which explains why Buttershaw's church of St Paul's is actually in Wibsey.
The settlement moved west in the 19th Century with the building of Bottomley's Mill on Halifax Road and the construction of workers' cottages (such as Bottomley St) adjacent to the existing settlement of Beck Hill.
The cricket club was founded in the 1890s, probably 1896, although the exact date is difficult to discern, the earliest photograph being of a Buttershaw team competing in 1900.
It first plied its trade in the Church of England League. Records of this time are sketchy but one legitimate triumph was the winning of the Charity Cup Competition in 1921. A photograph of the winning team still adorns the clubhouse wall.
The club was at this time heavily linked to the Church and operated as one of its organisations. The vicar of the time, the Reverend Naylor, would attend practice sessions, sticking his brolly in the ground for the bowling attack to aim at. The ground originally spanned what is now St. Paul's Avenue and the top of Buttershaw Lane.
Just after the First World War as the new roads were first conceived, the ground was moved back slightly to its current position.
Bradford Mutual Sunday School League
In 1938 the club moved into the Bradford Mutual Sunday School League where it stayed until 1956. During this time there was a six season break for the Second World War.
After the War the ground fell into disrepair. The perimeter fence, which was made of metal and wood, had been completely removed to provide warmth for the local population and Spitfires for the RAF. A path had been worn from one corner of the ground to the other, whilst the rest of the field was covered in waist high grass.
When a few former players returned from the hostilities, they set about hacking down the elephant grass and fashioning a couple of wickets in the centre of the field. Without this effort the club would have vanished into the ether. The pavilion at the time was a wooden hut that had been there since the First World War.
Since then the ground and facilities have gradually improved. The club purchased a disused Army "Nissan" hut in the early 50's to replace the old pavilion. Over the years this was modified and improved, with the addition of indoor toilets probably the most vital alteration.
Bradford Central League
In 1956 the club moved into the Bradford Central League which, at the time, was regarded as one of the best all amateur leagues in the country. After gaining a fairly swift promotion to the top division, the club had a battle to then establish itself as a contender in the league.
At this time Willie Murphy, a veteran Bradford League fast bowler joined the club as first team skipper. Along with his opening partner, Roy Moss, these two players were mainly responsible for establishing the club in the top flight.
Little success
The club's history in the Bradford Central League was not a treasure trove of honours for their First Team, but latterly they did impress.
They were strong at Second Team level winning the title in 1962, 1963, 1969, 1974, 1975 and 1977, and the cup in 1966, 1968, 1969, 1975 and 1977.
By the sixties the First Team were well established in the top division, and seasons 1966/1967 epitomised a club with a competitive team but not winning trophies.
The best batsman in this era was Eddie Wainwright who finished high in the league batting averages in both seasons. He might have averaged only in the mid-twenties on both occasions but given the standard of the wickets before modern machinery this was highly respectable.
Two bowlers shone in 1967 in Keith Margerison who took 33 wickets at 9.78, and Arthur Weatherall who snared eleven more wickets, at the slightly higher average of 13.81.
1967 was a season to remember for Maurice Priestley who won the Bradford Central League Wicketkeeping Trophy.
The scorebox was, for many years, a small wooden structure on which "tins" were hung on the back of the door. This was replaced in the early seventies by what was, at the time a cutting edge affair with box numbers operated by the mere pull of a string.
The club, under normal circumstances, would, at this time have struggled to finance such a structure, but were fortunate to have a benefactor amongst its members in local businessman Sam Catton who provided the finance. Sam also purchased the wooden seating that still runs down the side of the ground.
First silverware
The club had to wait until the late 70s before acquiring silverware at first team level. By this time the first team had amassed an array of talent that would go on to achieve a fair amount of success in the early 80s.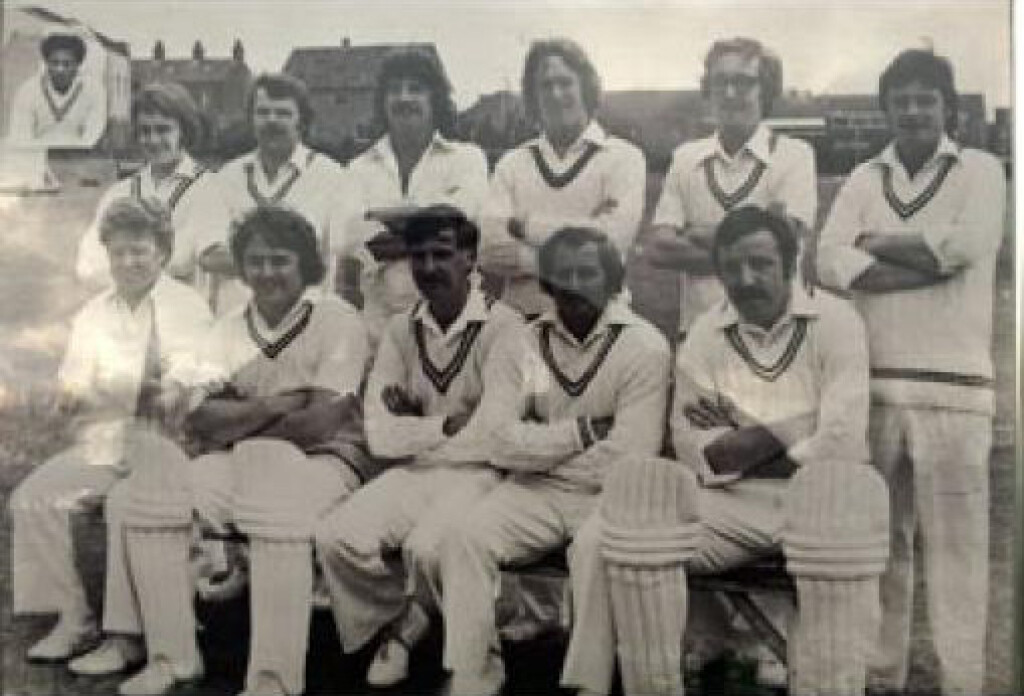 The first piece of silverware to be won was the league's major cup competition the Waddilove Trophy in 1979, above.. The victory was made all the sweeter by beating local fierce rivals Jer Lane in a tight final; skipper Bob Cull hitting a fine 50 on the way to victory.
They had assembled a strong experienced team with batsmen of the calibre of Bob Cull, Graham Moore, Barrie Jenkinson, Phil Crossland, Derek Wharf and Steve Whitaker, and also a pugnacious wicket-keeper/batsman in Lenny Myers.
Brian Tordoff, an excellent seam bowler, was a vital cog to the team, and alongside Wharf were kingpins at Shelf in the previous two decades.
Barrie Jenkinson
Jenkinson had spent his formative years with Wibsey Congs across the road but had strong ties to the club going back many years. Although passed his best by this time he was part of the experienced hub that kept the team going in adversity.
He had enjoyed a virtuoso career in the Bradford League, topping the Batting Averages with 71.14 in 1974 with Idle. He first made his name in the league at Lidget Green, before giving sterling service at Bradford Park Avenue.
Jenkinson was a consistent and very correct batsman whose tour de force shot was the square cut. He also bowled a gentle medium pace to great effect, occasionally given the new ball because of his abilities to swing it. His unique record of winning the Bradford League's Batting, Fielding and Bowling prizes in consecutive years 1957-1959 could well stand for ever.
Classic double

After waiting so many years for their first major trophy in 1979, they performed the classic double of First Division title and Waddilove Cup in 1981. The cup final was a hard fought battle with Bolton Villas as they prevailed by 17 runs.
The regular line-up of 1981, above, was R Cull (Capt),B Tordoff, G Jenkinson, R Murie, A Melrose, P Crossland, S Whitaker, D Wharf, D Chubb, L Myers, G Moore.
Brent Shackleton
A significant signing for 1983 was Brent Shackleton from Bolton Villas. Not only did he bring genuine pace to the club but also an infectious will to win, and an ability to score runs quickly. He proved to be very influential as the First Division title was regained.
Shackleton was the perfect foil for seamer Tordoff, finishing second in the League Bowling Averages with an impressive haul of 82 wickets at 9.09. His partner Tordoff came third in the League Bowling Averages with 57 wickets at 10.75.
Shackleton had a brief flirtation with the Bradford League in his early days at Idle, but established himself in 1990 at Saltaire. He bowled brisk and fiery, favouring the short-lifter, and in his first season he took 47 wickets and also scored 463 runs at 30.87. He bettered this wicket tally the following season as he snared 49 wickets.
Bob Cull

Also instrumental in Buttershaw St Paul's title win of 1983 was Bob Cull who won the League Batting Averages with 846 league runs at 44.53. Cull was one of the leading Bradford Central League batters of his generation and was often touted as a Bradford Leaguer. Late in his career he had a spell with Queensbury CC.
Recognised widely as the most prolific batsman in the club's he amassed more than 1,000 runs a season on two occasions in the 80s, and was one of many successful products of the club's junior section.
In 1982 the club renewed its link with Bradford Mutual Sunday School League by entering a third team into their competition. This team was ostensibly an academy side giving young players a taste of senior cricket.
The club had built a reputation for turning out cricketers that eventually made the grade in the Bradford League. Batsman David Butterfield thrived at Great Horton in the seventies, and seamer Paul Robinson followed the same trail in the next decade before joining Saltaire.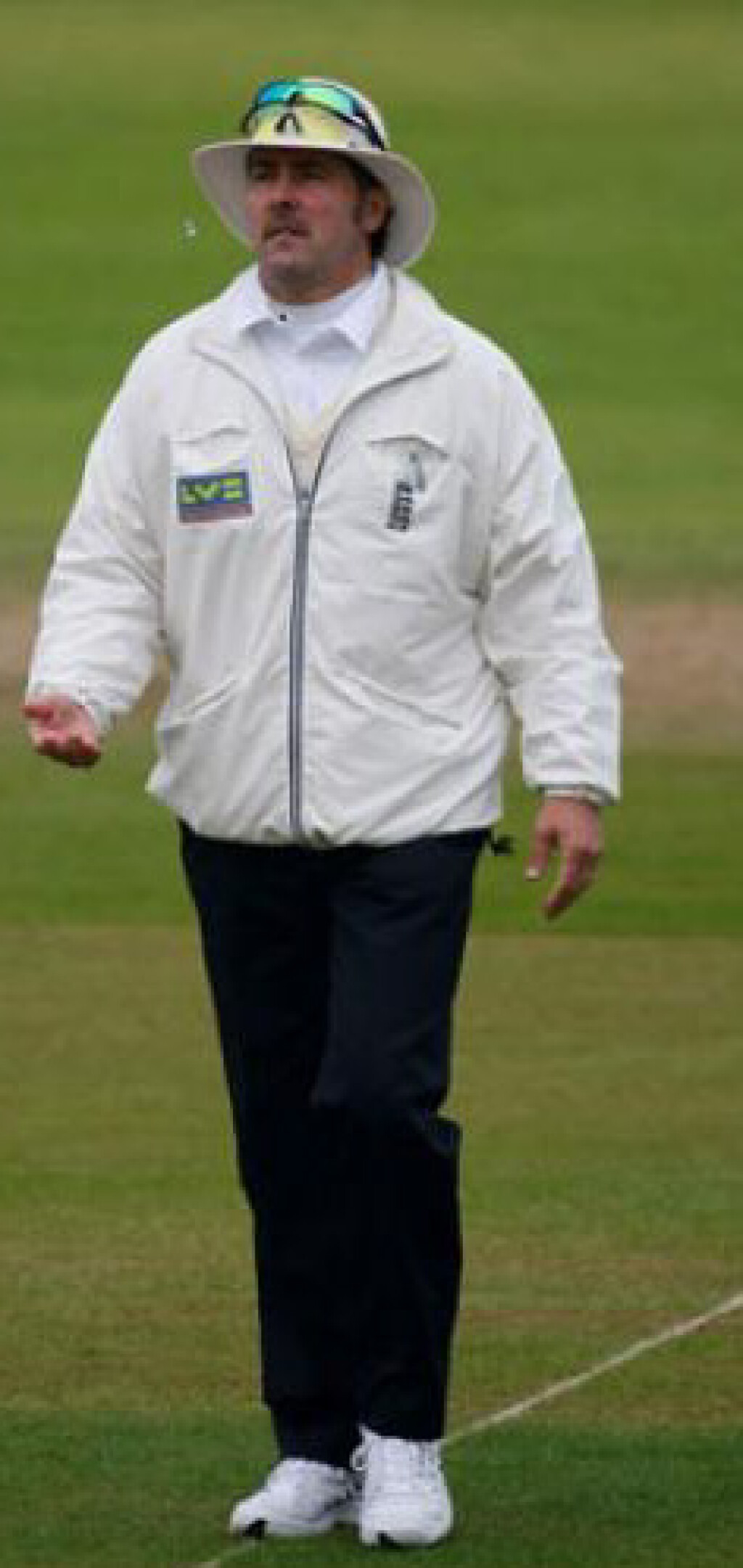 About 1979/1980 Richard Illingworth played one season at under-18 level for Buttershaw St Paul's. He went on to play for Salts in the Bradford League before carving out a county and test career. He took 831 First Class wickets with his orthodox left arm spin and is now an international umpire.
Although a Test career of nine matches and 19 wickets may seem unremarkable, his international career will always be notable for one thing. His first delivery was routinely delivered, and Phil Simmons blocked it. The ball then spun under Simmons' bat and onto the stumps, and Illingworth became only the second Englishman (and twelfth of all time) to take a wicket with his first ball in Test cricket.
The club entered a side in the Bradford Evening League and under the captaincy of renowned Bradford League batsman Brian Lymbery won the First Division title four times between 1979 and 1983. Lymbery won the League Batting Averages six times in a 12-year period for the club, while Shackleton won the League Bowling Averages in 1983.
During the 1980's the club provided a number of players for the successful Bradford Central League side which won the Bradford Area Council Cup four years in a row- Cull, Myers, Crossland, Whittaker and Shackleton were regular choices
The emergence of Alex Wharf

Another county player with links to Buttershaw was Alex Wharf, (stepson of Derek) who came up through the junior ranks to play senior cricket in the early part of the nineties decade. He moved to Undercliffe and in their promotion campaign of 1993 he came of age with 383 runs and 36 wickets. He proved himself to be a brisk pace bowler who could hit the ball very hard in middle order.
Wharf commenced his first-class cricketing career with Yorkshire in 1994, and played seven times for the county until 1997. He later joined Nottinghamshire before moving to Glamorgan in 2000. He made his England one-day debut at Trent Bridge against India in 2004.
He took 293 First Class wickets with a best performance of 6-59, before announcing his retirement from cricket during the 2009 County Championship season after failing to recover from a long-term injury. His great claim to fame was dismissing the great Brian Lara.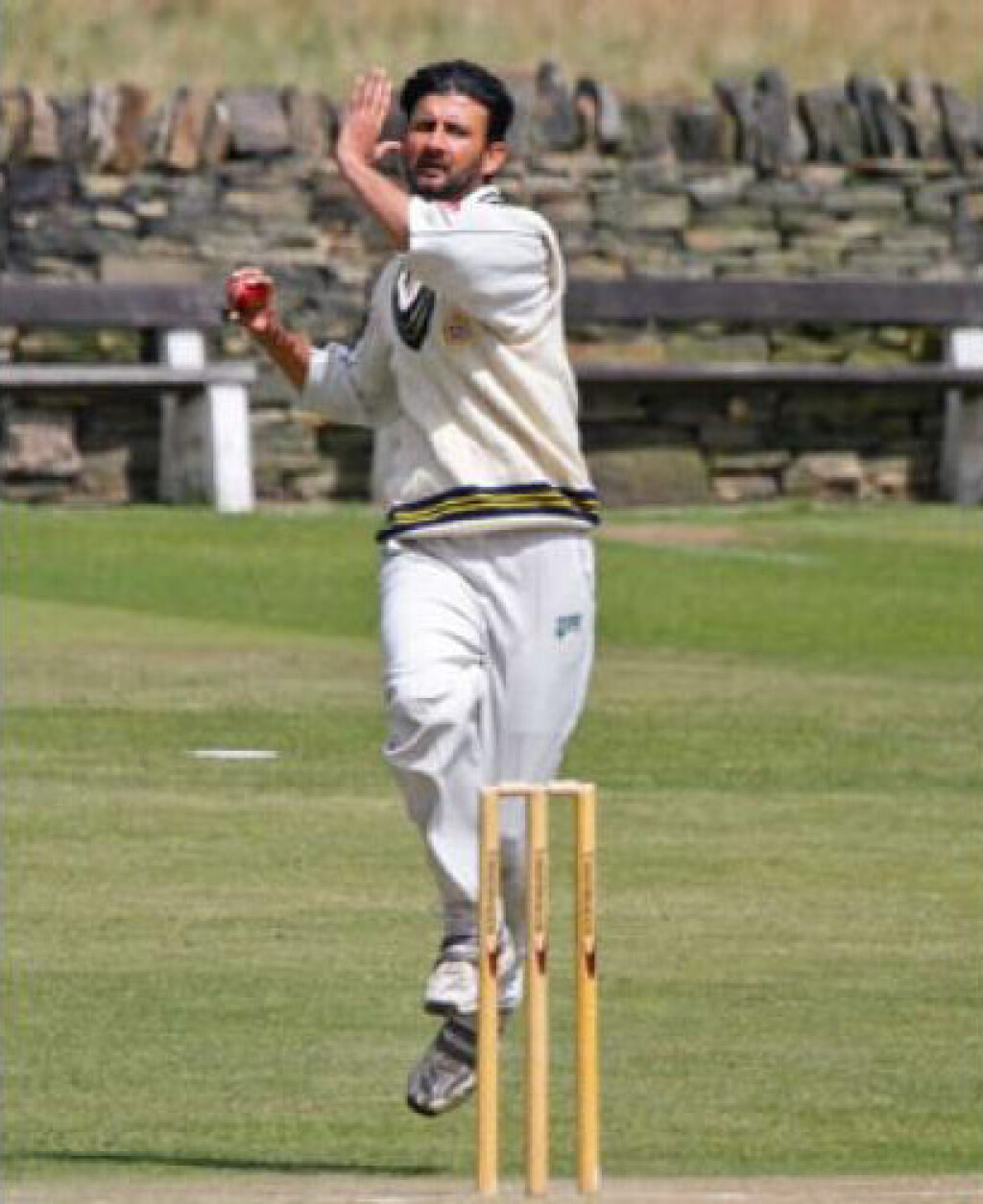 Success became more spasmodic at Buttershaw but in 1995, Zubair Najeeb, above took 76 wickets and in consequence won the Bradford Central League Bowling Averages.
Najeeb went on to join Bowling Old Lane where he built a reputation as a miserly medium pacer who would give nothing away and liked to glare at the batsman. He captained the side for a while and at the end of the 2015 season had taken 546 Bradford League wickets.
St Paul's had lost their top flight status but regained it after winning the Second Division title in 2001. They also enjoyed the rare distinction of lifting the Waddilove Trophy whilst in the lower division- the third time in their history they had lifted the cup.
New pavilion
This sealed a fine year which also saw ground improvements with the help of a grant from Sport England. A new pavilion was erected that gave the club greater scope for social functions.
Central Yorkshire League
The Bradford Central League began to lose their better clubs and Buttershaw St Paul's made the monumental decision to leave and join the more senior Yorkshire Central League in time for the 2003 season.
Appropriately, they signed off with the Bradford Central League First Division title in their last season and qualified for the Black Sheep Yorkshire Champions trophy for 2004.
Biggest match in club's history
Buttershaw St Paul's were drawn at home against Pudsey Congs, the trophy holders and Bradford League champions for the previous three seasons, in what was touted as the biggest match in the club's history. However, they came down to earth when they ecountered Pudsey Congs and their Pakistan fast bowler Naveed Rana-ul-Hassan in the semi-final.
Congs amassed 350 for five from their 50 overs with Rana's 100 not out from 56 balls including eight sixes and eight fours, with his second 50 coming in 19 minutes from 17 deliveries. Then he took eight for 12 in 6.2 overs, the best bowling figures in the competition's history, to dismiss St Paul's for 26. Six of Rana's victims were bowled and five of the batsmen failed to score.
The club's 81 year-old secretary Emeritus Dick Gregson was far from discouraged on the day commenting that the 300-400 crowd was the largest he had seen on the ground.
The club had done well beating Birstall in an earlier round in the competition by six runs- with David Bowles (41 runs) and Kashif Rashid (37 runs) pushing the club's score up to 190, and Martin Kelly 4-27 doing his best to reduce the opposition to 184.
Giant-killing acts
Buttershaw adapted well to the Central Yorkshire League in their first season and became sensational giant killers when they defied all odds to reach their first Jack Hampshire Memorial Trophy Final.
They brought the reigning cup winners Methley to their compact ground and proceeded to knock them out. Methley, obviously satisfied with their 267-7, were stunned when Buttershaw knocked the runs off at 268-8.
In the next round the prospective title winners Wrenthorpe made the same mistake as Methley in setting a good score of 269-8 thinking it would be sufficient on the small St Paul's ground. The home bowlers Andrew Branthwaite, Jonathan Lister, Andrew Deegan and Kashif Rashid all bowled tightly and picked up two wickets apiece.
The winning runs came with four balls to come which indicated a well-paced operation or a frantic late run-chase. It didn't matter either way as Jonathan Lister (80 runs) and Steve Potter (82 runs) helped to take their team to 270-7 to collect their second huge scalp.
Jack Hampshire Cup Final
Buttershaw were defeated in the final against Mirfield Parish Cavaliers but nothing could take away the strides they had made as a club in 2003.
An additional highlight for the club in 2003 was when Kashif Rashid scored the league's highest score of 209* against Crigglestone CC.
Left arm spin bowler Andrew Deegan, who had come up through the junior ranks, played a major role in the 2003 season. He went on to play at Bankfoot CC before establishing himself in the successful Cleckheaton side that won Bradford League titles in 2013 and 2014.
Another player who came through the junior ranks and moved on to greater things was Paul Carroll. He played at East Bierley, after a period with the Yorkshire Academy, but found greater fame at Pudsey Congs as part of the all-conquering Bradford League side. Hel then joined Wrenthorpe where he continued to rack up the medals in a side that would dominate the Central Yorkshire League and the Heavy Woollen Cup.
His day of destiny was at Streethouse in the 2004 Black Sheep Yorkshire Champions Final when he carried his bat for 119 runs in the Congs 10-wicket destruction of Cleethorpes. He was subsequently the deserved recipient of the Man of the Match Award.
Progress in the Central Yorkshire League had stagnated somewhat for Buttershaw St Paul's as they fell down the divisions. But, in 2006 the revival was on when they took the Division Two title with a line up consisting of- G Sivyer (Capt),J Crossland, J Burston, N Sutcliffe, A Dobson, T Carradice, S Haley, M Wilson, M Kelly, W Fox.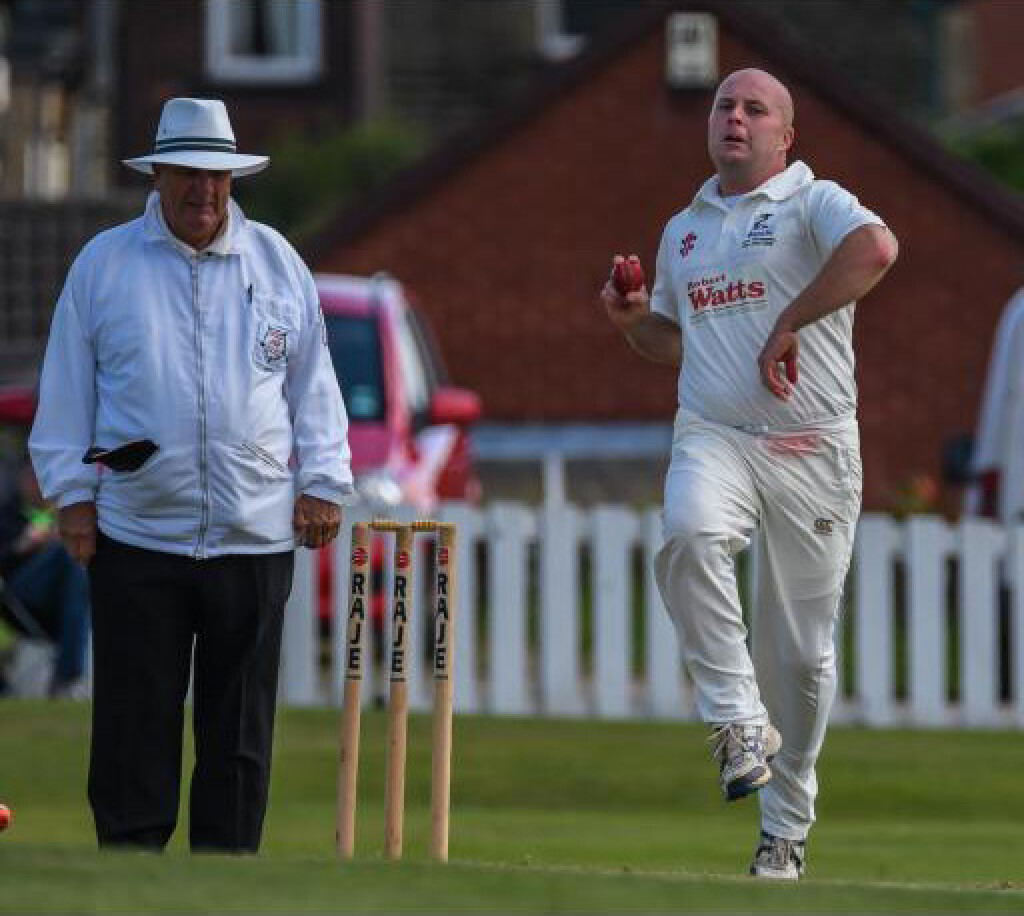 Paul Carroll returns
A significant move in the club's history came in 2009 when Carroll returned to captain the side. Carroll, above, made real strides in 2010 leading his side to twelve victories in the First Division.
His personal contribution was immense with 707 runs at 44.19 and 33 wickets with his teasing medium pace. Opening bowler Paul Robinson was the best bowler with 41 wickets at 16.49, while Gary Wainwright (602 runs) and Naveed Bhatti (543 runs) were the cornerstone of the batting with Carroll.
Two highlights in the season were Buttershaw's 414-8 v Ossett A, which turned out to be the highest score in the league that season and Wainwright's not out 212 which resulted in being the highest individual score in the league
Wainwright, who had previously been a seasoned Bradford League campaigner, hit 13 sixes and 22 fours in his double century.
Buttershaw went one better in 2011 chalking up 13 league wins with Carroll again the top scorer with 608 runs at 35.76. James Crossland had the season's top score with 167, while Brad Greenwood excelled with the ball taking 54 wickets at 14.46 with a best return of 7-15. It was an entertaining season where the team topped 300 on four occasions on their home patch.
The following two seasons spelt a more moderate rating for the team with Carroll again the mainstay of the batting, and Robinson carrying the bowling. A fine home product in Kevin McDermott first came to the attention in 2013 when he scored 499 league runs. McDermott played for the Bradford League Joe Lumb U17 side and was proficient with both bat and ball.
In 2012 the score box was demolished and replaced with an electrically operated scoring systemand things were also about to happen on the field. Under James Robson, who was one of their most consistent batsmen, the club gained promotion from the newly named Championship in 2014, despite only six league wins. Bradley Neyland was a key all-rounder in taking 32 valuable wickets, while McDermott was the most consistent batsman with 462 runs at 30.80.
Premier league cricket
A league restructure deemed that Buttershaw St Paul's would take their place in the Premier League in 2015, thus reaching another chapter in their history.
Much of the success in developing the club from humble beginnings was down to the leadership and hard work of three venerable figures, Alan Kilshaw as Chairman, Dick Gregson as secretary, and Donald Cull as groundsman, who had each given 30 years or service.
The real strength of the club traditionally is its junior section, and it was evident in 2014 at Under 15 level when they won the Bradford JCL Cup and League, and the Heavy Woollen JCL Cup competition in 2015.
The Premier League season of 2015 was a forgettable one with struggles all the way resulting in just one win and bottom place. No player qualified for the league batting or bowling averages and only McDermott came out of it with tangible success when he scored 376 runs, and took 23 wickets. It had been a chastening experience competing in a division with several big spending clubs.
Into the Bradford League Conference
In what would turn out to be the last season of the Central Yorkshire League, the dismal last year would have far reaching effects on the club's immediate future. The infrastructure of the new Bradford Premier League set-up for 2016 deemed that the club would miss out on one of the two Championship divisions to take their place in the Conference.
The last regular Buttershaw St Paul's First Team in the Central Yorkshire League was comprised of- Paul Carroll, Kevin McDermott, Gary Wainwright, Ahmad Yar, Dharmesh Mistry, Ian Carradice, James Robson, Matthew Barnes, Muhammad Saeed, Jack Ryan-Wakeling, Luke Guest.
Buttershaw St Paul's meant business approaching the 2016 season, signing former Yorkshire contracted player Tom Baker, and seasoned Bradford Leaguer Ben Platt, below. This was considered a coup for a new Conference League club, and raised eyebrows in the league.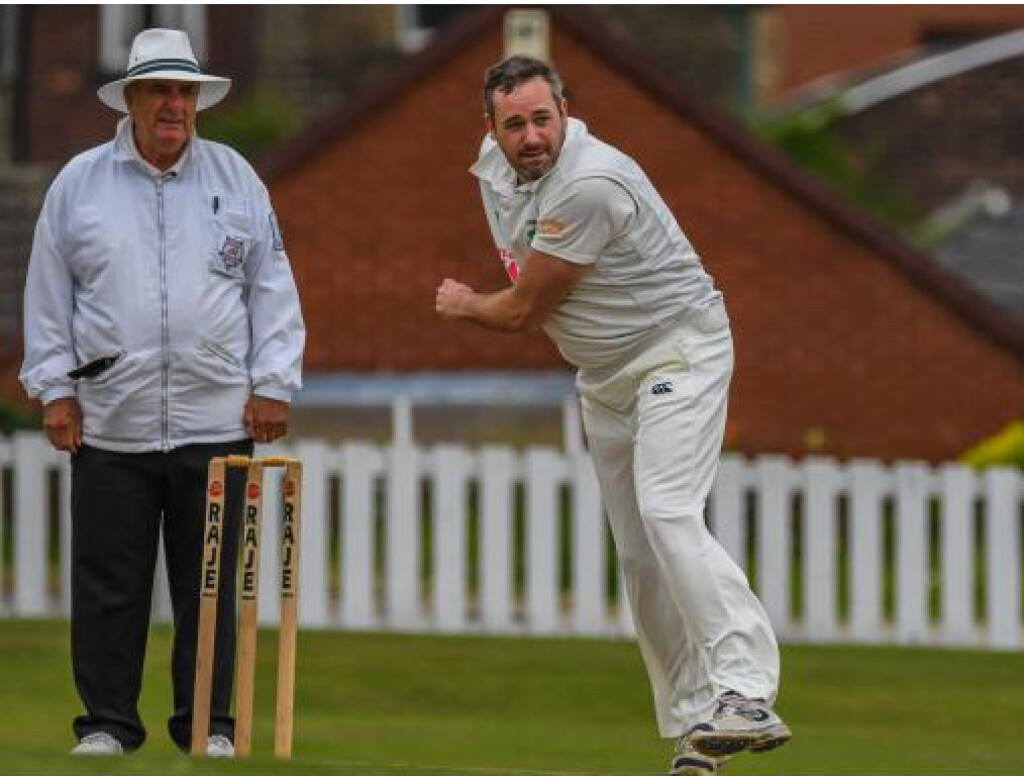 Promotion and cup final appearance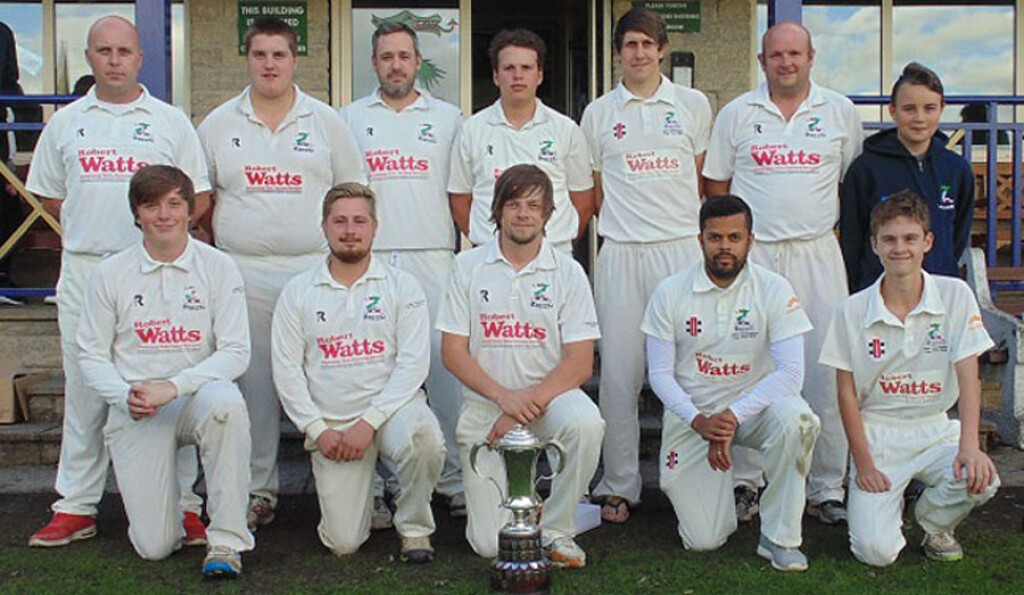 The initiative certainly worked as they won their battle with old foes Northowram Fields to secure the title. Neck and neck for most of the season Buttershaw broke away by the 16th fixture and never relinquished the top place to win the title by 43 points.
The fifteen wins out of 20 matches were built on an all round team effort where experience complemented the up and coming youth.
Tom Baker won the Conference League Batting Averages with 611 league runs at 76.38, while Kevin McDermott was the top run-getter with 896 at 68.92. Adam Wainwright strengthened the batter further with 410 league runs.
Gary Wainwright hit the highest score that season in the Conference League with an innings of 168 against Gildersome.
Dharmesh Mistry made it a double for the club by winning the Conference League Bowling Averages with 30 wickets at 9.67, including a season's best of 9-76 against East Ardsley. Other fine bowling performances were from Baker (37 wkts at 10.76) and Platt (47 wkts at 11.38).
In addition to their league exploits they reached the final of the Jack Hampshire Cup at Ossett after beating Great Preston, Azaad and Keighley on route.
Ossett batted first in the final and Buttershaw had restricted the scoring to 50 at the half-way mark. However, their opponents took advantage of not losing wickets at this stage to accelerate to 230-7 with only Carroll having respectable bowling figures of 3-37.
In reply, Buttershaw did not make a fist of it from the time of losing Carroll without a run on the board. Gary Wainwright battled to 32, but the rest of the batting capitulated to 93 all-out in 31.3 overs, with overseas spin bowler Khalid Usman sweeping through with 6-10.
The club began the 2017 season as if they were going to be genuine challengers for promotion. They matched this form in the latter part of the season to finish fourth, but in between they had a disastrous spell which took them to the lower reaches of the table.
The team was built around three all-rounders in Tosh Baker, Ben Platt and Kevin McDermott who usually delivered the goods. Baker scored 519 runs at 43.25, and also took 31 wickets, while Platt took 46 wickets at 16.52 and chipped in with 335 runs.
St Paul's were a match for anybody in their first season in Championship 1, and proved it by beating the top two, Keighley and Wakefield St Michael's. They crept up to third almost unnoticed, and although they finished 49-points short of a promotion place, it was an excellent season.
The star player was Amer Ayoub, a middle order batsman and clever medium paced bowler. He scored 520 runs at 37.14, and took an impressive 60 wickets at 13.38.
Heavy Woollen run
St Paul's slipped back a little in 2019 finishing seventh in a season of winning one week and losing the next. The most resounding win was when they played Altofts at home in early season.
They batted first and scored 301-5 after James Crossland had hit an unbeaten 113. Altofts were dismissed for 228.
Crossland was the leading batsmen scoring 579 league runs at 48.35, while Kevin McDermott almost matched his run aggregate with 564. Ben Platt had another consistent season with the ball taking 35 wickets at 13.91.
The highlight of the club's season came when they reached the Heavy Woollen Cup semi-final. Bizarrely they reached that stage with a sequence of a bye, forfeiture and successful `bowl out'.
However, they gave their Premier League rivals Townville a scare in a compelling game at St Paul's Avenue, in front of a big crowd.
On a good wicket and fast outfield it was fully expected that Townville would reach 300-plus when they batted first.
This didn't happen, and when they were 26-2 was in a great deal of trouble. However, a third wicket stand of 142 transformed the game, and a brisk 46 from skipper Jack Hughes swelled the score to 271-6.Kamran Siddique was the stand-out bowler with 2-30 from 7 overs.
Buttershaw weren't fazed by the challenge and made a good start to their reply, and were up to the scoring rate with openers Kevin McDermott (78 runs) and Jonathan Burston (44 runs) launching the innings with a partnership of 98.
However, Townville's spin bowler Rafique (4-39) checked the home side's progress, and as wickets began to fall the task proved to be too much, falling just 21-runs short of victory.
When Covid-19 hit the nation in 2020, the club took part in the Gordon Rigg Division Two League cup competition, and enjoyed a strong season, finishing second in the West Section.
They were again prolific in their batting, with Jack Seddon topping the Division Two League Batting Averages with 304 runs at 76.00.
The best of the rest were James Robson and Kevin McDermott in the batting, and Kamran Siddique and James Sawyer in the bowling.
The form of St Paul's in 2021 was a bizarre mix of brilliance and indifferent, as they finished an uninspiring ninth.
Their best moment came in early June when they defeated high-flying Jer Lane by eight wickets.
Amer Ayoub with 5-47 was largely responsible for reducing Jer Lane to 170 all-out; while he was equally influential with the bat scoring 54 not out in tandem with James Robson who was also unbeaten on 80.
That could have launched a promotion bid, but it didn't, and they had to wait until the last match of the season against Sandal when they had their second memorable match.They won the match with a score of 303 with their No.11 Jack Seddon batsman blasting 52.
Ayoub was by far the most productive player of the season scoring 495 runs, and also taking 35 wickets.
First Silverware in the League
St Paul's flattered to deceive again in the league in 2022 and finished ninth but had the talent to press the promotion pack.
This was proved when they beat champions-elect Sandal in a thrilling two-wicket victory. Chasing 269-8 they were in big trouble at 178-7 but prevailed largely because of the 53 not out from No.8 batsman Atta UR Rehman.
They scored in excess of 300 runs twice, beating Northowram Fields in the second game after amassing 353-4 with two centurions from Amer Ayoub (125no) and Adam Wainwright (100). Again they had two centurions in a 339-7 winning score against Wakefield St Michael's with James Robson scoring 113, and Wainwright 108.
The fine wins were mixed with defeats that were hard to fathom. However, they showed a liking for the Jack Hampshire Cup, winning it in the final at Pudsey Congs against underdogs Heckmondwike & Carlinghow to claim their first silverware in the league.
The route to the final had a couple of close shaves.
Second Round- Crossflatts v Buttershaw St Paul's
Buttershaw St Paul's 218-7 (G Wainwright 102) Crossflatts 110-3 Won by 2 runs (DLS)
Quarter-Final- Wakefield St Michael's v Buttershaw St Paul's
Wakefield St Michael's 85 (A UR Rehman 3-17) Buttershaw St Paul's 90-1 Won by 9 wickets
Semi-Final- Buttershaw St Paul's v Hartshead Moor
Hartshead Moor 132 (A Wainwright 4-37) Buttershaw St Paul's 133-7 Won by 3 wickets
In the final, St Paul's batted first on a good Pudsey Congs pitch. It was difficult to judge how many runs they needed in a 40-over tournament, but Matty Long batted soundly in a fine innings of 62. In a crucial stand, Jonathan Burston (47) helped Long to add 78 for the second wicket. The scoring rate slowed, but Adam Wainwright (35no) provided some late impetus to take the final total to 221-5.
When Heckmondwike were wobbling on 47-4 it appeared to be an anti-climax final. However, Qamar Shahzad fought back with a brilliant knock of 80 to win him the Man of the Match award. However, his efforts were in vain in a tense finish.
A target which had been 151 with 20 overs to go was reduced to seven from the last six balls. When the sixth bowler Harris Cunningham was brought into the attack for the first time with three overs to go, St Paul's were second favourites.
However, Cunningham took two for nine in his two overs and prevented Shahzad from winning the match as he held both his line and his nerve. Shahzad needed to hit the last ball for four to win the game, but attempted a ramp shot and was clean bowled.
Paul Carroll had been an important bowler taking 3-27 from eight overs. There was a considerable support for St Paul's on the ground and they celebrated enthusiastically at the fall of the last wicket.