Crossflatts is aribbon development in Airedale along the old route of the A650 road between Bingley and Keighley. It might appear to be a good catchment area for cricketers, but in their history, at any given times, they had to compete with clubs like Keighley, Bingley, Cullingworth, Riddlesden, Ingrow, Bingley Congs and Oakworth.
Crossflatts Cricket Club was established in 1905 and played their cricket in the West Bradford League until 1967. The club then joined the Airedale and Wharfedale Senior Cricket League and competed in it until 1993.
It could be said that they had a solid record in the league in their short existence, and the decision by the league to replace the club with Collingham & Linton appeared to be a strange one.
In their 27-year reign they won Division B titles in 1971, 1977, 1982, and in the latter season also won their only major trophy in the shape of the Waddilove Cup, beating Alwoodley in the final.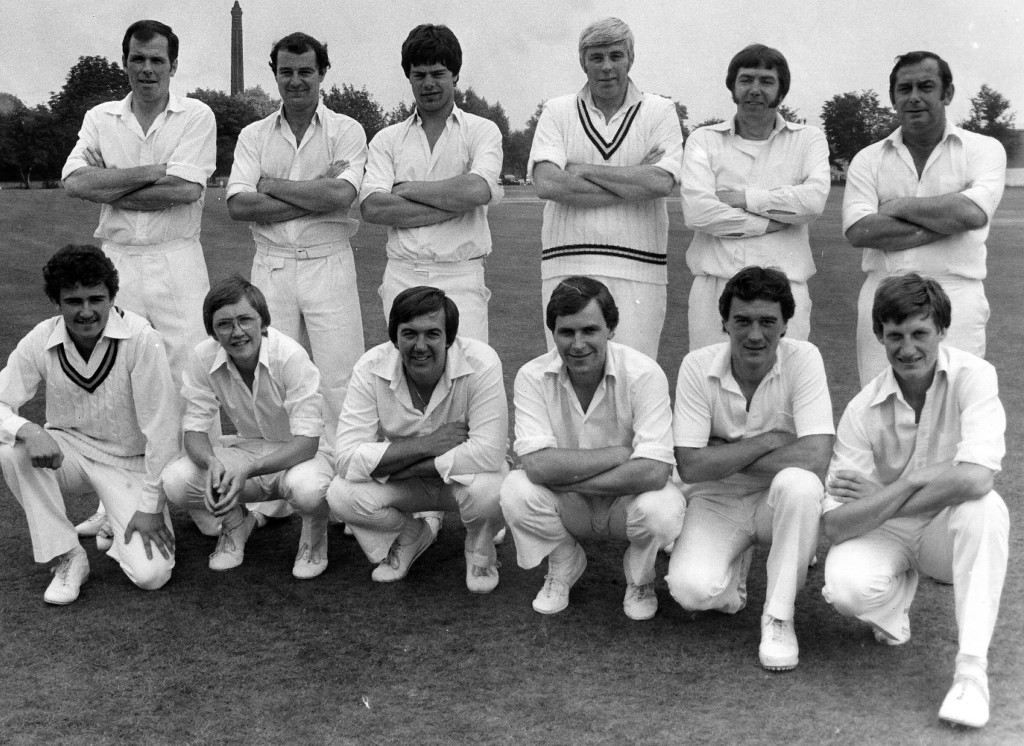 The Crossflatts side of 1982 that did the Aire Wharfe Division Two and Waddilove Cup double
This was quite a coup for a Division B side and will probably be regarded as their greatest achievement in their history. The man of the match in the final was awarded to Crossflatt's Alec Stone.
The club had a strong cup tradition in the league, reaching three Waddilove Cup finals- albeit losing finalists in 1976 and 1977.
Other individual league honours bestowed on Crossflatts' First Team cricketers in the Airedale and Wharfedale Senior Cricket League were the following-
Second Division Batting Averages winner 1977- Mike Hellawell 528 runs at 75.43
Second Division Bowling Averages winner 1982- James Whitham 37wkts at 11.95
Second Division Bowling Averages winner 1985- Andrew Longley 41wkts at 8.68
Don Brennan wicket keeping trophy 1971- Mick Brett 33 victims
Don Brennan wicket keeping trophy 1982- Mick Brett 41 victims
Ellicott Fielding trophy 1973 Brian Jefferson
Highest 5th Wicket Stand (Record) 203 runs Mick Taylor 146 and John Spragg 62no 1989
Arguably, the most famous player in the club's history was Mike Hellawell who won the league's batting averages in 1977, at the age of 39.
Hellawell had been one of the leading batsmen at Keighley in the Bradford League for much of the sixties and seventies. His early promise was recognised by Yorkshire and he was a regular member of their Second X1 during 1959-1960.
Warwickshire took a chance on him and it was a surprise he was only given one First Class game given his promising start. He scored 30 not out and had match bowling figures of 6-114 with his right arm medium pace.
He was more famous as a professional footballer, playing in the top flight with Birmingham City as an old fashioned right winger.
Hellawell played in the 1961 Inter-Cities Fairs Cup final and won the League Cup in 1963. He was also capped by England with appearances against France and Northern Ireland.
Second team players also made their mark in the Airedale and Wharfedale Senior Cricket League, and none more so than the following bowlers:
1969 – Ian Shepherd claimed 9/20 bowling figures against Rawdon
1987 – Dave Etherington claimed 9/67 bowling figures against Burley
Other second teamers to win league awards were Harry Jackson, Mark Webber and Brian Pennington.
The club moved to the Bradford Central League in 1994, and in 2004 the club joined the Craven & District Cricket League where they played up to the Covid-19 season of 2020.
After their initial first season in the Craven League, they started to make progress by winning the Second Division title in 2006. This was largely thanks to a phenomenal season for Mick Brooksbank who scored 1,053 runs.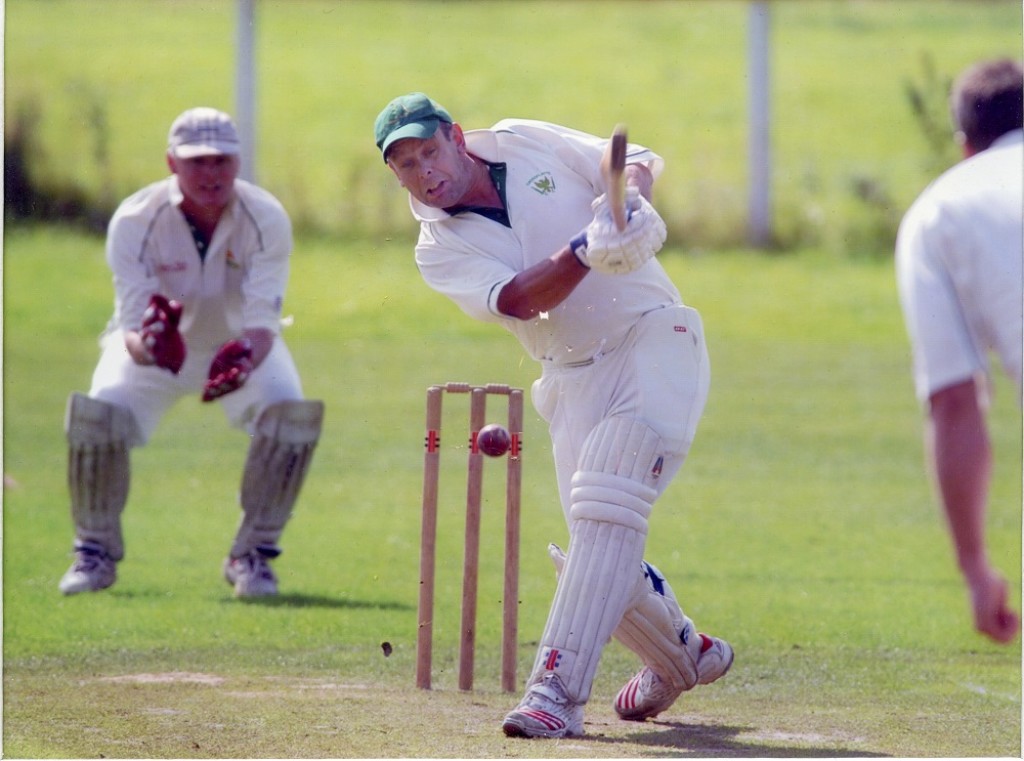 Mick Brooksbank was an outstanding batsman for Crossflatts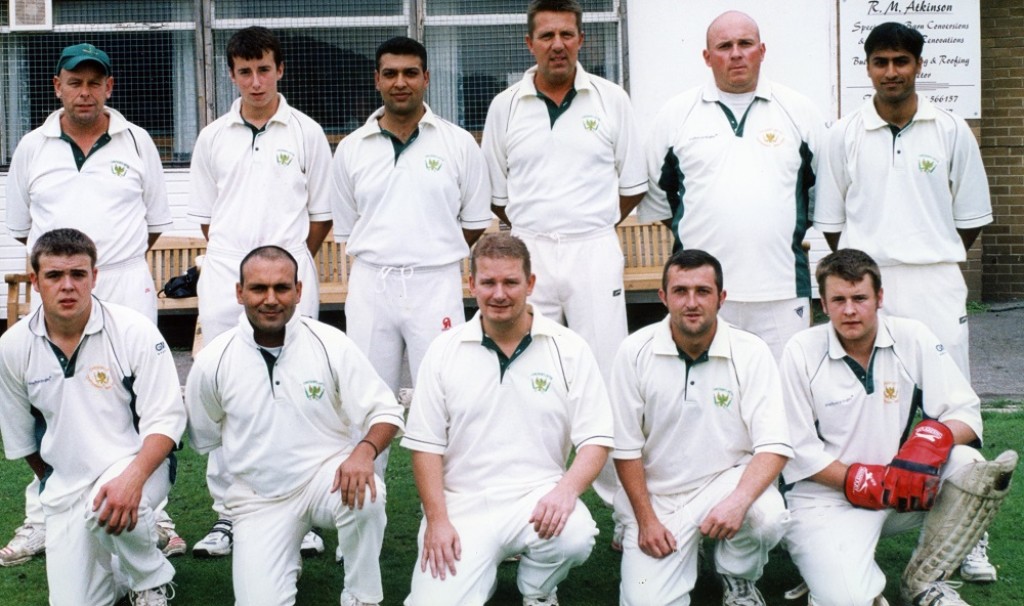 2006 Craven League Division Two champions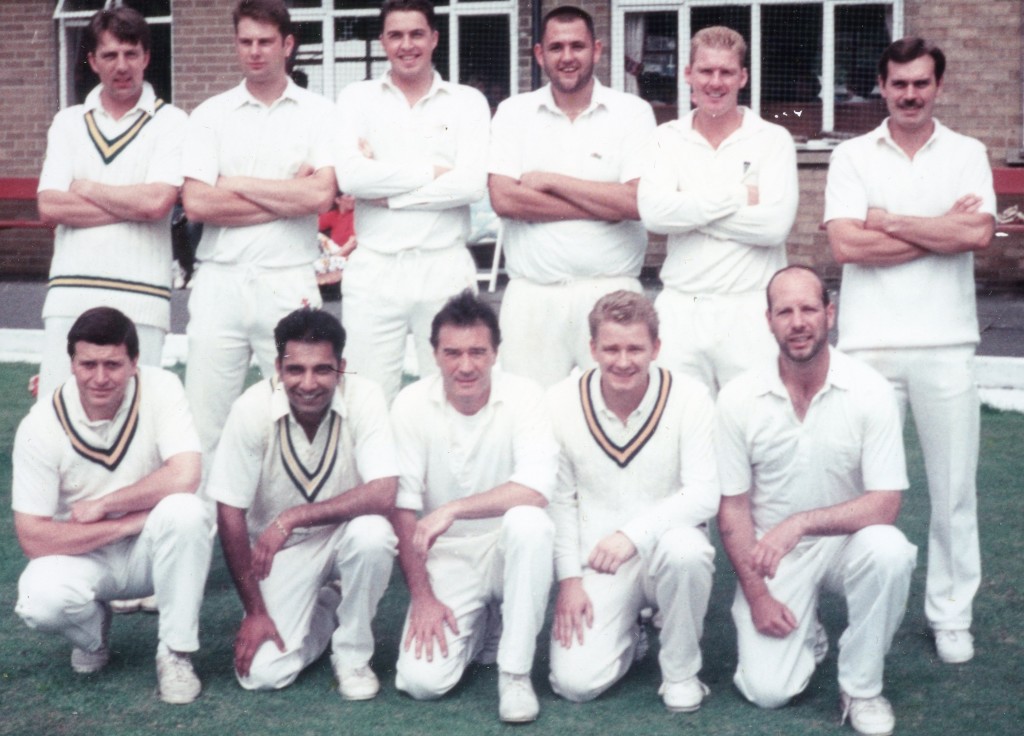 Crossflatts second team won the Cowling Cup in 2009
Brooksbank is widely regarded in the club as their dominant batsman during their time in the Craven League.
After a few seasons of consolidation in the top flight, Crossflatts won the title for the first time in 2010.
It was a memorable season for wicketkeeper Dominic Bennett who won the `Norman Smith Merit' trophy as the league's outstanding U21 player.
The club was growing in strength and in 2015 could attract two overseas players. Australian Josh Kazar topped the league scoring charts with 809 runs at 57.79 which included three centuries, while Indian Vikram Bakshi scored less runs with 577, but had a higher batting average of 64.11. He also scored three centuries.
Both scored 100s in a club record score of 376/3 v Chatburn. The following day the side topped 300 again with 311/3 against Denholme in the cup, with Vikram blasting a 45 ball 120 runs, which included 13 sixes, while opener Nathan Bradbury played the anchor role with 100 not out runs from 118 balls.
Despite these extraordinaire feats the side could only finish fourth in the league, and were losing semi-finalists in the Wynn Cup.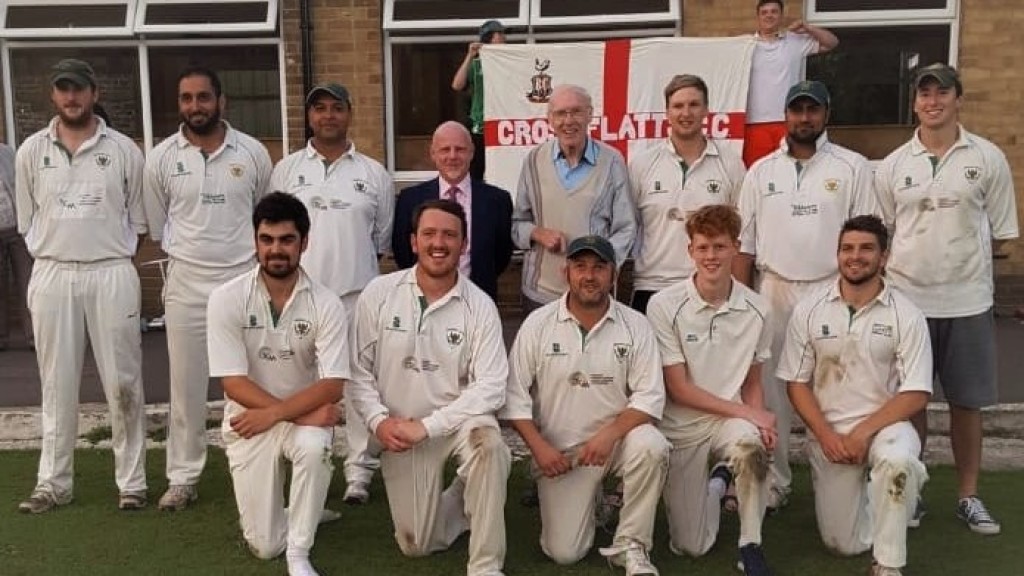 2016 Craven League Division One champions
However, the next season in 2016 they were again top dogs in the league as they took the First Division title for the second time. A 17-run victory over local rivals Bingley Congs saw them claim the top prize on the penultimate weekend. Fittingly, it was a first v second clash with the winner taking all.
The title winning side was built around the bowling attack, lead by Jim O'Hara, who took 40 wickets at 9.78, including a hat-trick on the final day.
Although they could not retain the title in 2017, they had the league's top bowler in their ranks in Australian Joey Lynch who took 47 wickets at 11.83.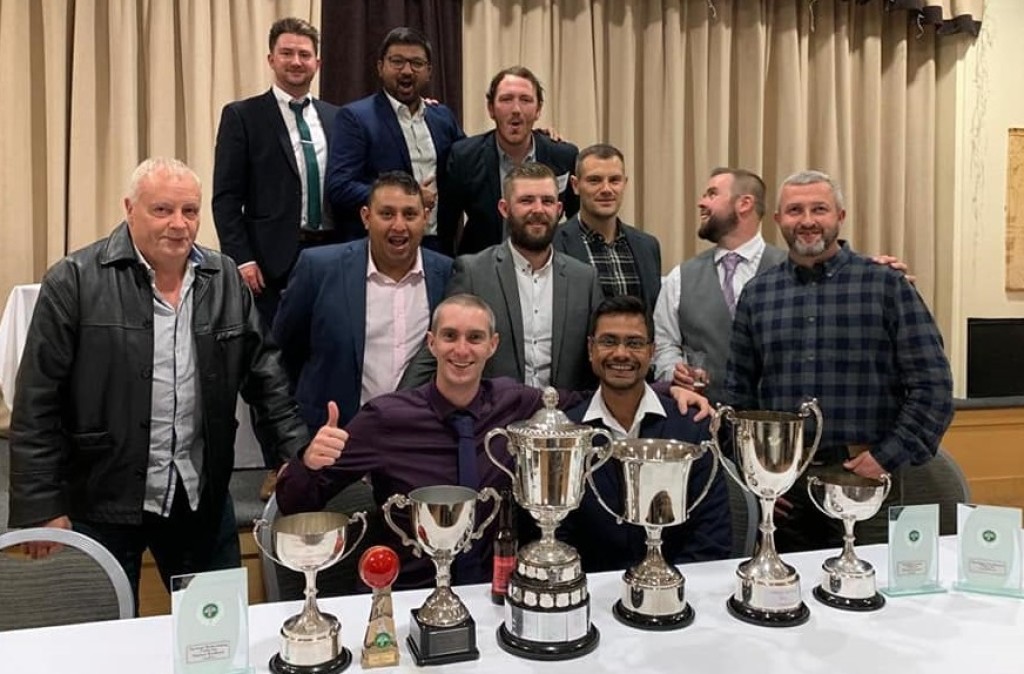 The most successful season was 2019 when skipper Joe Greenwood led them to the Craven League First Division and Wynn Cup double.
The 2019 side also made impressive progress in the National Village Cup too, defeated in the West/South Yorkshire regional final by eventual losing finalists Houghton Main. They also reached the Keighley Cup final, where they lost to Keighley on DLS.
In the league in 2019, the club was indebted to their overseas all-rounder Bright Njanji who scored 583 runs at 44.85, and Joe Greenwood whose 378 runs at 54.00 saw him finish second in the league batting averages.
Equally important was the team's bowling prowess as a final day 7/24 spell from Mayank Singh saw him claim the league bowling averages with 29 wickets at 9.72. He just pipped teammate and slow bowler Wasim Hussain who took 45 wickets at 9.89.
The Wynn Cup Final was a 20-over per innings match against their closest title challengers Bingley Congs.
It did not look promising when Crossflatts took first knock and were bowled out for 103 on a slow wicket. However, they were up to the challenge and fine bowling by Njanji (2/4 from 4 overs and Singh 3/8 from 3 overs) restricted their opponents to 66/9.
The double was the ultimate achievement for a club that had been developing their infrastructure.
They were awarded the prestigious Clubmark in 2018, and bought new `state of the art' covers in the same year. The club also erected an electric scoreboard in honour of their No.1 supporter Malcolm Preston.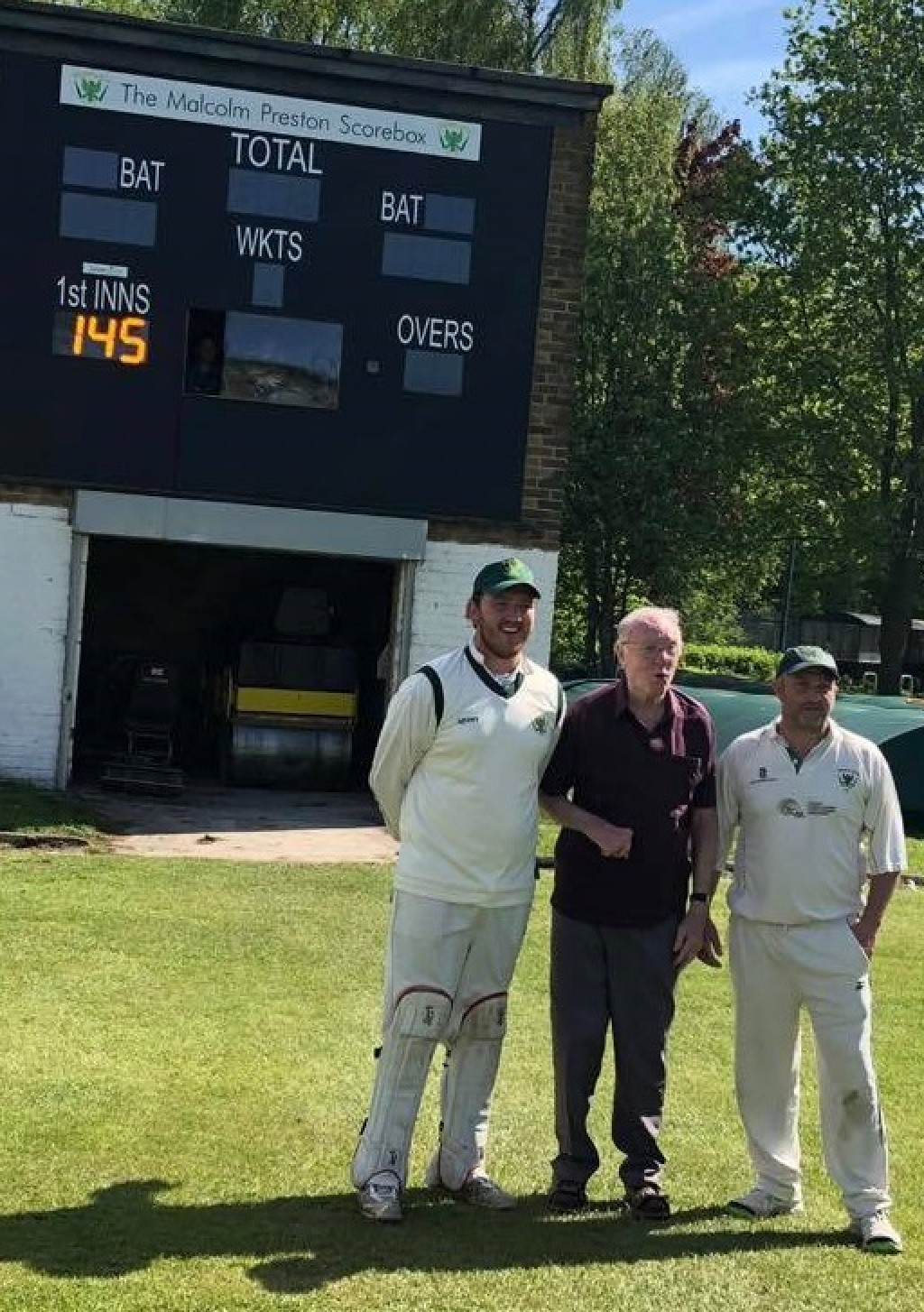 The naming of new scorebox, with Malcolm Preston and the club's two captains
The following year they purchased their ground from UKAR with an interest free loan from the ECB in 2019.
When Covid-19 struck in the 2020 season, Crossflatts took part in Group B of the Craven League's Regional Competition. They wanted to go out with a bang, but had to settle for second place in the competition.
There were highlights, and in particular their 10-wicket victory against Cowling at Ryshworth Park. Needing 154 for victory, they reached their target in just 20.2 overs, with keeper James Roper blasting an unbeaten 102 off just 67 balls, including 21 fours.
The success on the field, and the continued improvement of the club's infrastructure, led to their application to join the Bradford Premier League.
The league needed a club to replace the departing Oulton CC, and the officials were suitably impressed with the vision of Crossflatts #, and the facilities at their well-appointed Ryshworth Park ground.
Crossflatts would compete in the Bradford Premier League in the 2021.
Triumphant first season
Crossflatts did not make an auspicious start, losing to Crossbank Methodists in the first fixture by 24 runs in a low scoring affair.
However, they then went on a long running run between the sundry abandonments, and significantly beat the early pacesetters Brighouse by 54 runs. This was the match when they could truly say they had arrived at the top table in the division.
Crossflatts batted first and made 230 thanks in part to top scorer Nathan Bradbury who scored 55. Brighouse could only manage 176, and the top of the table was now wide open.
A dodgy spell at the beginning of August saw them lose two on the trot. They were beaten by East Leeds to the tune of 41 runs- a team they had defeated back in May by 201 runs. Perhaps more crucially they lost to Great Preston who was then given real impetus in the promotion race.
Great Preston scored 355-6, and although Crossflatts made an admirable effort in getting to 257-8, lost by 78 runs.
It was now a 3-horse race between Great Preston, Crossflatts and Brighouse, and in the penultimate match against Liversedge the season seemed to be turning sour for them.
Although Liversedge only posted 148 after Charlotte Boulton had taken 4-35, Crossflatts were fighting for their lives on 137-9. The season could turn one way or the other in the next few balls.
Happily for Crossflatts, No.10 batsman Mayank Singh kept his nerve to scramble the 12 runs needed to finish with an unbeaten 16.
The situation at the top going into the last fixtures was Great Preston (306 pts),Crossflatts (299 pts) and Brighouse (286 pts).
Intriguingly Crossflatts had to visit Great Preston in what realistically was the winner takes all. Crossflatts took a coach load of spectators to Great Preston and won in commanding style against a good side.
Great Preston batted first and posted a score of 189-7 which looked testing for Crossflatts. However, the batting side of Crossflatts kept their nerve and won in comfort by seven wickets.
Haris Hussain made a valuable 62 before Joe Greenwood (68no) and Nathan Bradbury (35no) shared an unbroken fourth wicket stand of 96 which secured victory and the championship.
Greenwood finished third in the league batting averages with 585 runs at 39, while Josh Brooksbank scored 467 at 33.36. Wasim Hussain took 36 wickets at 14.89 and had the habit of taking the wicket of the key early batsmen.
However, it was Mohammad Shahnawaz who probably stole the show. He was the `go to' cricketer in a crisis- taking the difficult wicket, and also regularly scoring the critical runs down the order. His league record was 48 wickets at 16.75 with a best return of 7-31, and he also scored 522 runs at 37.29.
The side topped 300 twice- 315 in an emphatic victory against Adwalton, and 303-8 in a thriller against Liversedge who fell just twelve runs short. Dominic Bennett hit a season's best of 144 not out.
Bennett marshalled his side as captain in an admirable way, He had the extra burden of keeping wicket, and in the process he claimed 30 victims that took him to second in the league `keeper's chart. He also found time to score 395 runs at 28.21.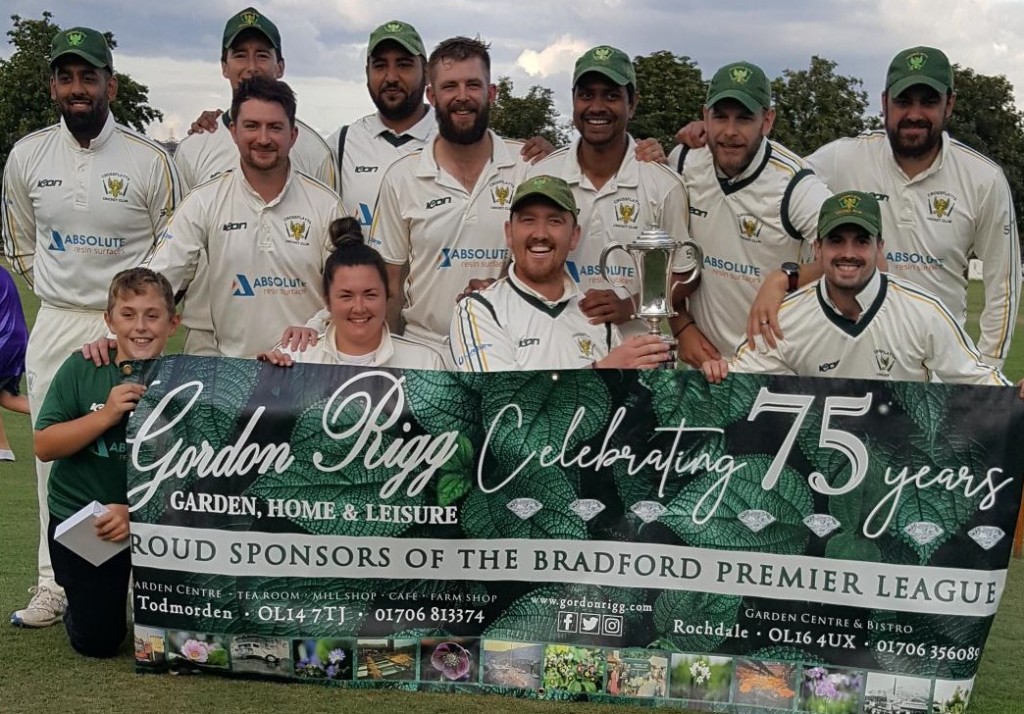 Crossflatts finished a highly respectable seventh in 2022, despite being on the fringes of relegation for much of the season. However, any notion of relegation was wiped out by the deeds of South African overseas all rounder Ruan Van Rooyen. He not only scored 587 runs at 32.61, he also took a very telling 58 wickets at 15.69, bagging four five-wicket hauls.
It would be unfair to suggest he was solely responsible for the mid-table placing when the likes of Josh Brooksbank and Tinashe Gomwe both scored more than 400 runs at 30-plus. Wasim Hussain was also a highly efficient player, taking 46 wickets at 15.54 and having the distinction of third place in the league bowling averages.
Ironically, two of the most memorable matches both ended in defeat. They ran champions-elect Sandal very close before falling to a one-wicket loss in a thriller, and lost to Hopton Mills by 56 runs after having an astonishing last wicket partnership of 128, with last man Mayank Singh scoring 86.
A real long term boost for the club came in July confirming their ECB Clubmark Accreditation. However, a housing development very close to one of their boundaries could well make unwelcome complications for the club.