Farsley Cricket Club was formed in 1864 and named Farsley Britannia Cricket Club after the Britannia Fields where they first played. This has now been developed and forms a business park owned by a local firm, Hainsworths, who manufacture cloth for snooker tables, and were, at the time, supporters of Farsley Britannia.
At the turn of the century Farsley Britannia joined forces with a group of local businessmen, to form the Farsley Cricket Club Company and bought a plot of land at the top of Red Lane, where they remain to this day.
The Farsley Cricket Club Company is still a registered company, Farsley Cricket Club taking a 99-year lease on the ground at a peppercorn rent. A condition of the lease is that cricket shall be played on the ground each season. Farsley are responsible for the upkeep of the ground, its buildings and perimeter dry stone wall.
Initially, the ground was used for cricket, but in the ensuing years a bowling green was laid and a new clubhouse replaced the wooden pavilion which had stood at the top of the ground for some 65 years. The new building was constructed in conjunction with Horsforth Hockey Club, who joined forces with the cricket club. The new clubhouse included up-to-date changing facilities and showers, along with a bar lounge, now known as the Raymond Illingworth lounge, and tea room. The bowling section has grown over the years and now boasts floodlights and a bespoke viewing veranda.
Elected to the Bradford League
In 1912 Farsley applied for membership to the Bradford League and elected to play in the league. It would take them exactly 50 years before they won major silverware. They finished 12th out of 20 teams in their debut season, and it wasn't until 1919 when they finished third could they boast of real progress.
Although the 1920s were lack lustre at Red Lane there were a couple of notable performers who rivalled the very best in their respective seasons.
In 1922 A Turner was the second most successful batsman in the league with an average of 58.50. This level of average is impressive even in modern times when unlike the 1920s wickets are covered and well manicured.
In 1923 Farsley's W Browne took advantage of the predominately uncovered wickets by taking 70 wickets at 8.61.
In the thirties Willie Sutcliffe was a crowd-pleasing hitter who could reach three figures despite his less than prudent style. He could also bat with a modicum of correctness but paid no heed to caution as he indulged himself on the bowling. However, it should be acknowledged that despite his sometimes reckless nature he recorded the league's highest score of the season on two occasions.
Sutcliffe scored 148 v Saltaire in 1933, and two years later in 1936 swiped an astonishing 158 v Windhill. These innings were far from being flukes as he also took centuries off Brighouse and Pudsey St Lawrence.
Tough times
There was little to cheer at Red Lane in the 1940s. In Peter Pickup's 1988 History of the Bradford League book he cites Freddie Wharton and L H Tower as the most prominent Farsley cricketers of the early part of the decade.
In 1943 Farsley had to seek re-election in consequence of their lowly position, while the following year they revived due to H Daphne's all round abilities. He had little support and was the only cricketer at Farsley to appear in the League Averages. Not only that but it was for both batting and bowling.
Gordon Barker who was born in Bramley in 1931 played league cricket in the immediate post-war years, both for nearby Farsley where he graduated from the juniors and Bowling Old Lane. As a 16-year-old in 1946 he would have found the hard school of the Bradford League an excellent training ground for his future county career.
Barker was one of many Yorkshire-born cricketers of his generation who had to leave to secure a career in the game, giving excellent service to Essex cricket as an opening batsman. He was a very reliable county opening batsman and was unlucky to miss out on England honours.
In 1949 Farsley defied the odds to reach the Priestley Cup final. This was quite an achievement for a club who were in the lower reaches of Section B. They were beaten on the day by a Yeadon side who passed Farsley's 200 score for the fall of five wickets.
The arrival of Ray Illingworth
Ray Illingworth announced his arrival as a genuine star of the future in the 1949 Priestley Cup. In those days the ties were played on midweek evenings. He started his epic innings of 148 not out against Pudsey St Lawrence as a 16-year-old and had celebrated his 17th birthday by the time he completed it. Another 28 years were to elapse before the competition saw a higher individual innings.
Two local cricketers who were reliable mainstays of the early 50s side was J A Claughton who had his best season in the1952 promotion side when he scored 578 runs and J W Hastings who took 67 wickets that same season.
Later in the decade A G Padgett took on the mantle of Claughton with a best aggregate of 837 runs in 1955.
A 20-year-old Illingworth had a season to remember at Farsley in 1952. He scored 844 league runs at 64.92, which included a top score of 162not out, and also took 36 wickets at 15.53. He went on to play a major part in the legendary Yorkshire team of the sixties.
Illingworth was one of the most tactically astute men ever to captain England, he led them on 21 occasions, winning 12 Test matches and drawing four in an era when there were no `soft' countries to boost one's CV. With Yorkshire, he won every honour imaginable, including the County Championship seven times in a 10-year period. After his controversial fall-out with the Yorkshire hierarchy he won it again with unfancied Leicestershire, and also steered them to two John Player Sunday League titles and two Benson & Hedges Cups.
Illingworth was an extremely gifted all-rounder who was the archetypal, reliable middle-order batsman, as well as being a gifted off-spinner. In his First Class career he scored almost 25,000 runs, and took more than 2,000 wickets. More than anything he will be remembered for bringing the Ashes home in 1971 in gripping circumstances. He played in 61 Test matches with a highest score of 113, and a best bowling analysis of 6-29.
Farsley's opening bowlers Michael Fearnley and Bill Holdsworth of 1954 were as formidable as any in the league at the time. Fearnley was to play for Yorkshire in the next decade, whereas Holdsworth had more or less finished with the county. Holdsworth bowled medium fast with a frontwards action conducive to his in-swing and was the perfect foil for an `away swing' bowler. He played 27 matches for Yorkshire during seasons 1952 and 1953, taking 53 wickets at 30.15, including a career best of 6-58 against Derbyshire. He also took 5-21 against Essex. After playing for Farsley he gave fine service to Bradford Park Avenue, as did Fearnley. In 1954 he took 49 wickets for Farsley, whilst his 18 year old partner Fearnley took 46 at an average of 14.82.
Farsley were flitting in and out of the top division in the early fifties. But by the end of the decade they had consolidated nicely with solid performers like Geoff Tempest, John Hainsworth and Brian Claughton. When Michael Fearnley's 17-year old brother Duncan started to make in impact in 1957 with 407 runs it was clear that they had enough class in their ranks to be high in the league.
Fearnley's main aim was to play professional cricket, and though a phenomenal schoolboy cricketer, he could not make it into Yorkshire's 1st XI. He sought trials elsewhere to fulfil his ambition and in 1960 he was given the opportunity he'd craved at Worcestershire. Fearnley was a left-hand opening batsman who played 22 times in Worcestershire's maiden Championship-winning season of 1964 but never really established himself in the side. In seven seasons he made 97 appearances, his average always hovering around 20. After leaving New Road at the end of 1968 he played for Lincolnshire, returning to Worcestershire in 1972 to captain the 2nd XI.
Michael Fearnley continued his progress taking 52 wickets at 12.61 in 1959. He didn't look a natural athlete with his horn-rimmed glasses and awkward gait, but he was one of the most feared seamers in the league during the post-war years. He was no quicker than medium pace but could make the ball talk, particularly when excess water had spilled on the wicket. He was good enough to play for Yorkshire Seconds in the glory years at the club, deputising in the first team on three occasions from 1962 to 1964, against Essex, Surrey and Warwickshire respectively.
Fearnley's limited First Class career reaped six wickets at 22.16, with a best of 3-56 on his debut against Essex. He took 1,324 league wickets, with a remarkable 222 additional Priestley Cup wickets. Fearnley tragically died in July 1979 aged 42, while playing in a Bradford League match for Farsley at East Bierley.
In 1959 Fearnley's partner was Barry Stead who took 52 wickets at 12.61. Stead was a hard-working fast-medium left-arm bowler, who made his first-class debut playing for Yorkshire in 1959. In his debut game, he took 7-76 against the touring Indians at Bradford. He joined Nottinghamshire in 1962, and he played for them for 14 years. He often shared the new ball with the great Garfield Sobers. In 1969, he topped the national first-class wicket taking list, with seventy one victims. His career best innings bowling figures of 8-44 came during 1972, and included a hat-trick. He finished the year with 98 wickets, and was elected the Professional Cricketers' Association 'Player of the Year'.
Fearnley, who formed a formidable opening attack with Stead in 1959, did even better in 1960 when he took 74 wickets at 11.13 to win the League Bowling Averages.
Another player destined to play county cricket after a short apprenticeship at Farsley was Jack Birkenshaw who, as a 17-year-old, had a mixed season. In 11 innings he could only score 81 runs, but he impressed more with the ball taking 24 wickets at 15.25.
Birkenshaw couldn't break into the great Yorkshire side of the sixties and turned to Leicestershire to play county cricket. He took a long time to establish himself but did so to such an extent he played five Test matches for England, with a top score of 64 and a best bowling feat of 5-57.
Farsley's David Pullan was a brilliant wicketkeeper who was rated as one of the league's best. He was a regular for Yorkshire Second XI from 1961 to 1967 before carving out a 4-year First Class career with Nottinghamshire from 1970. It was said that his limitations with the bat shortened his career at this level.
Duncan Fearnley was the lynch-pin of Farsley's batting with season's hauls of 652, 690 and 560 before he moved to Bradford with his brother, Michael who was the club's leading bowler for the 1962 season with 74 wickets. This was seen as a shattering blow for Farsley as they had progressed to third in the league in 1961. Incredibly they pulled together as a team and won the title under the astute captaincy of Brian Claughton.
Claughton was renowned as one of the leading captains of the Bradford League and led the League Representative in prestige challenge matches.
Duncan Fearnley emerges
In an amazingly open title race that saw the top nine clubs separated by only 12 points Farsley finished top of the table in 1962. They were neck and neck with Bowling Old Lane towards the end of the season but prevailed by one point. The dependable Claughton was the most-consistent batsman with 499 runs, while John White emerged as a quality seamer taking 46 wickets. White would have a long and fruitful career at Undercliffe.
The title winning side of 1962 was- B Claughton (Captain), R Dobson, P Wood, G Hewitt, D Pullan, M Horner, R Farr, J White, N Pearson, J Hainsworth, E Hargate.
If 1962 was a sensational season for Farsley the following season nearly eclipsed it for vastly-different reasons. They took the field with a workmanlike side containing solid if not spectacular players like Geoffrey Hirst, D.Moorhouse, F. Jackson and Trevor Bairstow and duly finished joint second bottom with Salts. Farsley had won two matches less than Salts but retained their status by virtue of the old rule of dividing the average runs per wicket for, by the average runs per wicket against.
The Red Lane supporters saw few thrills in the league but witnessed an astonishing march to the 1963 Priestley Cup final where they would meet their former hero Michael Fearnley who was representing Bradford. They shocked the favourites Bradford by dismissing them for 118 on their own Park Avenue pitch and then cruised to a seven-wicket triumph. In an earlier round they had drawn leaders Pudsey St Lawrence whilst they themselves were without a win. Farsley somehow defied all the odds to triumph with Bairstow putting on a one-man performance with 6-53, and 37 not out. In the semi-final against Brighouse their hero was Hirst who's 54 steered them home on a grinding wicket.
Steady decline
After 1963 it was a steady decline resulting in relegation in 1966, followed by two re-election pleas in 1968 and 1969. The only positive at Red Lane was the emergence of Phil Carrick in 1968 who took 35 wickets.
The eventful sixties for Farsley continued in 1969 when they swept to the Division Two title. This triumph was based on two seamers, the returning Fearnley who took 66 wickets at 9.41 and Tony Pickersgill who took 32. The following year saw Farsley finish runners-up to Undercliffe in the First Division. The 18-points margin was considerable but it did not take away the achievement. Fearnley was just as potent as ever taking 80 wickets at 11.35.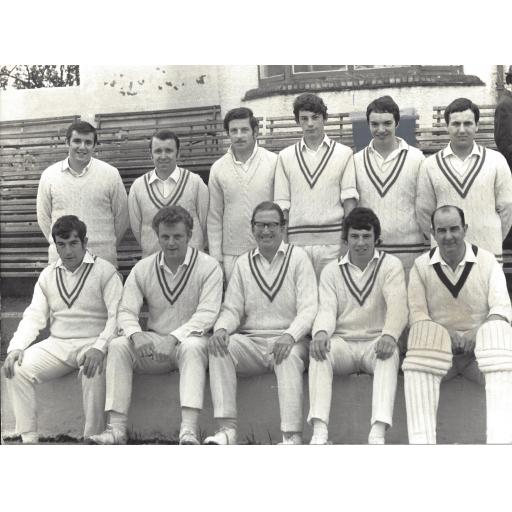 Carrick had a good season in 1971 as he strived for a county career, taking 42 wickets at 12.71 and scoring 328 runs. He displayed an attacking prowess with the bat when he recorded the league's fastest fifty in the little matter of 25 minutes. Carrick began his first-class career with Yorkshire in 1970 as the natural successor to Don Wilson.
The left-arm spinner, nicknamed "Fergie", took more than 1,000 wickets over his 23-year career, and fell just six runs short of hitting 10,000 first-class runs for Yorkshire. His bowling partnership with Geoff Cope was a particularly effective one for the county. He captained Yorkshire to victory over Northamptonshire in the 1987 Benson & Hedges Cup, having had his benefit season in 1985. After retiring from first-class cricket in 1993, he decided to play local league cricket with Pudsey Congs.
In 1972 Farsley were relegated again despite Fearnley's 65 wickets. On this occasion it took them another five years to return despite possessing several fine players in their ranks. Chris Reekie was a reliable batsman, particularly in 1973 when he scored 858 runs at 53.62 and topped the Second Division batting averages, while F B Terry had a sequence of league hauls of 675, 873, 620 and 645 during the seventies. The well travelled and much-feared seamer Duncan Leng had a season to remember in 1973 taking 66 wickets at 10.86.
Opening bowler David Brown exploded on the scene in 1973 taking 60 wickets. He topped the 50-wicket mark in the following three seasons to build his reputation as one of the league's leading seamers.
Farsley missed out on promotion in third place in three successive seasons until they eventually struck gold in 1977 when they took the Division Two title. Tony Lush was the leading scorer with 663 runs, while Fearnley again proved his worth with 52 wickets. David `Dick' Storr had his best season in the First Team finishing high in the league bowling averages with 33 wickets at 11.66. Storr would be a major influence at Farsley in years to come and oversee the impressive upgrading of the ground.
Farsley enjoyed a 13-year unbroken run in the top flight with many highlights on the way. In the first year back in the top flight in 1979 they consolidated nicely with Tim Boon contributing 489 runs at 30.56. Boon played First Class cricket for 15 years predominantly with Leicestershire after his debut in 1980. He passed the coveted 1,000 runs in a season seven times.
In 1980 Farsley finished in second place to cement their place in the top flight as one of the leading teams. Yorkshire Colt Mark Brearley topped the league batting averages with an average of 55.00. The bowling attack was spearheaded by Kevin Tighe (56 wkts), who made it a double for Farsley by winning the league bowling averages. There was also a very strong performance from the up and coming Neil Mallender who took 30 wickets at 13.66.
Mallender went on to play county cricket at both Northants and Somerset from 1980 to 1996 as a right-arm fast-medium bowler. He took 937 wickets in his First Class career at an economical average of 26.31 which included a best performance of 7-27. As a lower order batsman he made one century. He made two appearances for England with a best analysis of 5-50 against Pakistan in 1992.
Another landmark for Farsley in 1980 was the burgeoning career of wicketkeeper Steve Rhodes who had graduated into the first team from the juniors. Farsley would lose this exciting talent to Pudsey St Lawrence after the 1981 season. Rhodes' county career began with Yorkshire in 1981 where he had to challenge the international wicketkeeper David Bairstow for a first-team place. Although many considered him the superior wicketkeeper he didn't score as many runs. After limited chances he moved to Worcestershire in 1985, staying with that county for the remaining two decades of his playing career. He was considered good enough to play for England in 11 Test Matches scooping 49 victims and making a top score of 65 not out.
Tighe was one of those solid league performers who were never outshone by the county players. As an opening bowler he was also proficient enough in the field to have won the league fielding award of 1979.
In 1981 Yorkshire left hander Kevin Sharp scored 787 league runs for an average of 78.70. He made his first-class debut for Yorkshire in 1976, but had to wait until 1982 to be awarded his county cap. After finishing his Yorkshire first-class career in 1990, Sharp played for Shropshire. He scored 9,962 First Class runs, with an average of 30.84 which included a top score of 181. In the Bradford League for Farsley he made the league's highest score twice- 150 v Laisterdyke 1978, and 164 v Keighley 1981.
Farsley reached the Priestley Cup Final in 1981 despite finishing in a disappointing tenth position. In the final they met East Bierley who had lost their seven previous finals. A win for the Red Lane side looked on the cards when openers Billy Holmes and Brearley put on 111 but a dramatic collapse saw them tumble to 158 all out to lose by 37 runs. This was very much a lost opportunity for silverware.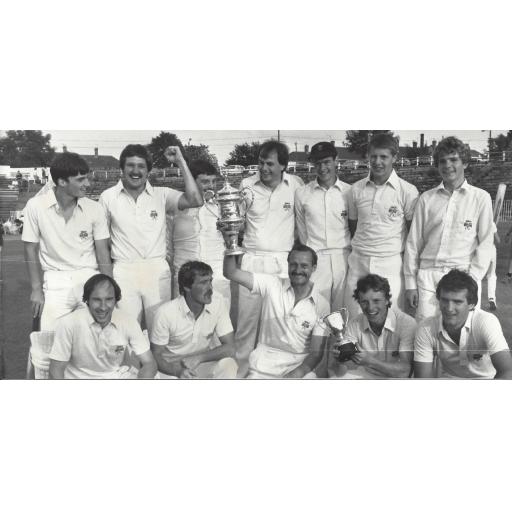 Priestley Cup winners
Farsley had a talented young side when they reached the final again in 1983. Ashley Metcalfe, Boon, Chris Gott and David Ripley were all in a line-up which also included former England opener Brian Bolus. The final was a triumph for Metcalfe who followed up his match-winning 134 not out against Keighley in the semi-final with another fine innings of 122 as Farsley overhauled Yorkshire Bank's score of 223-5 to win by five wickets with two balls to spare.
Wicketkeeper/batsman Ripley played for Northants in county cricket from 1984-2001. In his 307 first class games he scored 8,693 runs at 28.40 including nine centuries, and with the gloves took 678 catches and 85 stumpings.
Bolus was a tower of strength in the 1983 season scoring 640 runs at 35.56 and adding his calming experience on final day. He began his first-class career in his native Yorkshire in 1956, playing in 107 matches for Yorkshire; with a highest score of 146 not out against Hampshire at Portsmouth in 1960. The playing riches at Yorkshire at the time contributed to his move to Nottinghamshire in 1963, for whom he played 269 matches, with a highest score of 202 not out against Glamorgan at Trent Bridge in 1963.
Bolus twice scored more than 1,000 runs in a season whilst playing for Yorkshire, as well as ten times for Nottinghamshire and twice for Derbyshire. A solid county performer, particularly strong off his pads, his Test batting average of 41.33 is higher than his overall first-class average of 36.91.
He hit the first ball he faced in Test cricket, bowled by Wes Hall, back over the bowler's head for four. He retired in 1975 with over 25,500 first-class runs to his name, and became an England Test selector in the 1990s. Later he played for Cleckheaton, Brighouse and Farsley.
Ashley Metcalfe a formidable run-getter
Metcalfe was a formidable run-getter for Farsley in the eighties with season's' hauls of 682, 774, 505 and 750 at 53.37 in 1985. Metcalfe played for Yorkshire from 1983 to 1995, followed by spells at Nottinghamshire and Cumberland. He won his Yorkshire cap in 1986, the year he was voted the Cricket Writers' Club Young Cricketer of the Year, but despite scoring nearly 12,000 first-class runs, higher honours eluded him. He scored a half century in his only appearance for England Young Cricketers in 1983.
Metcalfe was an attacking stroke maker and, with Martyn Moxon, compiled an unbroken opening partnership of 242 against Warwickshire in a one-day match at Headingley in 1990. He scored a vital 47 in Yorkshire's 1987 Benson and Hedges Cup final win over Northants at Lord's, after picking up his fourth gold award in the quarter-final victory over Hampshire, for scoring an unbeaten 93. Although his service with Farsley is not unbroken he has put many hours into the club behind the scene.
In 1984 Mark Chadwick had a superb season with the bat scoring 603 runs at 50.25 including a top score of 153 not out. He would score over 600 runs again in 1987 for a slightly lesser average. Two future stars making their way in 1984 for Farsley were Iain Priestley and Chris Gott who both batted solidly in scoring in excess of 300-runs.
Farsley were runners up to a very good Pudsey St Lawrence side in 1985. Overseas fast bowler Len McKeown impressed with 78 wickets, while Metcalfe, Wyrill and Gott were the main run-getters. Jonathan Proud burst on the scene with 551 runs which would prove to be a forerunner of a prolific career. He bettered this tally in 1986 with 739 runs. The following year's highlight was the all-round capabilities of former county man Peter Booth who took 47 wickets, and scored 367 runs.
In 1986 Farsley gained the ad hoc services of county bowler Simon Dennis. His First Class career was principally spent at Yorkshire from 1980-1988, before moving to Glamorgan for three seasons. He was a brisk left-arm seamer who took 254 First Class wickets including a career best of 5-35.
Another ad-hoc player for Farsley was Yorkshire pace bowler Paul Jarvis who played in nine Test matches for England.
Farsley finished second for the third time in eight years in 1988. Proud scored 777 runs, and would top this the following year with 961. Booth contributed richly with bat and ball in both seasons, while Jimmy Spence emerged with 32 wickets in 1989.
By coincidence two Farsley batters scored the same highest score in the league for the 1989 season. Metcalfe scored 144 not out against Baildon, while Proud replicated this against Hanging Heaton.
In 1990, despite a solid batting season from Russell Murray (576 runs), Spence (666 runs) and Proud (627 runs), Farsley were relegated due to an ineffective bowling attack.
New Zealander Astle makes an impact
As expected they returned to the top flight at the first time of asking after some virtuoso batting from two men. New Zealand batsman Nathan Astle topped the 1991 Second Division batting averages scoring 1,005 runs, forming a prolific opening partnership with Russell Evans who made 1,024 that summer.
Astle also recorded the League's highest score in 1991 when he made 157 against Eccleshill. He made his Test debut against Zimbabwe in 1996, a year after he started playing international cricket. Later that year, when he was picked for the West Indies tour he scored back-to-back hundreds in the series. His highest score was recorded against England at the Jade Stadium, Christchurch in 2002, when he made 222 from 168 balls.
In the course of the innings, he set two records- fastest double-century scored in Test cricket, and the second-highest individual score in the fourth innings of a Test match. Astle played 81 Test matches he scored 4,702 runs at 37.02.
Farsley finished second in the top flight in 1992 with a batting line up the envy of most clubs. Apart from Evans making 927 runs at 51.50 the returning Metcalfe scored 658 runs at 73.11, while Proud contributed 910 runs at 47.89. Matthew Doidge also came of age with the bat scoring 601 runs at 42.95.
Doidge had been released by Yorkshire and appeared to be determined to establish himself as a specialist batsman, rather than a left-arm spinner who could bat. After 1992 his best season for Farsley was 1996 when he scored 756 runs. During his early days he was incomparable as a fielder winning the league fielding award in 1992 and 1994. He went on to win virtually everything as captain of the fabled Pudsey Congs side.
Farsley would spend another 15 years in the top flight showcasing sundry high-quality cricketers.
Metcalfe continued to score runs with abandon with 675 at 61.36 in 1993, and 784 in 1995, while Proud followed his 910 runs in 1992 with 742 in 1993. A new batting star emerged in Richard Gould who topped 500 runs six times with his best season occurring in 1997 with 891. He also recorded the league's highest score that year with 153 not out against Yeadon.
Evans set a new league record of 1,376 league runs in 1993 to complete a three-season aggregate of 3,327 runs. Evans, one of the leading batsmen in the league, was particularly adept at hooking the short-pitched ball. He made his first-class debut for Nottinghamshire against the touring Pakistanis in 1987. He made five further first-class appearances for Nottinghamshire, the last of which came against Cambridge University. In his 6six first-class matches for the county, he scored 112 runs at an average of 18.66, with a highest score of 50 not out. He then had a lengthy career in Minor County cricket with Lincolnshire.
More county players at Red Lane
County cricketers came and went whether they were up and coming or former First Class players. Brief spells were made by Jeremy Batty (Yorkshire & Somerset), James Middlebrook (Yorkshire & Northants), Iain Sutcliffe (Leicestershire & Lancashire), Craig White (Yorkshire), Ian Fisher (Yorkshire & Gloucester), James Anyon (Sussex) and pace bowler Simon Renshaw who took 139 wickets at Red Lane in three seasons. Renshaw played 38 first class matches for Hampshire with a best analysis of 5-110.
Farsley's third Priestley Cup success came in 1995 when they avenged their 1981 defeat by East Bierley by securing a convincing 112-run win. The hero of their triumph was Joss Overend, a left-arm bowler enjoying a successful first season in the league. Farsley had a very solid look about their 1995 team with the likes of Metcalfe, Gould, John Goldthorp, Renshaw and Overend easing them to fourth position in the league.
Quality overseas players were still being signed by Farsley, and in 1999 A. Blackwell gave tremendous value scoring 927 runs and also taking 41 wickets. This bettered the previous season's efforts of Australian Damien Shanahan who scored 796 runs.
After winning the ECB national indoor clubs competition in 1999 at Lords, Farsley travelled to Europe the following year and beat the best the continent could offer to effectively be labelled champions of Europe. The full squad was J Goldthorp, M Doidge, S Brown, A Doidge, S Smith, M Ross, R Gould, M Barnes, R Allinson..
John Goldthorp was one of the leading wicketkeepers of this era and a candidate for the Bradford League representative side. He was also as good as most specialist batsmen with a best season of 691 runs in 2002.
Metcalfe still scored freely in the new millennium topping the league batting averages in 2002 with 874 runs at 62.43. He followed this by season hauls of 606, 927, 602, 668, 748 and 602- such was his consistency. At the end of 2014 he stands second in the current all-time run-getters with 16,232 runs.
Another Yorkshire batsman to figure in the early part of the decade was Chris Taylor who topped 600 runs in 2000 and 2001.
Seamer Craig Hitchenor arrived on the scene in 2002 taking 30 wickets. He had a productive four-year spell at Farsley with a best wicket haul of 51 in 2004.
Ian Philliskirk was signed in 2003 after a successful spell with Yeadon. He had three good years with the bat before moving to Baildon. His best year was 2004 when he scored 829 runs at 51.89. The left-hander has a commanding presence at the crease and is capable of dominating bowling attacks.
In 2006 seamer Chris Henry signed from Yeadon and soon proved he was a 40-wicket a season bowler with consecutive seasons taking 47, 47, 43 and 48 wickets. Another of his attributes is his tail-end hitting which was epitomised in 2009 when he scored the league's fastest fifty off 20 balls.
Fading fortunes
After two lowly positions in the previous seasons, Farsley were relegated in 2007. This was rough justice on their Sri Lankan Kallum Fernando who scored 713 runs.
Farsley ensured they would be promoted the following season when they signed West Indian Lorenzo Ingram as their overseas player. He scored 643 runs at an average of 58.45 to finish second in the divisional averages, including a top score of 155. But he also took 30 wickets with his left-arm spin at a cost of 14.07 each, coming eighth in the sectional bowling averages, and shared the divisional fielding prize with Idle's Mohammad Fayaaz.
It would be unfair to suggest that 2008 was all about Ingram as David Syers was elected as the Gordon Bowers Young Cricketer of the Year by virtue of his 505 runs at 56.22, and also his league wicketkeeper award for most victims.
Metcalfe also made an impact with 438 runs, but it was his part-time bowling that raised eyebrows. His little off-spinners were used to great effect when he took 34 wickets to finish fourth in the league bowling averages.
In 2009 Ray Illingworth CBE won the coveted Sir Leonard Hutton Trophy for his services to Bradford League cricket. He had been a stalwart at Farsley working on the ground and seeking much-needed sponsorship monies for his club. It was gratifying to see not only a former county cricketer but a Test one at that putting something back into his grassroots club.
Ingram's four-year sojourn at Farsley was largely responsible for the team's comfortable ride in the top flight. He was a lesser success in 2009, but came into his own in a big way in 2010 with 837 runs at 52.31 coupled with 44 wickets.
The 2011 season saw Farsley finish second in Division One. It was a campaign which saw them play some sparkling cricket with Ingram winning the league's batting averages. He scored 1,140 runs and also took 50 wickets and won the Sir Learie Constantine All Rounder of the Year award. He was the complete cricketer with the grace of a cheetah in the field as he pounced to run out hapless batsmen.
Ingram's example inspired young batsman Joe Greaves who was voted Gordon Bowers Young Cricketer of the Year in 2011 after scoring 1,019 runs. His average was 53.63 and contained a highest score of 140. Greaves had started out as a spin bowler who could bat, but the roles reversed as his ability to attack bowling sides came to the fore.Another Farsley prospect to receive the Gordon Bowers Young Cricketer of the Year was Yorkshire-contracted pace bowler James Lee who took 47 wickets in 2009.
Priestley Cup final defeats
During this period Farsley had two tremendous cup runs which led to appearances in the Priestley Cup final. This included a memorable semi-final victory over Woodlands at Red Lane which went to the last ball.
Both finals ended in decisive defeats on days they did not do themselves justice. In the 2009 final East Bierley piled up 272-9, while Farsley could only muster 149 to lose by 123 runs. It got worse in the 2010 final at Spen Victoria when Bradford & Bingley set Farsley 309-5. They never looked like challenging this target and lost by a record margin of 189 runs.
The departure of Ingram to Elland in 2012 led to a reversal in the club's fortunes. They were relegated to Division Two after a difficult campaign. Former Yorkshire Academy batsman Haroon Rashid scored 599 runs, but the second team won the Division One title for the second-successive year.
The quality of the Farsley ground, looked after so caringly by Henry Hinchliffe, was recognised when the club became the first winners of the Tom Mathers Ground of the Year Award in 2012. The club continued to upgrade its facilities with David Storr driving the ongoing modernisation of a ground that won widespread praise for its staging of the Sovereign Health Care Priestley Shield final between Woodlands and Keighley. Further recognition came with the award of the Priestley Cup final in 2013 between Hanging Heaton and Lightcliffe.
In 2013 Farsley led Division Two all the way and only their title status was in jeopardy when New Farnley nearly took advantage of their late wobble. Mark Harrison was the star player scoring 808 runs at 40.15, including a top score of 130 not out, and also taking 43 vital wickets. Greaves continued his progress with the bat scoring 814 runs at 42.54, while Philliskirk topped 500 runs for the sixth time for Farsley.
Yorkshire's Joe Sayers was the big signing to cement Farsley's place in the First Division in 2014. He duly obliged with 560 league runs at 50.91, but his highlight was a superb century in a losing cause in the cup at Pudsey St Lawrence. Overseas seamer Graham Hume had four five-wicket hauls in a season when 35 wickets did not do his efforts justice. Andrew Duckworth was the best batsman after Sayers with 359 runs.
Farsley celebrated their 150th year anniversary in 2014 and produced an excellent booklet to celebrate the occasion. Looking to progress in 2015 Farsley signed a clutch of Yorkshire Second Teamers in Daniel Hodgson (674 runs), James Wainman (479 runs & 28 wkts) and Thomas Craddock who had injury problems. They struggled in a fight against relegation all through the season but escaped on the last day against all the odds when Undercliffe capitulated to Hanging Heaton. Farsley saved themselves by surprisingly beating a strong New Farnley side and survived by one point. The leading run-getter was Greg Pickles who scored 708 runs.
Genuine title challengers
Farsley had something of a renaissance in 2016 finishing in an impressive third position and on the edge of the title race until the penultimate set of fixtures. It could have been even better but for a disproportionate amount of abandoned or curtailed fixtures.
The recruitment of South African batsman James Arthur Price, who scored 891 runs at 49.50, was the catalyst for such a revival. Price played First Class cricket for Eastern Province and had registered a career best score of 167. He had previously played in England at Milnrow in the Central Lancashire League, scoring double-centuries in two successive matches.
Dan Hodgson (514 runs) and Greg Pickles (474 runs) were the other performers with the bat, while seamer Chris Henry (40 wkts) and young spinner Adam Ahmed (31 wkts) were the most effective bowlers. Ahmed ended the season with the League's Ernest Lodge Spinner of the Year Trophy.
Ryan Cooper took over the captaincy in 2017, and moulded a genuine title challenging side. They developed ruthlessness in bowling sides out cheaply and kept pace with the early leaders Hanging Heaton. When they played Lightcliffe they produced the perfect team performance- winning by 229 runs, and bowling the opposition out for 26 with Al-Mustafa Raffique (5-10) and Chris Henry (4-16) doing the damage.
By late July, they were league leaders with Hanging Heaton and Woodlands chasing not far behind. They were also in the Priestley Cup semi-finals after an impressive win against their local rivals Pudsey St Lawrence. However, it would all unravel when they faced Methley at Red Lane in the cup.
The build up to the day could not have been more difficult for Methley with three key players missing on a pre-booked holiday, and skipper Grant Soames risking playing the big match with a dislocated thumb. Farsley were at top strength with Yorkshire releasing left arm spinner James Logan for a rare appearance.
On the day, the overnight rain had rendered the wicket slow and it came as a surprise that Farsley won the toss and elected to bat on a strip used the previous day. They were dismissed for 89, and although they extended the Methley batting, they lost by two wickets.
Shortly afterwards they lost heavily at Hanging Heaton, and later when they lost to Woodlands for a second time they more or less conceded the title. They finished third behind Woodlands and 39 points adrift of the title winners Hanging Heaton.
South African Price was not quite as fluent as in the previous season, but still scored 613 league runs at 38.31. Cooper was the leading batsman with 603 runs at 50.25, while Hodgson (494 runs) and Wainman (351 runs) both averaged over 30.
The seam attack was strong with Henry taking 46 wickets at 15.96, and Wainman 44 at 17.50, while young spinner Ahmed again shone with 38 wickets at 17.05 and retaining the Ernest Lodge Young Spinner of the Year award.
Farsley still awaiting trophy
Farsley had a fine all round side for 2018, but their title challenge was negated largely because of calls on their four players with county associations. Adam Ahmed was taken by Durham Academy, while Matthew Revis had to play his Saturday cricket with the Yorkshire Academy. The value of James Wainman, below, was diminished by Yorkshire's insistence on restricting his overs, and at times his availability.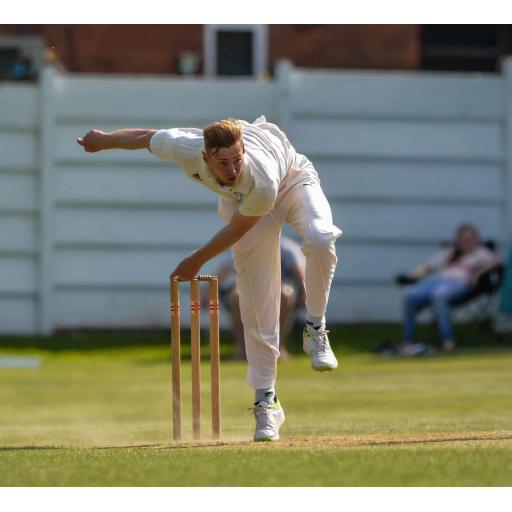 Despite this, they were strongly challenging for the title by the half-way mark with crushing victories, and in particular against Lightcliffe who they beat by 183-runs. Yorkshire's James Logan top scored with 118, before bowling Lightcliffe out with an analysis of 5-35.
It did appear that they would achieve big things when they beat New Farnley twice over one weekend to maintain they title challenge, and qualify for the Priestley Cup Final. The very next week they were bowled out for 77 in the league to succumb to Pudsey St Lawrence and slip right back in the title race.
With hopes still high of one trophy, they lost their way in the league and finished a disappointing fifth in the league, but they had the Priestley Cup Final to fall back on.
The best player during the season was Yorkshire contracted all rounder James Logan who won the W H Foster League Bowling Averages with 54-wickets at 11.02, and also scored 562 runs with the bat, which enabled him to win the Learie Constantine All Rounders trophy.
Other achievers in the league that season were Dan Hodgson (651 runs), and South African Pat Kruger who excelled with bat and ball.
The much-anticipated Priestley Cup Final between Farsley and Woodlands at Undercliffe was rained-off on the scheduled day. The following day was the official reserve date, but Farsley forfeited the match rather than play a weakened side.
James Logan with his 2018 awards Picture: Ray Spencer
Key men missing
The 2019 season was also blighted by unavailability problems, with new signing Josh Poysden injured for the second half of the campaign, Logan restricted by Yorkshire duties and later injured himself while overseas player Pat Kruger was late to arrive, and early to depart.
Despite this, Farsley managed to finish in seventh position after a poor start to the season. A run of four successive victories put them on the fringes of the title race at one point, but batting inconsistencies ensured they would be mid-table.
The fact that Ryan Cooper was their leading batsman with 337 runs at 19.82 told its own story, but Yorkshire pair Logan and Poysden were effective with the ball when they actually played.
Kruger's ability came to the fore in August when his 7-19 bowling analysis destroyed Cleckheaton when they were bowled out for 48. The seven-wicket victory was the highlight of Farsley's season in 2019.
When Covid-19 struck in 2020, the club decided not to take part in the Gordon Rigg Premier Group and T20 competitions. Several of the players played in the Aire Wharfe League as loan players and enjoyed great success.
Farsley's 2021 league campaign was probably a little lack lustre, but they did win ten matches to finish sixth, ending the season with a resounding ten wicket victory over Methley.
Ryan Cooper was their best performer with 517 runs, and Adam Ahmed the most versatile with his all round ability.
The Heavy Woollen Cup gave the club more excitement with emphatic victories against Skelmanthorpe, Elsecar and Gomersal on the way to a tame semi-final defeat at the hands of the eventual winners New Farnley. Dan Revis recorded a noteworthy century against Skelmanthorpe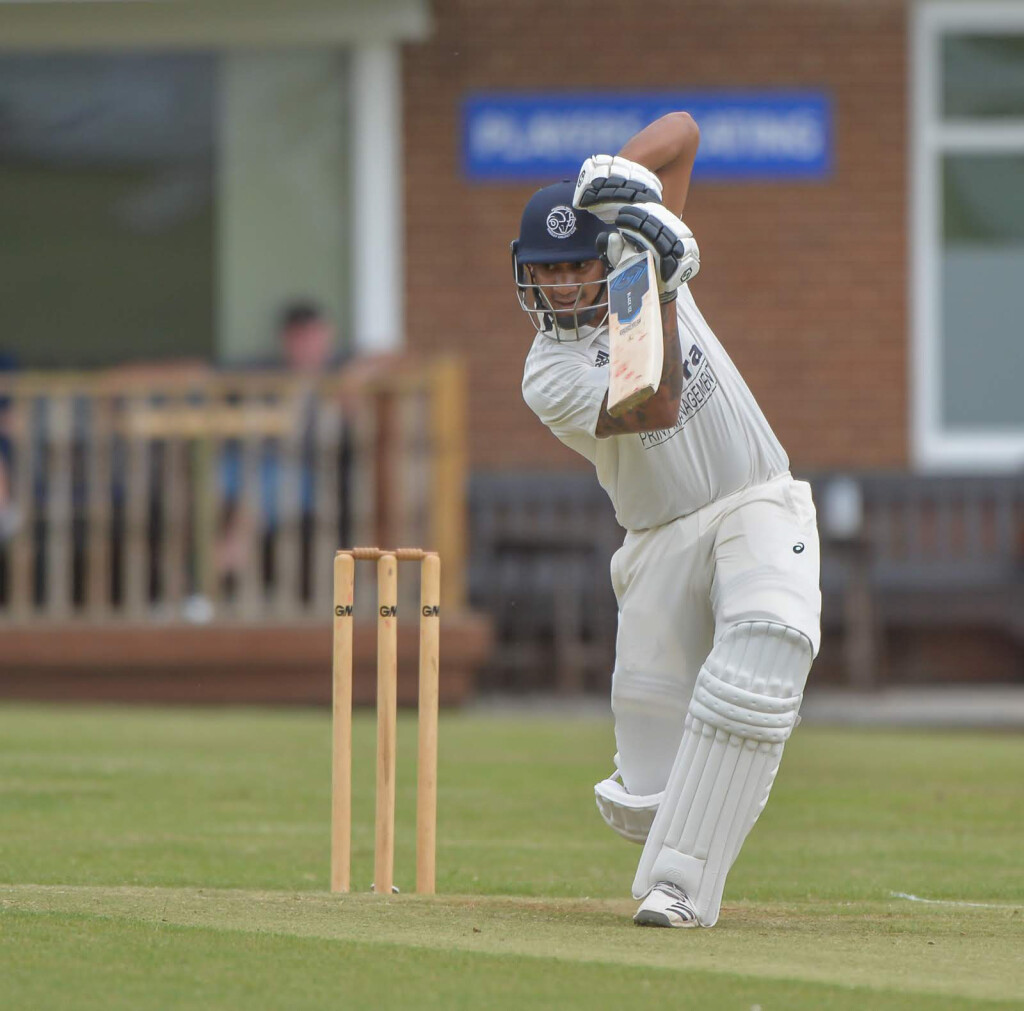 Overseas player Pat Kruger missed matches at both ends of the 2019 season
They finished sixth again in 2022 and uncannily the same number of victories. Yorkshire players Harry Duke and Matthew Revis were on their books but played infrequently. However, in one of his few appearances, Duke helped Farsley complete a notable double over title chasing New Farnley with an unbeaten 107.
Cooper was again the best batsman, scoring 687 runs in a line-up where Chris Beech and Dan Revis also topped 500. The latter also took 36 wickets to complete a good all round season. Promising seamer James Rogers matched that tally to further his development.