The early years
Although the origins of Methley Cricket Club could be traced back to a field at Moorhouse Farm where organised cricket was played in 1867, the local press referenced that in 1863 eleven men of Methley opposed eleven men of Castleford on the cricket field. As a complication there is also reference in the history books to a brickyard field that was also utilised at that time. A First X1 known as Methley Gentleman, closely connected with the church was evident, as was the titles Methley Moorhouse and Methley Victoria.
Methley moved on in prestige when it relocated to its present ground in Little Church Lane in 1874. Its idyllic setting under the shadow of the handsome village church and the assortment of species of trees marked it out as one of the most attractive grounds in the area.
The cricket field has undergone some radical changes over the years. Up to the fifties, it was enclosed by wooden railings which allowed a spectator-entrance gate and admission charge. The old pavilion, with its `pigeon-loft' scorer's box, was demolished in 1968 and replaced by a Banbury building adjacent to Little Church Lane.
Friendly matches were initially played, but the first recorded league action came about in 1891 when Methley were thought to be founder members of the Rothwell and District Cricket League.
The leading players in the formative years were lightening quick bowler "Blackie" Bennett and James Sherwood who was a gifted all-rounder. Legendary batters were `Sol' Laycock and Joe Pyrah who was infamous for his aversion to practice night.
League moves aplenty
By 1908 Methley were a force in the Wakefield and District League with key players George Walker, Jimmy Keighley, Bob Thompson, George Thompson and Alma Wright in their ranks.
The regularity of league changes for Methley was remarkable when one considers that at some point they were members of the Osgoldcross League (Pontefract),Yorkshire Central, Huddersfield &District and the Oulton League all in the pre 1914-18 period.
The outbreak of war in 1914 led to local league cricket being suspended, but in 1919 Methley re-joined the Yorkshire Central League. After a few uneventful post-war seasons and having been unsuccessful in gaining admission to the re-formed Leeds League, Methley joined the West Riding League in 1924.
The first season was monumental as it brought the first major trophy in Methley's history- the West Riding League championship at the first attempt. Two years later, in 1926, the achievement was repeated, and they also won the Castleford and District Evening League John Horsfall Cup. They just missed a clean sweep losing narrowly to Ackworth in the final of the West Riding Cup.
This success inspired Methley to try and gain admission to the more prestigious Leeds League and in 1929 was duly elected. They relished the challenge and finished strongly in 4th position with John Willie Firth and Asquith Parker occupying 2nd and 3rd place in the league batting averages. Firth was considered good enough at the time to play for the Yorkshire Colts.
Methley's stock was increasing on the field when they reached the Hepworth Cup Final in 1931. They lost narrowly to the powerful favourites Holbeck at Whitkirk. In the enlarged league of twenty clubs in 1932 they finished in a credible fifth position with Alma Wright again prominent as the main strike bowler with 48 wickets at 14.20.
1933 was an average season for Methley with one highlight in the shape of Norman Grayson who batting at No.9 against North Leeds scored a century in seventy minutes out of a total of 281.
Another similar season in 1934 saw an outstanding batting performance from Albert Pollard who had the highest aggregate of runs in the league with 510. This was in an era when runs were much harder to come by than today with its covered wickets. Pollard also won the Leeds League `White' Cup for his 139 against Rothwell, the highest individual score in the league that season.
Progress was evident in 1935 when Methley soared to second place in a league of uneven fixtures settled on a percentage basis. The evergreen Alma Wright was again the star performer with the ball winning the club's bowling averages. His best return saw him bowl 13 overs and take 7 wickets, including a hat-trick, for 22 runs.
Another remarkable bowling performance came from left-arm medium pacer Harold Walker who on a helpful wicket at Gildersome on the last day of the1938 season took 9 wickets for 6 runs. This was the outstanding bowling analysis in the league that season which won him the Hemingway Cup. His season's league record read 50 wickets at 8.3 runs per wicket.
The Leeds League amalgamated with two other Leeds based leagues to form the powerful Leeds and District League for 1939 with Methley taking part in Section `A'. However, they struggled with only four wins from 26 matches. This was despite having two bowlers with extraordinary records. Norman Grayson took 76 wickets at 9.76, while Harold Walker claimed 46 wickets at 12.65.
Cricket continued spasmodically during the Second World War albeit in chaotic circumstances with flexible player registration to allow service men to play where they were stationed.
Into the Yorkshire Council
In 1946 Methley joined the more fashionable Yorkshire Council, and by 1947 had finished fifth in a Championship Table of 45 clubs. It was an unwieldy league set-up based on percentage of matches won in an uneven fixture list. This was soon rectified in part when geographical sections were augmented with Methley being placed in the Pontefract Section, but still playing matches in the outer Council.
Methley put themselves on the cricket map by winning the Pontefract Section in 1950 edging out Featherstone on the percentage route. Their strength was decisively with the bowling as Harold Walker took 52 wickets at 8.46, supported by Albert Richardson who claimed 38 wickets at 10.23. Their overall record that season in the Yorkshire Council was more modest when pitched against the more impressive teams.
Methley's historic 1950 line-up was comprised of A.Walker, C.Bentley, E.Clay, A.Lund, R.Emmerson, R. Harrison, A.Richardson, H.Shillito, A.Pollard, W.Poulter, H.Walker.
The remaining years of the fifties were less successful with some seasons of real struggle. In 1960 a promising start tailed off with Denis Teale taking the batting plaudits for the third season, and ultimately leaving for Castleford.
In 1962 progress was made with the best season since 1951 when they finished third. They finished in the top half of both the Yorkshire Council and the Pontefract Section with the bowlers again taking the honours. Harold Walker had a return of 8-15 against Featherstone, while F.Aspin took 7-36 against Allerton Bywater.
There was not a lot to shout about at Methley in subsequent seasons and the 1968 term opened with six successive defeats. The fact they revived somewhat was down in no small measure to the consistent all-rounder Michael Smart who bowled well enough to reach third in the league averages with a haul of 45 wickets.
Dominant team in Pontefract League
The seventies were the start of the glory years for Methley, although it was not immediately apparent at the inception of the decade.
By 1973 the club had finally secured a new pavilion, combining changing rooms and refreshment area, after years of struggling to modernise.
The playing strength had improved to such an extent that Methley occupied a leading position on the Pontefract Section for most of the 1974 season, before finally clinching the championship, the club's first league title since 1950.
The team line-up included Alan Wadsworth, Stephen Bell, Michael Smart, Brian Long, Alan Speight, Terry Firth, Graham Shaw, Don Williams, Colin Speight, Mervyn Jones, Nigel Richardson, Bernard Richardson, Jim Walker.
Hopes were high of retaining the title for 1975 despite a less than impressive start. A mid-season runs of victories gave them hope, but they had to settle for the runners up spot. The most noteworthy individual performance came from second-team bowler Alan Speight, deputizing for opening bowler Alan Wadsworth, took 8 wickets for 35 runs, all being clean bowled.
In 1976 Methley could etch its name on the cricketing map when they easily won the Pontefract Section and also progressed to the final of the Yorkshire Council championship play-off after victories over Askern and Rotherham Phoenix. However, in the final, Thornhill proved to be far too strong for them winning by eight wickets in front of a large crowd at Hanging Heaton CC.
The old firm of bowlers Wadsworth, Bell and Smart had been a potent factor in the title success, whilst the batting of Jim Walker and Bernard Richardson was as reliable as ever.
The title was retained in 1977, but the following season Methley had to settle for the runners up berth when tipped to win it. A major disappointment was a lamentable defeat in the Yorkshire Champions Trophy at the hands of Oxenhope of the Bradford Central League.
In 1979 the title was regained in a season when batsman John Gunn excelled with 900 runs. This was the fourth title triumph of the decade, but bizarrely success in the cup competition was proving elusive, albeit not far away.
The new decade of the eighties opened with an even stronger Methley side after the acquisition of batsman Eddie Lucas who had previously played for rivals Oulton and Altofts. The title was not retained, but ample compensation was found in the Hepworth Cup which they won.
In the 1980 final at Ackworth they dismissed their opponents Yorkshire Copper Works for 77, before knocking off the runs with four wickets in hand. The man of the match was Stuart Micklefield who top scored, and also had three stumping to his name.
Methley's foray in the Yorkshire Champion Trophy in 1980 ended with a 58 run defeat at Spen Victoria.
After a mediocre season in 1981 Methley clinched the runners up spot in the following season with Ian Clarke averaging 47 with the bat.
Extension of pavilion
The extension of the pavilion and with it the launch of a sizeable lounge was celebrated on the 11th March 1983 when Norman Yardley, then president of Yorkshire County Cricket Club, performed the official opening ceremony.
League performances dipped a little but in 1985 the Hepworth Cup proved to be their salvation again. After easily beating three strong sides, Townville, Pontefract and Ackworth on the way, they were up against Carlton Towers in the Final at Methley.
A large crowd gathered to watch the first Hepworth Cup Final to be played on the Methley ground. Carlton Towers were dismissed for 194, and in reply Methley coasted home for the loss of 3 wickets with Trevor Ingham top scoring with 74*.
The team had a hard core of five highly promising young cricketers in Andrew Ward, Trevor Ingham, Neil Lockett, Michael Waite and Jason Micklefield, who under the instigation of Yorkshire committee man Sid Fielden were invited for a trial at the Headingley nets.
During the close season, thoughts were turned to the possibility of seeking admission to the Central Yorkshire League, long regarded as the most senior league on the Yorkshire Cricket Council. A special meeting was called to consider this, and although it was not a unanimous vote in favour, an application was made that proved to be successful.
Methley had to serve a 12-month's notice season in the Pontefract Section and struggled to make much of an impact with a side as strong as ever.
Into the Central Yorkshire League
The historic first season in the Central Yorkshire League in 1987 was entered with a full complement of players from the previous season, but boosted by the club's first ever overseas recruit, medium pace bowler Stewart Gibbs, from Australia.
Starting in the Second Division they had a rude awakening losing their first three matches in this more competitive brand of cricket. Things picked up mid-season but it would take an almighty effort to make the promotion places with Chickenley running away at the top with a big points variance.
A key victory came over close rivals King Cross with bowlers Andy Turner and Stewart Gibb making use of a hostile, rain-affected wicket. This gave Methley the confidence to go on and win their last six matches and clinch promotion in second place at the first time of asking.
The outstanding performers were bowlers Alan Wadsworth (55 wkts) and Stewart Gibb (51 wkts) who occupied 1st and 2nd place respectively in the 2nd Division League Bowling Averages.
Mindful of the competition in the top division of the Central Yorkshire League in 1988, Methley recruited a West Indian quick bowler in Tony Martin. However, such was his pace a high proportion of catches behind the wickets were dropped negating his effectiveness.
Two encouraging early winning draws against strong sides Ossett and Morley gave way to a less than fruitful spell which saw them languishing near the bottom during the second half of the season. When it came to the penultimate game of the season they had to beat Heckmondwyke to stave off relegation.
On a rain-affected wicket, Methley crumbled to a low score of 63 which appeared to be totally inadequate. However, the potency of Tony Martin and rapidly advancing ability of left-arm spinner Michael Waite accounted for Heckmondwike to the tune of 57 runs.
The top performers that season were Tony Martin with 53 wickets, and Neil Lockett who finished eighth in the league batting averages with 453 runs at 34.85.
Despite Martin's relative success it was decided to engage Australian David Jones, who had played at Morley, as the overseas player for 1989. Jones had easily won the Central Yorkshire League's batting prize in 1988 scoring 835 runs at 75.90, and also topped the wicketkeepers in securing 32 victims. He was appointed captain of Methley.
Expectations of a better season were higher but in reality it proved to be misplaced. In a season of struggle with just one outright win to their name. Methley only survived the drop by having a positive result against Scholes in the final match.
Surprising, in view of the results in 1989, Methley had two bowlers- openers Alan Wadsworth (43 wkts) and Andrew Jarvis (51 wkts)- in the top ten of the league bowling averages. David Jones was the club's leading batsman with 609 runs at 30.45.
Challengers
In 1990 Tony MartIn returned to the fold with David Jones retained as a British qualified player. Martin immediately made an impact taking 6-27 against Birstall in the opening fixture, and reaching 30 wickets by the end of May. This drove Methley into a challenging position in the league flirting with the top spot for a brief period.
It was clearly a two-horse race for the title with Mirfield just edging it after it went to the last weekend. Martin broke records in obtaining a total of 94 league wickets with a further 17 in the cup. His achievement easily won him the league's bowling prize.
Methley had truly arrived on the big stage of league cricket and it was not a one-man effort. Andrew Jarvis with 551 runs and 32 wickets took the league's all-rounder prize, while David Jones was again the leading batsman with 588 runs.
Martin's efforts were noted by other clubs and Windhill of the Bradford League engaged him for 1991. Methley replaced him with Indian Raju Kulkarni, an all-rounder who had played First Class cricket for Bombay mainly as a medium pace swing bowler. He took 8 for 111 in the semi-final of the Ranji Trophy in 1982-83, and played in his first One Day International in December 1983.
He was called in shortly before the Test against Australia in his home town of Bombay in October 1986, where he made his Test debut. He played two more Tests against Pakistan in February 1987, but his mediocre Test career ended after these three matches with a best performance of 3-85. Kulkarni played the last of his 10 one-day internationals also against Pakistan, in March 1987.
Kulkarni, who was fast by league standards, made an immediate impact at Methley taking 6 wickets in a tied game with Chickenley. Then on Spring Bank Holiday Monday, against Gildersome he claimed 6 wickets for 13 runs on a fast and greenish wicket. His effectiveness whittled away from then on and there was a thought he was not performing to his true potential.
National Village adventures
Methley had a poor league campaign in 1991 which saw them relegation candidates at one point, despite Jones averaging 47.10 and recording centuries against Altofts and Chickenley. However, 1991 was a still a notable season because of their exploits in the National Village Championship Cup. As regular entrants to this competition the furthest they had got was in 1988 when they won their area final to reach the regional heats. This was all about to change in 1991.
After an impressive area victory against a strong Treeton side, they reached the Group Final played at Methley against Thorpe Hesley. Methley batted first and scored 212-6, including an undefeated 51 by Barry Matthewman. After a scare towards the end of Thorpe Hesley's innings when a batting offensive seemed to be changing the game, Methley prevailed.
After easily accounting for Plumtree by seven wickets, their next opponents were 1989 winners Toft. Played in front of a Methley crowd estimated at 600 there was real drama from start to finish. Methley did not come to terms with an all-spin opening attack and collapsed to 109-9. Neil Lockett had been the only batsman looking likely to cope and when he was joined by the last man Howard Leach it was vital they scrambled as many runs as possible.
Leach, who was not known for any sort of run-scoring, bedded in and added a priceless 39 runs for the last wicket with Lockett. The score of 148 gave the Methley attack a glimpse of optimism. Lockett finished undefeated on 49, while Leach scored 19.
Toft found runs hard to come by and lost wickets at regular intervals to finish with a losing score of 138. Leach was the main frustration to them bowling nine overs for 2-11 to add to his heroic runs with the bat. Methley had reached the quarter-finals of a national competition.
Colwell were the visitors to a packed 1,000-strong Little Church Lane crowd. Methley batted first and posted an extremely useful 220-6 with half-centuries from Barry Matthewman, John Stokoe and Andrew Jarvis. However, Colwell paced the run chase quite expertly to reach the semi-final Methley craved.
Jones was not available for the 1992 league campaign, so the experienced and much travelled Graham Boothroyd was signed on as team captain. The overseas slot went to 18 year-old New Zealander Jeff Roscoe. The season would prove to be the most momentous in Methley's history, but not in the league where they suffered from a crippling list of injuries.
The National Village Championship Cup again occupied the mind of the Methley faithful as the team steamrollered past Thorpe Hesley, Escrick Park and Armitage Bridge to reach the area final again. This was a much anticipated tussle against much fancied Woodhouse Grange which ended in a routine victory for Methley on their own patch.
This took Methley to the competition proper where they beat Gretton in a low scoring affair, then Plumtree who could not chase 200, before meeting Welsh club Marchwiel who had won the trophy in 1980 and 1984.
Methley were favoured with a home draw which saw a thousand spectators, including a hundred from Wales. Methley won through but not without alarm chasing a modest 149 on a good wicket. The home team had to grind out the runs against an accurate bowling attack. Boothroyd finally relieved the pressure with two sixes as Methley eased home with an over to go thanks to a hundred stand with Kevin Rich, both batters finishing with unbeaten half-centuries. Methley's best bowler was Lee Mills who only conceded 13 runs in his allocation of overs.
Methley were so close to the final at Lords, but had to travel to play the 1985 winners Freuchie of Fifeshire in the semi-final. An estimated crowd of 2,000 was evident when the players stepped on a pitch that had been under water the previous day. Methley won the toss and inserted Freuchie knowing the dampness of the pitch.
From the start the bowling was on top and from 15-5 the home side did well to stagger to 99-9. Lee Mills, with 2 wickets for 9 runs, and Michael Smart 3 for 10 runs bowled magnificently to blow away the top order. At 10-3 Methley were in trouble, but Andrew Jarvis and David Jones settled down after a cautious start to rattle off the remaining runs without further trauma.
Journey to Lord's
The Final at Lords attracted media attention as considerable support from Methley arrived on a wet day to see the battle against Hursley Park. Losing the toss Methley were predictably put into bat and struggled to score quickly against accurate bowling on a slow outfield. Only the diligence of Kevin Rich, David Jones and Andrew Jarvis allowed Methley to crawl to 150-6 before the overs ran out.
Hursley Park started well and at 68-1 were the clear favourites. However, seamers Lee Mills and Michael Smart had controlled the run flow, and it was finely poised. When the spin duo of Alan Boothroyd and Michael Waite had slowed the run-rate further, panic began to set in with the Hursley Park batting, and 34 runs were needed off 3 overs.
With ample wickets in hand Hursley Park went into the last over bowled by Alan Boothroyd with 18 runs needed. An early six took the pressure off the batting side but there were eight runs still required with three balls left. After a careless wide five was needed to win with two balls to go when the batsman skied the ball to Graham Boothroyd at long leg who dropped the ball which floated over the boundary line for four. The scores were tied but Hursley Park had effectively won by virtue of losing less wickets. All doubts disappeared when the top scorer hit the last ball for four.
Still very competitive in 1993, Methley's season was highlighted with Lee Mills winning the league bowling averages with 49 wickets at 15.48. Always hard to get away he bowled `wicket to wicket' and gave the batsmen few bad balls to punish.
The trophy winning years
Methley were growing as a club and to prove it won the famous old Heavy Woollen Trophy for the first time in 1994 at Liversedge. Chasing Gomersal's 201-8 they won with a degree of comfort replying with 202-6.
In 1995 David Jones scored 869 runs at an average of 64.42 and in doing so won the league batting averages to replicate his 1988 feat with Morley. More importantly his runs were more than significant in Methley's first 1st Division title win.
The trophy count kept rising when in 1996 Methley won the Yorkshire Council Play-Off Final.
After ten years in the Central Yorkshire League Methley became major players when in 1997 they swept the board of honours winning the classic Division One title and Jack Hampshire Cup competition. In a thrilling title race where Methley went `toe to toe' with Mirfield they prevailed by the number of wins as both teams finished on 100 points.
It was a triumph for Peter `Golly' Oldham who led the side scoring 492 runs. The other major players were Steve Rowse (610 runs),J McHale (40 wickets) and the ever reliable Lee Mills who took 42 wickets.
National Village Cup Winners
The two trophies might not have been defended successfully in 1998, but they arguably won something more spectacular, namely The National Village Championship Cup at Lords:
Methley 238-3 Apperley 177 Methley win by 61 runs
The opening pair of Alec Gilston and Steve Rowse got Methley, the champions and leaders of the Central Yorkshire League, off to the best possible start with a stand of 152 - a record for the final. Gilston, who hit the only six of the match, and Rowse batted beautifully, pacing their innings perfectly. Gilston's 62 came off 75 balls, Rowse went on to reach 94 from 113 deliveries with 10 boundaries, and a place in the record books with the third highest individual score in a final.
Methley's seamer Lee Mills' decision to give up the captaincy midway through the season in order to concentrate on his bowling, paid off as he finished with four for 34 and was the leading bowler.
This triumph was even more commendable given that vital all-rounder Paul Rickers had to miss the final due to his professional football contract with Oldham Athletic.
The year 1999 was notable at Methley for the feats of fast bowler Neville Lindsay who in previous years had starred for the Bradford League Representative side. He had a season to remember winning the league bowling averages with a haul of 51 wickets at 13.22.
Into the new Millennium, Methley won the Yorkshire Council Championship in 2001, the Jack Hampshire Cup in 2002 and the newly installed Premier League for the first time in 2004.
The consistent seamer John Rickers was a major influence in securing the title taking 42 wickets for 12.74 and in doing so won the league bowling averages.
There were setbacks and in 2003 Methley were inexplicably knocked out of the Jack Hampshire Cup by new club Buttershaw St Paul's. Setting a score of 267-4 they allowed Buttershaw to knock off the runs at 268-8 on their tiny ground.
Like most senior leagues the Central Yorkshire had augmented a Premier League for their top division, and in the immediate years Wrenthorpe, Townville and Methley were the dominant force.
In 2006 to illustrate the club's growing ambition they signed Vic Craven and Lee Goddard.
Goddard his double ton
A match that illustrated their worth that season was when Goddard hit the season's highest individual score with an unbeaten 206 as Methley crushed Batley.
Goddard, who was 16 short of the league's all-time record individual score, shared a 189-run partnership with Craven (76) in Methley's 381-3. Craven then claimed 8-45 to send Batley reeling from 80-3 to 108 all out in reply.
Goddard was signed from East Bierley, a right-handed batsman and wicket-keeper who forged a career with Durham. On his championship debut for Derbyshire against Hampshire, Goddard took five catches in the first innings.
He held the Durham record for the fastest half-century, in first class cricket, reaching 50 in 32 balls versus Sri Lanka A on 10 August 2007.
Methley were top dogs in the Central Yorkshire League in 2009, despite Wrenthorpe's star studded team carrying the pre-season favourites tag.
The title win was built around three former Harrogate players Vic Craven, Alex Twigg and Ryan Bradshaw, and the prolific scoring batsman Nick Connolly.
Connolly scored 1,062 runs, supported well by Craven (682) Twigg (781) and Bradshaw (534). Craven also took 61 wickets, while Chris Smith (45) and Chris Leaf (55) were the other chief wicket-takers.
In 2010 they still challenged but finished third, leaving their heroics for the Jack Hampshire Cup they duly won.
Craven was a consistent batsman in the league, but he also excelled with the ball with his accurate medium pace. He won the league bowling averages during his stay with Methley, taking 41 wickets at 11.63.
Craven, a left-handed top order batsman, and occasional right arm medium pace bowler, played in thirty three first-class matches for Yorkshire, and scoring 1,206 runs at 24.61, with a top score of 81 not out.
He also took 15 wickets at 38.93, with a best of 2-18. In forty two one day matches scored 580 runs at 17.05, with an innings of 59 being his best, while he took 21 wickets at 16.80 each with a best of 4-22. His most successful innings in six T20 games was 44 not out.
The signing of Sri Lankan Hermantha Alles proved to be a shrewd overseas signing. He finished third in the league bowling averages with 52 wickets at only 6.18, and in addition scored 380 runs.
A genuine all-rounder at First Class level, his top bowling feat in his native country was
7-90, while his highest score with the bat was 61.
Epic final against Wrenthorpe
The Jack Hampshire Cup Final win of 2010 was particularly sweet as it was against the Wrenthorpe, a team on the threshold of domination.
Methley batted first and registered a mighty 250-5 with Connolly top scoring with 109*, assisted by Hemantha Alles who chipped in with 51. The strong Wrenthorpe batting line-up were not exactly written off, and when former Yorkshire duo Gary Fellows and Bradley Parker made half centuries it looked to be a close run affair. However, occasional bowler Hamid Khan took three vital wickets, and with wicket-less Rickers giving nothing away, Wrenthorpe came up short with 235-9.
Hamid Khan had two excellent seasons in 2010 and 2011 scoring 692 runs and 924 runs (57.75) respectively. But, the top batting star was Connolly whose consistency with the bat was unmatched at Methley. In a 4-year sequence he had the following record-
2010- 956 runs at 56.24 with a top score of 122*
2011- 1154 runs at 88.77 (won the league batting averages)
2012- 767 runs at 51.13
2013- 708 runs at 35.50
Methley finished in third place in their cup winning season of 2010, and then achieved three runners- up positions up to 2013 when they again won the Jack Hampshire Cup, in the year they celebrated their 150th anniversary.
During this period they were also crowned Yorkshire Council Champions of 2011.
As the Central Yorkshire League Twenty/20 Competition was making ground Methley enjoyed unsurpassed glory winning it in three successive seasons from 2012 to 2014.
Two notable bowlers were left arm spinner Simon Purdy, who had a fruitful career at Hanging Heaton, took 70 wickets in 2011, and seamer John Rickers who won the league bowling averages in 2012 for the second time when his wicket haul cost a mere 12.52 runs each.
The cup winning season of 2013 was also notable for Methley recording the top league score of the season when they scored 359-7 against Mirfield Parish Cavaliers. The best batsman that year was Christian Holiday who scored 835 runs at 49.12.
The 2013 Jack Hampshire Cup Final win closely mirrored the 2010 match against the same opponents, Wrenthorpe. Methley batted first scoring 255-7 with Marcus Walmsley scoring an undefeated 110, and Connolly 85. Wrenthorpe made a valiant effort to chase down the runs ending on 229-8, with the wickets shared mainly between Connolly, Rickers and Walmsley (Marcus) who all got two wickets each.
With Wrenthorpe in serious decline it was left to Townville to thwart Methley as they won the title and set the scene for these two clubs to carry the flag for the Central Yorkshire League and battle it out on all fronts.
Twins, Marcus and Eddie Walmsley, who originated from Cleckheaton, were having an increasing influence at Methley. Marcus was a sheet anchor left handed opening batsman who could bowl medium pace, while Eddie was a specialist off-spinner who could bat consistently in middle order.
Treble trophy haul
Marcus was destined to lead his team to arguably the most momentous season in the club's history when in 2014 they swept the Central Yorkshire League honours board, and achieved the classic league and cup double, and as a bonus also won the league's Twenty/20 competition.
He was probably the most influential player in the league with 472 runs at 36.31, and a very handy haul of 34 wickets. Eddie was the leading Methley bowler with 34 wickets at 12.79.
Methley's capture from Wrenthorpe Luke Patel was an inspired signing averaging 56.60 to finish second in the league batting averages. The next best batsman was Christian Holiday who averaged 39.36.
It was by no means a saunter to the title in 2014 with Townville tracking them all the way with Methley edging it by a point.
It was a relatively easy Jack Hampshire Cup Final victory after their opponents Birstall struggled to 169-6, largely due to Austin's heroic 69. Rickers tied the batting side down with 2-27 amongst a set of bowlers who kept their line. Methley eased to victory by eight wickets with Foster (94 runs) and Marcus Walmsley (44 runs) cashing in.
There was an outstanding chance to win the Heavy Woollen Cup for the first time in 2014. Reaching the semi-final they met their great rivals Townville and just did not do themselves justice.
Townville batted first and registered 237-9 with Yorkshire Academy paceman Matthew Waite being the most effective bowler with 2-38. Methley's reply was disappointing ending 80 runs behind on 157 despite Christopher Holliday scoring 91.
After much speculation about the new ECB Premier Leagues in Yorkshire, Methley decided to send an application to join the newly formed South Yorkshire Premier League for 2016. The criteria was to finish in the top three of the Central Yorkshire League at the end of 2015, and this was obviously very reachable after just performing a treble.
However, talks with the Bradford League, which was also going to be recognised as a Premier League, ended with a successful application to join this league for 2016. They would start in a Championship Division with ambitions to obtain promotion the first time of asking to the Premier League in 2017.
Just as important as success on the field is development off it and in April 2015 Methley opened three new dressing rooms in an extension to their facilities. The opening ceremony was officiated by former Farsley and Northants wicket-keeper David Ripley on a day it was clear that the club meant business.
Another cup and league double
Meanwhile there were still achievements to be had in 2015 in what would be their last season in the Central Yorkshire League. They continued to win silverware.
They led the table for most of the time with their old rivals Townville breathing down their neck. However, by August 15th their slender lead at the top evaporated completely when Wakefield Thornes took over the lead as Methley suffered a resounding defeat by Wrenthorpe who chased down 225-7 to win by nine wickets. This left the top four divided by just seven points.
Astonishingly Methley reversed this defeat against Wrenthorpe the very next day in the Jack Hampshire Cup Final at Methley by winning the tie in a mere two hours. In an unprecedented one-sided final they skittled Wrenthorpe out for 55 in 18.1 overs with Sohail Raz taking 5-24, and in doing so claiming the Man of the Match Trophy. Methley's openers Richard Foster (39*) and Marcus Walmsley (17*) then proceeded to hit the runs off in six overs.
In a tense last day of the season with rain threatening to have an undue influence in the destination of the title Methley beat Birstall to prevail by three points. This completed the classic cup & league double for the second successive season and a real pointer to a premier league club in the making.
The influence of the Walmsley twins was plain to see as both figured high in both the batting and bowling league averages. Skipper Marcus scored 630 runs at 38.38 and also took 52 wickets at 15.92, while Edward scored 471 runs at 67.29, and claimed 46 wickets at 13.83.
Other top performers were Luke Patel who scored 720 runs at 51.43 and Richard Foster who bettered that tally with 798 at 42.00.
Methley also reached the Black Sheep Yorkshire Champions Cup Final for the first time in a trophy the Central Yorkshire League had never won. They had beaten reigning winners Elsecar in the First Round by 88 runs after amassing 313-8 with Foster top-scoring with 125. After a bye into the Final after Woodhouse Grange had conceded because of their National Village Trophy exploits they faced a strong Yorkshire Academy side.
Batting first Methley was in a good position at 84-1 but lost momentum in the face of accurate bowling. Foster (49 runs) was the only player to partially cash-in amongst five batters who were well set before being dismissed. The final score of 220-9 was not expected to extend the opposition, but their undue caution nearly played into the hands of Methley.
Entering the last over they needed six runs to win and duly achieved that in two balls winning by six wickets. It had been a sterling effort in the field by Methley with paceman Mustafa Bashir taking 3-47, and Marcus Walmsley bowling his ten overs for seventeen runs.
Another cup defeat came the way of the Yorkshire Council Championship Final held at Liversedge where they were beaten by Treeton.
Into the Bradford League
Now in the Bradford Premier League in 2016, Methley's expected promotion challenge soon ran out of steam as their old rivals Townville surged ahead in Championship B. Finishing third, having won twelve and lost six, they were a massive 91 points behind the one promotion place. This represented disappointment in their first season, but there was mitigating circumstances.
Under new skipper Grant Soames, Methley suffered from losing key players Richard Foster and Luke Patel and were doubtless disappointed with the ineffectiveness of their overseas player Samuel Mofokeng.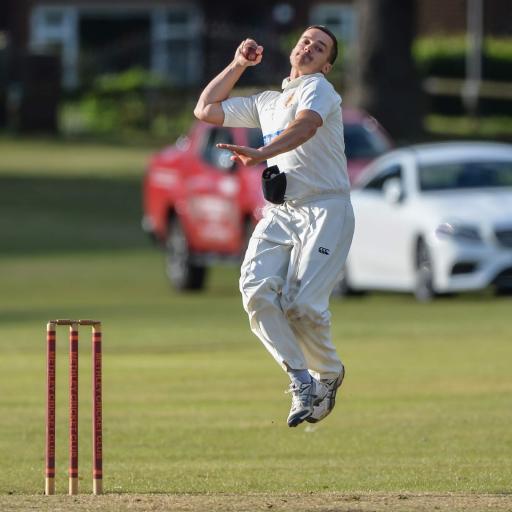 Promotion to the Premier League
Soames was the leading batsman with 475 runs at 43.18, backed by Marcus Walmsley, Hamid Khan and Ashton Blakey who all averaged in excess of 30. Walmsley, who was also the leading bowler with his medium pacers taking 41 wickets at 11.61, recorded the division's highest innings with 155* v Carlton.
Methley were expected to gain promotion at the second time of asking in 2017, but it proved to be a real struggle. Scholes were the pacesetters at the top for virtually all the season, as Methley battled it out with Wrenthorpe for the other place. When Wrenthorpe lost four successive league matches in the last third of the season Methley had the definite edge.
A late defeat to Wrenthorpe by the slim margin of 2 wickets left Methley hanging on, especially when the former were then helped by the vagaries of the weather when winning at Yeadon. At the outset of the final fixtures Methley were third, four points behind Wrenthorpe, and seven behind Scholes. However, the top two were clashing which left Methley needing to beat a weakened Baildon side to gain promotion. This they duly did by 9 wickets and confirmed their runners up slot.
The league campaign began with a remarkable debut from Pakistani overseas batsman Muhammad Akhlaq who scored an unbeaten 214 against Ossett. This innings consisted of 16 sixes, and 18 fours. Akhlaq could not maintain this form but still ended third in the League Batting Averages with 672 runs at 47.06.
The best performing player was undoubtedly Marcus Walmsley who plundered 774 league runs at 51.60, and also took 51 wickets with his accurate medium pacers at 14.98. This effort earned for him the Bradford League Player of the Year Trophy for 2017.
Eddie Walmsley also had a fine season scoring 326 runs at 36.22, and taking 34 wickets at 12.74. Other individual achievers were skipper Grant Soames who scored 418 runs at 32.16, and Sohail Raz who took 30 wickets at 22.00.
Another individual winner was wicket-keeper Jake McCaffrey, who in his first season in First Team cricket scooped the Parkside Wicket-keeper's Trophy for most victims.
Priestley Cup finalists
Ironically, the league success could have been overshadowed by the Priestley Cup if things had turned out a little differently. Beating Ossett, Gomersal and Birstall they found themselves in the Priestley Cup semi-final drawn at Premier League leaders Farsley.
The build up to the day could not have been more difficult with three key players in Sohail Raz, Jordan Laban and Ashton Blakely all on a pre-booked holiday, and skipper Grant Soames risking playing the big match with a dislocated thumb.
Farsley were at top strength with Yorkshire releasing left arm spinner James Logan for a rare appearance.
On the day, the overnight rain had rendered the wicket slow and it came as a surprise that Farsley won the toss and elected to bat on a strip used the previous day. Because of a lack of bowling resources Grant Soames cajoled part-time seamer Muhammad Akhlaq into opening the bowling- and what a master stroke! His `little seamers' were the perfect weapon on a wicket that discouraged stroke-players, and Farsley had many who failed to adapt their game on the day.
The early prized wickets of James Price and Dan Hodgson were obtained by shots designed for `shirt fronters' and at 25-4 Farsley were in trouble. There was still a feeling that Farsley might recover to a defendable score, but when three wickets fell on 67 to leave them 67-9, only a brave last wicket stand took them to 89.
Marcus Walmsley (4-19),Lumb (2-25),Eddie Walmsley (1-15) and Akhlaq (4-19) all bowled admirably, assisted hugely by slick fielding
Farsley were not going to go down without a fight, and when Soames perished without a run on the ball, it was `game on'. However, Marcus Walmsley (19 runs) helped to take the score to 35 before the next wicket fell, and at 63-2 it should have been plain sailing. A shutter of wickets put the game in the balance at 72-6, but they got home by 2 wickets thanks to a useful stand between Eddie Walmsley and Matthew Lumb.
The Priestley Cup Final at Undercliffe against New Farnley turned out to be one of the best finals in years. Taking first use of the wicket, New Farnley scored freely with O'Connor (97 runs),Andrew Hodd (46 runs) and skipper Goddard (54 runs) pointing the way to a score approaching 300. But, from 222-3, they lost momentum and had to settle for 254 all-out when they failed to fire in the latter overs.
Methley were relatively untroubled in the early overs and when openers Grant Soames (54 runs) and Marcus Walmsley (93 runs) put on 132 runs before being parted were well on course for victory. Spinner Jarvis broke the partnership and went on to dismiss both openers to put New Farnley back in the game. Jordan Laban (24 runs) helped to take the score to 168-2, but it was all downhill from there as they finished 25 runs short on 230.
Marcus Walmsley's performance saw him deservedly named as the man of the match on a day when Methley showed that they are formidable competitors.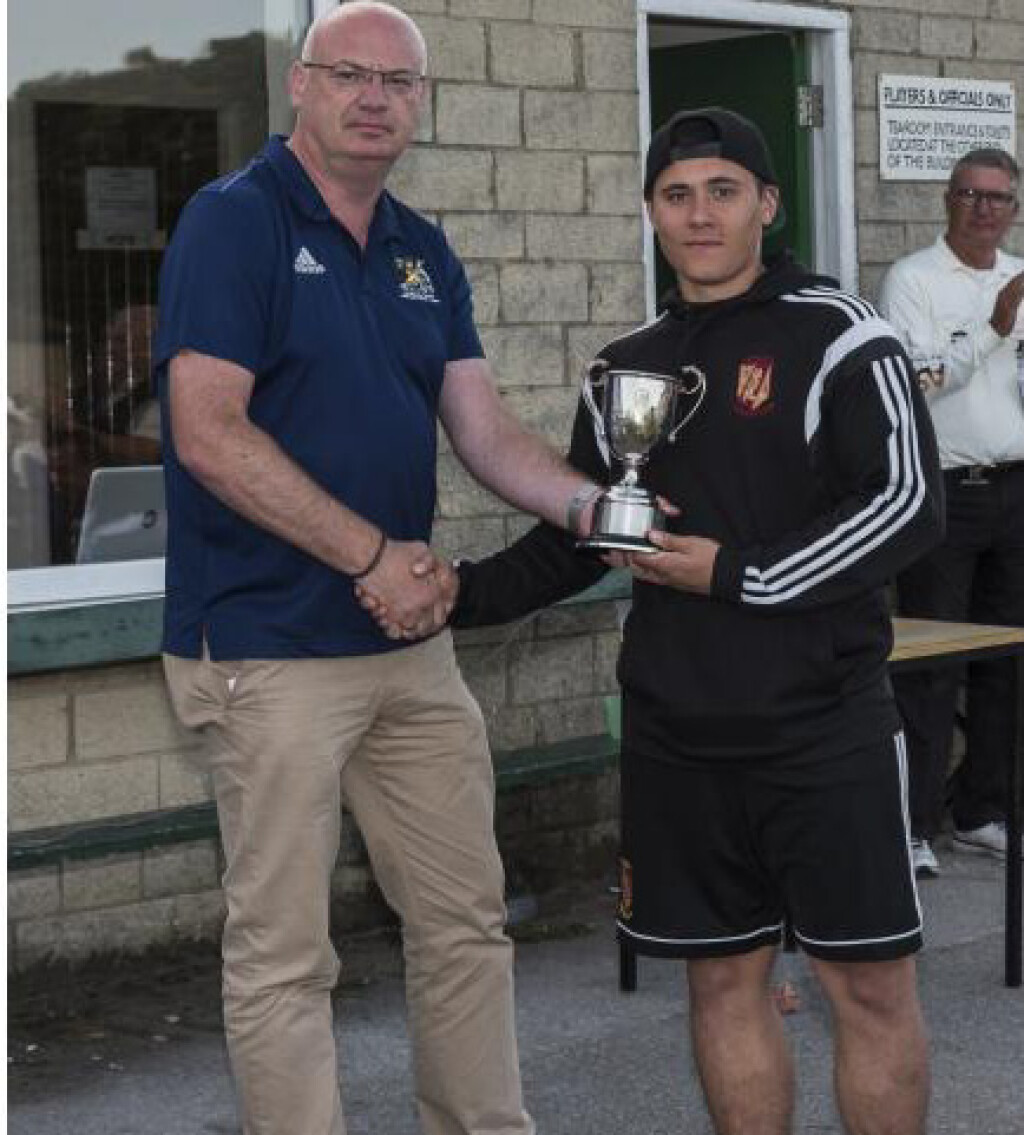 It had been a momentous season for Methley and gave an indication that they would not be joining the Premier League to make the numbers up.
Impressive signings were made for their inaugural Premier League season of 2018, with Yorkshire's Matthew Waite returning to the club from York, and others, including overseas pace bowler Waqas Ahmed, and experienced batsmen Adam Patel and Adal Islam boosted the squad.
Impressive first season in the Premier League
Form was patchy early on with Waite's availability from Yorkshire a problem, and the loss of young spinners Harry and Josh Sullivan to the Yorkshire Academy. The late arrival of Waqas Ahmed gave the bowling attack teeth as the side climbed the table.
After an impressive performance at Tofts Road to beat Pudsey St Lawrence, they were talked about as title contenders, as Soames expertly marshalled his troops on the field. They did fall short, but a final place of fifth with thirteen league wins to their name, ensured they had arrived to stay.
Adam Patel (533 runs) and Marcus Walmsley (532 runs) were their most consistent batsmen in the league, while Ahmed, pictured below, took 38 wickets for 18.68.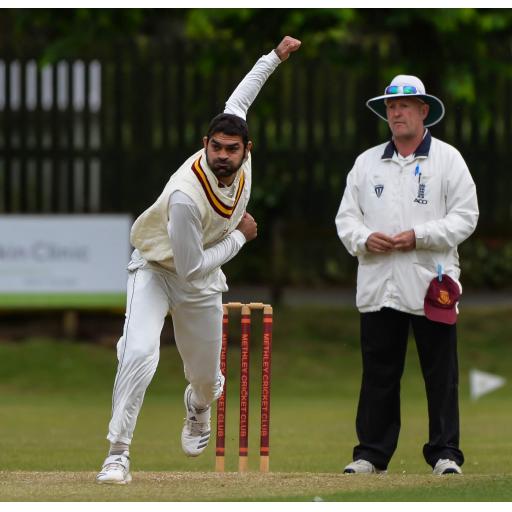 They did come close to silverware in cup competition, and proved they could take on the very best.
They reached the final of the J W Lees Brewery Twenty/20 Trophy, and were handily placed to beat Hanging Heaton at one point, before succumbing by just 5-runs.
They knocked out ECB Yorkshire South Premier winners Wakefield Thornes out of the Heavy Woollen Cup in a hard-fopught tie, and then had a titanic struggle with New Farnley in the semi-final. They might have lost by one-wicket, but that does not tell half the story.
Methley were bowled out for 241 with ten balls of their innings remaining after being at one stage 194-3. Jordan Laban (72 runs) and Marcus Walmsley (64 runs) had bossed the game, but upon their dismissal the middle-to-late order fell away.
New Farnley's innings followed a similar path after Steve Bullen (70 runs) and Lee Goddard (57 runs) led the reply. But, once they were dismissed, wickets tumbled and they found themselves struggling at 231-9 and still needing 11 to win from the last over.
The final over was bowled by Walmsley who conceded a lucky snick for four from the No.11, before Lilley managed to carve the penultimate ball over the shorter leg side boundary for a six.
Battle to stay up
There was much optimism for the 2019 season when Yorkshire contracted player Jarred Warner was recruited from Wakefield Thornes to captain the side.
However, the first league match of the season indicated that this optimism was probably misplaced. Their opponents were Woodlands who batted first and set up a Bradford League record partnership of 326 for the second wicket. The fact that Methley made a spirited reply, losing by 86-runs, gave no encouragement for the season.
Yorkshire players Matthew Waite and Jarrod Warner did not have the desired effect- county restrictions and injuries limited their appearances, and they did not enjoy the best of form, particularly with the bat.
Methley had not won a match in the first half of the season, and they were 40-plus points adrift from the safety zone well into the second half of the season. Their first victory came as late as July 20th when they beat Bradford & Bingley, who were the closest side to runaway leaders Woodlands.
Adam Patel (68 runs) and Grant Soames (55 runs) ensured a challenging total of 242-9 for Bradford & Bingley to chase. The fact that they were bowled out for 87, and lost by 155 runs, confirmed the fact that Methley had previously underperformed.
They went on to escape relegation after winning their last six matches, including the penultimate crucial game when they confirmed safety by beating relegated Lightcliffe
This was a must win match and Marcus Walmsley stepped up to the occasion by scoring 55 runs, and also taking 6-30, in a seven wicket win.
Laban scored the most league runs with 365, while no bowler managed as many as 30-wickets. Josh Neal, below, won the Parkside Wicketkeeping Trophy after taking 29 victims.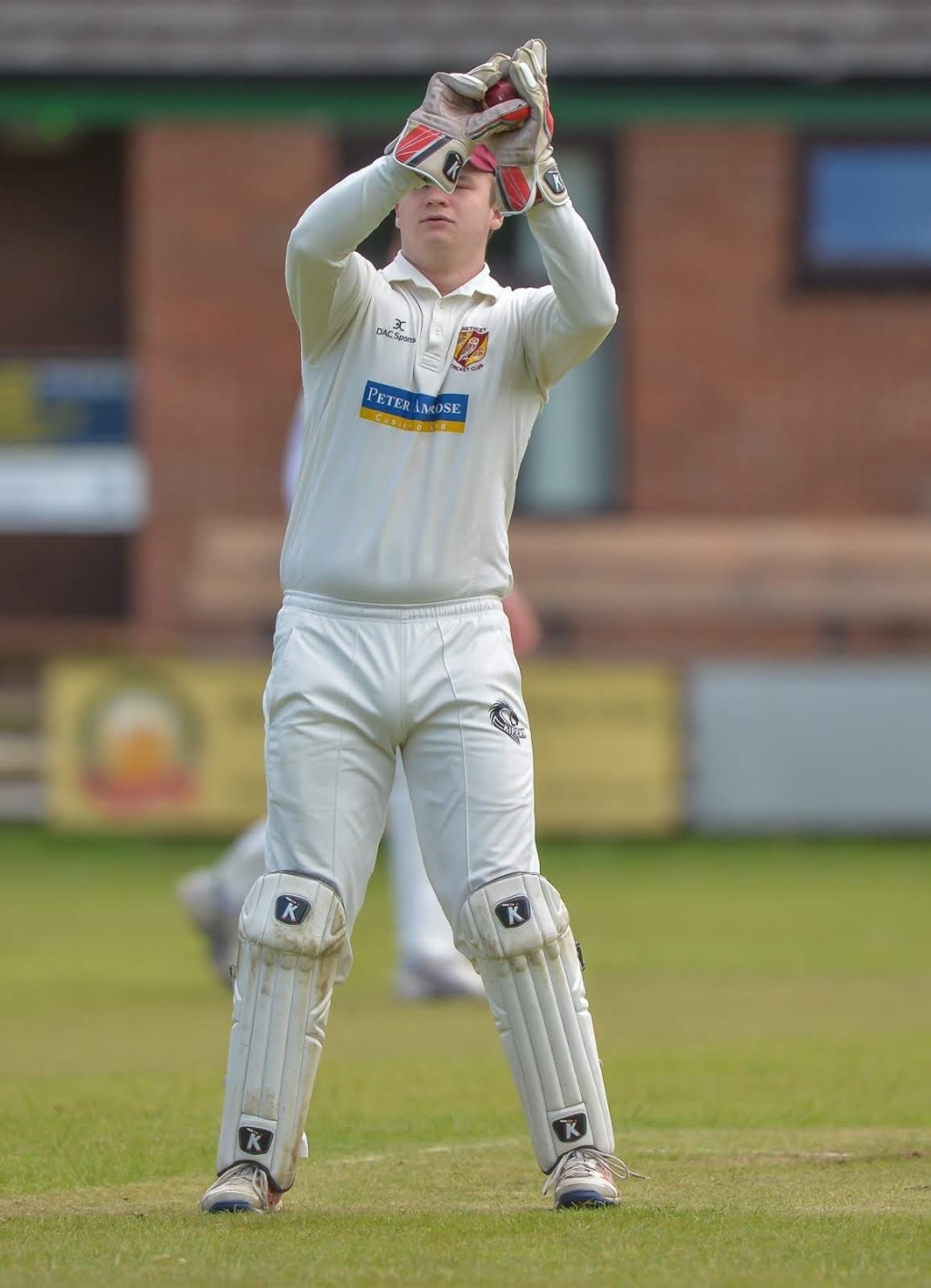 Methley's 2020 team plans were in disarray from the start and availability problems would blight a season dictated by Covid-19.
They were taken for 277-3 by Hanging Heaton in the T20 A Group Cup, and had to concede a match in the Premier League Cup season.
There were four worthy performers in Marcus Walmsley and Jordan Laban who both averaged 40 in the league season, Jonathan Read, who had the most wicketkeeper victims in the Premier season, and 15-year-old Alex Cree, who showed great promise with the bat.
Methley had sorted a side for 2021 that could have conceivably challenged strongly if their county players had been available, the most obvious one being James Logan who signed for Kent.
Instead they afforded opportunities to their promising young players with Eitan Litvin (549),Alex Cree (363) and Jason Marshall (456) delivering decent runs, and Jordan Laban (538) continuing his progress.
Wicketkeeping/batsman Litvin had a particularly outstanding season rewarded by the Gordon Bowers Young Cricketer of the year award.
Another Priestley Cup Final defeat
2022 started out as if Methley would take the league by storm as they won their first four matches to lead the table. The fact that they would lose their next four matches typified the season they would have. A final tenth spot out of twelve made for bad reading, but in reality they were never in the relegation zone. Only a late collapse in form in the league put them in that position.
For all the inconsistency, the season could have ended with significant silverware in the shape of the Priestley Cup. They went all the way to the final where they played New Farnley at the Barry Jackson Ground, They batted first and Matthew Waite (56) and Jason Marshall (79) seemed to be taking the game away from their opponents. However, upon their dismissal they struggled and only James Wainman's brilliant innings of 71 not out allowed them to reach a competitive 261-9.
New Farnley made a terrible start in reply, losing their first three wickets cheaply and seemingly in disarray. Only a fine century from Adam Waite (127) rescued them, although Methley was convinced they had run him out in the fifties. New Farnley got home with some late lusty blows from Alex Lilley, and Methley must have wondered `what might have been'.
There were highs and lows in the season- a score of 342-7 was made against Ossett in the Heavy Woollen Cup, with Waite (136) and Litvin (126) dominating with the bat. Later in the league, they endured a demoralising defeat at the hands of Hanging Heaton who scored a massive 423-9.
For a team of such a low standing in the league there were some outstanding performers and nobody better than batsman Jason Marshall who scored 977 runs at 54.28, including a top score of 164, and five centuries.
Other run-getters were Alex Cree who scored 728 runs and Jordan Laban with 519, while Wainman was the best of the bowlers taking 35 wickets. Cree's progress was rewarded with the league's Gordon Bowers Young Cricketer of the Year Trophy.
Things could have been better if the club had enjoyed more access to their county players. A case in point was Waite who managed only six league games and crucially wasn't allowed to bowl in the final.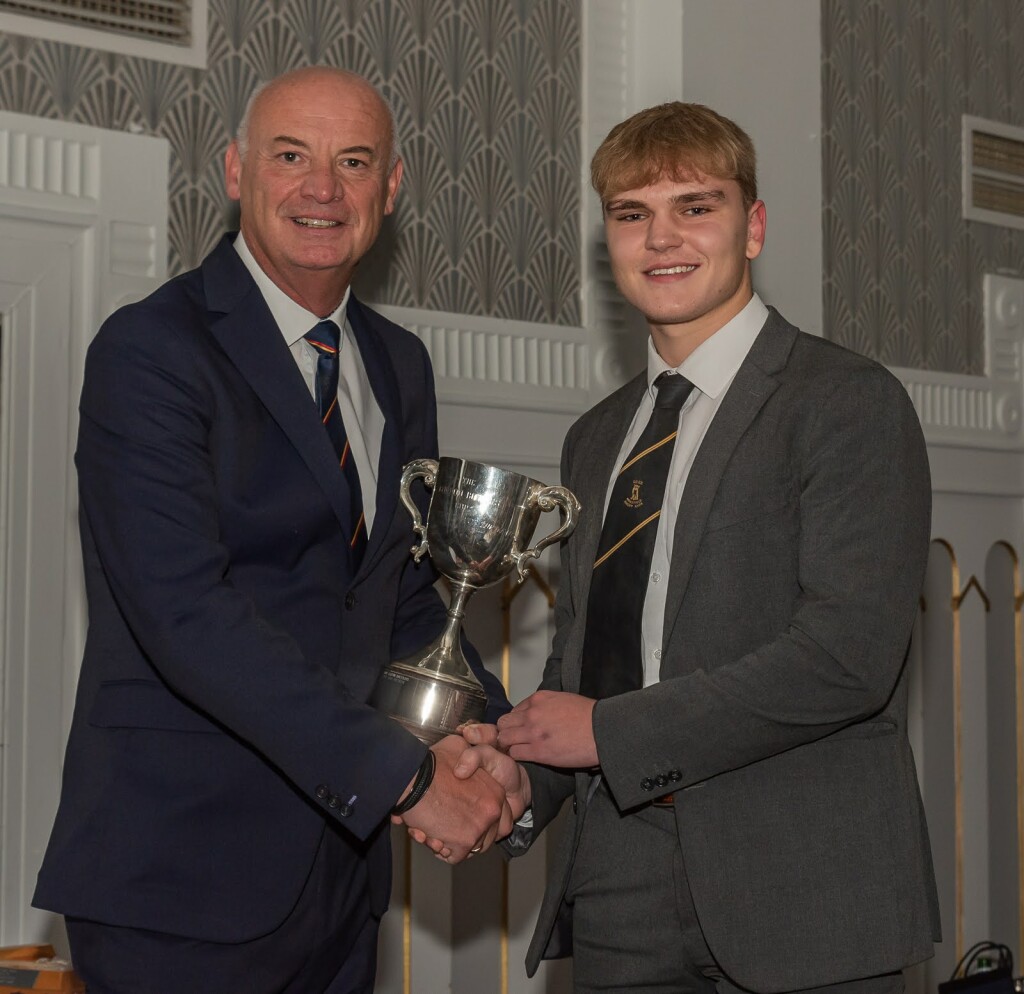 Alex Cree receives the Gordon Bowers Young Cricketer of the Year award from league president David Young