1957 Formation of the club
The cricket club's origins are relatively late in so far as that they were only formed in 1957 as Bramley Sports, from the remnants of former Wharfedale League side Bramley Mariah. Their ground location was Canal Bank Sports Ground, Rodley.
Into the Dales Council
In the same year they applied for and were accepted into the Dales Council Cricket League. It was not a promising start as they finished at the foot of Section `B' in their debut season of 1958. The following year in 1959 the club entered a newly formed Second XI and the larger squad reaped immediate dividends with the 1st XI winning the 'B' Division title and promotion in the same year.
They could not sustain this momentum and were relegated only to return as 'B' Division title winners in 1961 for the second time in three seasons. The architect of this success was Tony Imeson who won the Dales Council `B' Division Bowling Averages with an incredible ratio of 3.80 runs per wicket in an 87-wicket haul, from 198 overs, of which 82 were maidens.
This was the last silverware in the sixties but there were some fine individual performances as the team settled into life in the `A' Division.
In 1962 Bill Dacre won the `A' Division Bowling Averages, followed by Imeson the next year who had then completed a full set. That year Imeson had the distinction of taking ten wickets in a match when he secured an analysis of 10-16 versus Reuben Gaunts. His 62 league wickets cost 4.98 each.
The club had a fine season finishing runners-up to Esholt after 14 wins from 20 matches.
Silverware
The seventies started with a bang when the club grabbed the Pool Paper Mills Cup for the first time in their history when beating Esholt in the 1970 final. Things would get even better when they won the `A' Division for the first time in 1973 to complete the set of the two major trophies in the Dales Council.
Much of the success was attributed to Keith Smith who will go down in folklore as the club's greatest ever player.
Keith Smith the star man

Keith Smith. above, was arguably the most effective Dales Council batsman in the history of the league. His record was untouchable and will probably never be beaten. Prior to playing for Bramley Sports he was at Turner Sports where he first made his name, winning the League Batting Averages in 1967, 1968, and 1969 with averages over 50.
After moving to Bramley Sports he proceeded to win the League Batting Averages in 1971, 1973 and 1974, such was his dominance of the league's bowling. His ability to score his runs quickly was illustrated in 1971 when he took just 31 minutes in scoring a half-century against Oxford Place. Smith's highest score for Bramley Sports was 139 versus Phoenix Park in 1974.
Smith's outrageous run-scoring would have been even more impressive if sixes had been allowed in his era in the Dales Council. His big-hitting registered a multitude of hits over the boundary lines of most of league grounds.
He left the Dales Council to join Pudsey St Lawrence as a mature man and enjoyed legendary status in the Bradford League, scoring runs as prolifically as all the top batsmen in the league and winning every team honour open to him.
Another famous Dales Council cricketer Mike Edwards once commented that Smith would "surely have played for Yorkshire if he had joined the Bradford League earlier".
Two bowlers who made their mark were Billy Stott who took a hat-track against Oxford Place in 1971, and Barry Finch who won the `A' Division Bowling Averages in 1973. Finch had the remarkable figures of 8-8 against Wibsey the following year in 1974.
Later in 1976 John Fenton performed an outstanding feat scoring an unbeaten century, and also taking 5-28 with the ball in the same match against Pudsey Congs.
Falling fortunes
The club lost their `A' Division status in the late seventies but regained it after winning the `B' Division in 1980. This proved to be a false dawn and there was little to enthuse about in the decade despite their name change to Rodley CC in 1983.
The players of depth in the 1980 title win were Neville Thornton (314 runs) and Terry Powell (34 wkts) who both appeared in the top three of the respective league averages. Thornton also excelled with the ball in 1983 taking 42 wickets at 10.5.
In 1985 Second Teamer Ian Dobson became the only player in the league to hit 6 sixes in an over when Farsley Celtic 2XI were the hapless opponents. The bowler was former Rodley player Mick Knapton.
Probably the best individual bowling feat in this era was Colin Vorley's 8-17 against Nat West Bank in 1987.
There was something of a malaise for a while as the club spent time out of the top flight. However, in 1995 promotion was obtained, after a third place was obtained in the previous year when things were turning. This would trigger off two seasons of great success. Not only did they win the `A' Division in 1996, but they retained it the following year in 1997.
Back amongst the trophies
The 1996 triumph was a tense affair towards the end with Rodley edging home two points in front of Tong. The same teams battled for the title in the following year but by then Rodley had stretched the gap to fifteen points.
The first win was built on a strong bowling side with Mark Allison (47 wkts at 9.17),Simon Dickens (43 wkts at 9.62) and Roger Kelso (73 wkts at 9.83) all in the top four of the League Bowling Averages.
Left armer Kelso was a hugely important bowler for Rodley having had three-9 wicket performances and two-8 wicket feats in the decade. In 1991, if there had been any cricket justice, he would have had the honour of performing the classic ten wickets feat. However, after taking the first nine wickets against Green Lane it emerged they only had ten men.
In 1994 he figured high in the league averages taking his wickets at a cost of 8.03 each, improveing on that in 1995 with 80 wickets at 7.7, and in 1997 took 57 wickets at 9.54.
However, it was Simon Brown who won league awards securing the Division `A' Bowling Averages for both 1997 and 1998. He also scored the club's Fastest Fifty in 1997 in 25 minutes against Lawns Park.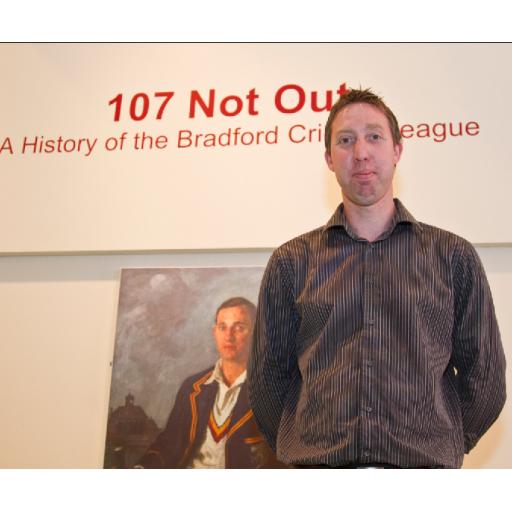 Another notable effort came in 1995 when Daniel Willoughby, above, clung on to 21 outfield catches. Later, as a Bradford Museum officer, Willoughby spearheaded the very well received Bradford Cricket League Exhibition held in 2010 at the Industrial Museum, Bradford.
Perhaps the most astonishing individual feat from the nineties was by second team bowler Michael Wright who won the D Division Bowling in 1998 with a haul of 25 wickets at 2.84 runs apiece. Wright first played as a 16-year old in 1959 and went on to become Club President many decades later.
If the nineties were a successful time for Rodley, the next decade was nothing short of dominating.
Despite a quiet start to the new century the performances of wicket-keeper/batsman Neil Kettle caught the eye. He won the League Batting Averages and also the League Wicket Keeper Trophy in 2000. Such was his form that he smashed the club's highest individual record score when making 206* at New Wortley.
Kettle had never previously been beyond 70 with the bat when he opened the batting against New Wortley on June 24th 2000. He cracked 158 runs in boundaries (17 fours and 15 sixes) and rounded off his afternoon's work with two stumpings and three catches.
Inevitably Kelso was the bowling hero in this match taking 6-48 to reduce New Wortley to 96, and in doing so confirming a 182-run victory for Rodley.
Another notable feat in 2000 was Simon Dickens taking 10-32 against Castlehill. Dickens was a prolific wicket-taker and he took hat-tricks in seasons 2001 and 2002 against Castlehill and New Farnley respectively.
In 2002 Rodley went close finishing in runners up slot behind New Wortley, but the lack of team silverware motivated a recruitment drive in 2003 which would prove to be the catalyst for a period of success.
The glory years
In 2004 they were champions of the `A' Division for the first time in seven years after finishing seven points in front of runners up Baildon Meths. They were a dominant force illustrated by their total of 312-4 v Adel that season.
The side carried strength in both departments with Chris Bradbury scoring 525 runs at 47.73, and seamer Stuart Liddell topping the League Bowling Averages with 66 wickets at 7.74, ably assisted by Mark Allinson (39 wkts) and Simon Dickens (35 wkts).
They went on to retain the title in seasons 2005, 2006 and 2007, and as a bonus won two Pool Paper Mills Cups won in 2005 and 2007. This resulted in two doubles which was unprecedented in the modern history of the Dales Council.
Such success also brought a multitude of individual awards that were won in virtually every season of the decade:
2000 Neil Kettle Dales Council Division `A' Batting Averages
2000 Neil Kettle Dales Council Division `A' Wicket Keeping Award
2002 Simon Dickens Dales Council Division `A' All Rounder Award
2004 Stuart Liddell Dales Council Division `A' Bowling Averages
2005 Gary Walton Dales Council Division `A' Batting Averages
2005 Mark Allinson Dales Council Division `A' Bowling Averages
2006 Gary Walton Dales Council Division `A' Batting Averages
2005 Simon Dickens Dales Council Division `A' Bowling Averages
2007 Gary Walton Dales Council Division `A' Batting Averages
2009 Gary Walton Dales Council Division `A' Batting Averages
Gary Walton's batting record peaked during season 2007 when he averaged 105.33 per innings. Ironically, although he won the batting averages for the fourth time in 2009, his colleague Stuart Kirk actually scored more runs with an aggregate of 719.
After 2007 the closest Rodley got to silverware was a runner's up slot in both 2011 and 2012. But the latter would prove to be a season of infamy on the field that cut short the club's 50-year tenure in the league.
Resignation from league
On 7th July 2012 the club were at home to leaders Apperley Bridge and with just one wicket to take were poised for victory. The rain came to cause abandonment but more importantly brought respite to the Rodley players and members who were subject to unprecedented abuse from members of rival clubs.
This led to an extraordinary general meeting of Rodley members who voted unanimously to resign from the league midway through the season. It is worthy of note that the club was in contention for cup and league glory at the time.
This concluded a traumatic year for the club who lost two long standing players in the same year. Mark Dufton, a long time player and official passed away after a short illness, following the sudden death of former skipper Dave Fenton. Chairman Steve Bradbury reflected in 2016 that arguably their memory provided the spur for the club to regroup and push forward.
Accepted into the Central Yorkshire League
They applied to join the Central Yorkshire League and after various assurances were made about improving changing facilities they were accepted for the 2013 season. It was new beginnings in one of the three senior leagues in West Yorkshire.
The 2013 season ended in triumph when they were promoted from Division Three a mere three points behind the title winners. It was a team effort with Gary Walton (586 runs),Gary Sagar (631 runs) and Gary Lewsley (47 wkts) all playing a major part. Lewsley took a hat-trick against Adwalton.
However, it was Shane Franklin who took most plaudits winning the League Batting Averages with 709 runs at 64.18, and also taking 36 wickets. This all round performance also won him the League's All Rounder's Trophy. He hit a total of 27 sixes and also found time to captain the side.
Franklin, a left arm pace bowler and free scoring batsman, played Australian grade cricket before starting a new life in the UK in 2006. He played in the Aire-Wharfe League, and on debut for New Rover hit an unbeaten 56 and took 7-36, and also achieved an all 10 wicket feat against Ben Rhydding.
Rodley recorded their highest ever score in 2013 when they scored 315-5 against Northowram Fields. Batsman Mark Hobson top-scored with 140 - his fourth century for the club since 2003.
In 2014 the league structure was re-organised and Rodley found themselves in Division 1. It was a mediocre season resulting in just five league wins, with Sagar the stand out player. He was the only batsman to top 300 runs, and he also took the most outfield catches (13) in the entire division.
New Pavilion unveiled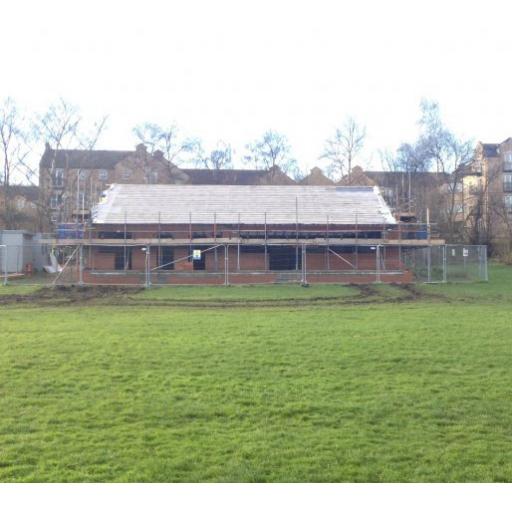 In July 2015 the ne w pavilion was unveiled. More than 150 Leeds City of College Building students were involved in an innovative project to help build the new £225,000 clubhouse with grants from Sport England via the England and Wales Cricket Board, and other grants and donations from well-wishers.
In what would prove to be Rodley's last season in the Central Yorkshire League their progress was stifled in 2015. Winning only four times and finishing second bottom they played out an inconsequential season.
Into the Bradford League
After three seasons in the Central Yorkshire League they were now a Bradford Conference League side after the former league was absorbed into the new Bradford Premier League set-up for 2016.
Rodley's first season in the Conference League was not a happy one as they finished bottom of the pile with three wins to their name. However, they were competitive on the field throughout and engendered a rapidly burgeoning junior set-up.
Robert Young was their outstanding player with both bat and ball. He scored 562 league runs at 37.47 with a top score of 176 against Adwalton, and also carried the seam bowling with 29 wickets at 20.34.
It got no better in 2017 as Rodley finished 13th with only the previously resigned Brook Walton beneath them. Ironically, the season started promisingly with a thrilling one wicket victory over the much fancied Wakefield St Michael's. Chasing 154 they squeezed home with Mark Sugden top scoring with 45. Ryan Callis was their most productive player of the season, scoring 291 runs, and taking 29 wickets.
Off the field progress was very much in evidence and this was reflected by Chairman Steve Bradbury's Unsung Hero Award given by the Bradford Premier League.
Rodley signed their first overseas player for the 2017 season- Dan McNamara who hailed from Victoria, and played grade 1 & 2 cricket.
For 2018, Rodley signed another Australian in Lachlan Roache, who assisted the club in their best season so far in the league. Although they finished in tenth position, they won six matches and for the most part competed well.
Their best victory was against a strong Sandal side, and their 61-run win illustrated their progress in 2018. Roach hit a vital 57 runs, but also had the crucial backing of No.7 batsman Callis (37 runs) to lift the total to 196. Rodley's `out-cricket' was good on the day and disciplined bowling from Robert Young and Gary Sagar restricted Sandal to 135.
The batting was strong enough to make a real impact, but the bowling lacked penetration with no bowler taking 30-wickets.
The best player was again Young, who scored 641 runs, and also took 27 wickets, while Roach (618 runs) and Sagar (441 runs) gave the batting a solid look.
The aforementioned players were again the king pins of the Rodley side in 2019, as they won five matches to finish in sixth place.
Their best victory was in July when they beat East Leeds by 89 runs after Young had top-scored in a total of 224-8. The best bowling performance was by David Myers Charles who took 7-23 in the September defeat of Crossbank Methodists.
Another encouraging aspect of the season came when they reached the JW Lees Brewery T20 Group B Cup Finals day at Birstall.
Covid-19 might have struck in 2020, but Rodley made the best of it, reaching the Gordon Rigg League Cup Final after finishing top of the East Group. They lost to Altofts in a hard fought battle that nearly went to the wire.
Rodley's best run-getters during the season tended to be their most prolific wicket-takers in all-rounders Bailey Wilson, Gary Sagar and Luke Cosford.
Rodley's fortunes on the field fell dramatically in 2021 when they finished bottom with just three wins to their name,
However, two of the victories suggested that they were more capable than their league position indicated. They beat a very good Great Preston side that would go on and gain promotion.
It was a close affair with Rodley scoring 201-6, largely thanks to Robert Young's innings of 70, and they then restricted Great Preston to 191-8 after Bailey Wilson's crucial bowling spell of 4-46.
Later in the season they scored an impressive winning total of 307-7 against Altofts, with Louie Stronach starring with 82 runs from 46 balls.