The early days
The present Windhill Cricket Club came into being in 1863. However, competitive cricket was played in the area six years before under the banner of Windhill United with the first recorded match between teams representing Dumb Mills and Perrys on Baildon Green. Some years later Windhill Educational was established playing on Denby's field. There was great rivalry between the two teams until they amalgamated to form Windhill Cricket Club.
There were no league matches or competitions in the early days and most games were played for the possession of the ball, each team paying equal shares and the winner taking the prize. Stake money was high and, at one important match between Windhill and Shipley the stakes were £5, which Shipley won. However, a Windhill player was not satisfied with the result and challenged one of the visitors to a single wicket match for a similar amount and won back the money for his club.

At this time, subscriptions were twelve and a half pence a year, payable over five weeks and membership totalled 35. Despite a financially successful year in 1862, the club disbanded with 12 of the members taking 30p.

Windhill was not long without a club for, the following year a special meeting was held at the house of Mr Denby at Bull Inn, Shipley and it was decided to form a new club. In 1878 it was decided to lay 1,600 yards of ground, Windhill Recreation Ground. The work was entrusted to John Grundy, a subscription was started and raised £11.
Airedale and Wharfedale League
The start of the club's successes came in 1894 when they went to the top of the Airedale and Wharfedale League, but support was not good and they decided to apply to join the Bradford League in 1904 and made their first appearance in the league's third season - 1905. An improvement in support followed and they averaged between £7 and £10 in takings.
Into the Bradford League
Windhill had two consolidation seasons from their Bradford League entry in 1905 before winning the Priestley Cup in 1907, beating Bankfoot in the final at Idle by 100 runs. After making 127, Windhill bowled out Bankfoot for a paltry 27 with F Halliday taking six for 14 and Cliff Keighley, four for 11. Keighley later formed a lethal bowling partnership with Cliff Elton. In the league a fourth position was achieved with
F Halliday being their top bowler with 46 wickets at 7.86.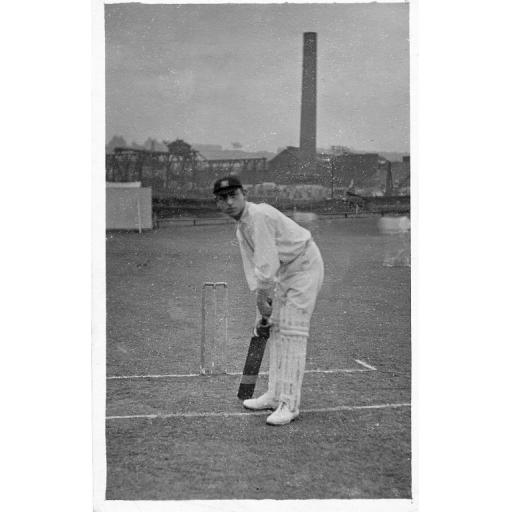 The following year in 1908 fourth place was replicated with Arthur Hyde, above, averaging 32.92 with the bat, and Keighley taking 63 wickets at 9.46 with the ball. By 1910 they were becoming a real threat in the league when they finished second.
Windhill boasted a notable opening batting partnership between Arthur Hyde and Jack Hardcastle, below, at this time.


First honour
The First Division championship was eventually won for the first time in 1911. They beat Idle in a play-off at Eccleshill by one wicket after the clubs had tied on points. It could have been even better when they reached the Priestley Cup Final. On the day Great Horton were far too good for them scoring 262 to Windhill's 96.
Windhill were strong on bowling in 1911 with Elton topping the League Bowling Averages with 68 wickets at 8.05, and his colleague H Riley taking 92 wickets at 8.44.
Yorkshire Colt Sam Swithenbank was the leading batsman in 1912 with 34.70 as Windhill slipped back to third in the league.
In 1913 they missed out on the title in another play-off. Windhill went into the final match against Laisterdyke three points ahead of their opponents, but Laisterdyke won the championship, after winning the play-off. Bradford beat Windhill in a Priestley Cup semi-final that season.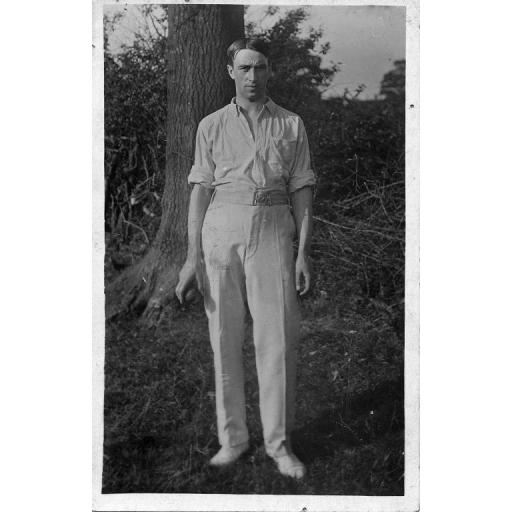 Despite these disappointments in 1913 Keighley and Elton, above, achieved some remarkable bowling figures. They finished first and second in the league bowling averages with Elton taking 72 wickets at 8.26, while Keighley captured 76 wickets, average 8.69. The 1913 season was also memorable for a superb feat by Keighley, who took six wickets for seven runs to help to dismiss Farsley for 16.
One year later in 1914, this remarkable duo bowled out Baildon Green for ten runs, which remains the lowest first team total in the league. On that occasion, Elton took seven wickets for four runs while Keighley had three wickets for two runs. Elton's final bowling analysis of 81 wickets at 8.28 ensured he would top the League Bowling Averages for a third time.
However, 1914 was a bittersweet season for Windhill who was indisputably a top side but came second in both competitions. The batting strength did not complement the bowling as they finished runners-up in the league, and beaten decisively in the Priestley Cup Final by Bradford Park Avenue to the tune of 61 runs.

Elton performed the hat-trick four times in two seasons while Keighley became the first bowler to take all wickets in an innings when he took ten for 36 in a Priestley Cup semi-final against Bingley in 1915. The match ended in a tie and, when Windhill reached 130 for six, rain caused the match to be abandoned. Windhill were declared the winners and so went into the final without actually winning the semi-final. However, their luck ran out in the final when Bowling Old Lane beat them by ten wickets after bowling them out for a mere 107.
Keighley ended the 1915 league season with a tally of 82 wickets at 8.30.
The bowling exploits of Keighley and Elton continued in 1916. Elton took six for 12 when Tong Park was bowled out for 35 and Keighley took six for 14 when Saltaire were dismissed for 26. Keighley continued his great form capturing another six wickets when Windhill bowled out Pudsey Britannia for 30.Elton left Windhill after the 1916 season only to return in 1922.
Windhill signed one of the league's all-time great left arm slow bowlers, Charlie Parker or Chorley Porker, below, as he was affectionately known, for the following campaign. His best feat for the club was a bowling analysis of 9-31 v Bowling Old Lane in 1917.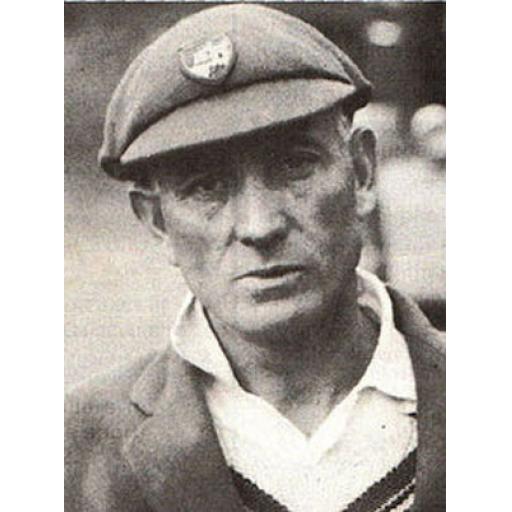 Parker, who played at Windhill for one season only began his first class career with Gloucestershire in 1903 and when he retired in 1935 he had played in more than 600 first class matches and one Test. He took 61 wickets in league matches at an average of 9.96 and eight for 35 for a Bradford League side against a strong Yorkshire team.
Fortunes declined
After 1917 fortunes declined at Busy Lane with lowly positions up to 1923. In seasons 1920 and 1922 they were right at the bottom of the pile. Elton had returned in 1922 and although he was not the same bowler he was still good enough to take 9-20 against Eccleshill.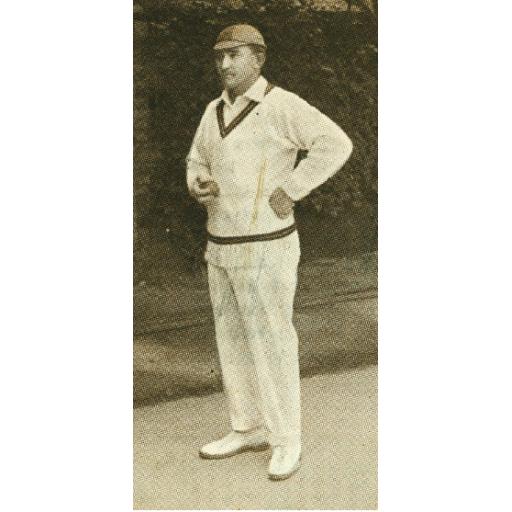 The1924, team, pictured below, were more competitve but lost against Bradford by 35 runs in the 1924 semi-final despite a five for 41 haul by their new signing, the South African right arm leg break and googly bowler Bert Vogler.
In the league Vogler took 61 wickets at 12.90 and also scored 212 runs. He had played in 15 Test for South Africa taking 64 wickets at 22.73 with a best analysis of 7-94, and also had a top score with the bat of 65.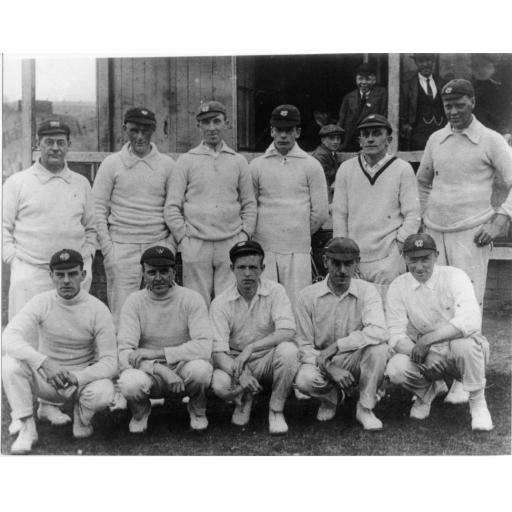 Despite being in a lowly position in 1925 they won the Priestley Cup again, captained by Pat Robson, beating Lidget Green by 41 runs thanks to eight for 70 by new signing Alf Morris, who had twice achieved eight wicket hauls in previous rounds. The following year Morris did even better winning the League Bowling Averages after taking 83 wickets at 8.63.
Ground move
In 1926 Windhill moved to their present ground at Busy Lane, which they bought in 1923 after a bazaar raised £459. Arthur Hyde's nephew A S Hyde gave great service to the club as secretary for many years and he was the driving force behind the move to Busy Lane and received great support from Treasurer Fred Illingworth.
Achievements on the field tailed off in the next ten years with just a few pockets of excellence. In the 1931 season the team had a lowly position in the league but batsman J Drake produced the two top scores in the entire completion for that year- 138* v Lidget Green and 134 v Queensbury.
In 1932 Windhill finished second in a season remembered for N Walton scoring 48 runs off two overs against Spen Victoria.
All Rounder Fred Berry, who later played county cricket for Surrey, also lit up Busy Lane in 1932 with 37 wickets at 10.86, while in 1934 E L Cooper had a fine haul of 9-60 v Pudsey St Lawrence.
The glory years
By 1937 Windhill were back with a bang and embarked on an unprecedented era when they won five successive league championships, 1937, 1938, 1939, 1940 and 1941.

Leading figures of those championship years included bowler Squire Render, whose league career spanned 21 years, and was a model of consistency. Render, whose cricket travels took him to Low Moor, Idle, Brighouse, Farsley, Spen Victoria, Pudsey St Lawrence and Bankfoot joined Windhill in 1934 and took 259 league wickets during his five-year tenure at the club. His most telling performance was in the first title triumph in 1937 when he took 48 wickets at 13.22.
Another Windhill hero was Leeds born Johnny Lawrence who bamboozled batsmen with his leg breaks and googlies. Lawrence, who was 23 when he joined Windhill in 1937, was seeking to establish himself in the game at that time and he played in three consecutive championship seasons before joining Spen Victoria. After the war he played in 281 first class matches for Somerset and then became a highly acclaimed coach. His contribution to Windhill's titles was massive, particularly in 1939 when he took 63 wickets at 9.87.
A lesser known cricketer J A Swift was the most consistent batsman during the title wins. He usually topped the club's Batting Averages, especially in 1937 when his 551 runs at 39.35 included a highest score of 108*.
In 1939 the main man was A Davison who scored 275 runs at 30.55, and also took 44 wickets at 12.65. A similarly all round performance occurred in 1940 from L Bulcock who scored 378 runs at 31.50, and also took 47 wickets at 15.82.
The legendary Learie Constantine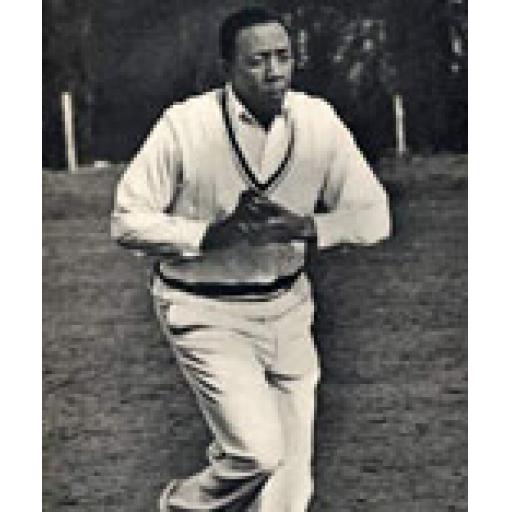 In 1940 Windhill signed one of the all-time greats of the game in all-rounder West Indian Learie Constantine, above. In his book, Cricket in the Sun, Constantine said his contract with Windhill was the best he had ever had and he did not disappoint the large crowds, who came to watch him play. His first season brought him a hat-trick against Spen Victoria, 76 league wickets at an average of 11.80 and a batting average of 30.50 as Windhill won their fourth title in a row.

The following season, when Windhill won their fifth successive championship by one point from Idle, Constantine became only the second player in the league's history to take four wickets in four balls- against Lidget Green. Apart from being a potent fast bowler he was a free-scoring attacking batsman and without peers as an outfielder.
The one slight disappointment about this 5-year glory period was Windhill's inability to win the Priestley Cup to cement their place as the supreme team in the early history of the league. They came close in 1938 but lost out in the Final to Undercliffe who chased down Windhill's score of 99 for the loss of six wickets.
They went close again in 1942 after the title reign had ended. On this occasion they were beaten in the Final by local rivals Saltaire who had a modicum of trouble chasing Windhill's 94.
County players on the books
Windhill did not have Constantine's services again until 1945, but they startled more people in the league by signing the Derbyshire bowlers, Alf Pope and Bill Copson for the 1942 season. Their run of championship triumphs came to an end as they dropped to second place.
The new signings did not disappoint. For, Pope, a hard-hitting batsman and fast medium or off break bowler had a batting average of 29.90 along with 52 wickets at 10.30 while Copson took 66 wickets at 8.42. Windhill also had a third Derbyshire player that season, batsman Dennis Smith and a Yorkshire man, who played for Worcestershire, Syd Buller, who became a world famous umpire.
Pope was a right-hand batsman who played 316 innings in 214 first class matches for Derbyshire with a top score of 103 and an average of 18.38. As a bowler he was versatile enough to bowl right-arm off-breaks or right-arm fast-medium. This obviously brought a vital balance to the team resulting in 555 first class wickets at an average of 22.54 and a best performance of 7 for 84. He took 5 or more wickets in 22 innings, and took 10 wickets in 3 matches.
Copson was a right-arm fast medium bowler, very quick by league terms, who took 1,094 first class wickets at an average of 18.96, with a best performance of 8 for 11. He also took 15 Test wickets. He was a right-hand batsman, and played 359 innings in 279 first class matches, with an average of 6.81, and a top score of 43.

Windhill also finished second in 1943, when they signed yet another top class player, England and Kent batsman wicketkeeper Les Ames, who scored two 50s that season and four in 1944, but it was in 1945 that Ames produced his most memorable performance. He scored 102 not out off the Spen Victoria attack, equalling a league record set in 1942 by George Senior of Queensbury when he scored 100 in 45 minutes. Ames received good support from stalwarts, Ben Hipkin (85) and Albert Audsley (52) as Windhill reached 250 for two.
In Test cricket Ames is regarded as an all-time great having played 47 matches, scoring 2,434 runs with a batting average of 40.56, and taking 74 catches, and 23 stumpings In first-class cricket, he scored 37,248 runs at an average of 43.51, including 102 centuries and 176 fifties, and took 704 catches and 417 stumpings. Unusually for a wicket-keeper, he also bowled over 200 overs, taking 24 first-class wickets with a bowling average of 33.37. Ames was the Wisden Cricketer of the Year in 1929.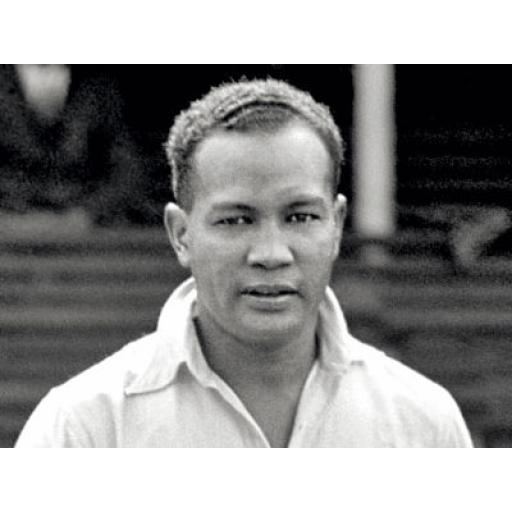 In 1944 Windhill contracted West Indian Ellis Achong, above, who's specialty was as a left-arm wrist spinner, but was often referred to as a "slow left-arm chinaman" . Whatever the description he was effective enough to take 57 wickets at 12.45 in a mid-table side.
Achong played in six Test matches for the West Indies against England in the 1930 to 1935 period. In all, Achong took eight Test wickets at an average of 47.25, but his Test figures belie his much greater success at regional level in the West Indies between 1929–30 and 1934–35. In the final of the Inter-Colonial Tournament of 1931–32, he took 3 for 74 and 7 for 73 to bowl Trinidad to victory over British Guiana.
Constantine came back to the club in 1945 when Windhill also included George Dawkes, who played for Leicestershire before the war. He went on to play 392 first class matches for Derbyshire after the war and was also included on the 1949-50 Commonwealth tour of India. Other First Class cricketers who took the field for Windhill in 1945 were Joe Hulme (Middlesex),Fred Price (Middlesex & England) and James Langridge (Sussex). Despite this array of talent they could only climb to sixth in a table of ten teams.
Manny Martindale

Fast bowler Manny Martindale, above, was the star of the 1946 season. He won the league bowling averages with 56 wickets at 9.80, while in 1947 Constantine (50 wkts) and Audsley (51 wkts) were the definite star performers. Constantine ensured the league bowling trophy would remain at Windhill when his wickets averaged out at 12.86. He also averaged 30.23 with the bat.
Emmanuel Alfred "Manny" Martindale was a West Indian cricketer who played in ten Tests from 1933 to 1939. He was a right-arm fast bowler with a long run up; although not tall for a bowler of his type he bowled at a fast pace. With Constantine, Martindale was one of the earliest in the long succession of Test-playing West Indian fast bowlers. During the time he played, the West Indies bowling attack depended largely on his success.
Critics believe that his record and performances stand comparison with bowlers of greater reputation and longer careers. Chosen for the West Indies tour of England in 1933 he took over 100 first-class wickets including over half of the West Indies' wickets in the three Tests played. He was the leading bowler when West Indies won their first Test series, against England in 1935–36, and had great success against the leading English batsmen. In the final game of the series, one of his deliveries broke the jaw of Bob Wyatt, the England captain.
Windhill won back the championship in 1948 by two points from Great Horton with Audsley averaging 52.66 with the bat and Constantine taking 45 wickets at 10.48. Both won the respective batting and bowling averages for the league. The memorable individual performance that season came in the Priestley Cup against Queensbury when Windhill scored 316, including 101 from Constantine in which he hit eight sixes and ten fours, including 28 in one over.
That proved to be Constantine's last season at Busy Lane and his departure in addition to other quality players heralded a long spell of lean seasons at Windhill. Constantine, who captained Windhill in his later years, played his last match for the club on September 11th 1948 against Keighley at Busy Lane, taking four wickets, including the last Keighley wicket in the final over of their innings. He also took one slip catch and scored 69 not out, hitting a four to win the match which gave Windhill the championship.
Born in Trinidad, Constantine established an early reputation as a promising cricketer, and was a member of the West Indies teams that toured England in 1923 and 1928. Unhappy at the lack of opportunities for black people in Trinidad, he decided to pursue a career as a professional cricketer in England, and after the 1928 tour was awarded a professional contract with the Lancashire League club Nelson.
He played for the club with great distinction between 1929 and 1938, while continuing as a member of the West Indies Test team in tours of England and Australia. Although his record as a Test cricketer in 18 tests was less impressive than in other cricket he helped to establish a uniquely West Indian style of play. He was chosen as one of the Wisden Cricketers of the Year in 1939.
Other less famous cricketers at Windhill during these times were J Crowther, R Parkin, S Crabtree, and F Clayforth who all performed well on a consistent basis.
Fallow seasons
Windhill were relegated in 1951 and suffered some fallow seasons where they were hovering just above the re-election zone.
During 1952 to 1955 the best performers were batsmen K Warnett, R H Sykes, A Hodgson, A Audsley, and A H Clarke who all had the distinction of topping 600 runs in a season.
In 1955 Albert Firth won the League Wicket Trophy with a total of 36 victims.
The only bowler who made the league bowling averages on more than one occasion in this period was the quaintly named J D Snowball.
Good times were back at Windhill in 1956 when promotion was obtained as champions, mainly due to the consistency of 25-year-old West Indian Calbert Minott, who took 65 wickets at 12.67.
Promotion enabled the club to celebrate their centenary in Division One, but the season ended with relegation with the team bottom after winning just three matches. All Rounder A H Clarke had a productive season scoring 515 runs, and taking 33 wickets, whilst the consistent Audsley also battled well with 477 runs.

These were barren years, however, and Windhill were forced to apply for re-election in 1960 for the first time in the post-war years.
Arnold Hamer

In 1961 they had the services of the 46 year-old Arnold Hamer, above, who had completed a fine county career for Derbyshire. He scored 620 runs at 38.75 to motivate a surprise promotion bid for his side. Hamer was a right-handed opening batsman who made 15,465 runs at 31.17 in 295 first-class matches. He had a highest score of 227, and made 19 centuries. Hamer scored 1,000 runs in 10 consecutive seasons. He was also a handy off-break bowler, and took 71 first class wickets at an average of 33.28.
Another achiever in 1961 was Geoff Tempest who took 61 wickets at 13.08 and had many productive seasons at Windhill.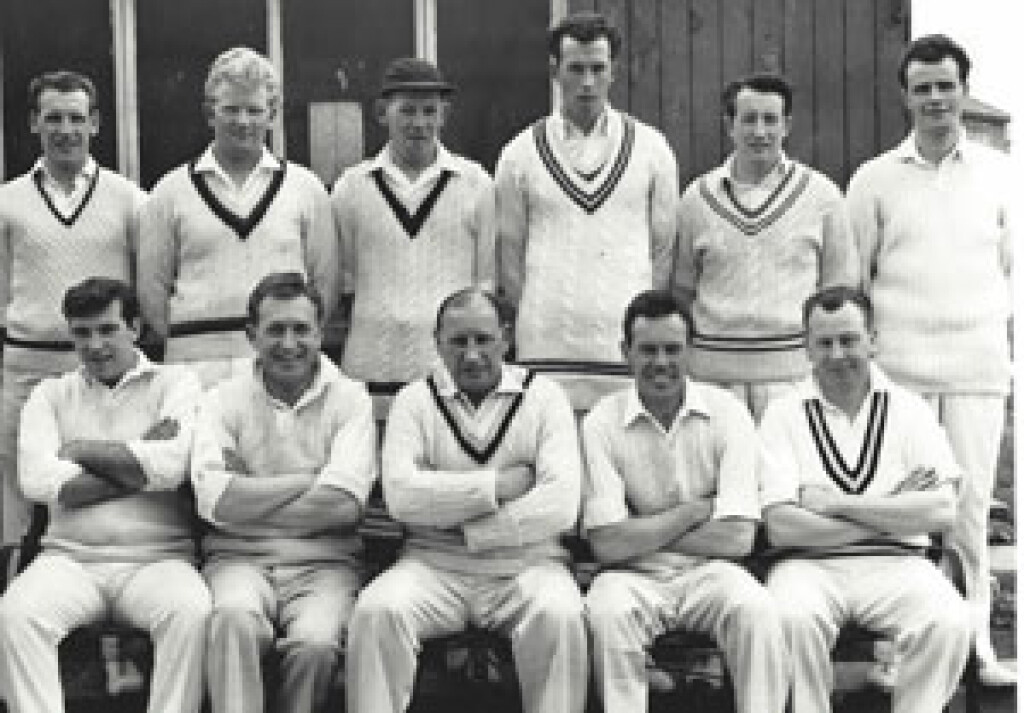 Progress was maintained in by the1962 team,above, when promotion was obtained. Hamer was the star batsman again with 672 runs, but the bowling was the real asset that season with Dick Sherred (66 wkts) and Tempest (58 wkts) making inroads into most sides early batting.
Sherred became one of the best post war seamers in the league and he won sundry individual and team awards on leaving Windhill. Later Sherred's brother Martin, who some would say was almost as good joined in 1981 and took 42 wickets.
Survival was the name of the game in 1963 with Sherred (49 wkts) again excelling with the ball in tandem with Tempest (43 wkts),whilst the Firth brothers Albert and Gordon carried the batting. It became too much the following year when relegation beckoned despite Tempest's 53 wickets.
Fortunes dipped further in the lower division with only Albert Firth showing consistency with the bat. Tempest found an excellent partner in Eric Rollinson who topped 50 wickets in 1966, but when he followed that up with 41 in 1967 it was a fruitless exercise as Windhill finished bottom. It was a disastrous season with just one win and the second time in the sixties they had to seek re-election.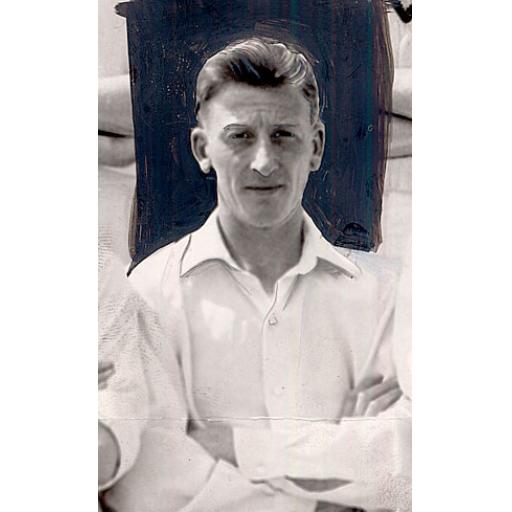 In 1968 the legendary league cricketer Dennis Bateson, above, was signed and he helped to propel his side into mid-table after taking 35 wickets. However, Rollinson was again the best bowler with 54 wickets.
In the latter part of the decade Tempest's consistent wicket-taking gave way to vital runs with the bat in the autumn of his career.
There was trauma and triumph at the start of the seventies with re-election bids in 1971 and 1972, followed amazingly by a Second Division title winning season in 1973 by the team pictured below.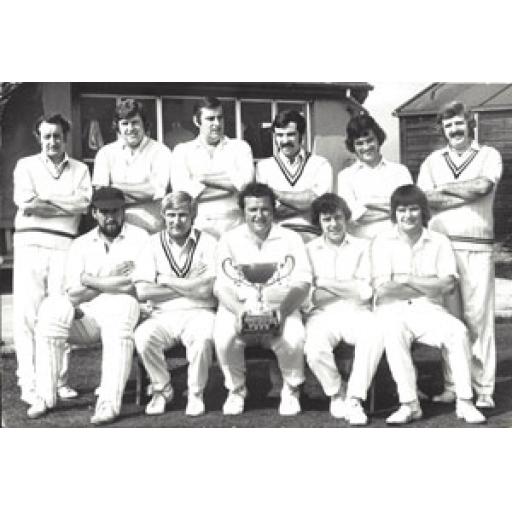 New signing Tony Stilgoe was the major influence in the promotion team as he took 96 wickets at 9.81, and scored 495 runs at 32.50. Stilgoe was a top player in the league and feted by the big clubs in subsequent years.
Wicketkeeper Geoff Wilkinson captured 34 victims and won the league's wicket-keeping trophy, while Rollinson was the top bowler again taking 62 wickets.

Once again the First Division proved to be too strong for Windhill and they were relegated in 1974 with only three wins. They fell away to a lowly position in the Second Division and had to seek re-election for the fifth time in 1977. There was improvement at the back end of the decade with the recruitment of several players with a Laisterdyke connection.
Swing bowler Eddie Halliwell topped 40 wickets in four successive seasons with a best tally of 50 in 1979. His former Laisterdyke team mate David Jones scored steady runs and had a best season with the ball in 1976 when he took 49 wickets with his left arm spin.
In 1979 Mick Robinson took 73 wickets. He was infamous for bowling from a long run-up before hesitating when in his bowling stride. Despite this he generated enough pace with his stock `short of a length' ball to bother the best of batsmen.
Another former Laisterdyke player at Windhill was left-handed David Worrall who helped to assist his side to a top half position in 1981 with 629 runs. He was a hard hitting batsman who had a yen for the straight hit six.
Tony Clarkson
One of the few highlights of the 1980s was an outstanding season by batsman Tony Clarkson in 1982. The former Yorkshire and Somerset batsman became the first Windhill player to top the 1,000 runs mark – he made 1,233 runs in 26 innings at 68.50, including one century and 11 half-centuries, and in doing so topped the Second Division Bowling Averages.
Clarkson was a right-handed opening batsman and off break bowler, and played his early cricket for Harrogate, for whom he opened both the batting and the bowling. After first playing for the Yorkshire Second XI in 1958, he made his debut for his native county in 1963, playing when the Test stars were away.
He moved to Somerset in 1966 and played until 1971, winning his Somerset cap in 1968. In 110 matches he scored 4,458 runs at 25.18, with two centuries and a best of 131 for an average of 25.18. Clarkson also took 13 wickets at 28.25. He played 50 one-day games, scoring 752 runs with a best of 102* at 16.93, and taking two wickets.
In 1982 two seamers came together at Busy Lane that could compare with most in the division- S Myers taking 61 wickets, and Paul Wiseman 46.
There was batting strength in abundance at Windhill in 1983 with Phil Sant (871 runs),Clarkson (740 runs) and Brian Hodgson (558 runs) scoring freely in a season that ended in mid-table. Clarkson continued his form into subsequent seasons with 931 runs in 1984, and a more moderate haul of 539 in 1985.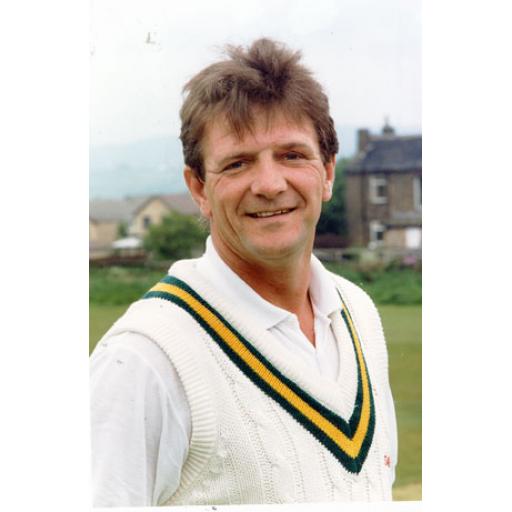 1985 was all about opening bowler Paul Wiseman, above, who had his finest season in his career with 86 wickets at 13.05 for the Windhill team pictured below. Quick and aggressive, he was not known to take prisoners and bristled with competitiveness. He topped 50 wickets again in 1987 and later in his career starred for Idle.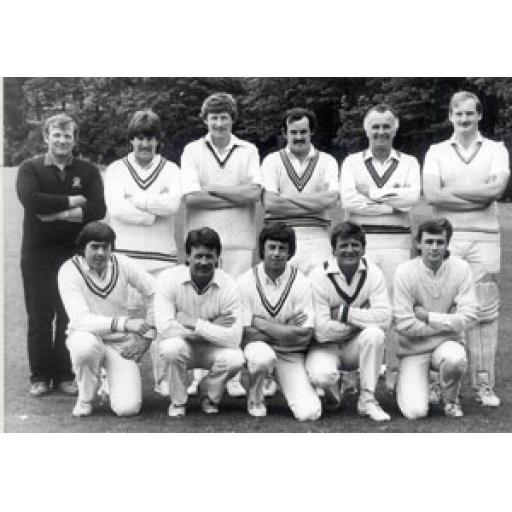 Indian all-rounder Vijay Hariharan, who joined the club in 1986 as the registered overseas player turned in some outstanding performances, including taking 61 wickets in his first season as well as averaging 31.79 with the bat. He didn't disappoint in his next season scoring 601 runs and taking 47 wickets.
Disappointing times
After finishing third bottom in 1987 and 1988 it got even worse in 1989 when re-election was the name of the game. Only the steady batting of Howard Stead (551 runs) retained credibility to their season.

The early nineties saw seamer Kevin Tighe top 50 wickets in successive seasons, and Stead recorded a season best of 695 runs.
Windhill's fortunes took a turn for the better when they sold a corner of their ground for house building and invested the proceeds in team building and ground improvements.
Team building

The arrival of free scoring Mark Gilliver, West Indian paceman Tony Martin, above, and wicket-keeper batsman Mark Gill heralded a new era where the re-election days were a thing of the past.
Gilliver scored 750 runs at 39.47 in 1991, while Gill contributed 401. Martin bagged 71 wickets in a team that should have pressed for promotion.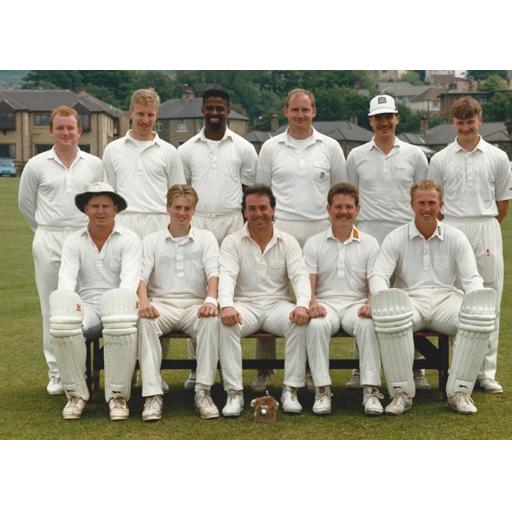 The club strengthened further and won the Second Division championship in 1992 and in subsequent seasons became a major power in the league.
Windhill's team that won the Division Two championship in 1992 is pictured above. Back row from left: Jimmy Atkinson, Neil Gill, Tony Martin, Howard Stead, Steve Atkinson, Mark Gill. Front: David Lovell, Scott Crosby, Mark Paynter (capt),Neil Nicholson, Mark Gilliver.
Australian David Lovell proved to be a free scoring batsman and recorded the highest league score in the 1992 season- 184 against Manningham Mills and scored 1,061 runs at a staggering average of 81.82 to win the Second Division Batting Averages. Lovell could not quite break through into First Class cricket, but he did play in numerous county second teams.
Other achievers in the 1992 promotion season were batters Neil Nicholson (729 runs) and Gilliver (606 runs),with Neil Gill and Martin both taking 46 wickets.
Nicholson played five games for Yorkshire in 1988 and 1989 which included a total of 134 first-class runs at 26.80, with a best of 56 not out, and he also took five catches. He also appeared for the Yorkshire Second XI from 1983 to 1990.
Mark Paynter, grandson of Eddie, was captain and he managed to attract top players to Windhill as they sought to be one of the major players in the league. A fourth place in 1993 was real progress with Nicholson (649 runs) and Gilliver (861 runs) still the main batsmen. Martin took 71 wickets for the second time in three seasons.
In 1994 Windhill were title contenders but missed out as runners up despite having two more victories than East Bierley who won it.
The batting was strong with Gill (above, 755 runs),Gilliver (764 runs) and Nicholson (528 runs) supporting opener Russell Evans who scored 955 runs at 56.18 with a top score of 139*.
Evans made his first-class debut for Nottinghamshire against the touring Pakistan in 1987. He made five further first-class appearances for Nottinghamshire, the last of which came against Cambridge University. In his six first-class matches for the county, he scored 112 runs at an average of 18.66, with a high score of 50 not out. He then had a lengthy career in Minor County cricket with Lincolnshire.
That season they had the quickest pair of seamers seen in a Bradford League attack for many a year- Neville Lindsay (40 wkts) and Tony Martin (55 wkts). They also had useful back up in Mark Bradford who matched Martin's 55 wickets.
Title challengers
During 1995 it appeared that Windhill would go one better and win the First Division title. With a seam attack containing Tony Martin (36 wkts),Neil Gill (37) wkts and Mark Bradford they had no trouble bowling sides out, and had sufficient batting to compete with most sides. In a tightly contested championship they missed out by one point to a strong Hanging Heaton side, but could count themselves unlucky. Jonathan Proud scored 1,175 runs at 61.84 to win the First Division Batting Averages.
Unfortunately this was as close as they would get despite a fine array of cricketers at their disposal. Another notable signing was Ian Botham's son Liam who was trying to forge a county career at the time. His feats were unremarkable at Windhill apart from his liking for a huge straight hit reminiscent of his father. His first class record consisted of 19 matches for Durham with a top score of 145.
Another solid season in 1996 when they finished fifth saw Proud (862 runs),Nicholson (617 runs) and Evans (518) take the plaudits with the bat. Left arm seamer Gill had his best year with 64 wickets, while Mark Bradford won the First Division Bowling Averages with 36 wickets at 12.64.
The hostility of Maynard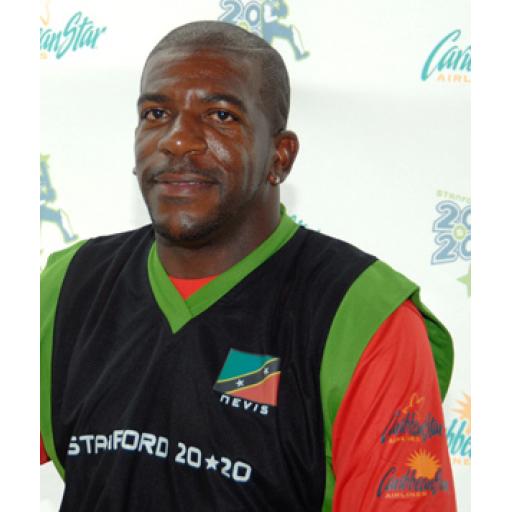 The most interesting cricketer in 1996 at Windhill was West Indian pacemen John Maynard, above, who took 72 wickets. Known as `the dentist' for obvious reasons Maynard built a fearsome reputation playing for the Leeward Islands and excelled against test touring sides without breaking through himself.
For a cricketer who managed just 13 first-class matches and never played in an international, Maynard achieved quite a reputation. A cricket writer wrote in 2007: "One might even go so far as to suggest he is the most famous West Indian fast bowler never to have played a Test".
Having just missed out on the title and having little fortune in the Priestley Cup they had a wonderful opportunity to win silverware when they reached the Heavy Woollen Cup Final in 1996 at Liversedge. Their opponents Spen Victoria were too good for them on the day setting a score of 242-7 before bowling Windhill out for 147.
Heavy Woollen Cup win
In 1997 Windhill at last won a trophy when they would go one better and win the Heavy Woollen Cup beating their old adversaries Hanging Heaton at Liversedge in the Final by 34 runs. In a tense final Windhill scored 236-7, and limited their opponents to 204 on a good wicket. This made up for a league season that proved disappointing when they hovered above the relegation places after losing key players in the close season.
Back in the top half of the league in 1998, they had a team of all round talent. 21 year old Amol Muzumder was a classy performer who became an attraction in the league for those who enjoyed the wristy technique of an Indian master batsman. He topped the First Division Batting Averages, scoring 976 runs at 65.07. Muzumder went on to join a select band of batsmen in the league to repeat this feat when in 2000 he scored 851 runs at 65.46.
On his first-class debut for Bombay, Muzumder scored 260 against Haryana at Faridabad in S Ranji Trophy match in the 1993-94 season. This was a record for any player on their debut in first-class cricket. He went on to score 11,167 runs in First Class cricket at an average of 48.13.
Another key batsman for Windhill in 1998 was Durham's Darren Blenkiron who scored 748 runs. He went on to score 630 runs in 1999. His first class record consisted of 19 matches for Durham with a top score of 145.
Seamer Greg Colehan had his best season at Windhill taking 52 wickets, along with Neil Gill who took 50. Colehan went on to play for Idle and Bankfoot and was on the verge of a career 1,000 wickets by the end of 2014.
In 1999 times were more difficult at Busy Lane with a lowly position in the table, despite Mark Gill's 719 runs. The most colourful cricketer was 19 year old Lou Vincent from Auckland who scored 479 runs at 34.21.
Lou Vincent
Right handed batsman Vincent played in 23 Test matches for New Zealand with a top score of 224. His panache for scoring quick runs led to him being something of a one-day specialist for club and country. In a spell at Lancashire he scored a Twenty/20 century in 63 balls.
Writing on the wall
The writing was on the wall for a fading Windhill as they hit financial problems. The leading players gradually departed and they were relegated at the end of the 2000 season. It was a cruel irony that these players could have been replaced by a crop of highly promising U17 players at Busy Lane had they not chosen to go elsewhere-. Craig Wiseman, David Clow, Mally Nicholson, Ian Nicholson, Ajmal Shahzad (future county player) were all in unison and ready for promotion to the senior ranks.
In 2001 they had to seek re-election after finishing bottom of the Verity section with only nine points. Not one of their predominantly young and untried team made the league averages.
Windhill's malaise continued through to 2007 when they had further re-election pleas in 2002, 2003, 2005 and 2006- four occasions in bottom place. Amongst some very weak sides they had several worthy overseas players:
2002 A U Rehman 798 runs at 46.94
2005 A Iqbal 746 runs at 39.26
2007 Amar M Khan 642 runs at 42.80 & 32 wickets
During these dark days Gordon Binns was honoured with the Sir Leonard Hutton Trophy in 2003 for his services to cricket. He had devoted a lifetime of playing, serving on committees and ground work at Busy Lane.
In 2009 there was a revival at Busy Lane with third place obtained in a promotion run with Bankfoot who just about edged it. Fine batting from Farakh Hussain (695 runs),Neil Johnson (677 runs) and Mohammed Altaf (521 runs),complimented the bowling of Sadaqat Zaman (49 wkts),Josh Wheatley (39 wkts) and the returning Craig Wiseman (40 wkts).
The following year in 2010 they were still very competitive with Ashan Butt scoring 1,042 runs at 65.13, backed by the emerging Fahid Rehman who contributed 596 in a team developing a real Asian influence. Rehman would join Saltaire and join the illustrative band of cricketers in the league who would score 1,000 runs in a season.
Key players departed from Windhill and in 2011 they had to apply for re-election for the sixth time. Despite the hard times the outfield and square had an immaculate look about it thanks to Colin Gatenby and his helpers.
Respectability was obtained in 2012 with Hassan Mehmood the most productive player with 664 runs at 55.33.
Hard times
Despite Jack Holland's 783 runs in 2013 his team survived re-election by the skin of their teeth. Things got worse the next season in 2014 when re-election was a reality again with just two league victories and consequently bottom place.
In a season when not a single local player made the league averages, the only redeeming feature was the moderate success of overseas player Salman Ali who recorded 479 runs at 31.93. The lowest point was on May 31st 2014 when they were bowled out for 35 v Idle.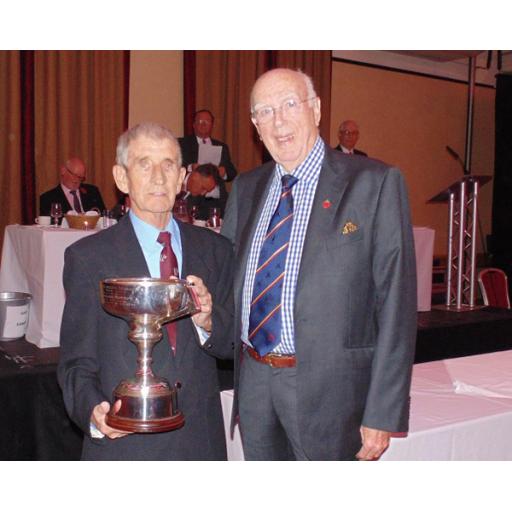 Encouragement came from the 2014 League dinner when Colin Gatenby, above, was deservedly awarded the Sir Leonard Hutton Trophy for services to cricket, and the club received the Albert Smith Spirit of Cricket Trophy for sportsmanship in the field.
A marginal improvement in 2015 saw three victories and a second bottom placing as player shortages negated progress. The one highlight was the performance of overseas player Muhammad Yasin who scored 701 runs at 41.24, and took 43 wickets for an average of 16.16. This secured him the Jack Lee All Rounders Trophy for the Second Division.
Resignation
Just prior to the 2016 season, Windhill resigned from the Bradford League citing a lack of volunteer workers. With the start of the season approaching they had no scorers, match-day helpers and ground personnel, and also a limited playing squad.
Back in the league
Main committee man Ian Holdsworth worked tirelessly to save the club, and continued to strive for survival even during the season of non-playing activity. After a series of meetings the club negotiated assistance from two Mutual Sunday School clubs VVS Laxman and Cross Roads/Daisy Hill to re-enter the league at Conference level in 2017 as Windhill Daisy Hill.
Windhill had a very healthy player membership for the 2017 season, and set out to consolidate without making any targets. There were pitfalls along the way, and a 20-point penalty for forfeiting a second team fixture, but they won six times and proved to be competitive most of the season.
They beat Sandal early on, and enjoyed an exciting victory over highly placed Great Preston when scoring 259 and limiting their opponents to 242-8. There was a remarkable innings in this game from Alex Antoine for Windhill who struck a blistering 176 which included nineteen fours and 10 sixes.
Antoine, who was from St Lucia, had been signed from Harden during the season and made a great impression during his seven games at Busy Lane. In seven innings he scored 440 runs at 62.86, and also took 19 wickets.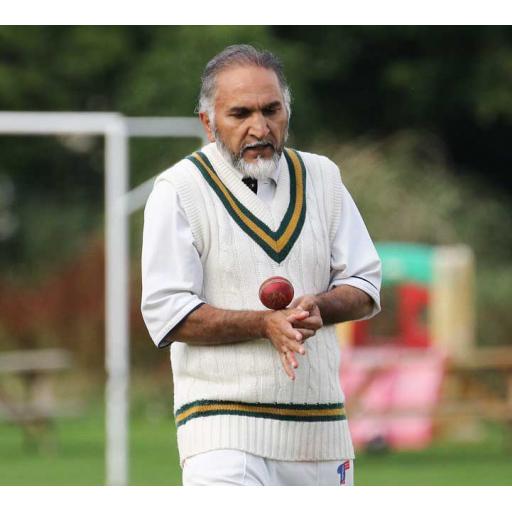 Mazhar Bhatti (above, 413 runs),Mahesh Patel (406 runs) and Ryan Holdsworth (28 wickets) were the pick of the regular players in the league campaign.
In 2018, times were harder on the field, despite full allocation of teams. They only won three times in a season where no batter reached 300 runs, or bowler taking 25 wickets. Veteran Mazhar Bhatti made the most tangible performances with both bat and ball.
The most memorable match for Windhill occurred on July 28th when they beat promotion chasing Oulton by 50-runs. It was a remarkable individual performance from Shoaib Iqbal that won the day, as he scored a telling 42 from No.8, before taking 6-34.
The club made great strides in their third season back when they finished in a pleasing fifth position in 2019. The side was strengthened by the former Yorkshire Academy and Baildon player Tabassum Bhatti and the Indian overseas cricketer Gaurav Patel who could only play in the last eight games.
For much of the season, the side were only slightly higher in the table than in previous years, but they finished with a bang, winning their last three completed games. The most impressive victory was against fourth place Oulton.
Skipper Adam Swaine (73 runs) anchored the side, and with valuable contributions from late middle-order they set Oulton a target of 191. Oulton never really got started and Patel, with 5-24, proved to be much too good for them on the day.
Patel's nine games gleaned 190 runs at 31.67, and 20 wickets at 11.05. The best of the rest was Swaine's 413 runs, and Bhatti's 385 runs and 27 wickets.
Windhill approached the 2020 season with optimism as Jack Holland was recruited from Undercliffe as captain.
However, with Covid-19 striking they chose not to enter a team in the Gordon Rigg League Cup competition.
Fortunes dipped in 2021 as they finished in eleventh position with just five wins to their name.
When their key player Tabassum Bhatti stopped playing after ten matches, it was always going to be a struggle. However, they had several league defeats that so easily could have gone the other way, and they did win their last two games to condemn Rodley to bottom place.
Chris Heald was the only batsman to top 300 runs, while Bryon Greenwood was the only bowler to obtain 30 wickets.
Again they finished eleventh after a similarly struggling season in 2022. However, they were more competitive with six wins to their name and an unlikely notable double over Heckmondwike & Carlinghow who gained promotion in second place.
Remarkably, given their lowly status, both victories were emphatic and gave an indication to their rarely seen potential. In the first game they won by 98 runs with Ashan Tanveer scoring 96, and Shoaib Iqbal 58. In the return game they scored 287-7 to win by 90 runs after Khalid Mahmood (87) and Ashan Tanveer (67) had helped to set the competitive score.
Shoaib Iqbal was the outstanding player for 2022, scoring 540 runs and taking 51 wickets, including four 5-wicket performance.